More often than not an island is not only the heart of your kitchen but the heart of your home. It's a hardworking space that's used for both work and play – prepping dinner, working from home, entertaining friends, etc. However, amongst all its very practical qualities, it's also prime real estate for bringing some personality and character in the form of decor to your space.
But as with anything to do with aesthetics in a kitchen, there has to be a balance with practicality. Decor can't interfere with the everyday running of the room. So how do you style a kitchen island so that it looks beautiful, but can still allow the surface to perform all its daily tasks? We asked a few of our favorite designers for their top tips and expert kitchen island styling ideas that get this balance right. 
How can you style a kitchen island?
When designing a kitchen, the key to styling an island, or even a small kitchen island, as with any part of a kitchen, is not to lose too much space to the purely aesthetical. A kitchen should always put functionality first, so when adding beautiful kitchen decor to an island, always think about whether it's practical – will it get in the way of prepping? Does it break up the eye-line over the island? You really want to avoid it becoming cluttered, so more often than not take the less is more approach. 
'It's all too easy for an island to end up as somewhat of a dumping ground, so I'd say in a way less is more, ensuring its clutter-free,' says designer Kate Guinness (opens in new tab). I love decorating with flowers, especially something tall to give some height, and bowls of fruit and vegetables. A lamp can also be an excellent addition and provide extra light.'
1. Bring the outside in with seasonal displays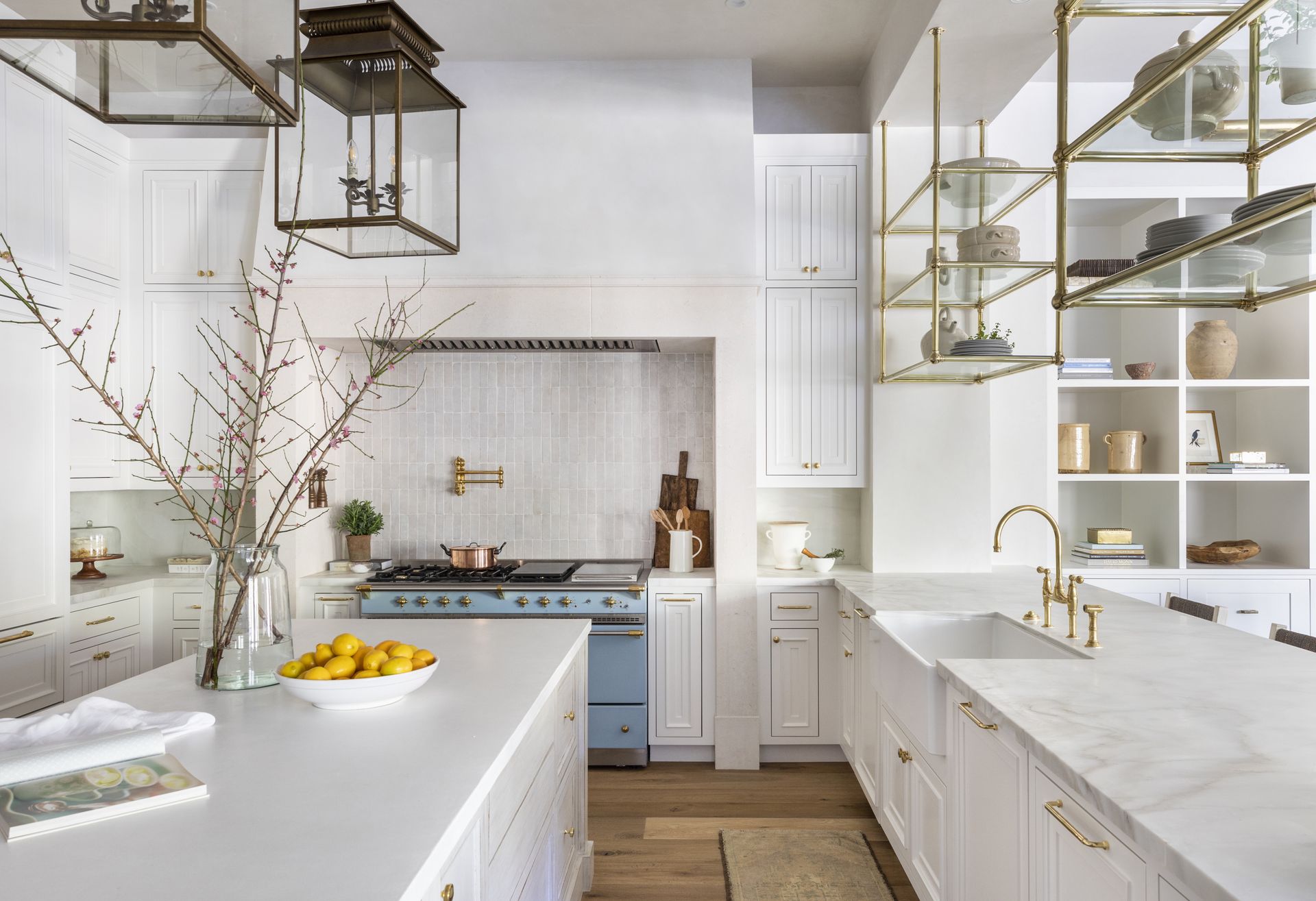 A simple and affordable way to style an island is with fresh flowers, greenery, and fauna. However, we'd recommend exploring your backyard first rather than going with store-bought. Not only can it provide you with free decor, but it also ensures whatever you use is seasonal. Even in winter and early spring, you will find something to add interest to your island – we love the look of bare branches in a simple vase to add height and natural texture. 
'For styling a kitchen island, I like to keep it simple. My go-to styling products for an island include a beautiful piece of pottery and branches,' says designer Marie Flanigan (opens in new tab). 'I'm always inspired by what's in bloom outside and am constantly cutting and adding that foliage to my kitchen island. I also love the pop of color that a bowl of lemons, limes or another citrus provides. Of course, an antique cutting board with beautiful oils, salt cellars, or butter bells can also make a gorgeous statement.'
2. Get a balance between form and function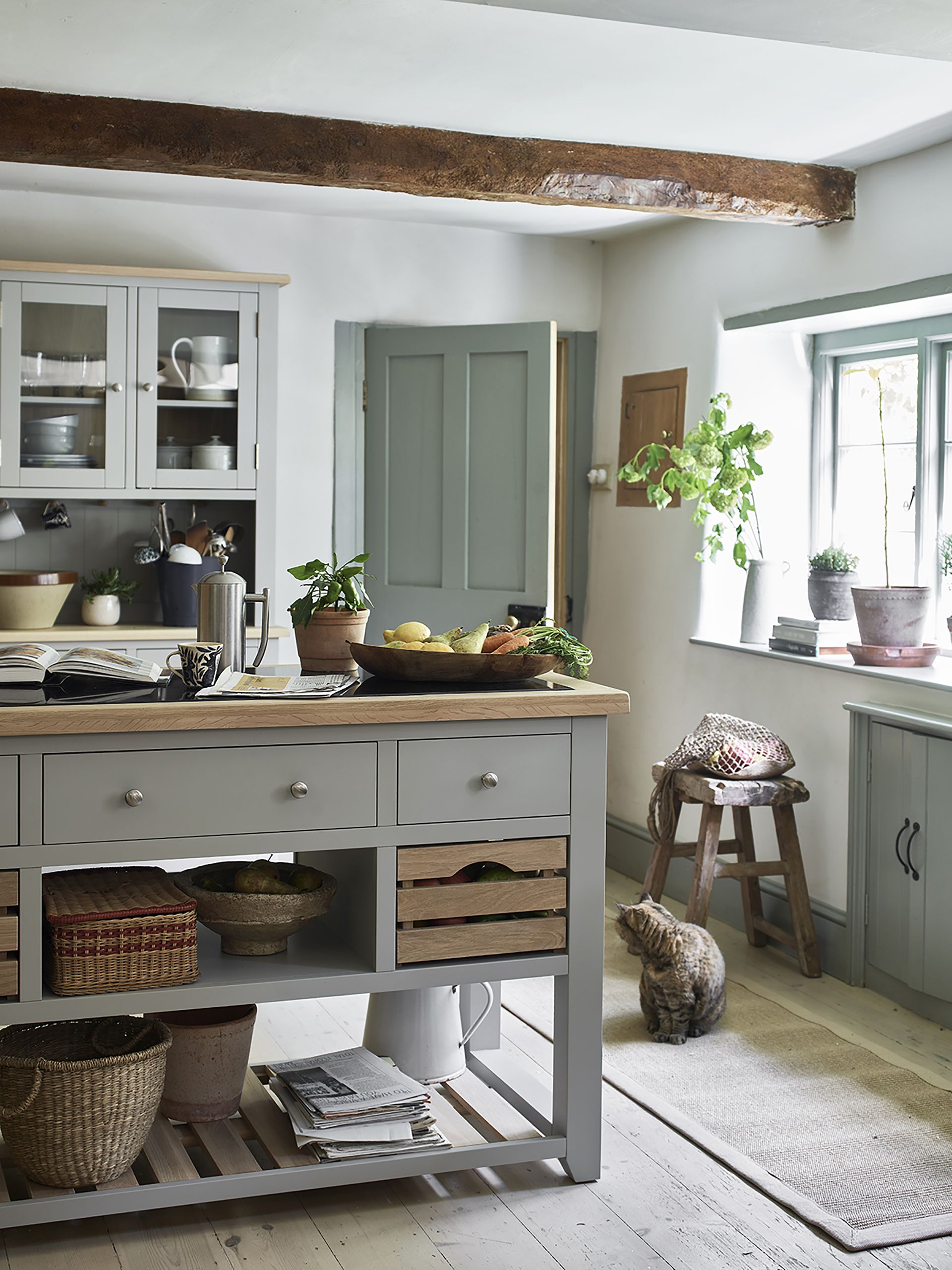 'The purpose of a kitchen island is to create additional space within a kitchen to prepare food and – often – to provide an additional space to sit. Any styling should not get in the way of its functionality.' advises Louise Wicksteed Design Director of Sims Hilditch (opens in new tab).
Rather than bring in pieces that have absolutely zero use in a kitchen, look around your space and turn practical items into a display. 'We often use herbs, fruit bowls, cookbooks, and chopping boards to style a kitchen island, all of which have a place in the kitchen and bring a lived-in, homey aesthetic to the space – but overall an island should feel clear and uncluttered.' adds Louise.
3.  Often less is more with kitchen island styling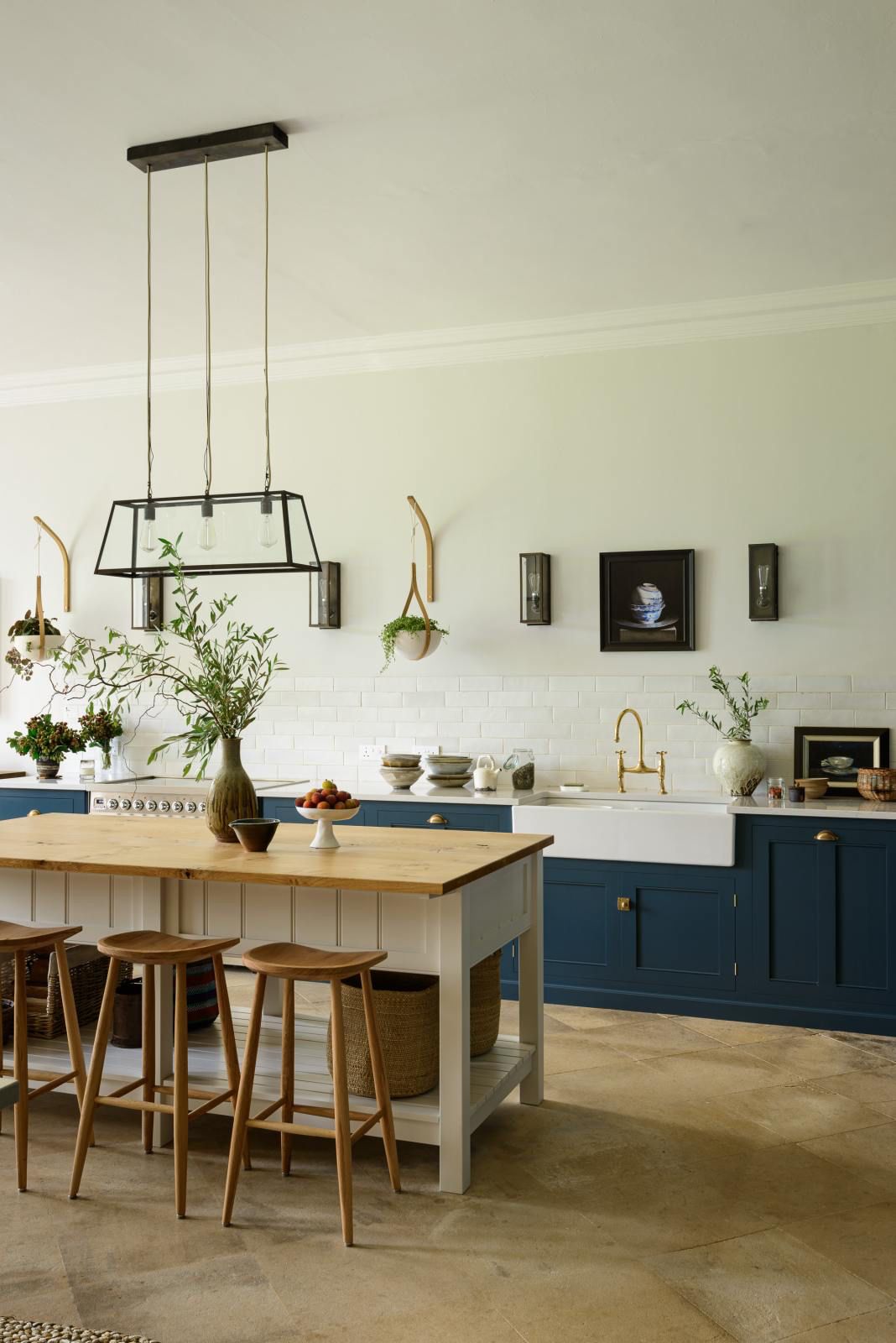 What is the easiest way to ensure your island actually still functions as an island? Keep your styling simple. Rather than clutter your surface with lots of small decorative kitchen pieces, pick out a couple of statement items that aren't going to take up much of that valuable surface space, but will instead make a noticeable impact. 
'Styling with fewer, larger elements adds impact while keeping surfaces functional,' suggests Elena Frampton, principle at Frampton Co (opens in new tab). 'I like to use a mix of sculptural vases and footed bowls which can then be further styled with florals, fruit, and greenery according to the season (or whatever I'm bringing home from the farmer's market that day!).' 
4. Consider the rest of the room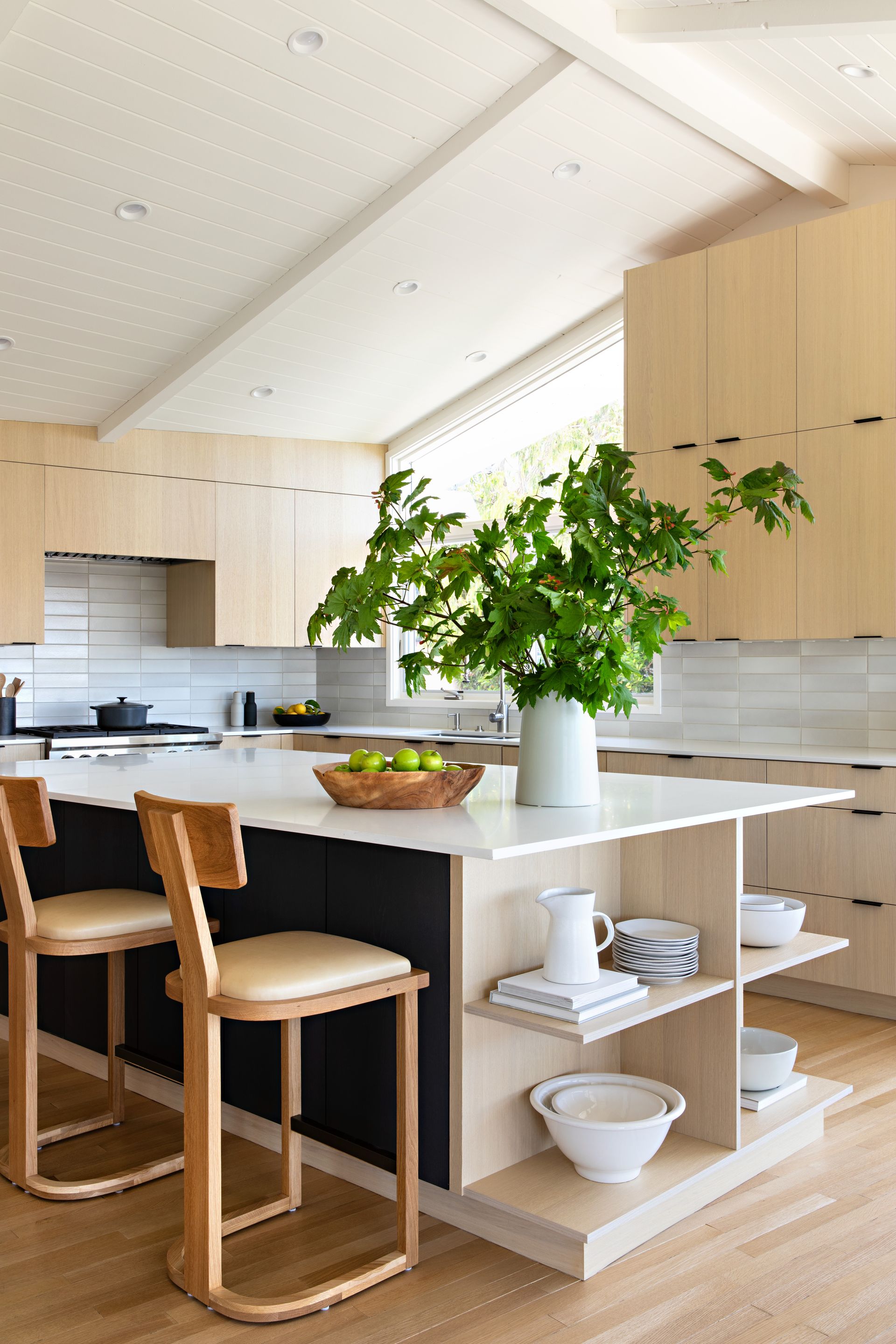 When styling your island don't treat it as a standalone, well… island. Look around the rest of the room and see how any decor you choose is going to fit in with that. For example, if you have open kitchen shelving that sits behind your island – visually there's already a lot going on there so you wouldn't want to add anything that blocks the eye line over the island. Experiment, step back, and look at your island styling from all angles to ensure it works with the whole room.
The simplicity of this wooden kitchen means it can handle something oversized and statement on the island and there's nothing else too busy or cluttering going on elsewhere. 'Instead of floating shelves, we kept the uppers and included shelves at the end of the island,' explains Raili Clasen, founder of RailiCA (opens in new tab). 'This way we were able to style and display a few pieces while avoiding clutter.' 
5. Create interest with a mix of heights and textures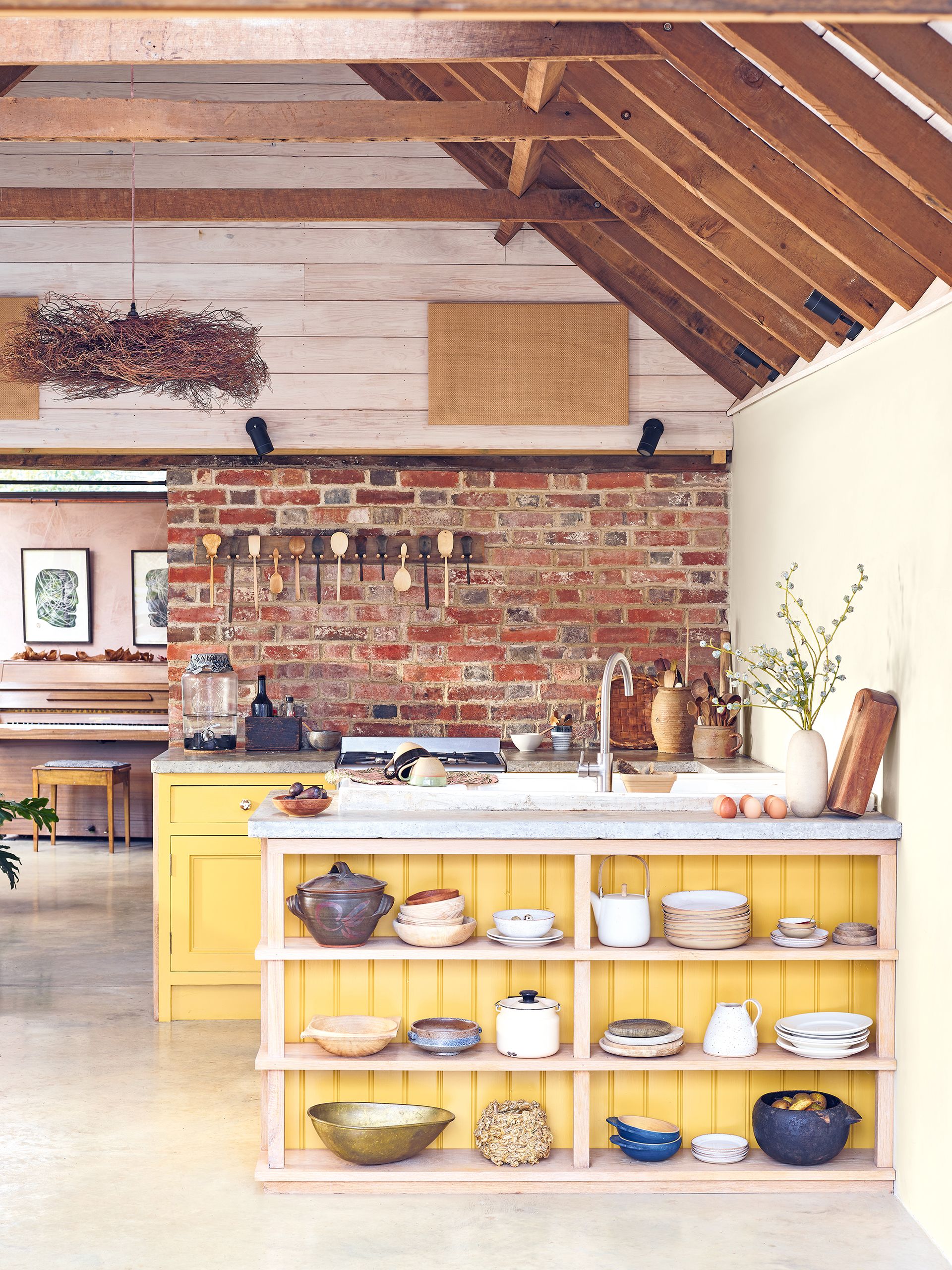 'When styling your kitchen island, start with functional kitchenware that also has a design-savvy element, and use a rule of "one horizontal item, one vertical item, and one sculptural item,"' suggests designer Kathy Kuo (opens in new tab). 'Rustic cutting boards, small vases of seasonal flowers or greenery, artisan bowls filled with your favorite fruit, a crock of wooden spoons, and stacks of beloved cookbooks are all natural fits for adding a styled look to your kitchen island.'
Consider the shapes, heights, textures, and colors of any decor you have used elsewhere in the space too, and make sure what you bring to the island has a connection. Perhaps choose something to add that's going to anchor the whole space, and draw the eye so there's a focus.
'Treat your island like a dining table and keep it uncluttered and functional by adding a thoughtful selection of objects to dress it up,' suggests designer Sarah Rosenhaus (opens in new tab). 'Anchor your island with a tall branchy arrangement in a statement vessel. Add a pretty bowl (fill it with fruit to make it functional) and finish off with a delicious candle. We are not fans of clutter and definitely prefer to keep it simple and impactful. This allows for functional use of the island while making it stand out aesthetically.'
6. Mix and match your island seating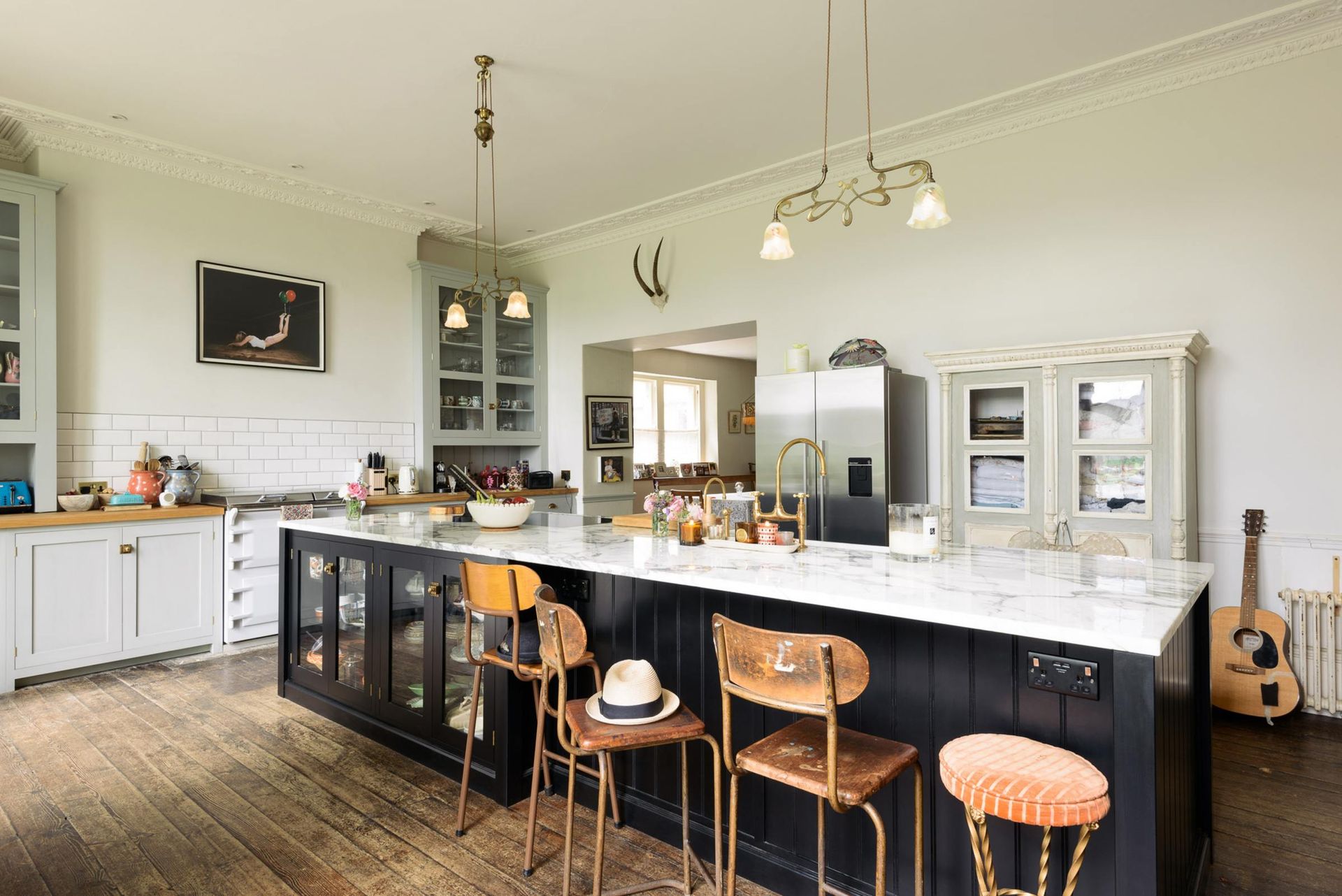 Kitchen island styling isn't all about what's going on on the surfaces – your choice of kitchen island seating can bring loads of style and interest to your space. Of course, first and foremost you want your seating to be comfy, but it's a big, noticeable addition to your kitchen so it should look good too.
We love a slightly mismatched look when it comes to chairs, a clashing of styles and designs is what gives a room so much character. And kitchens can be really tricky places to make super characterful due to them being practical by nature. So bring in that interest with your seating. Shop secondhand for pieces that add shape and texture and don't worry about them all matching – this classic deVOL (opens in new tab) kitchen proves a quirky mix works too.
7. Create more space for styling with vintage furniture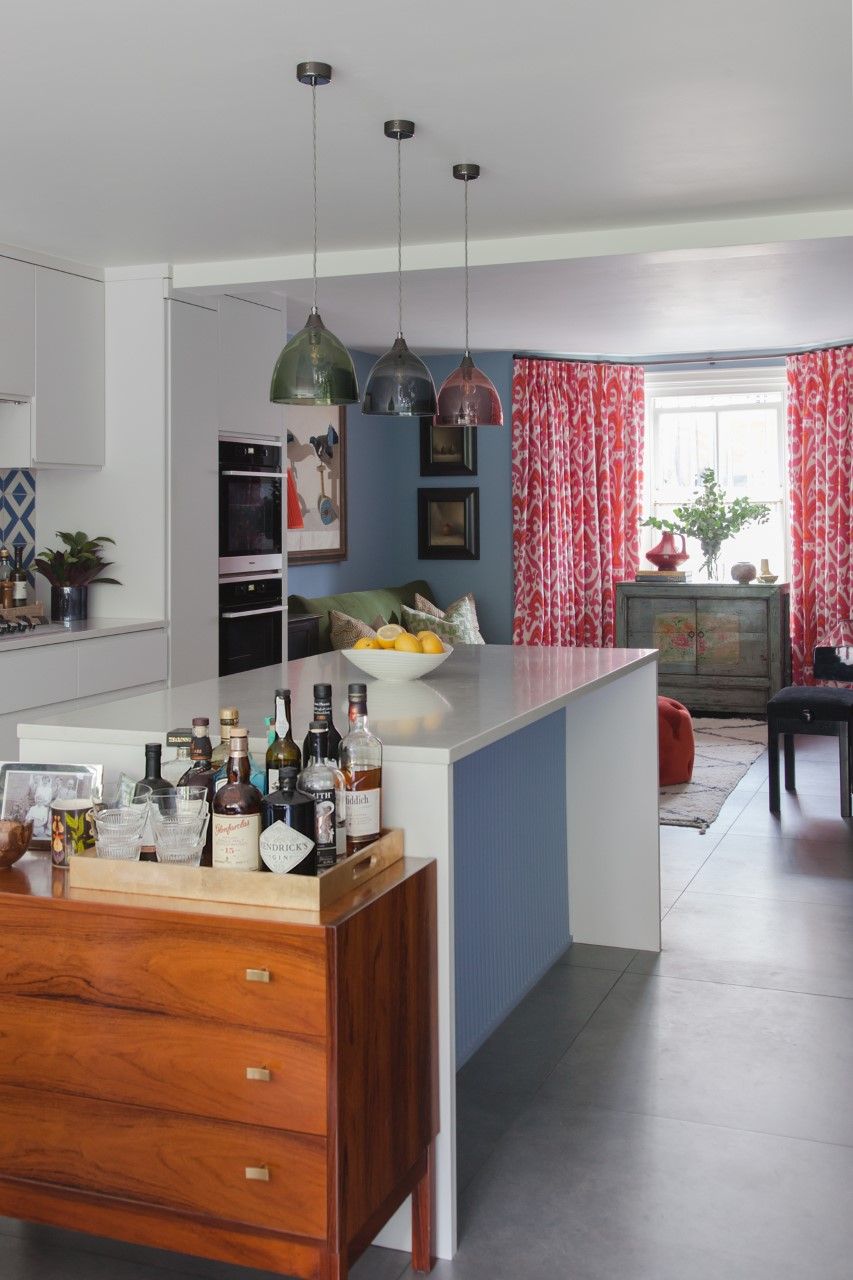 We love bringing non-traditional, non-kitchen-like pieces into a kitchen. Again it brings character and personality and shapes into a space often filled with clean lines and hard surfaces. Pinch this idea from designer Brooke Copp Barton (opens in new tab) and extend your island by placing a vintage find at one end. You'll get more surface space to play with in terms of decor and you could add some more handy kitchen storage too.
'For this blue kitchen, we broke up the more functional utilitarian space by adding a vintage wooden cabinet at one end – to mix a bit of old with new and add some lived-in warmth to the space.  The drinks tray and cocktails on display also help with the inviting vibe!' explains Brooke.
8. Open up the ends of an island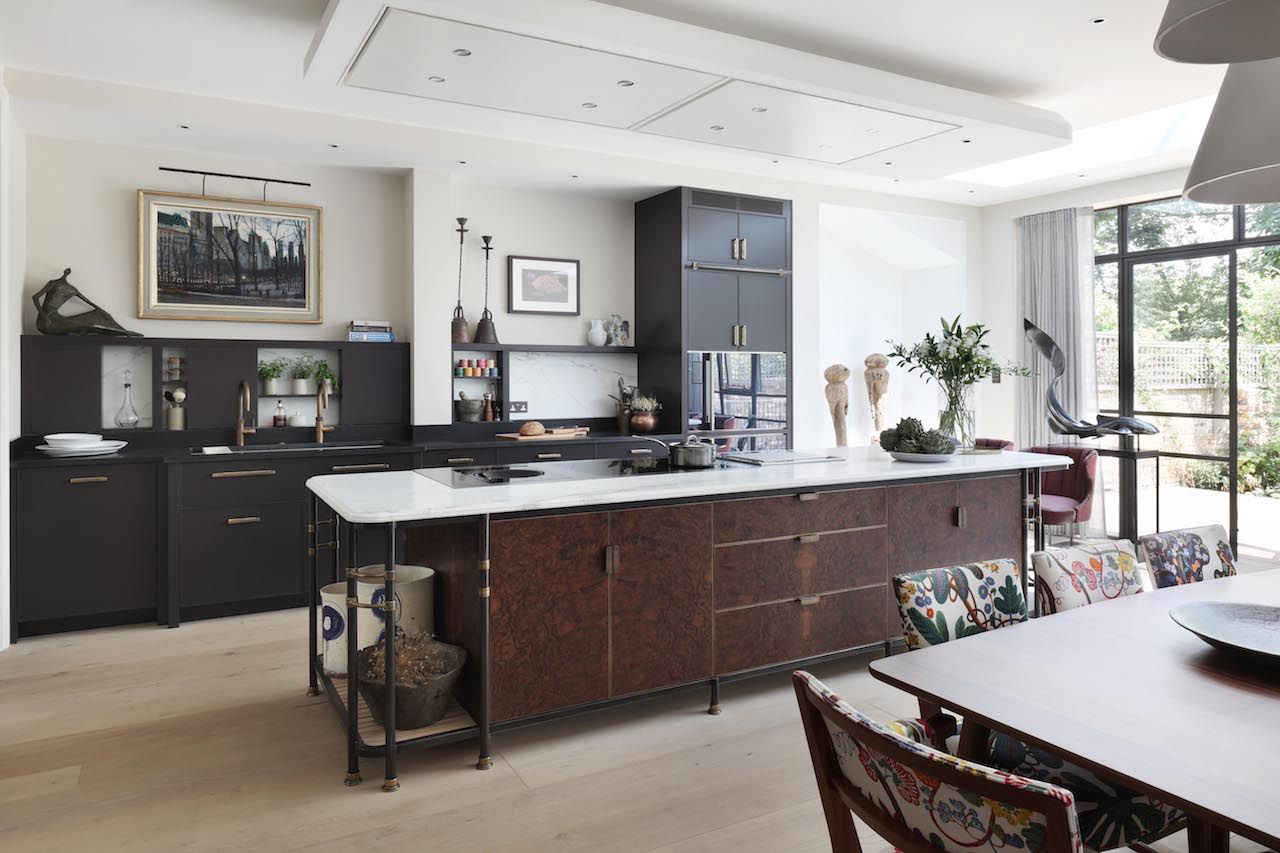 A large kitchen island can of course be a real asset to a home, but it does add a lot of bulk to the space. This is where perhaps the less is more rule can go out the window a bit, we still want the area to be functional but adding in decor will soften the look of a big island, making it less… solid. 
'For large kitchen islands, source an oversized vase to create different levels. Pick a beautiful bunch of flowers or branches of eucalyptus, depending on the mood; both will add drama. A fruit and veg bowl will add color and texture to the scheme.' suggests Amelia Brooks of K&H Design (opens in new tab).
And consider opening up the sides of the island as can be seen in this space. More room for decor and gives that island less of an impact 'We designed this 3-meter-long island for our client's professionally kitted-out kitchen as he wanted to plate up 16 guests at a time. To stop the island from looking monolithic and make it more of a furniture piece, we opened both ends. This was a good chance for more decorative vases and plant pots to be displayed,' adds Amelia.
9. Use shelving to keep things on show (but out of the way)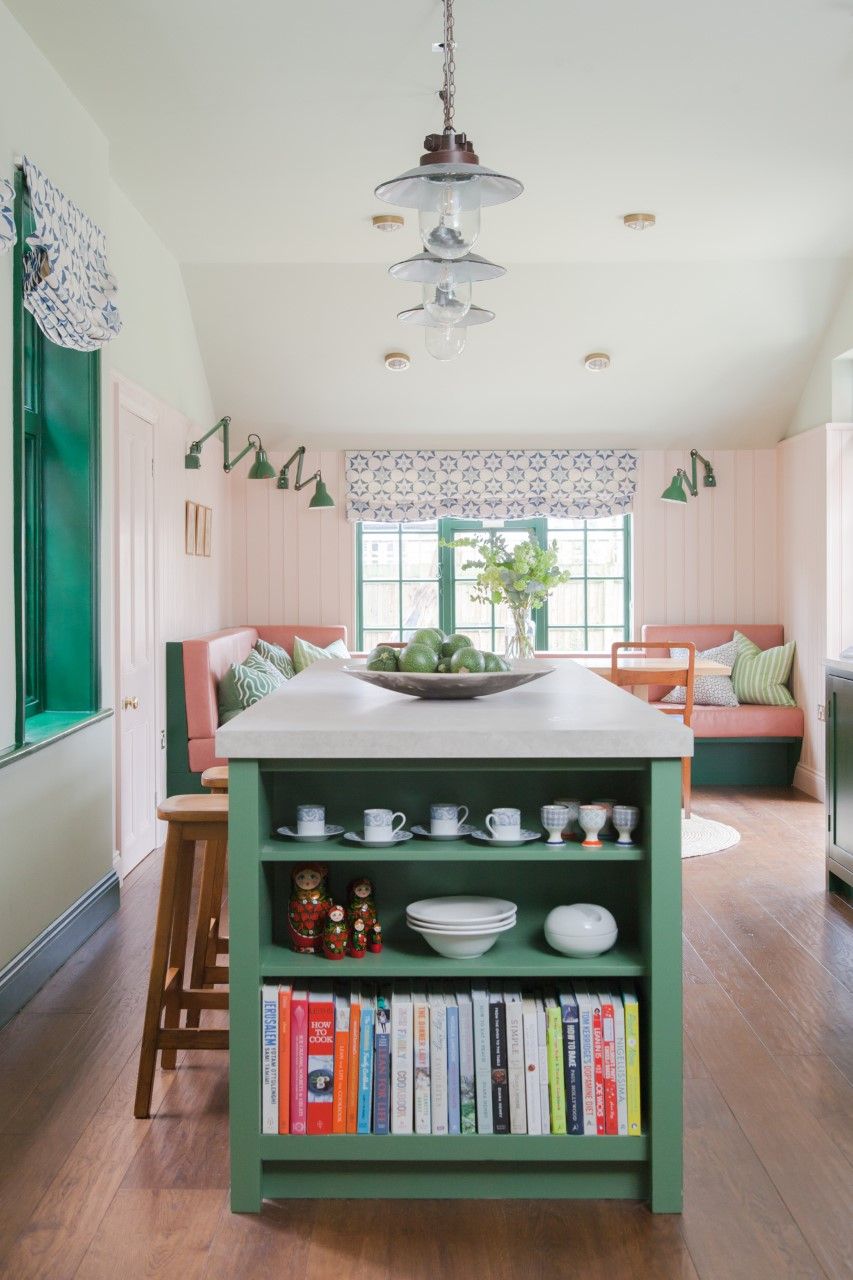 If you are designing a kitchen island, always add in some open shelving somewhere, because they really help break up the bulk of the cabinetry and give you the perfect spot to store cookbooks and your most aesthetically pleasing crockery. And if you are looking for ways to add shelving to your current island, source a really simple set of wooden shelving, paint them the same shade as your island and place them at one end for a seamless addition. 
'For this green and pink kitchen, a more traditional space, we built in open shelves at one end of this narrow island to display cookbooks and cups, etc. To my mind, it is always lovely to have your favorite things on display as opposed to having everything shut away in cupboards – and also helps to bring personality to the space. And again here we placed vintage pendants above for a more lived-in feel,' explains Brooke Copp Barton.
10. Turn a fruit bowl into a beautiful display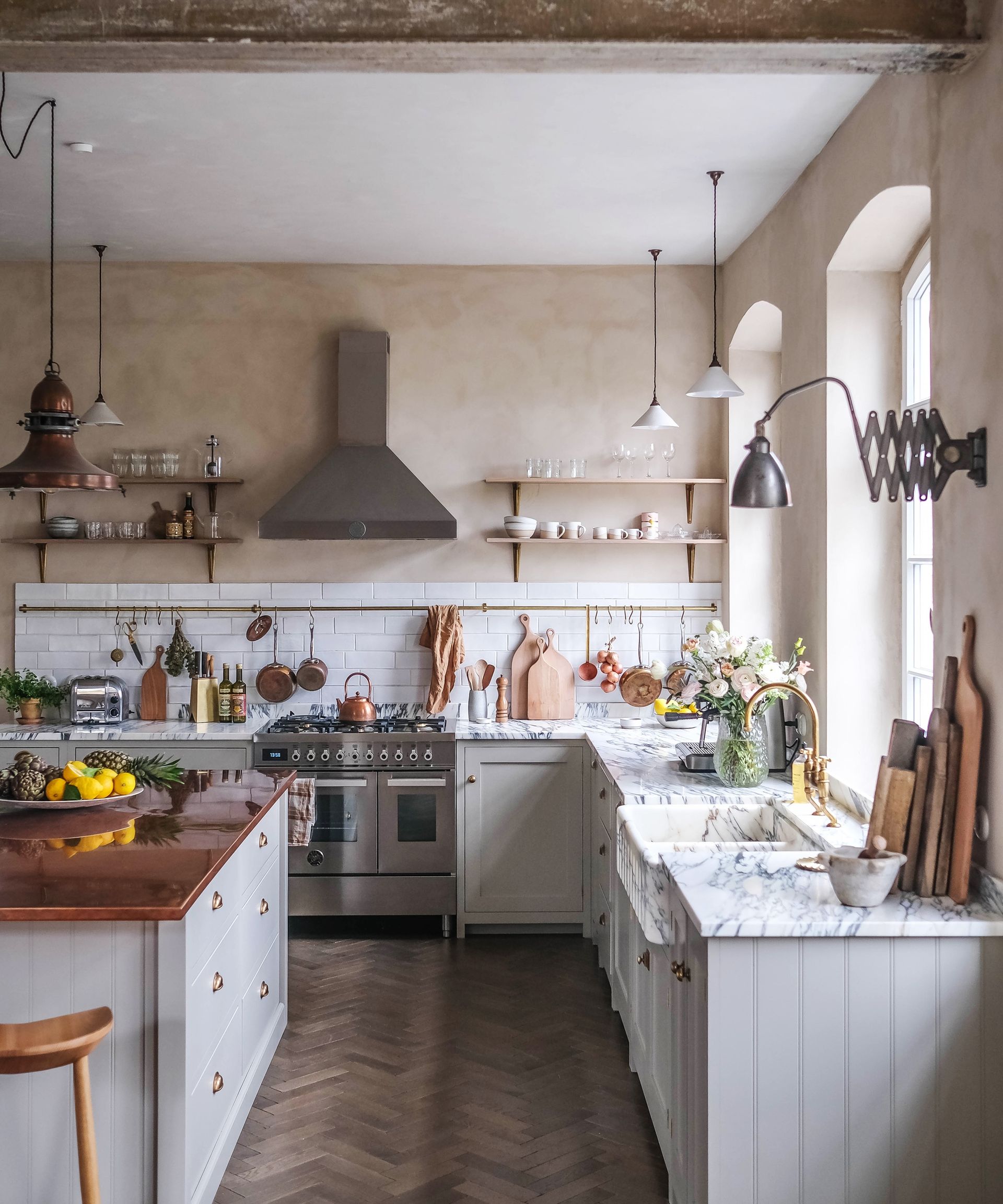 A fruit bowl is often such an awkward thing to find a home for. It's essential in most kitchens but just never seems to slot naturally into place. However, style it upright and an island can be the perfect spot to turn your collection of fruits into something beautiful.
It's all in the design of the bowl itself really. We recommend either picking something low-slung or oversized that's going to comfortably fill the center of your table and make a bit of a statement. Or opt for a small collection of bowls of different heights and shapes and cluster them together. Practical and pretty. 
What should you put on a kitchen island?
'We recommend keeping kitchen island styling simple, to avoid the space becoming messy or cluttered,' says Clara Ewart, head of design at Kitesgrove (opens in new tab). 'Choose one or two smaller sculptural pieces, such as a beautifully made bowl filled with fruit or an organic-shaped vase with foliage, which will add character whilst ensuring the space remains organized but beautifully layered.' 
What should you not use to decorate a kitchen island?
Anything that gets in the way or clutters up surface space you often use. Map out your island and decide on which spaces you use all the time – perhaps the surfaces around the seating area or the space around the sink – and keep these free of any decor. Instead, look for the lesser-used spot – the spine of the island or one end that doesn't see a lot of action.