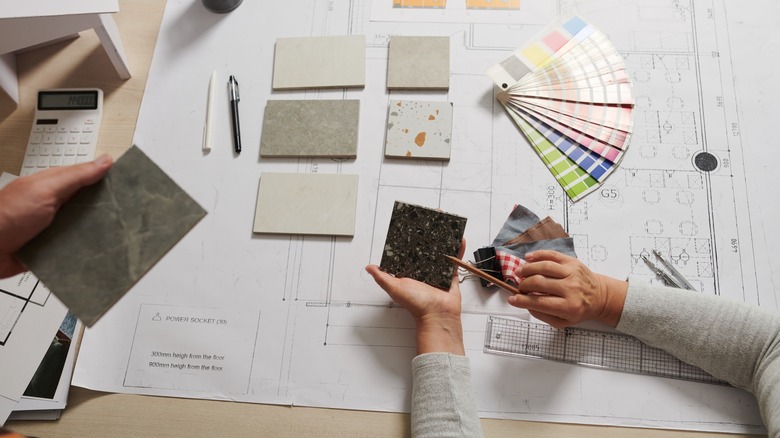 Dragon Images/Shutterstock
Whether you've been reimagining your bathroom's look for a while now or it hasn't crossed your mind at all, you've found the article that's going to get your renovation wheels turning. Natural stone is a widely-loved material used for kitchens, patios, pathways, and even bathrooms. It can be cut and arranged in many ways, but it's generally fashioned into tiles when it comes to bathrooms. The color and texture of the stones are what make them so attractive, providing a luxurious atmosphere that often emphasizes a closeness to nature. 
Despite stone-tiled showers' incredible look and durable makeup, some are quick to discount natural stone tiles thinking they are too difficult to maintain. However, good quality tiles installed properly shouldn't require much more effort than your bathroom does now. Giving your bathroom a natural stone facelift is sure to add that priceless personal touch and a unique aesthetic that stays on-trend for many years to come.
1. Keep it simple using thick gray stones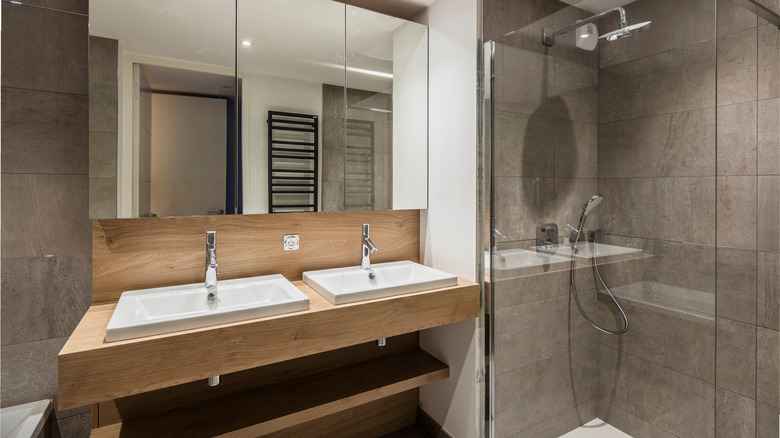 Dimitri Lamour/Shutterstock
The horizontal brick-like style in which this gray stone was made gives this bathroom a clean and minimal aesthetic. Paired with a natural-looking floating wood countertop and silver hardware finishes, the simple yet effective style keeps the small space looking streamlined.
2. Destress with distressed slate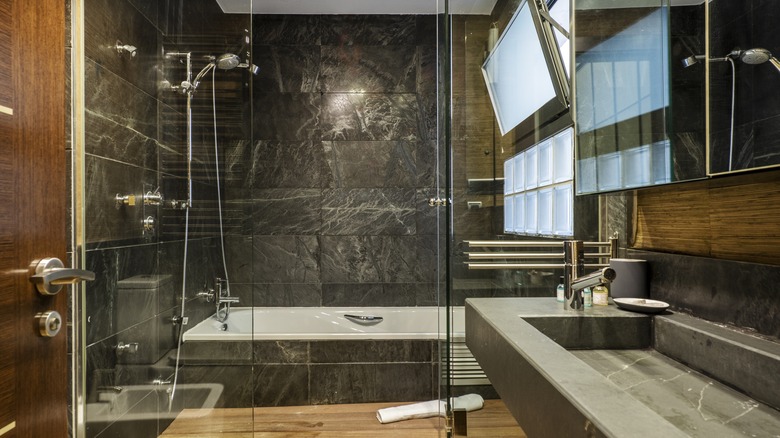 Toyakisphoto/Shutterstock
Wet rooms like this one sometimes use stone tiles to accentuate the luxury space. Here, a homeowner opted for large, horizontally positioned moody slate tiles that darken the room for a spa-like experience. They have even matched the sink to the walls, which helps tie the look together.
3. Walls of many stones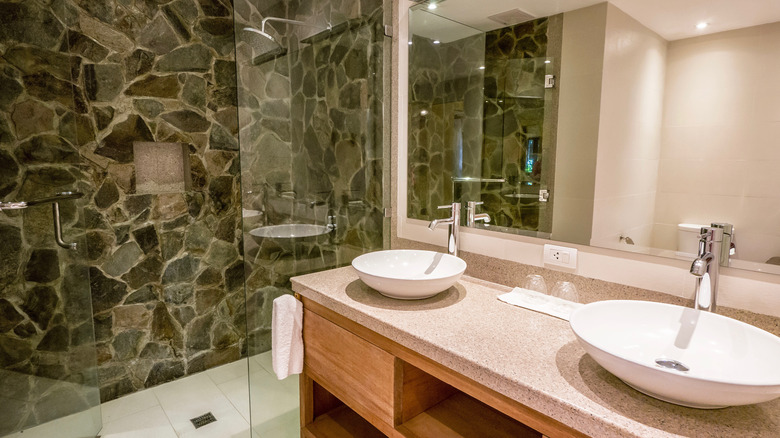 Cheryl Ramalho/Getty Images
When renovating your bathroom, consider stone designs that are a little out of the norm. The irregular stones in this enclosed glass shower bring life into an otherwise neutral-colored space, adding a texture that draws the eye.
4. Embrace your gray aesthetic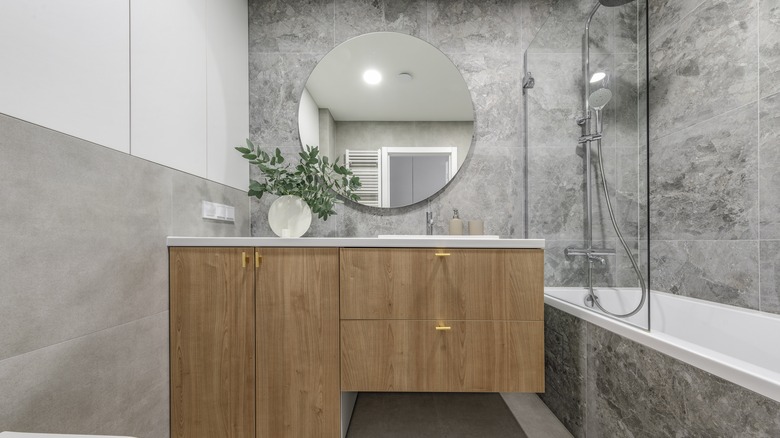 Jevgenija ZUK/Shutterstock
The gray home aesthetic has faced some backlash over the years, but this stone-tiled bathroom does it right. The look is minimalistic throughout, and the cohesive tones create a sense of luxury. The marbled tiles, in particular, add understated drama using a variety of gray shades that give each large section even more dimension.
5. A gorgeous mixture of textures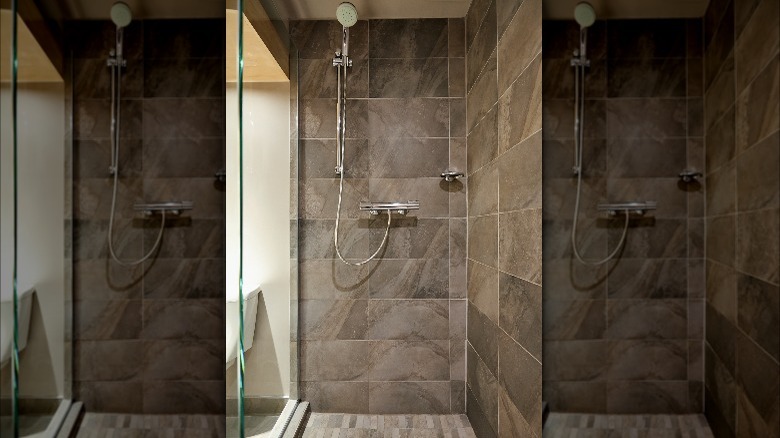 CapturePB/Shutterstock
This smaller walk-in shower beautifully combines two different cuts of stone, but it takes a close eye to notice. Both the floor and the shower wall are tiled with slate stones, but the difference between the tile sizes creates visual interest between the earthy tones.
6. A rockin' broken glass texture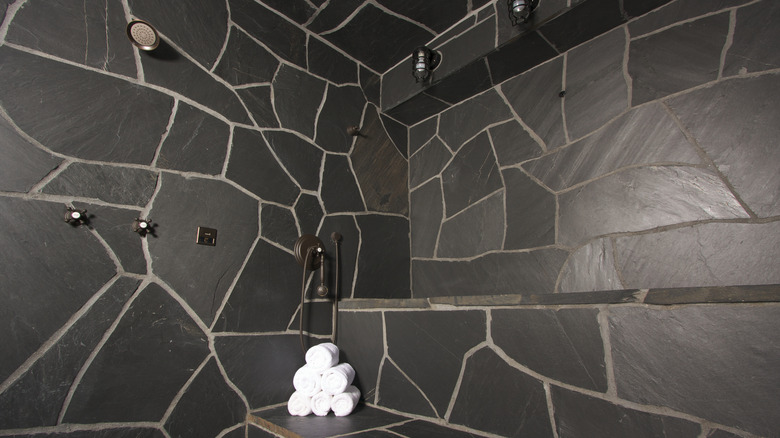 Andy Dean Photography/Shutterstock
Who said tiles have to be a particular shape? This shower's irregularly cut black stones certainly do not conform to normal standards. Instead, they crack and spider away from one another as the light gray grout outlines their shape. A darkly hued stone-tiled bathroom like this is surely a welcome sight. 
7. A space-defining rock wall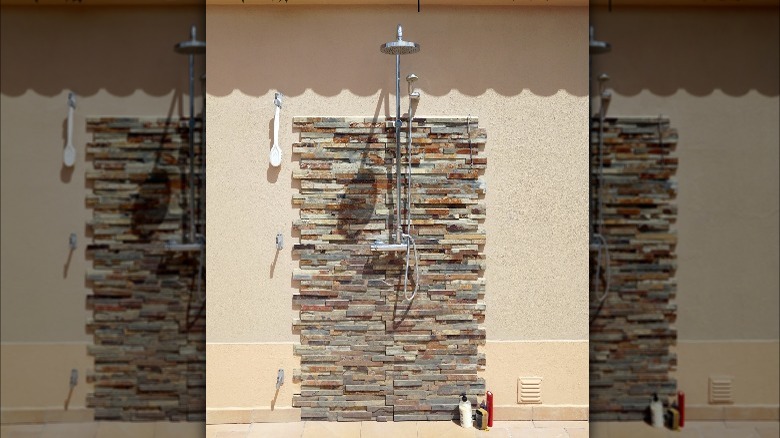 Michael Kaercher/Shutterstock
Outdoor showers can be tricky to reimagine. They have different needs and are often neglected when they are built in an area that receives cold weather. This shower uses thin and horizontally aligned stone tiles to roughly outline its space and add some flair to an otherwise bland feature.
8. A rustic accent wall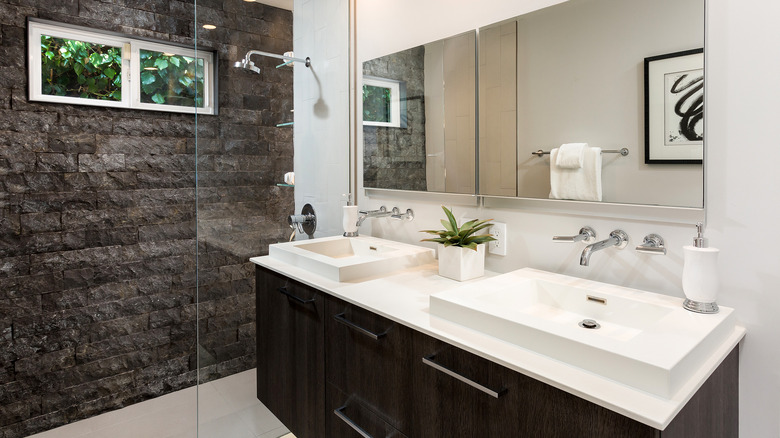 Krista Abel/Shutterstock
Accent walls and textured walls can be a great addition to a bathroom. Here the homeowners used both of these styles to create an eye-catching design. The dark gray-black stones arranged here contrast the white walls and countertops while matching the black cabinets positioned below.
9. Different cuts for the same stones
Drop Zone Drone/Shutterstock
Many stone-tiled showers use slate rocks for their earthy tones, texture, and affordable price compared to other natural stone options. The rustic feel that's achieved in this shower is accomplished with different cuts arranged in sections to provide interest and break up the space.
10. An island-style outdoor shower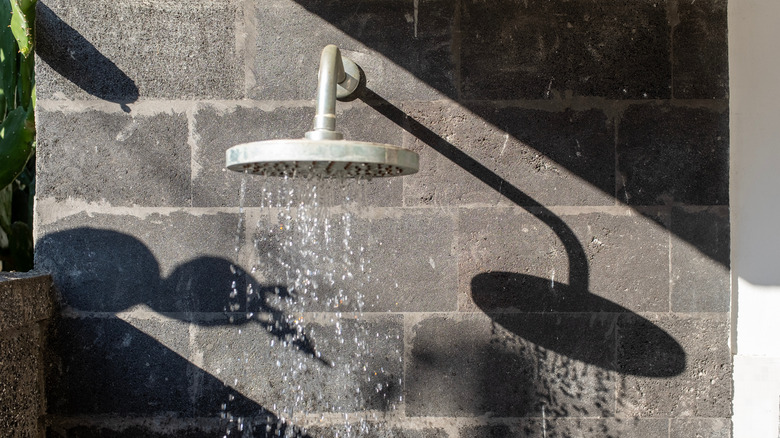 Dan Tiego/Shutterstock
Here is another outdoor shower option that keeps things uniform yet unkempt. The bare stone separated by light gray grout work is weirdly picturesque. Consider keeping things quaint for a rustic and peaceful feel when showering off after hours at the beach.
11. Get geometric with hexagons
You can jazz up any shower wall with hexagon tiles. Among the best options is marble tiles in this shape. Using white grout, you can hardly see the shapes from far away. However, moving closer, you'll notice the details that make it a wonderful addition to your bathroom.
12. Rugged symmetrical squares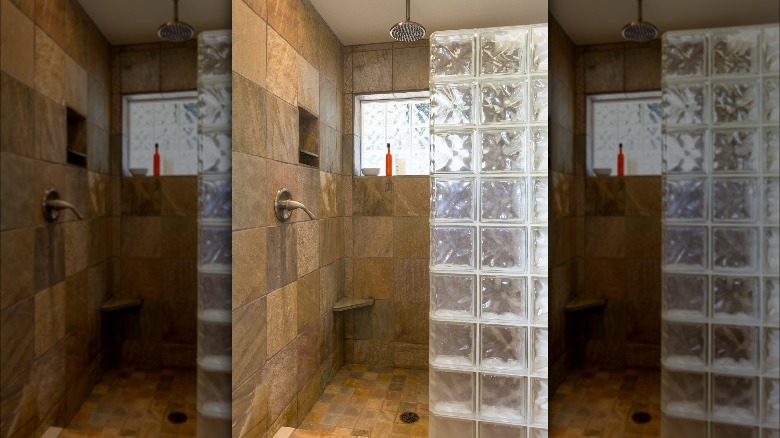 Solarisimages/Getty Images
Our eyes love symmetry and distinguishable patterns. The square-shaped slate tiles perfectly aligned in this shower create a pleasing atmosphere that meshes well with the glass block partition. The glass blurs the light cast on the stone tiles. With the rainfall shower head, we can only imagine showering here feels like washing up in a waterfall.
13. Floor-to-ceiling limestone
Archiviz/Getty Images
If you're not a fan of the rustic-looking options we've covered so far, limestone tiles may pique your interest. They are muted compared to the dark and earthy tones of slate. Here, the homeowner opted for a sleek design, tiling their bathroom with limestone and a small section of wood planks under the tub and shower.
14. Chic granite panels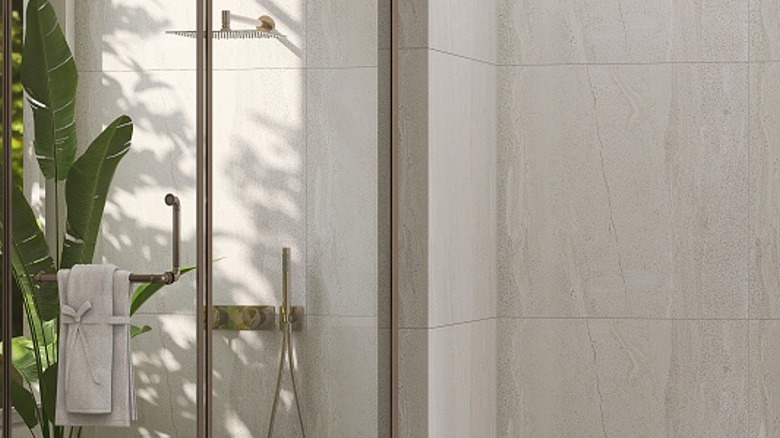 Suchada Tansirimas/Getty Images
Limestone is not the only lighter natural stone option. Granite comes in many interesting shades and cuts that are perfect for a shower. Typically, granite is used for countertops because it is durable and resistant to many cleaning products. It only makes sense to use it in your bathroom, where it is continually subjected to similar substances.
15. Playing with shape, not color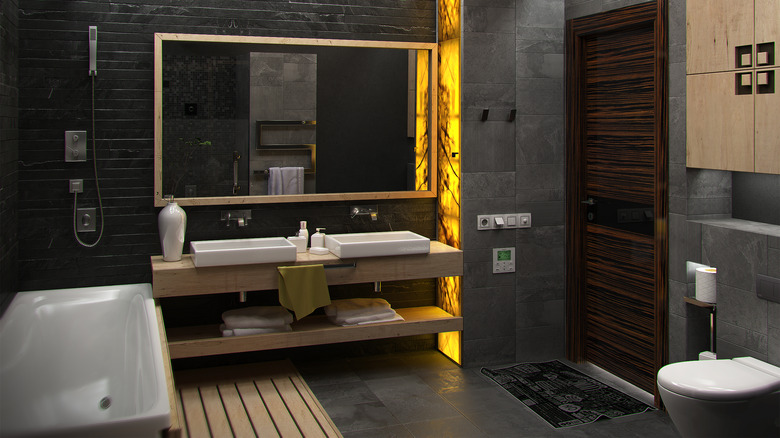 Threedicube/Getty Images
A brick wall easily lends itself to an industrial look perfect for the bathroom. In this one, the bricks are nearly black and combine well with the square slate tiles that overtake the floor and one of the walls. The daring design results in a neat and masculine showering space.
16. Stay cozy with warm-toned limestone tiles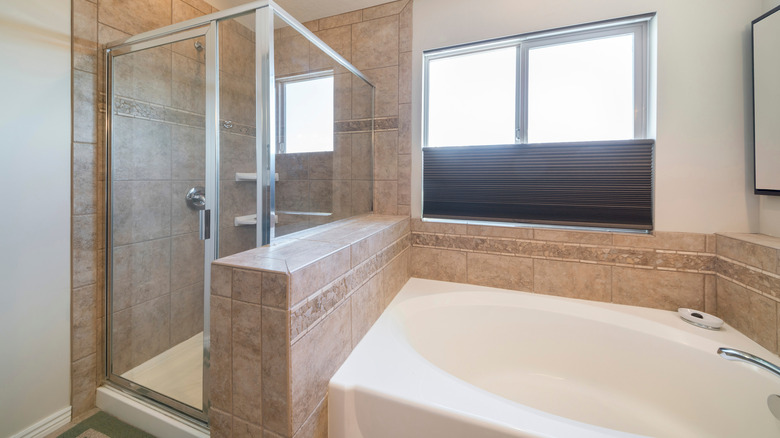 Jason Finn/Shutterstock
We love limestone tiles in the bathroom because they are durable and resistant to mold growth and bacteria. In this bathroom, the homeowners chose to marry their bathtub and shower together with limestone tile walls that brighten and warm up the space in shades of beige.
17. A small but mighty stone mosaic
Natural stone is sometimes made to look too glossy, which can make your bathroom look cheap if it's used incorrectly. Matte stones almost always have a more natural feel, as if hand-picked from beachside cliffs. These are fashioned into an irregular pattern, making them even more captivating.
18. Slate and natural wood provides a cabin-like feel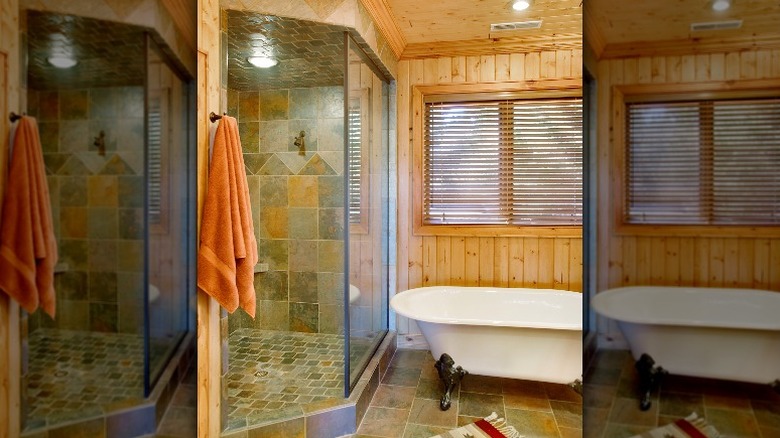 B Brown/Shutterstock
We love this cabin-inspired bathroom that covers its enclosed shower in slate tiles. The wood paneling on the walls and ceiling brings out the warm brown tones of the natural stone. It's reminiscent of using a sauna cabin in the cold forests of the PNW.
19. Walk in the river with pebble stone flooring
Keeping with this wilderness theme, you can't go wrong with pebble stone flooring that mimics the shallow bed of a river or creek. A member of Tilebar's Nature Collection, this flat stone tiling option is an unforgettable design that is on our bathroom renovation vision board.
20. Contrasting stone tile textures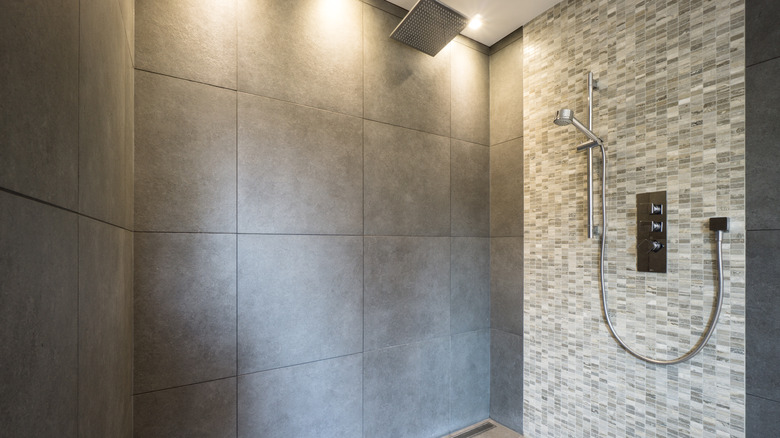 Matus Labanc/Shutterstock
The contrast between the shape, color, and texture of these two stone tile applications brings out the best qualities of each of them. The larger gray stone tiles brighten the lighter mosaic wall, and the gray shades complement one another nicely. Trying to imagine one without the other just feels wrong.
21. White marble tiles in a herringbone pattern
Marble tiles have some of the most fantastic shapes and patterns. From oversized slabs to tiny tiles such as these, it's hard to ignore this versatile alternative to other stone options. The material is always sleek and classy and pairs well with many design ideas.
22. Creamy limestone pairs well with blue stone tiles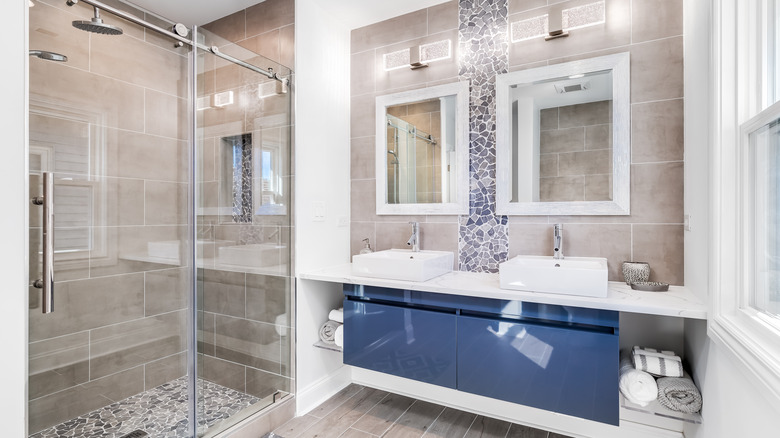 Hendrickson Photography/Shutterstock
The sandy color and texture of the limestone used on the walls of this bathroom pair perfectly with the blue hues of the pebble tiles and vanity. Giving beach-house chic, we can imagine the smell of sea salt and sunscreen just looking at it.
23. Laced-up stone is in
Asian statuary marble is well-known for its cost-effective price compared to other marble options. It is frequently used in hotels and other beautifully designed buildings. One thing we love about this material is that it is extremely multi-faceted. It can be textured and engraved in several ways, making it indistinguishable from other marble designs.
24. A modern design with a petrified-stone mosaic
Made from an ancient fossilized natural stone, this stone tile shows off a soil-like color palette with shades of brown, gray, white, and beige. The differences in its color lend itself to a variety of design schemes. These tiles would look great in an earthy, boho, or beachy bathroom aesthetic.
25. Keeping it monochrome with marble
When you're in the market for something with a bit more pizazz, this marble option is quite alluring. Made with the recognizable white Italian marble, Calacatta Gold, you'll notice how these marble tiles are littered with gorgeous markings while still keeping this shower perfectly monochrome.