Warmer colour schemes, evolution of the home office and main-floor suites are some of what builders see growing demand in the coming year.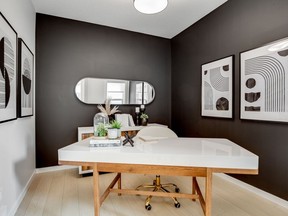 Reviews and recommendations are unbiased and products are independently selected. Postmedia may earn an affiliate commission from purchases made through links on this page.
Article content
Goodbye grey, hello warmer tones.
Article content
As we enter 2023, Edmonton's newest homes are no longer going grey. They're also taking on a bit of a bolder look. Meanwhile, the pandemic continues to reshape what homebuyers are looking for in a new build. Although, there's one key difference this year: affordability.
Article content
Starting with a home's mood setting backdrop — its walls and colour schemes — expect to see warm, mid-tone neutrals for main wall paint selections while secondary dark jewel tones or chocolate browns will accent, said Amanda Dorval, Homes by Avi's definitions manager, who added that dramatic, bold prints for wallpapers will also be prevalent.
"Design trends are shifting to warmer tones away from the greys of the past decade," said Dorval. "Homebuyers are choosing darker countertops paired with darker natural wood cabinetry combined with an art deco vibe with gold or black hardware accents. These are still strong players carrying over from 2022, however, in a more transitional or traditional style as opposed to the clean lines we've seen in the past."
Article content
She also expects white kitchens will still be predominant for 2023 but off-whites or creamy whites will be highlighted rather than the stark, crisper whites of 2022. "But black cabinets, paired with warm wood, are trending and pops of colour in the tile or countertops or cabinets accents will create interest and warmth," she said.
Similarly, Jayman Built, notes that things are lightening up. Colour-wise, colours are warming up, said Janice Robertson, Jayman's interior design manager.
"They're moving away from the greys into beiges, golds and browns," said Robertson, pointing out it's a departure from the cooler greige/grey tones of the past.
Further, warm metals — gold and bronze, as well as black — continue to be popular for faucets, lighting, mirror frames and door and cabinet hardware, said Robertson.
Article content
Pandemic Influences Remain
The effects of the COVID-19 pandemic are still changing the ways buyers want new homes to be built. But of the three builders Postmedia interviewed, each had a slightly different take.
"Yes, I do anticipate there will be a lot of thought put in to dedicated spaces for personal lifestyles," said Dorval. "Having floor plans with flex-room model options that allow for main floor bedrooms for multi-generational families, studies for home offices, prayer rooms, etc. are all requests that we have had post-pandemic and will continue to see this year."
At Jayman, they're hearing that the home office is more intentional — not just the spare bedroom — as a result of more people working from home.
Article content
On the other hand, there's this from Pacesetter Homes.
"Work from home spaces are starting to see a change in perspective as people don't necessarily need an entire designated room and are moving towards incorporating their work from home space as a part of another room, optimizing their overall space," said Erin Davis, Pacesetter's director, sales and marketing.
"The trends we saw during COVID, such as having a home office, are now focused more on affordability," added Davis. "The home's function is paramount, having the flexibility to meet a multitude of different lifestyles, all while remaining affordable. Homebuyers still want options like a home office, home gym, an upgraded kitchen or a basement suite but they want it in a package that is more affordable. Often that means in a smaller square footage."
Article content
In Demand
Expect to see more legal suites, main-floor suites and spice kitchens in Edmonton's 2023 homes.
"Spice kitchens are a huge trend for 2023," said Davis. "Due to the demographic diversity that we're seeing in Edmonton, people want to keep the dirty dishes and cooking smells out of their kitchens and kept in the spice kitchen so that the main kitchen can be more of a showcase. We are also seeing more desire for things like beverage fridges and bars in the kitchen and dining areas for entertainment purposes."
Meanwhile, a main-floor suite — a bedroom and a full bathroom on the main floor — allows for multi-generational living, said Davis, pointing out that legal suites are also becoming more popular as not only can they provide an affordability option by generating income but they also align with multi-generational living and let an older family
member live close by as they age.
Both Jayman and Homes by Avi state that secondary suites have become very popular, with Avi's Dorval expecting them to continue to be in high demand through 2023.
Three 2023 Things
Homes by Avi: Foresees an increased market for the connected home: smart lights, smart thermostats, doorbell cameras and more.
Jayman Built: Reports that curves are in with archways making a comeback. Hard lines are giving way to softer curved lines, also seen in furniture and decor.
Pacesetter Homes: Notes that there's a great desire for an extra upstairs loft space that's flexible for multiple uses.