Chloe Best

Teenage bedroom ideas for boys and girls with tips on how to decorate a practical and personality-packed space from interior designers

For teenagers, their bedroom can be a sanctuary, and a place they can truly express their personalities and developing sense of style, so you may find that they develop some strong ideas about what they want it to look like.
Serving as so much more than just a space to sleep, a teenager's bedroom can also be a place they go to relax, hang out with friends and study, so it needs to be practical as well as full of personality. Sounds challenging, right?
WATCH: Get inspiration from Peter Andre's bedroom transformation for his teenage son
Take the stress out of transforming your teen's bedroom with these teenage bedroom ideas that you'll all love, along with the expert tips all parents need to know…
10 teenage bedroom ideas
"First things first, it's important to involve any person who you might be designing for in a discussion about their needs and how they want to use and feel in that space that is being created. What do they want to use their room for, is it for relaxing, is it a study space, it is a space for friends or is it a safe space for them to retreat to from the world," Stephanie King, Creative Lead at Dulux, says.
CELEB INSPIRATION: Most stylish celebrity children's rooms
"In any case, by having this discussion you, alongside your teenager, can plan the functions of the room effectively and make them feel involved in the process. By involving them from the outset, when you come to a 'negotiation' moment hopefully you've created a smooth path in understanding to help smooth that out quickly! It also helps them take more ownership and pride of that space, that they helped create."
Go for geometric patterns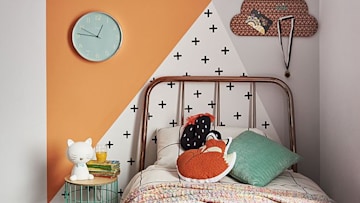 "Teenagers will be changing their likes and dislikes frequently as they interact with life around them, therefore whilst tempting to design rooms around a theme it's probably safer to design in some longevity. They may love football today, but will they love it in a years' time?" Stephanie says.
SHOP: 19 best spring home decor ideas: from H&M to Zara
"Simple geometric patterns work well for adding interest that doesn't go out of fashion, whether that be chevrons, confetti shapes, stripes or grid patterns painted on the walls. It will look great for them and hopefully stand the test of time."
Create zones for different purposes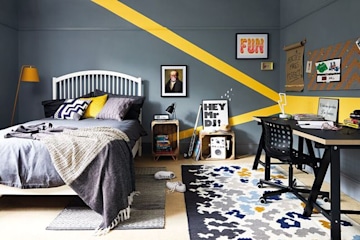 "It's one thing to have a beautiful looking room, but quite another to have a room that works beautifully. Thinking about those all important function of that room, start by considering the zones you might need to create," the Dulux creative lead suggests.
"If you have a social gamer, is there a zone you can create with some comfortable seating and some pops of vivid colour in a block behind the all-important TV/monitor, or jazz up the tech cabinet with a lick of colour. A vibrant, dynamic orange accent such as Blood Orange, or a sunny yellow such as Honey Nut or Golden Sands would both work brilliantly as they are stimulating and inspiring and pair well with other greys and neutrals."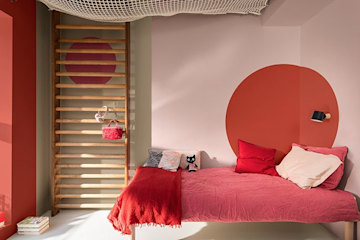 Stephanie adds: "Colour blocking is a great way to section these spaces, either adding a geometric patterns behind a desk, a cool painted headboard or creating a cosy colour drenched corner taking the colour up onto the ceiling."                    
MORE: 14 bedroom decorating ideas you won't be able to resist
Think about furniture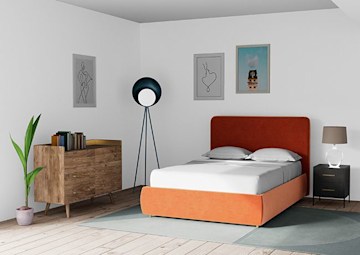 "Teenagers are famous for changing their minds quickly and often – we've all been there. So, when it comes to decorating a teen bedroom, it's a great idea to invest in some base furniture pieces that won't need to be swapped out," says Sam Greig, senior designer at Swoon.
"If space allows, why not upgrade your teen to a double bed? Especially for teenagers going through growth spurts, that single bed might not cut it anymore when it comes to getting a great night's sleep. Choose an ottoman bed to add extra storage too – perfect for ever-changing wardrobes and endless masses of hobby equipment."
Update with accessories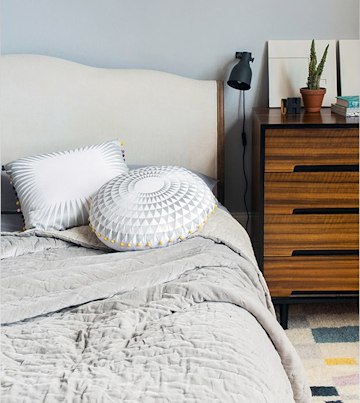 "Rather than painting the walls with the current on-trend colour (and being forced to repaint it in six months when the next big trend arrives), choose easy to rotate items like bedspreads, cushions, and rugs to reflect your teens colour or theme obsession. These can be quickly and cost effectively swapped to reflect changing tastes – so it won't cost you a bomb once that digital lavender colour they loved goes out of style," suggests Sam.
Rethink Pink
Teenagers may think that pink is too young or girly for their new bedroom décor, but it shouldn't be ruled out, according to colour and paint expert Annie Sloan. "Pink has had a bad rap but if there's one thing teenagers can be relied upon for, it's upsetting the status quo! Banish thoughts of saccharine pinks and insubstantial colour by using a strong, earthy, unexpected pink in a teenage girl's bedroom," she says.
READ: 19 girls' bedroom ideas that are fun and easy to recreate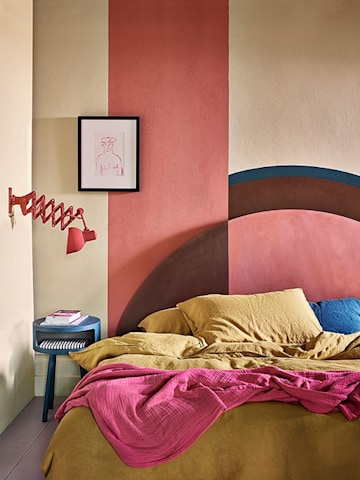 "Inspire her to investigate the history of interiors and the fashion of colour through the ages by pointing out that it wasn't until the 20th century that pink began being branded as a colour for girls. The fascinating back story might spark a life-long curiosity about colour, a curiosity which from first-hand experience I can assure you will be rewarded! Use pink alongside rich, strong, dark colours for extra inspiration and to ensure that bedrooms remain cosy spaces where busy adolescent minds can find some refuge."
Don't forget window dressings
"For any style conscious teenagers, as their wardrobe adjusts to the new season so can their window treatments. Beguiling botanicals, patterns that pop, retro and heritage florals and comforting curvaceous shapes can keep the mood modern in their rooms whilst creating windows that wow!" suggests Yvonne Keal, Senior Product Manager at Hillarys.
Keep it simple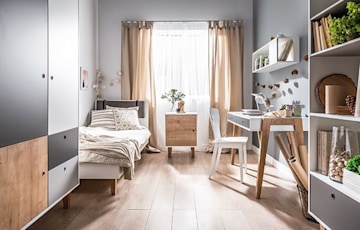 While we can get caught up in all the things we think our teens need in their bedrooms, celebrity interior designer Naomi Astley Clarke says we should strip things back and try to keep things more streamlined and clutter-free.
"When designing bedrooms, the key is to keep in mind that your bedroom is a restful space and its contents and layout need to reflect that. Removing unnecessary clutter is an obvious approach but take it one step further and think about reducing furniture within your scheme and simplify your dressings. Do you really need that chair which only serves as a clothes horse, or fussy window dressings? Probably not. Not only will your mind be clearer, but you'll have more budget for the important purchases." (Photo: Cuckooland)
Don't shy away from colour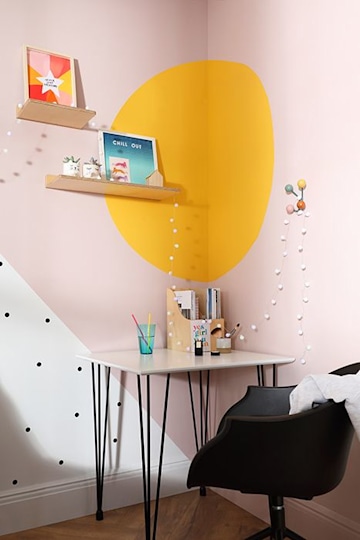 "When it comes to teenagers, it's key to let them personalise their room so they feel like they have their own space. Allow them to incorporate any hobbies or interests they might have and create wall features by hanging weird and wonderful items – Pinterest offers loads of great ideas on how to do this," says Elaine Penhaul, interiors expert and director of international award-winning home staging company Lemon and Lime Interiors.
"Parents may shy away from giving a teenager free rein but try to remember that paint is temporary, and it can be changed as their tastes change or when they leave home. They will benefit from having the freedom to experiment and can learn to manage money if offered a budget." (Photo: Furniture and Choice)
Like this story? Sign up to our HELLO! Mail newsletter to get other stories like this delivered straight to your inbox.