Transitional bathroom designs are ideal for those who love the idea of 'classic with a twist' and spaces that strike a happy medium between traditional and contemporary styles. The look is chic and timeless, and always feels warm and welcoming.
While designing a transitional-style bathroom, it's all about the balance, whether it's in the color palette, fixtures, finishings or tiles with other additions in the room. The result should be a modern bathroom with clean lines, yet not overly decorated with comfort at the core. 
Here's how to do it.
Aditi is an experienced homes writer and editor. She has written hundreds of articles for various international titles helping readers make the best home design choices, and spends her days interviewing interiors industry experts to bring the latest ideas to her readers. For this piece she spoke to the world's best designers to find out how to design a transitional bathroom. 
What is a transitional bathroom?
Transitional style might be timeless in nature, but it's also a blossoming bathroom trend, too. This look comprises time-tested fixtures paired with modern silhouettes; a versatile design style. Certain features such as Shaker-style vanities, sleek hardware, natural stone materials, streamlined lighting, and mirrors, along with restrained embellishments are central to its theme.
'Transitional style bathrooms combine elements of both classic and contemporary design,' says Reena Sotropa (opens in new tab), founder of Reena Sotropa In House Design. 'This style can be used to great advantage in the design of a bathroom where style and utility are at constant odds.'
'Although transitional design style seems like the perfect style for the non-committal, it is much more than a random combination of classic and contemporary elements,' says Reena. 'A well-curated transitional space requires as much if not more careful consideration to achieve the balance that is a hallmark of this design style.'
1. Choose neutral tones for a true transitional style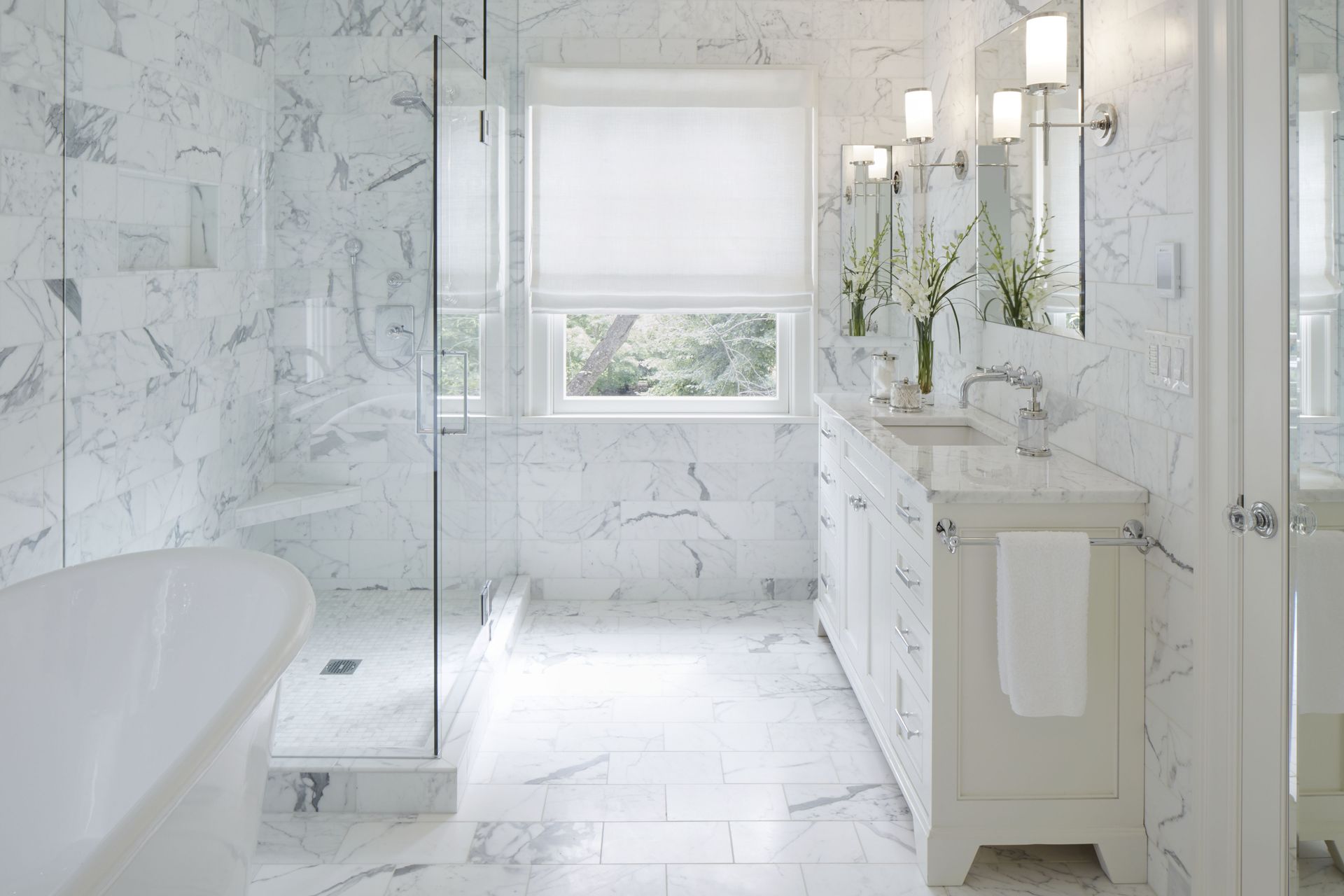 Whether you go for cool or warm hues, the color palette of a transitional-style bathroom tends to be soft and subtle. This includes shades such as white, cream, beige, taupe, chocolate, light grey, silver, dusty rose, or sage green.
Having said that, gold and rose-gold details do have a place in this style of bathroom, as they add a modern vibe while still fitting into a transitional style. You can also opt for touches of black to contrast with the light tones of the room.
'This bathroom was birthed from a dingy small washroom and unused closet to become a spacious primary suite,' says Donna DuFresne (opens in new tab), principal at Donna DuFresne Interior Design. 'Encasing the walls and floors in statuario marble creates a serene spa bathroom-like environment and a truly transitional look. A large free-standing tub and generous size shower complete the experience.'
2. Consider natural materials such as wood and stone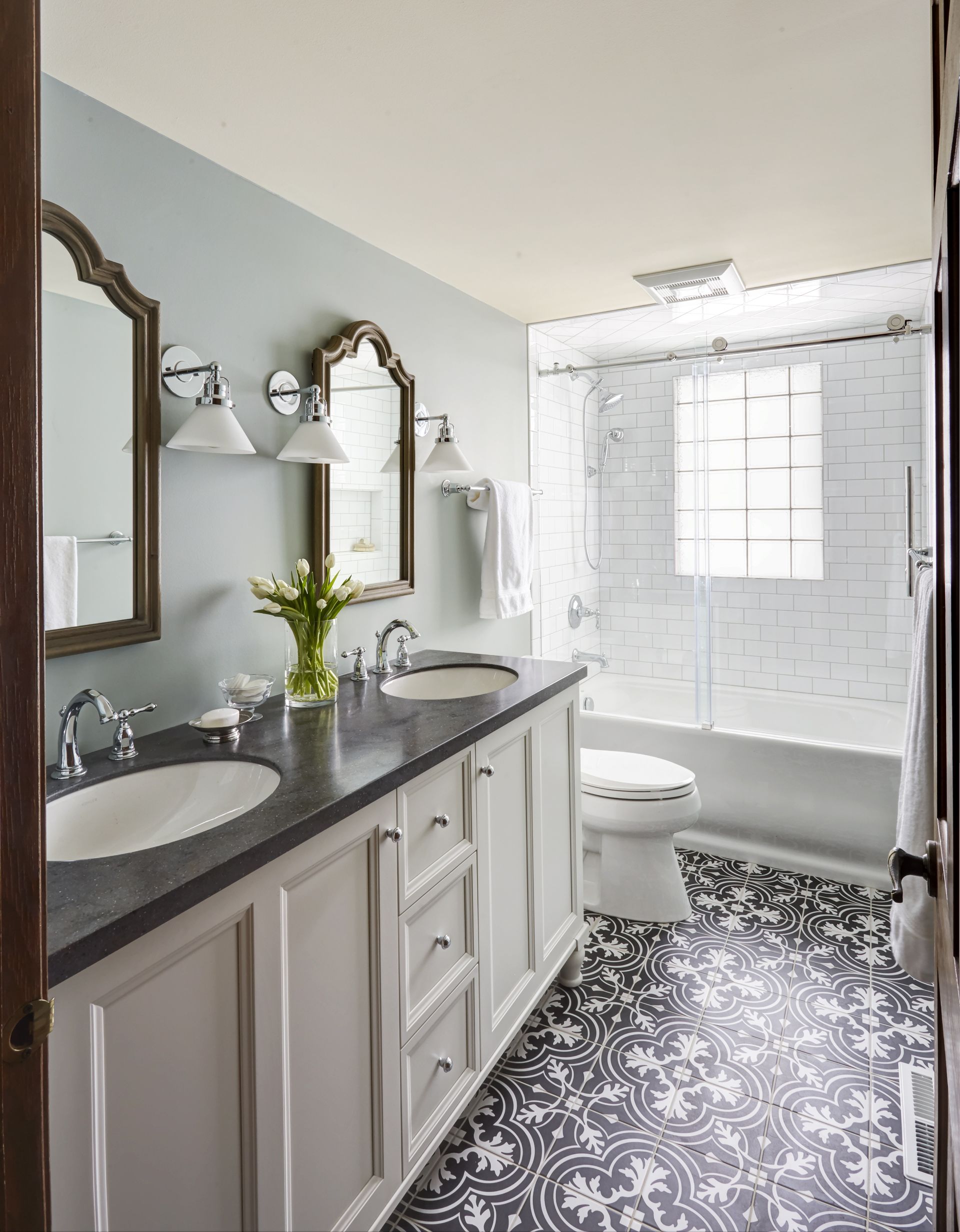 A marble bathroom or a concrete space mixed with modern lighting or stylish wall treatment will lay the grounds for transitional bathrooms. Light-hued stones such as granite and quartz work well, along with engineered quartz that is easier to care, for and nonporous.
'Designing a bathroom in a transitional style is a great way to ensure longevity,' says Reena. 'This style relies heavily on sleek man-made materials like glass and metal with natural materials such as wood and stone. This balanced approach usually results in spaces that don't lean heavily in one aesthetic direction or another and will not look quickly dated.'
'The primary goal of this bath remodel was to update the 1970s theme and replace materials that were just getting old,' says Susan Klimala (opens in new tab), co-owner and creative director at TKS Design Group. 'The homeowners did not care for having a wood window in the shower that had to be covered with a shower curtain for privacy, so we replaced that with a glass block window. A sliding glass shower door visually lengthens the room and adds an industrial feel. This is reinforced by the style of the sconces, the cement-look countertops, and subway tile in the new shower. The stars of the room are the patterned floor tile and the wood mirrors, which bring a bit of Moroccan flair to the modern Chicago suburbs.'
3. Go for Shaker-style vanity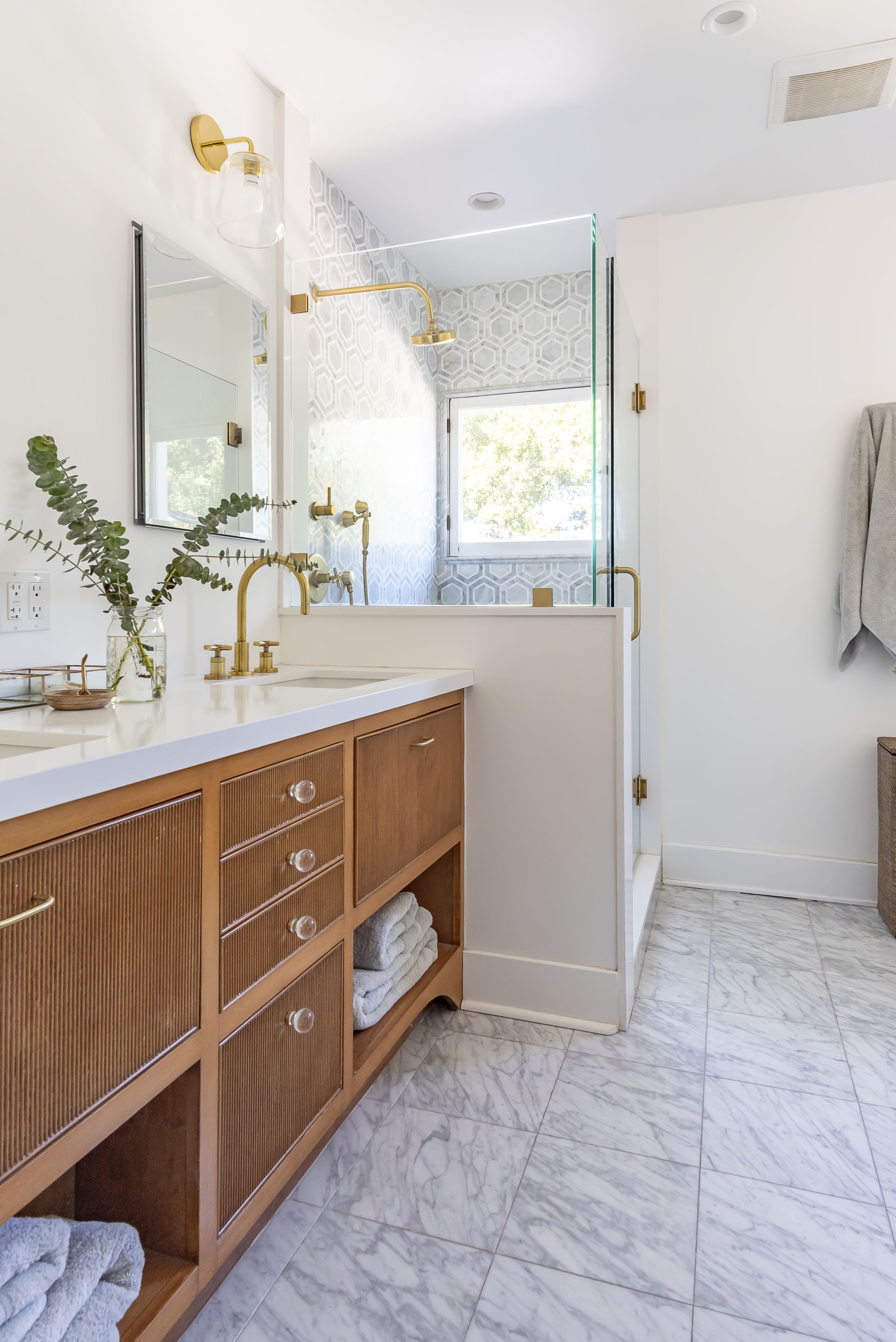 For a clean-lined and utilitarian bathroom vanity, consider a Shaker-style. Pair this type of vanity with classic hardware and faucets to match. You can also consider interesting finish options such as polished or brushed nickel, chrome, matte black, brushed gold, brass, and Lucite.
Usually, shaker styles have interesting edge detailing, but the shaker style in transitional spaces will be more on the simple side. Also, the vanity is less likely to be floating, and more likely to be built-in. Choose classic and sleek knobs and pulls to accompany them.
4. Shiplap plays an important role in transitional bathrooms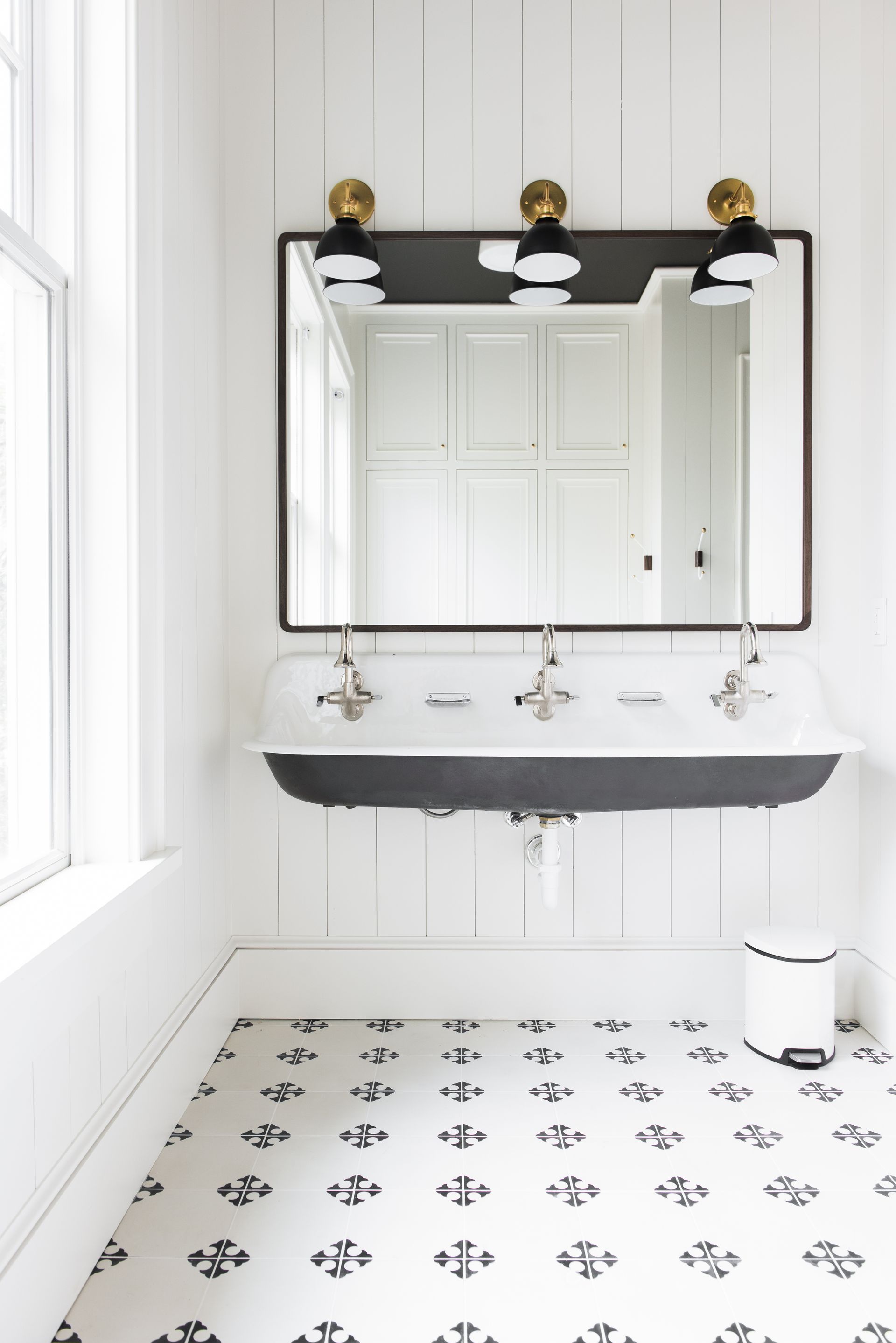 Interestingly, shiplap bathrooms have been around for decades; a style that was originally associated with a farmhouse or cottage look but is now a part of modern bathrooms. If you want to add a subtle touch of intrigue and drama without pulling focus, including shiplap in your transitional bathroom could work wonders.
While using this wonderful design element that has a throwback quality along with a touch of warmth, to create a nice juxtaposition, consider adding a long, cascading, modern pendant or chandelier to the setup. You could also consider painting the shiplap in crisp tones of powder blue or dusty pink.
5. Include a freestanding tub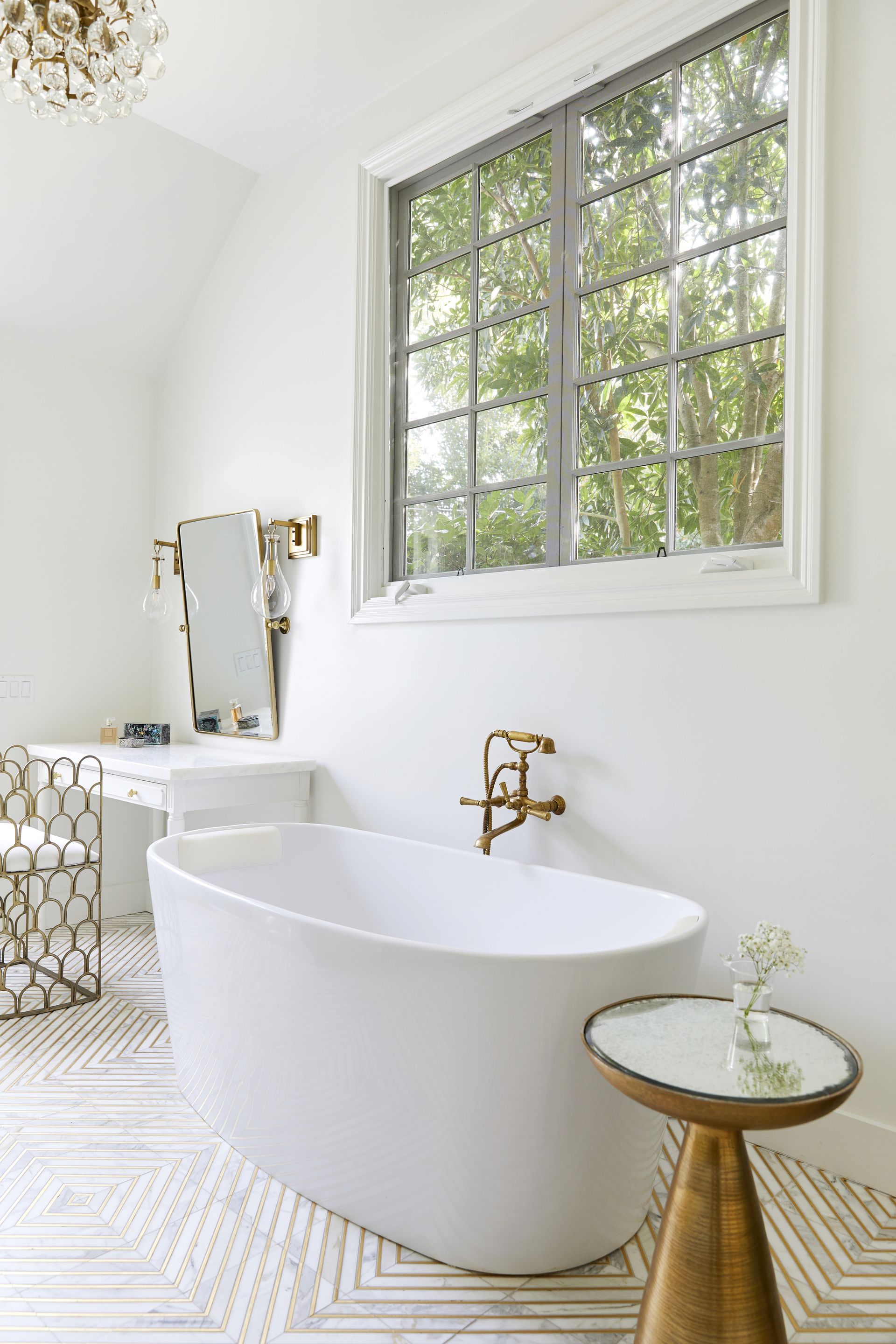 Nothing says peace and luxury better than a freestanding bathtub, usually the glory of a master bathroom. Use this important element to contrast any other traditional fixtures or materials you may have in your bathroom. 
A pedestal-style tub, placed on a natural stone floor will look beautiful and even fit into a transitional bathroom. If you like the look of a freestanding bathtub but want to increase accessibility or make cleaning easier, another option is to choose a partially freestanding tub. 
Other than these, also consider drop-in tubs and even claw-foot tubs.
6. Choose sleek fixtures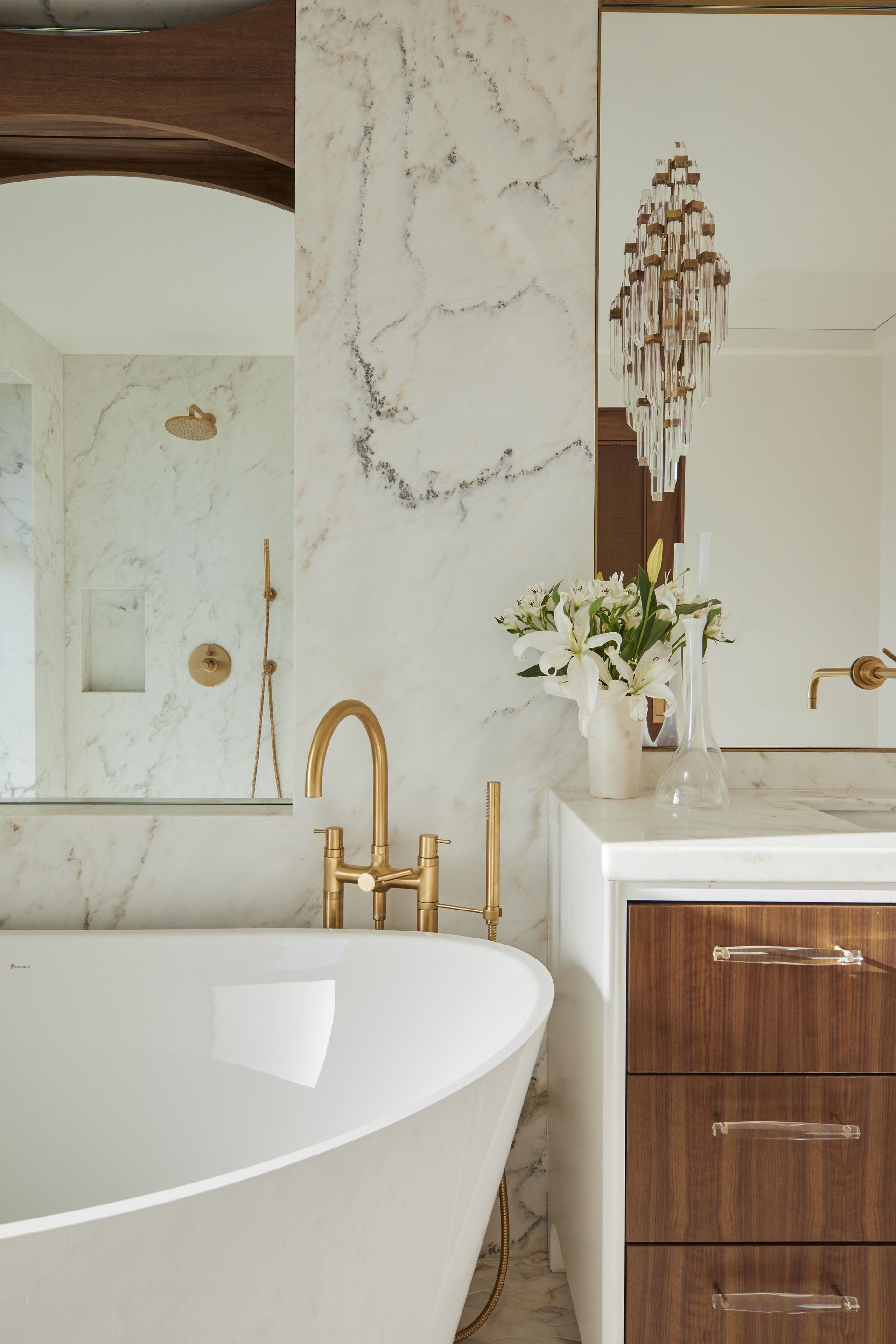 Bring in sleek and streamlined fixtures such as taps, knobs, or even bathroom mirrors to balance out the more traditional style of the vanity. Consider even adding an elegant tray in gold or silver, and keep your most expensive toiletries atop. Then, complete the look by adding a vase of fresh flowers and some fluffy towels in neutral tones.
'Spare materials, restrained details, and clean contemporary fixtures are sleek, attractive, and easy to maintain; but in combination, these elements can lack soul,' says Reena. 'Bathrooms designed with traditional fixtures and finishes are warm, elegant spaces rich in detail and interest, but the nooks and crannies present in many traditional design details can be a nightmare to keep. A transitional style allows you to pick and choose fixtures, finishes, and details that offer the particular blend of form and function that works best for you and your family.'
7. Install natural stone countertops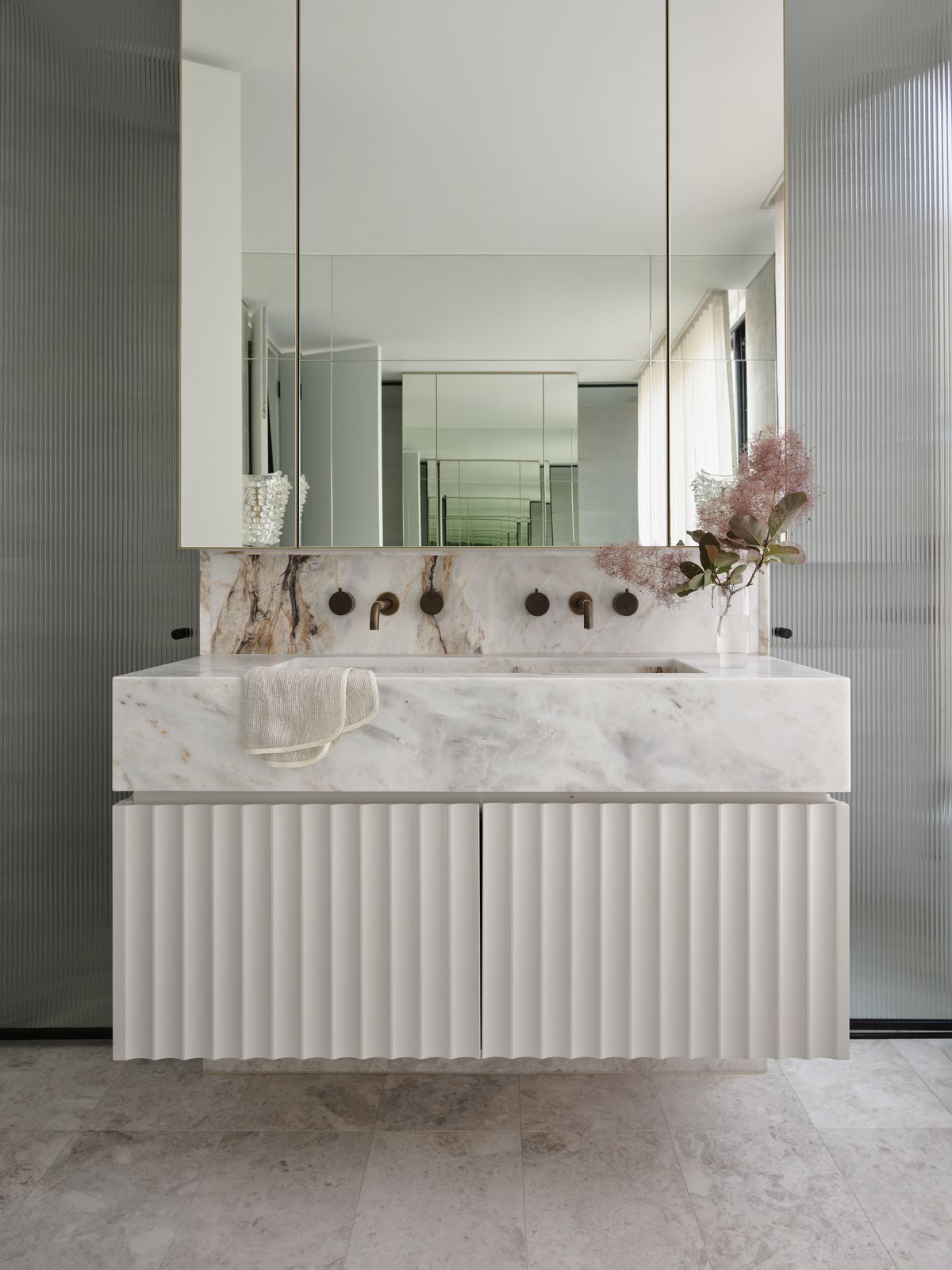 Some great, transitional-style countertop options are light-colored marbles that don't show too much pattern or veining. Other than that, Quartz, granite, and terrazzo are great, as they look smart, and sophisticated and even create a lovely natural bathroom look that is inherently tranquil and warm. Keep countertop edges clean and simple.
Complement the countertop with the latest faucet designs. Apart from stylish shapes and colors, you could even bring in those with motion or touch control. Choose taps in nickel, chrome, stainless, or rose gold finish.
8. Use large format tiles for a modern contrast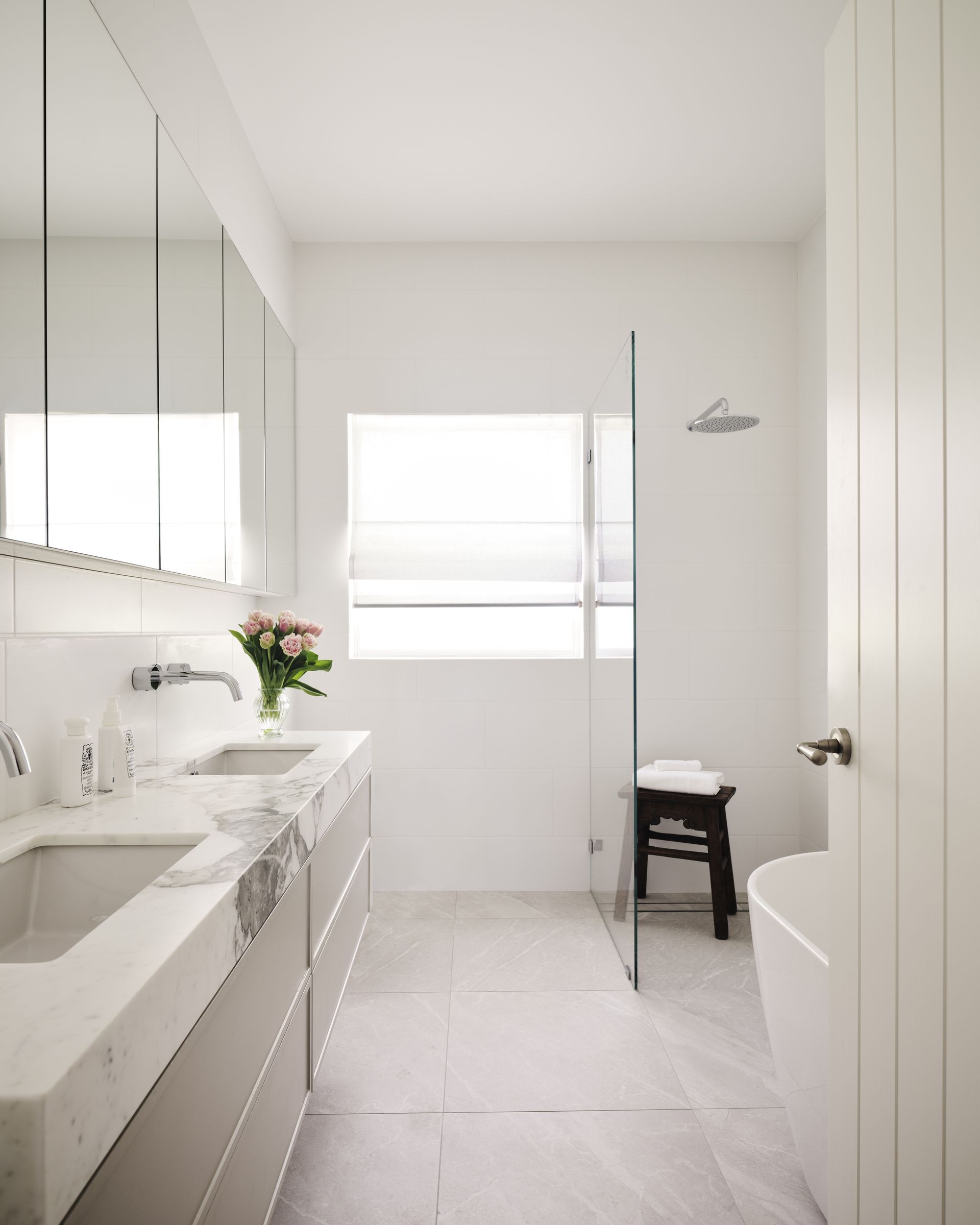 When it comes to bathroom tile ideas, large-format tiles in porcelain, stone, or ceramic are ideal for a transitional bathroom style. These, with thin grout lines, help create a clean, simple look, and bring a serene and restful vibe to the space. In terms of tile layout patterns, consider staggered, grid (stacked), or herringbone patterns.
The beauty of large format tiles is also that there are lesser grout lines, meaning the bathroom's look is always seamless and clean. If you want to further ensure your space looks well-maintained, consider colored grout that doesn't show stains and dirt that easily. 
9. Go for a tub with patina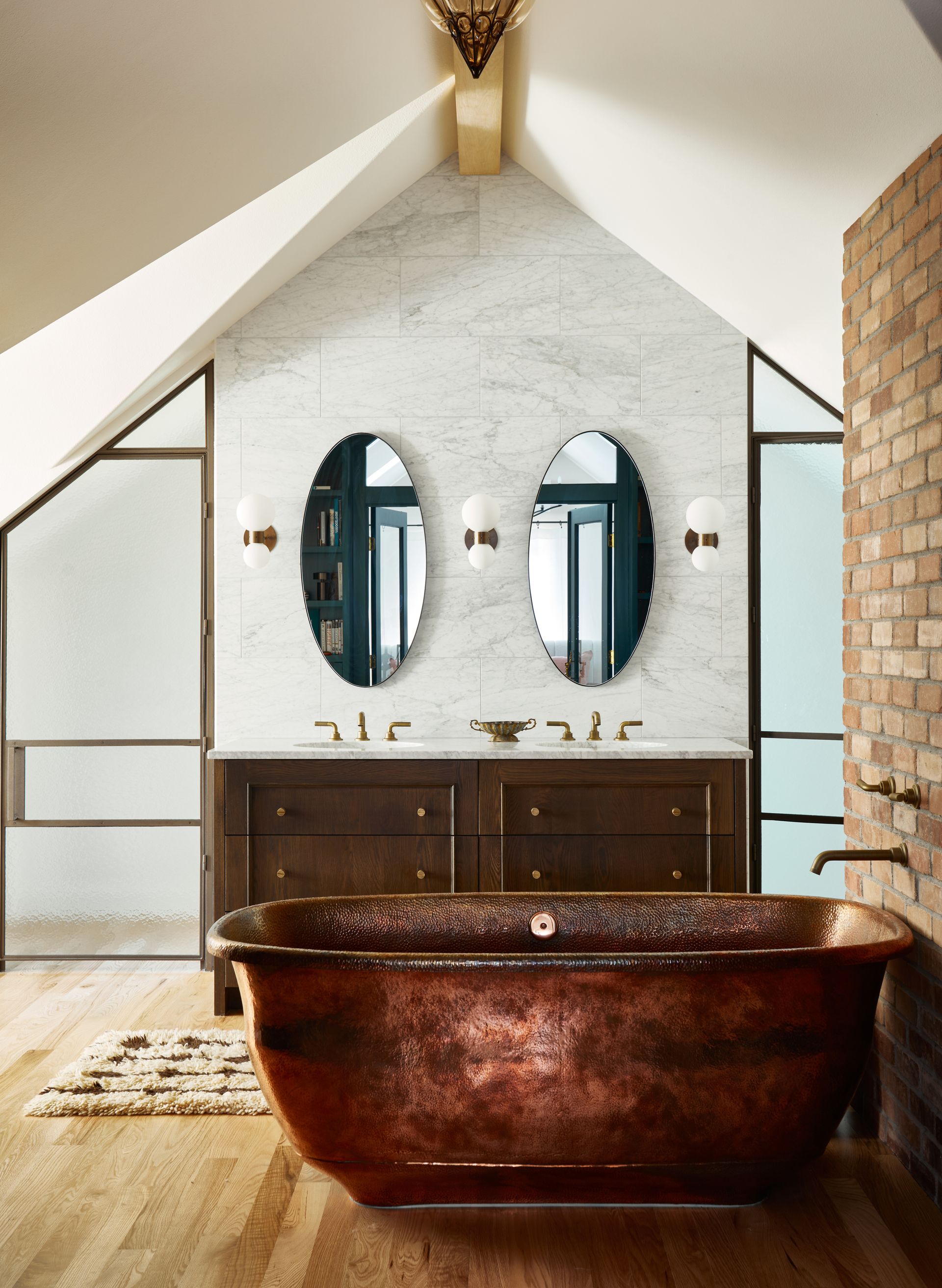 Nothing says nostalgia more than a natural patina in your finishes. If this look is for you, then consider bringing in a bathtub in distressed copper, and ensure all other elements around it walk a modern, clean-line route; be it the bathroom pendant lighting, the mirrors, faucets, and more. This will show the true melding of two design themes. 
'At the top of the stairs of the house sits a copper tub in the open concept bathroom,' says Lisa Staton (opens in new tab), founder of Lisa Staton Interior Design. 'The spout appears out of a brick chimney (which is newly framed with thin- brick but looks real.)  There was an old exposed chimney in a different location and the client loved it, so we decided to repeat the element with the new layout to trick the eyes into believing it's real.'
10. Inject color through natural materials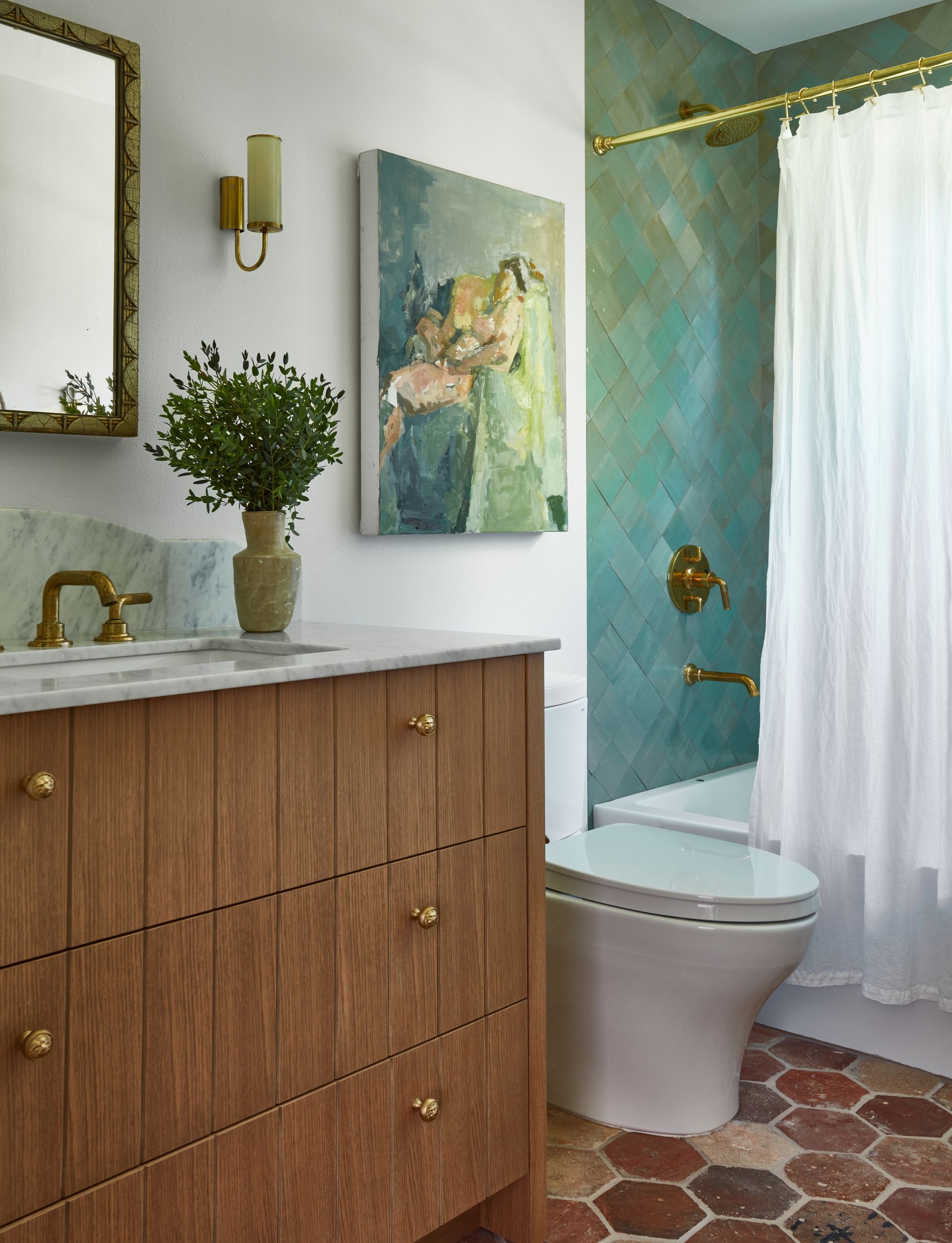 Other than paint, another way to add to big or small bathroom color ideas is via wall tiles, wallpapers, or flooring. The natural color of materials such as terracotta or terrazzo will add a timeless charm to the space, and provide a lovely traditional and timeless base upon which a more modern design story can be built. 
'This reconfigured bathroom classically embraces color with terracotta floor tiles and soothing green wall tile,' says Lisa.