There are many design principles to follow when decorating your home to ensure a beautiful and successful scheme, and here, we explore the power and importance of using repetition in interior design. 
When it comes to the best interior design tips, you can't go wrong with this one. Repetition is a simple interior design rule that is vital for creating a cohesive space that feels balanced and well-thought-through. It is used to create a sense of movement and flow in an interior, helping to guide you through a room, or around the home, through connected design elements.
From how you weave recurring colors, textures and patterns throughout a space, to embracing similar features across lighting, furniture and architecture, repetition works in combination with other principles, such as symmetry and rhythm, to make a scheme feel more balanced and harmonious.
What is repetition in interior design?
Bethany Prince, associate interior designer at SHH (opens in new tab) says, 'the principle of repetition is a powerful tool as it creates a sense of rhythm within an interior and establishes consistency. This rhythm can flow through all kinds of visual elements such as color, pattern, shapes and textures and helps to establish the hierarchy within a room.'
How to create repetition in interior design
Repetition does not mean every element in a room needs to be matching – far from it – instead think of it as creating subtle connections through repeated colors, patterns, materials, and more. 
Creating repetition in interior design can be as simple as using two matching cushions on a sofa, but the best interiors strike the perfect balance between maintaining a sense of cohesion whilst bringing in beautiful, characterful contrasts.
For example, 'using the same flooring type and pattern through multiple rooms helps create a consistent narrative, visually creating a flow from one room to another,' explains Bethany Prince. 
For further insight, and a collection of helpful advice from a whole host of design experts, let us take you through the 7 foundations of how to use repetition in interior design – for guaranteed decorating success.
1. Consider your color scheme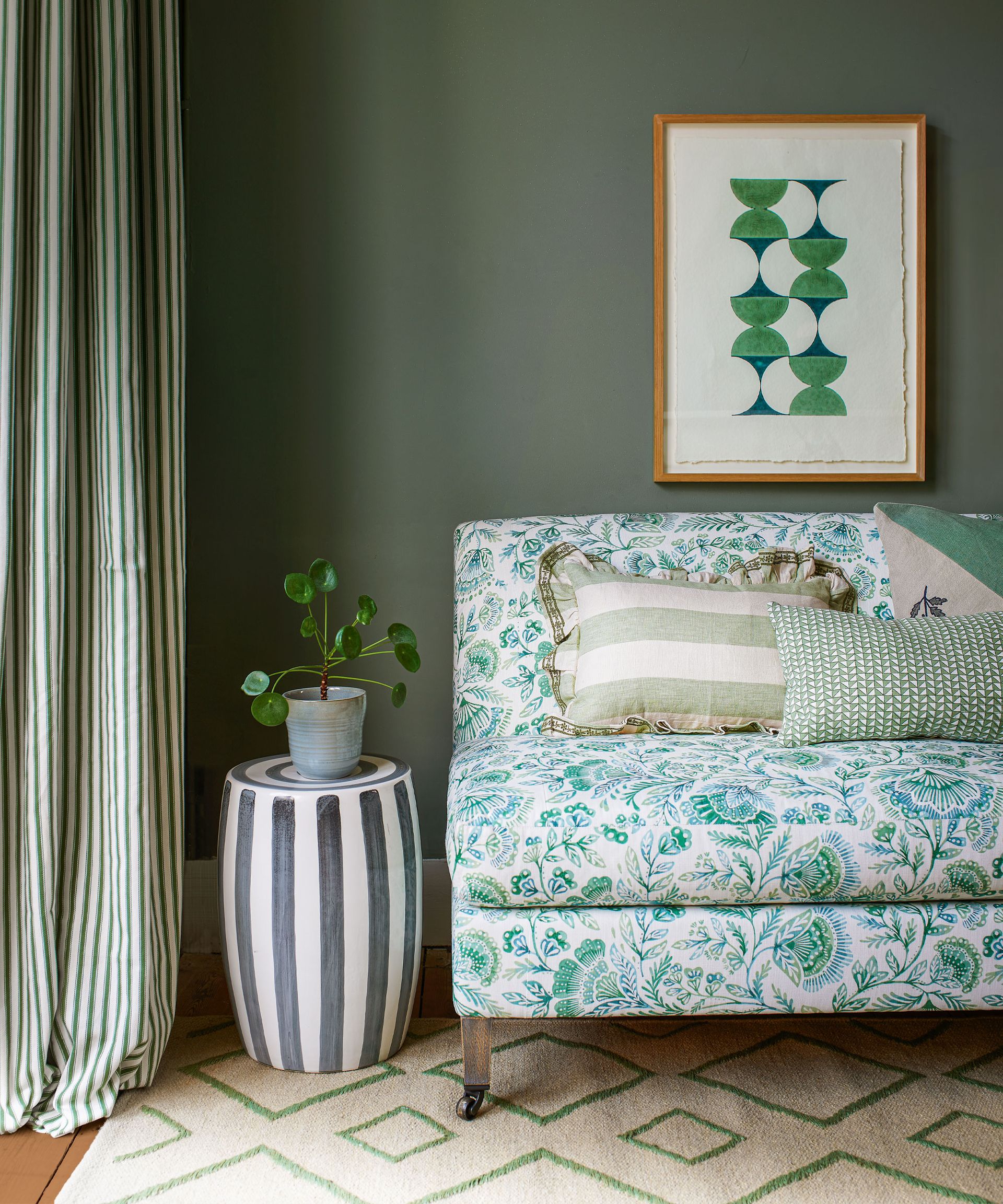 'Repetition creates a unifying thread in a scheme, and carrying a key color from one space to adjacent rooms or floors creates a visual narrative, and can help to bring differing room schemes together,' says Cathrine Dal, founder, of Cat Dal Interiors (opens in new tab).
Using similar shades of one color, also known as a tonal color scheme, can create a unified and immersive design that feels beautifully connected; as shown in the pretty green living room above.
Andy Greenall, creative director at Paint & Paper Library (opens in new tab), shares his thoughts on creating repetition through paint and color. 'Both consumers and designers are turning to color combinations that add drama and intrigue to a space, from neutrals in graduating shades that flow between rooms to more dramatic color pairings. This allows for the use of layers of color to emphasize architectural features or emulate them where they lack, using thoughtful paint color combinations. 
Provided in varying strengths of the same pigment, combining subtle nuances of one shade will create a tranquil and harmonious atmosphere, whilst pairing the deepest hue with the palest will deliver an impactful, tonal scheme.'
2. Repeat key textures and materials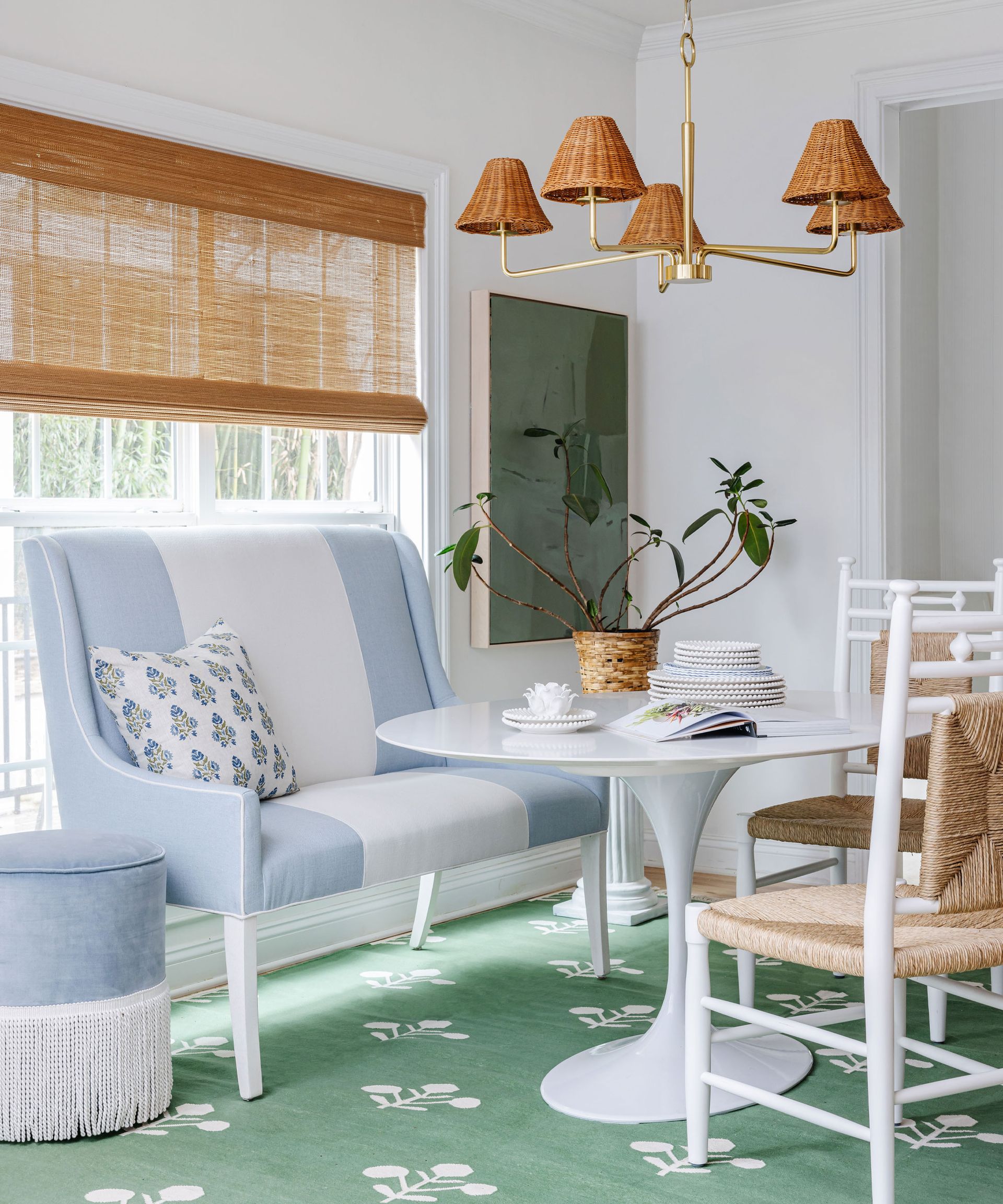 'Using the same texture or pattern in different ways within the same room provides depth and interest without overwhelming a space. This is particularly useful in open plan situations where one might want to differentiate areas whilst still keeping the overall effect harmonious,' says Cathrine Dal.
In this Bohemian-inspired dining room, filled with elegant furniture designs from Society Social (opens in new tab), the space is rich in repetition and beautiful texture. From the use of a blue and green color palette on the furniture and artwork to the warming, woven wicker chairs, pendants and blind, the design fuses a collection of contrasting shapes, colors and materials together, yet, it still maintains a calming sense of cohesion.
Another easy way to create repetition through material and texture, and to celebrate a favorite print, is to pick a pretty pattern and use it across your curtain ideas, cushions, and soft furnishings; guaranteed to create a cohesive and connected look.
3. Look to the rules of symmetry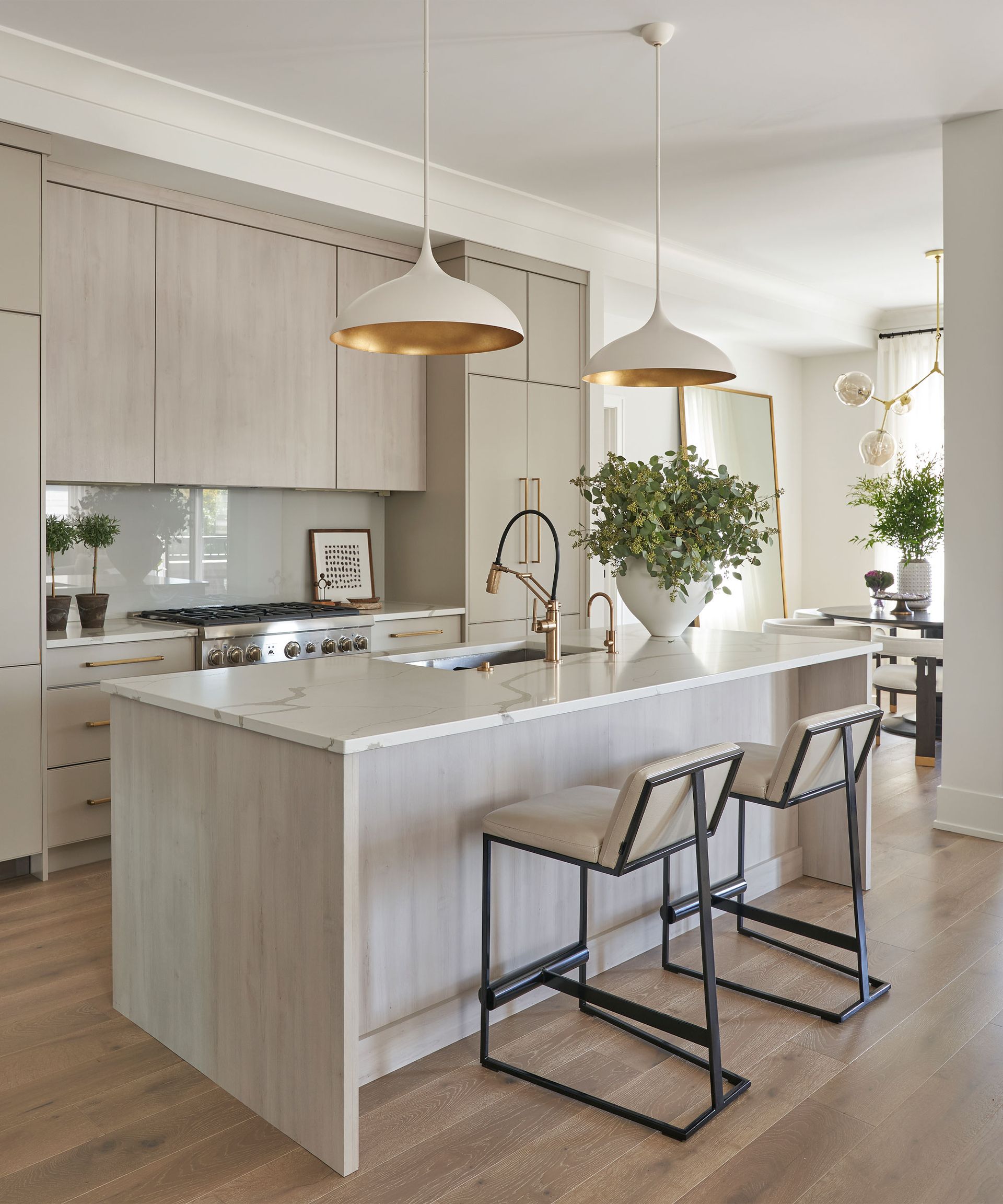 'In the world of interiors, the composition is as significant as color or texture. A good composition can capture the imagination, creating a sense of harmony. Balance is a key ingredient to a successful composition, as the eye unconsciously seeks out symmetry,' says British interior designer, Kit Kemp MBE (opens in new tab).
Styling a space with symmetry in mind is a great tool for creating an environment that feels tidy, organized and calm – and it is a go-to technique often used by designers to help a small space feel bigger.
Symmetry is built on repetition, and many of us turn to this decorating technique when creating repetition in interior design. From creating a symmetrical room layout to establishing a calming zone of symmetry, as shown on the kitchen island above, designed by Elizabeth Krueger Design (opens in new tab), thinking about repetition and symmetry in combination will make for a truly harmonious scheme.
4. Create repetition through lighting and furniture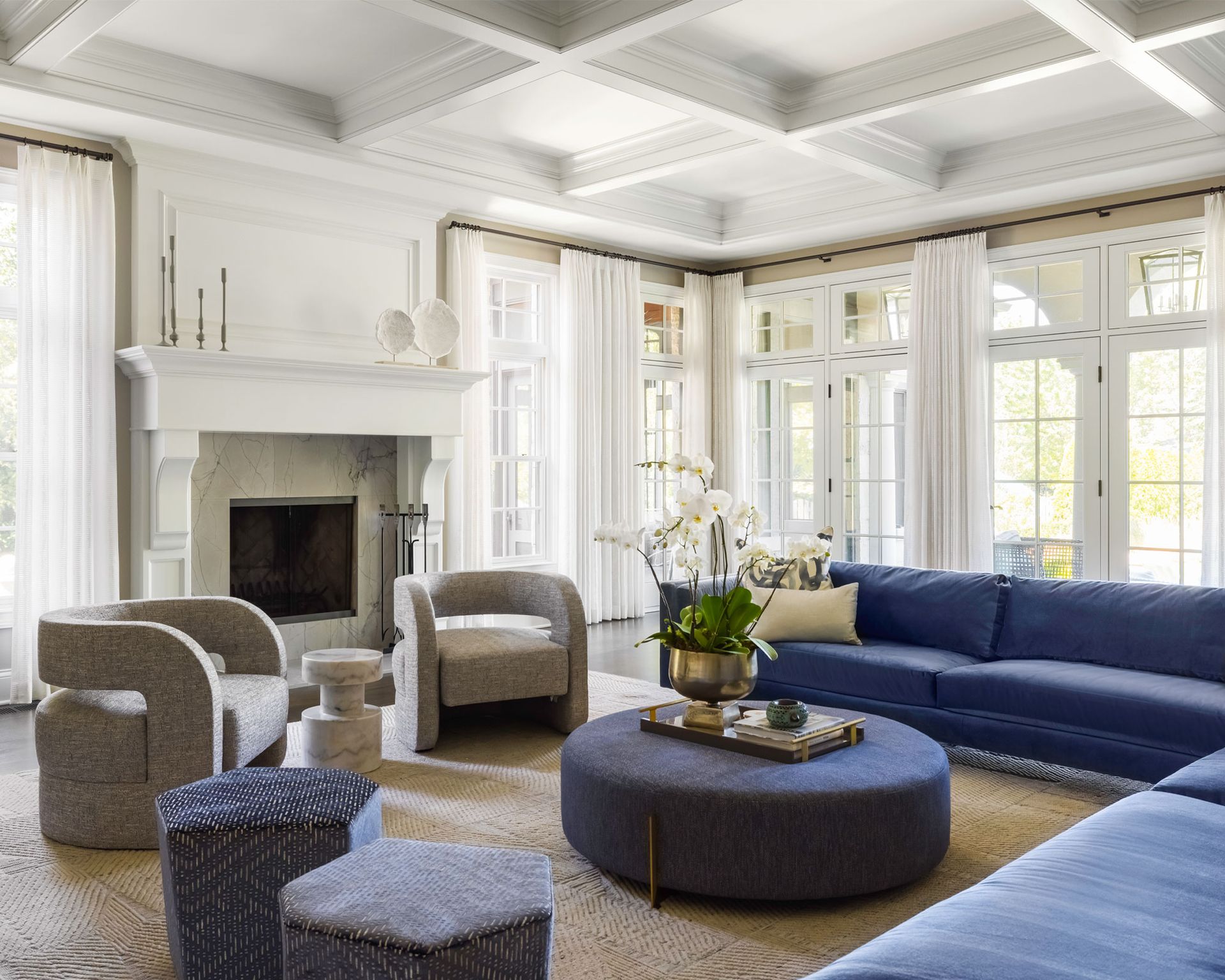 Another easy way to create repetition in interior design is through your furniture and lighting choices.
This doesn't mean your furniture necessarily all have to match (although, that will work well), but embracing a shared color palette or a similar style of upholstery across all of your seating elements, in a living room for example, will help to create an elegant repetition in the space.
The same goes for lighting; many lighting collections contain coordinating pendants, and wall, ceiling and floor lamps, so it is easy to create repetition. However, if having things too matchy-matchy isn't your style, think about how you can make subtle connections through similar colors, finishes and materials, instead.
5. Get creative with accessories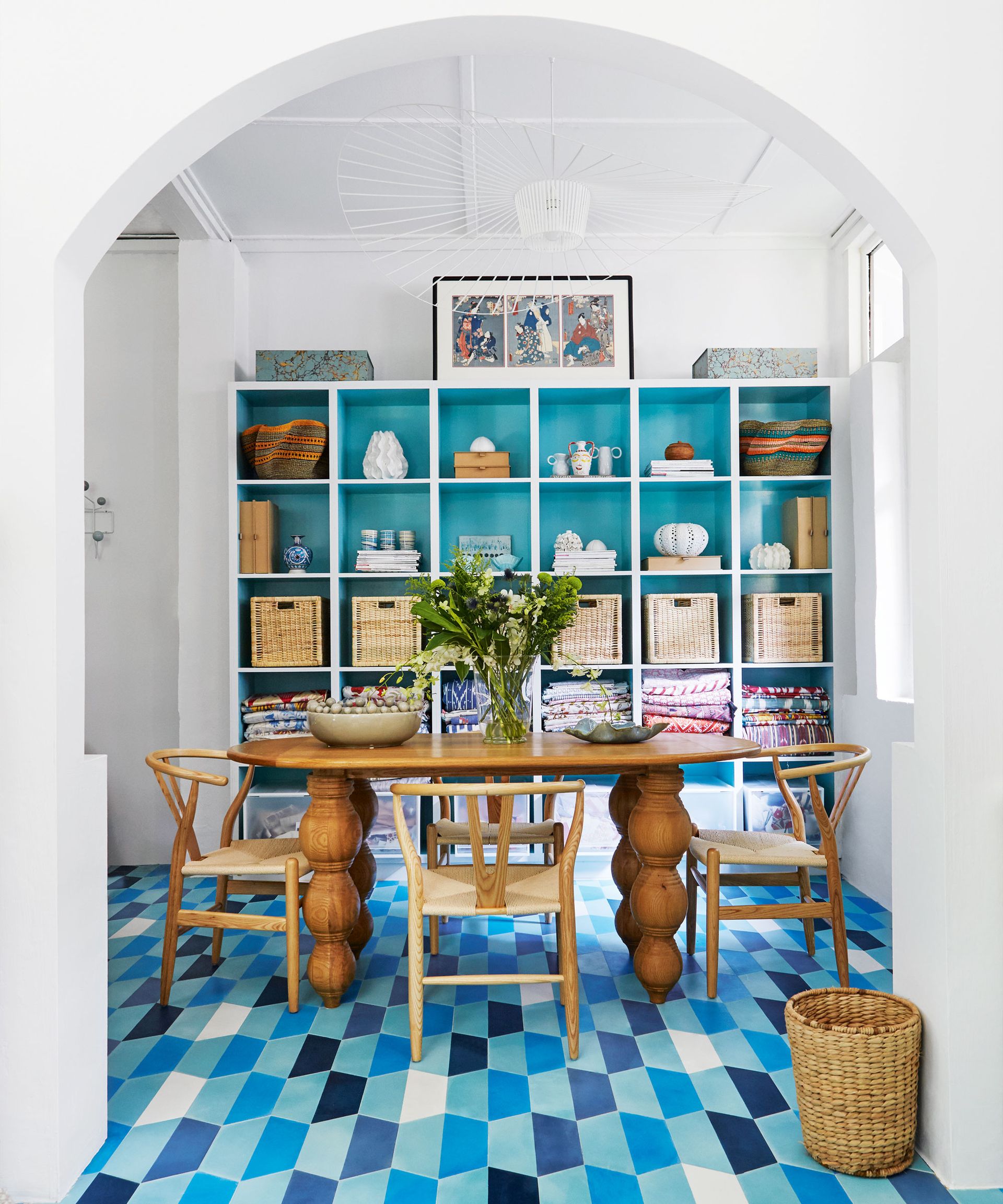 Never underestimate the importance of decorative accessories, such as vases, ornaments, books, artwork and more, as these objects and finishing touches are often what can bring together a whole scheme. 
For example, in the above dining room, the wicker baskets and neutral, decorative ornaments coordinate perfectly with the warming wooden dining table and chairs, and yet, they also work wonderfully with the furniture to establish an elegant contrast with the vivid blue shelving and flooring – a stand-out example of using both cohesion and contrast simultaneously.
California-based interior designer, Jen Dallas (opens in new tab) explains, 'using repetition is a great way to refresh a room. For example, adding a new throw or pillows on a living room sofa and then using the same pillow color in the artwork above the fireplace and maybe a vase on the mantle.'
6. Embrace architectural features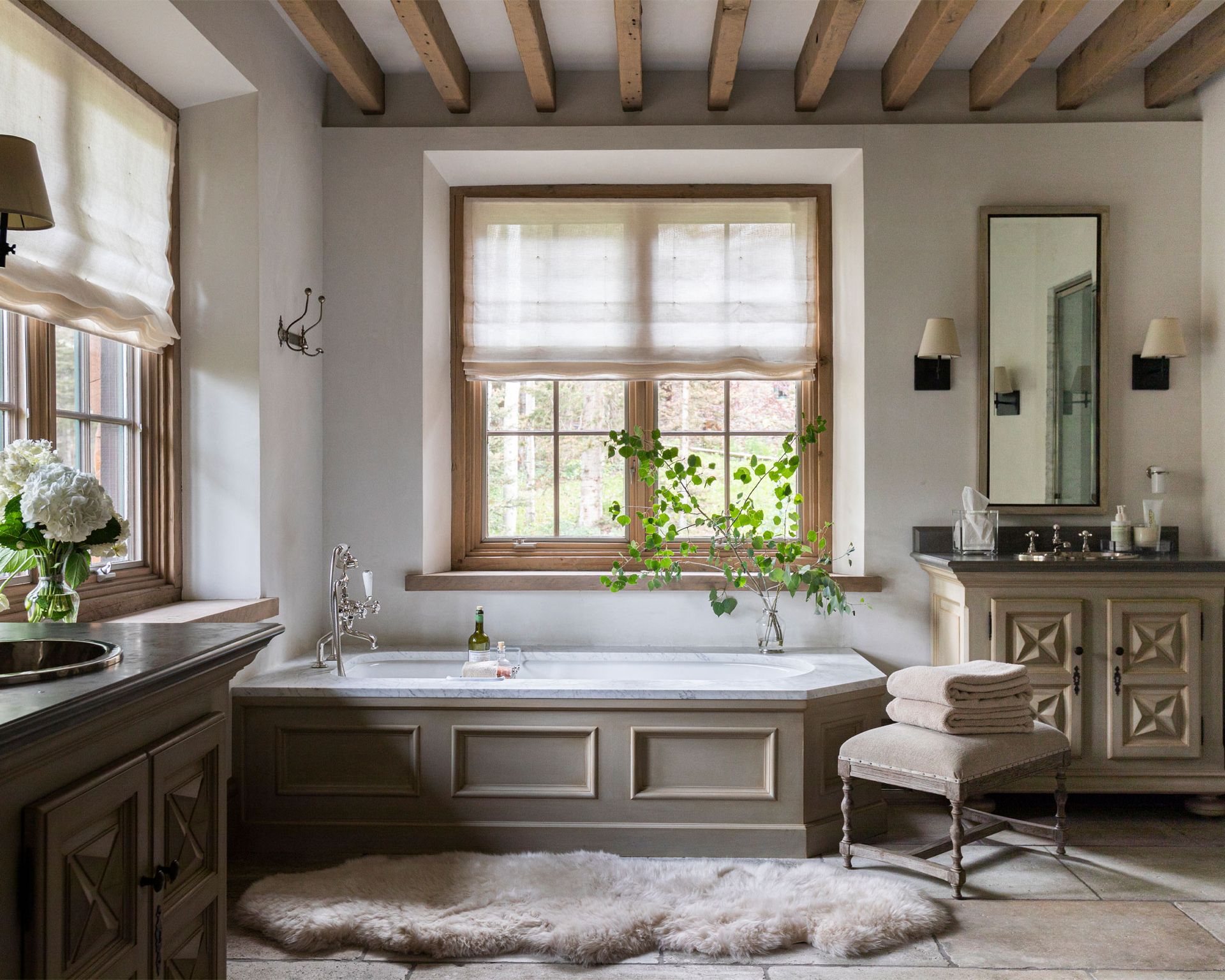 Many of us will have homes that already feature many natural repetitions, through architectural details such as beautiful beamed ceilings, columns, alcoves and more.
Highlighting these elements, whether that be through painted paneling ideas, or by uniting them fully into your scheme, as shown by the rustic bathroom by Kara Childress (opens in new tab) above, which celebrates the natural beams with a complementary, organic design, can make for a beautiful design feature and an enhanced, organic repetition.
As an interior designer, Alison Wilkinson (opens in new tab) explains, 'when creating repetition, use architectural elements to your advantage. For example, if you have a set of lifeless stairs, liven them up with vibrant paint on the risers or a gorgeous runner.'
7. Assess the rhythm of the space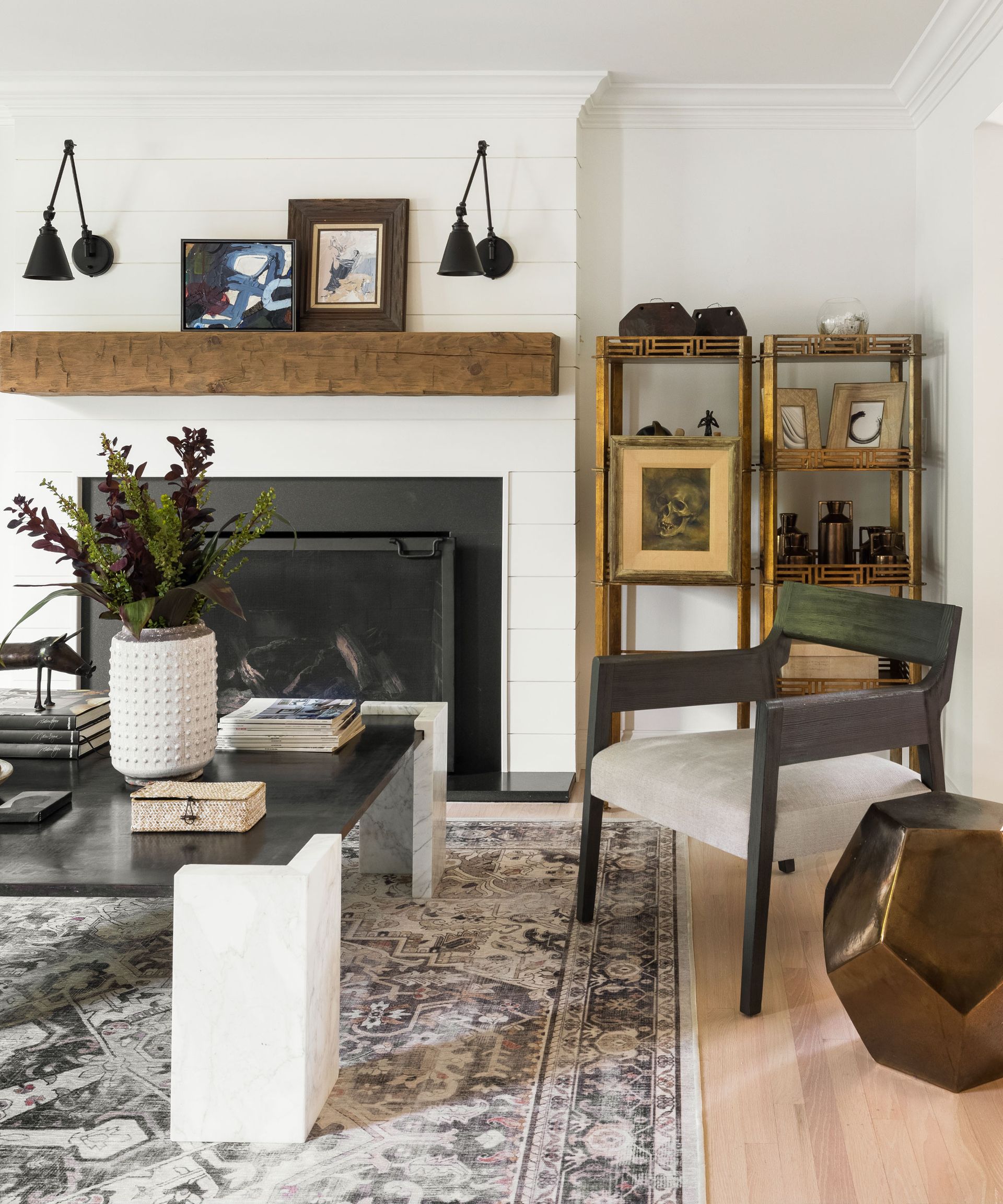 'Using repetition is the easiest way to create a rhythm for interior spaces. I like to use color or texture in my interiors. It is amazing how your eye connects all of the "dots" and fuses the elements together to create a design,' says Jen Dallas.
Repetition and rhythm go hand in hand, and both serve the function of interior design principles to help establish movement and harmony in a space. 
Repetition can sometimes be created instantly, such as with a few quick and easy tweaks with accessories, but it can also be a longer, more curated process, and only you will be able to know when the overall feeling and flow in a room feel right. 
Whether you have used too much of the same color, or a certain space feels a bit too ordered, neat and symmetrical, adapting and making changes can result in a design that feels more balanced and truly connected to your style.
FAQs
Why is repetition in interior design important?
Using repetition is key for a successful and well-balanced design scheme. Repeating elements through color, shape, material and pattern, can make a space look and feel more cohesive and inviting.
As we have explored, there are many ways you can incorporate repetition into a design. From obvious pairings through similar colors or by using symmetrical styling, to more subtle connections made through the use of similar materials and textures. 
Ensuring that there is plenty of consistency and contrast in space, will make for a successful design that is rich in beautiful visual interest and character.