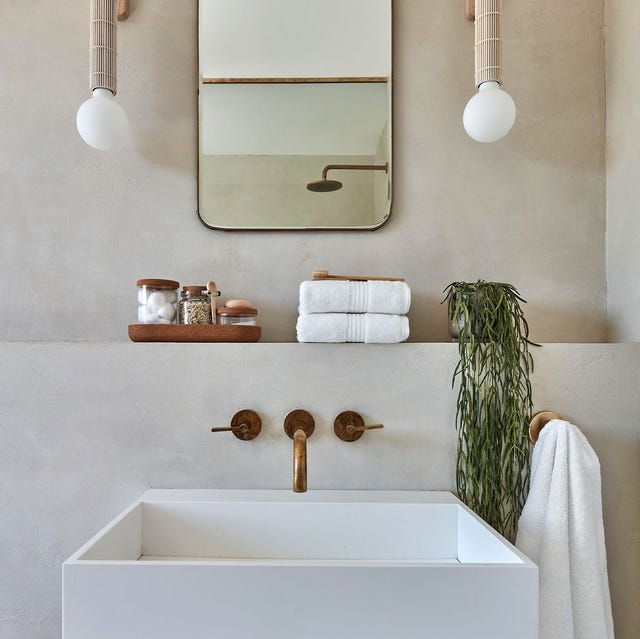 Christy, Lights4fun, Baked Tile Co.
The rise of spa-inspired bathrooms, or 'spathrooms', was not unexpected within the design world, influenced as they were by the growing popularity of self-care spaces – small pockets in the home created to support rituals of self-care.
'Bathrooms are arguably the most ritualistic room in the home and we have seen a surge in demand for spa-inspired spaces that can double-up as a private sanctuary,' says Rosie Ward, Creative Director at Ward & Co. 'Within a master suite, we like to consider the en-suite as an extension of the bedroom, incorporating the same colour palette to create a seamless flow between the two.
'Bathrooms are naturally clinical spaces so we like to balance this with materiality, using warmer textures and fabrics for a luxe feel. Outdoor fabrics work particularly well as a pretty patterned shower curtain or upholstered on a chaise longue, and on-trend scalloped blinds or artworks add softness to the room.'
Read on for 14 of the best spathroom ideas…
Advertisement – Continue Reading Below
1
Spathroom ideas: Extra fluffy towels
'If you want your bathroom sanctuary to have a little luxury, invest in soft fluffy towels and ultra-soft bath robes,' says Richard Ticehurst, Brand Expert at Crosswater. 'These accessories will deliver ultimate comfort, giving you that hotel feeling in the comfort of your own home.'
Pictured: Supreme Hygro® White Towels at Christy
2
Spathroom ideas: Tropical
Spas are not all white and clinical, so there is no reason why your spathroom should be. This fabulous example reminds us of a luxury tropical hotel with warm terracotta tones and a feature wall from the Baked Tile Co.
Pictured: Tropical Stone Tiles at Baked Tile Co
3
Spathroom ideas: Neutral decorating
'Swap colourful walls or elaborate wallpaper for natural wood cladding, clean walls, or neutral tiles,' says Richard. 'White, a colour that has long been associated with wellness, should also dominate the room, in both the fittings and decoration.'
If you don't want anything too stark or clinical, there are certain design features you can look out for – here, the addition of copper offers a warming element.
Pictured: House Beautiful Aurelia Cotton Ceramic Wall Tile at Homebase
4
Spathroom ideas: Design for relaxation
When designing a spathroom, your main objective should be creating space for relaxation. Details that you might not find in a traditional bathroom – candles and diffusers, robes, rugs, even linen curtains – all contribute to a sense of serenity.
Pictured: Bathroom accessories all at John Lewis & Partners
5
Spathroom ideas: Counter your clean lines
6
Spathroom ideas: Purposeful corners
Self-care corners in the home – things like breakfast bars and reading nooks – became a big post-pandemic trend, and can work wonders in a spathroom too. We love this mosaic tile design that sections off the basin from the rest of the room to create a little corner for washing your face of an evening.
Pictured: Venetia Mosaic Tiles at Original Style
7
Spathroom ideas: Fragrance
'Fragrance instantly alters our mood, making it a must for any bathroom sanctuary,' says Richard. 'You can introduce fragrance in a variety of ways, whether through candles, diffusers, bath salts, or body care. What's most important is that you look for products formulated using relaxing essential oils, such as lavender, chamomile, and ylang ylang.'
Pictured: Bathroom accessories, all at Dunelm
8
Spathroom ideas: Luxury accents
Spas signal luxury and indulgence, aspects which can be introduced through the design of your spathroom. Consider materials such as brass, creamy white porcelain or marble, and take care with your details – we love this scalloped basin that you can find on sites like Etsy.
Pictured: LED Pillar Candles at Lights4fun, for a similar scalopped basin, try Etsy
9
Spathroom ideas: Softening elements
A spathroom will be a touch softer and more welcoming than a traditional bathroom, to create a space you'll want to spend time in. Consider textiles and other softening elements like wood or greenery to counter the often austere nature of bathroom design.
10
Spathroom ideas: Robes
Whilst a freestanding bathtub is a key spathroom feature, a few other great details in this room are the robe hanging behind the door, the little side table topped with self-care essentials, and the plant sitting proudly on the bath tray.
11
Spathroom ideas: LED candles
'Good lighting is key to achieving a bathroom sanctuary, as light has a huge effect on our wellbeing,' says Richard. 'Natural light, for example, is good for both the mind and bathroom, opening the room to give the impression of greater size and space. If your bathroom is lacking in natural light, add mirrors to reflect light around the room and brighten the space. Dimmer lights and candles are also perfect for creating a soothing ambience when the sun goes down. '
Pictured: LED Pillar Candles at Lights4fun,
12
Spathroom ideas: Plants and more plants
'Plants are proven to improve wellbeing, making them a bathroom sanctuary essential,' says Richard. 'Plants help deliver a gorgeous bathroom aesthetic and improve air quality, releasing oxygen and reducing the amount of dust in the air. Succulents are a great plant of choice, as they are easy to care for and survive well in most bathroom environments.'
Pictured: All plants at Dobbies
13
Spathroom ideas: Storage
'A cluttered space leads to a cluttered mind, so if you want to create a true bathroom sanctuary, you'll need to make sure your space is clean and tidy,' Richard advises. 'Spend time tidying and organising your bathroom, ensuring all empty and expired products are thrown out and there is enough hidden storage space to hide toothbrushes, children's bath toys, cleaning products, and other bathroom essentials.'
Pictured: Crosswater Shoreditch Frame Basin Unit at Brintons
14
Spathroom ideas: the colour-drenched option
If you are particularly averse to an all-white design scheme, take inspiration from Moroccan Hammam spas that are typically warmer and decorated with a lot of pattern and rich colours like burgundy, brown and orange.
Pictured: Bert & May Carmona Marron Tiles at Hyperion Tiles
Advertisement – Continue Reading Below