Painted furniture ideas are becoming increasingly popular as we seek to make our homes stand out from the crowd. Whether you choose a single color, a folksy freehand design or a simple border, painting furniture is an easy way to transform a bland piece into a showstopping focal point.
It's also a great way to decorate sustainably. With more and more of us looking to minimize our impact on the environment, paint ideas are a quick and easy way to refresh a dated or unwanted piece helping extend its use.
When it comes to painting furniture there are no rules, throw caution to the wind and feel free to express yourself – to help get you in the creative mood we've rounded up an array of ideas and expert tips.
Painted furniture ideas
Painted furniture ideas might be limited in our minds to upcycling old pieces of furniture to give them a new life. But they are so much more than that – encompassing everything from single, freestanding items, to built-in units, to painted kitchen cabinet ideas.
1. Create a statement bohemian bed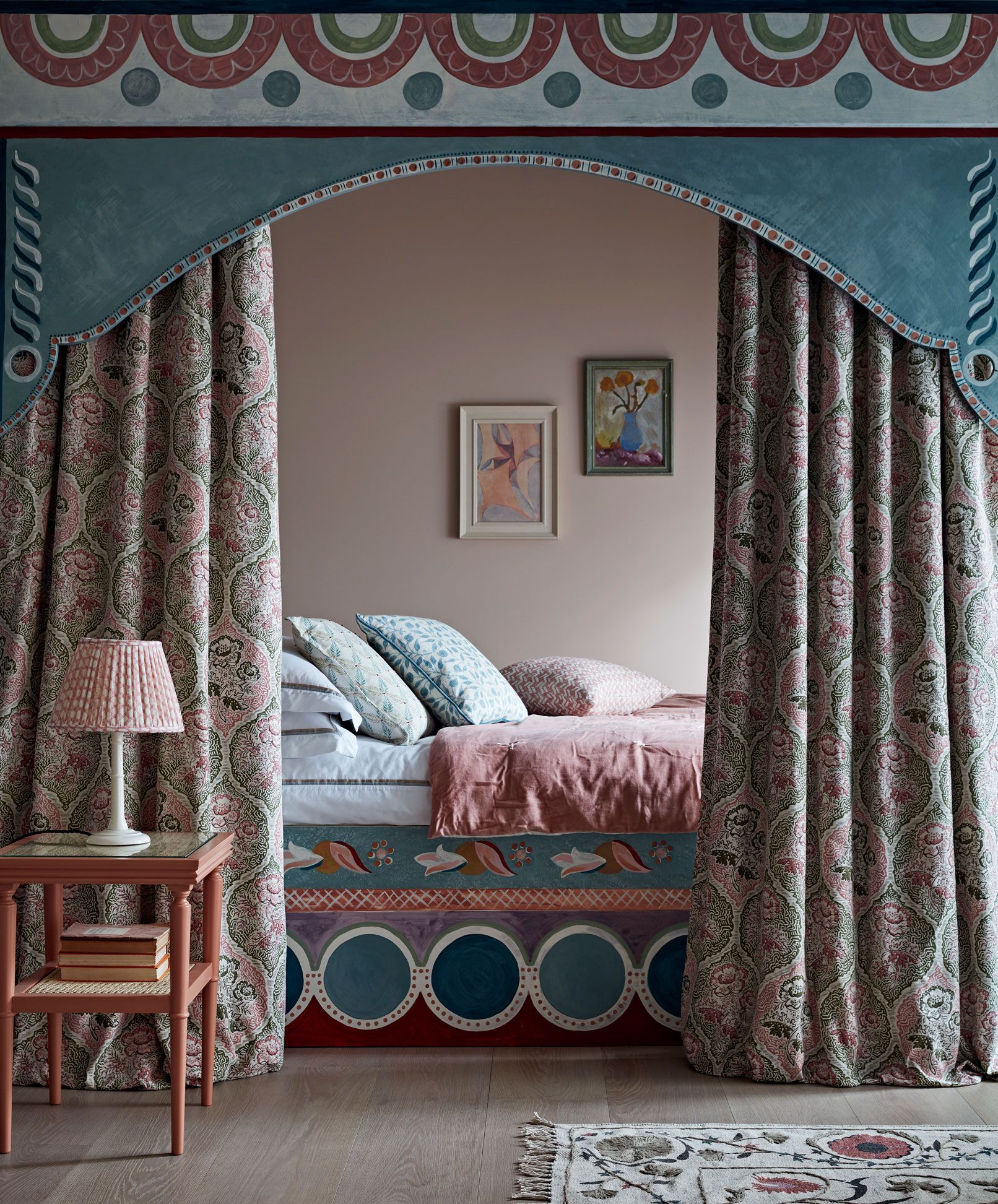 For a fun bedroom paint idea that would create a wonderful talking point why not take inspiration from the Bloomsbury set and paint a cabin bed in a colorful Folksy design? A wonderful example of decorating with pattern, this handpainted bed by Tess Newell (opens in new tab) features a series of circles and naive flower and leaf shapes – all common motifs that can be found on the painted surfaces of Charleston Farmhouse. 
2. Customize a cabinet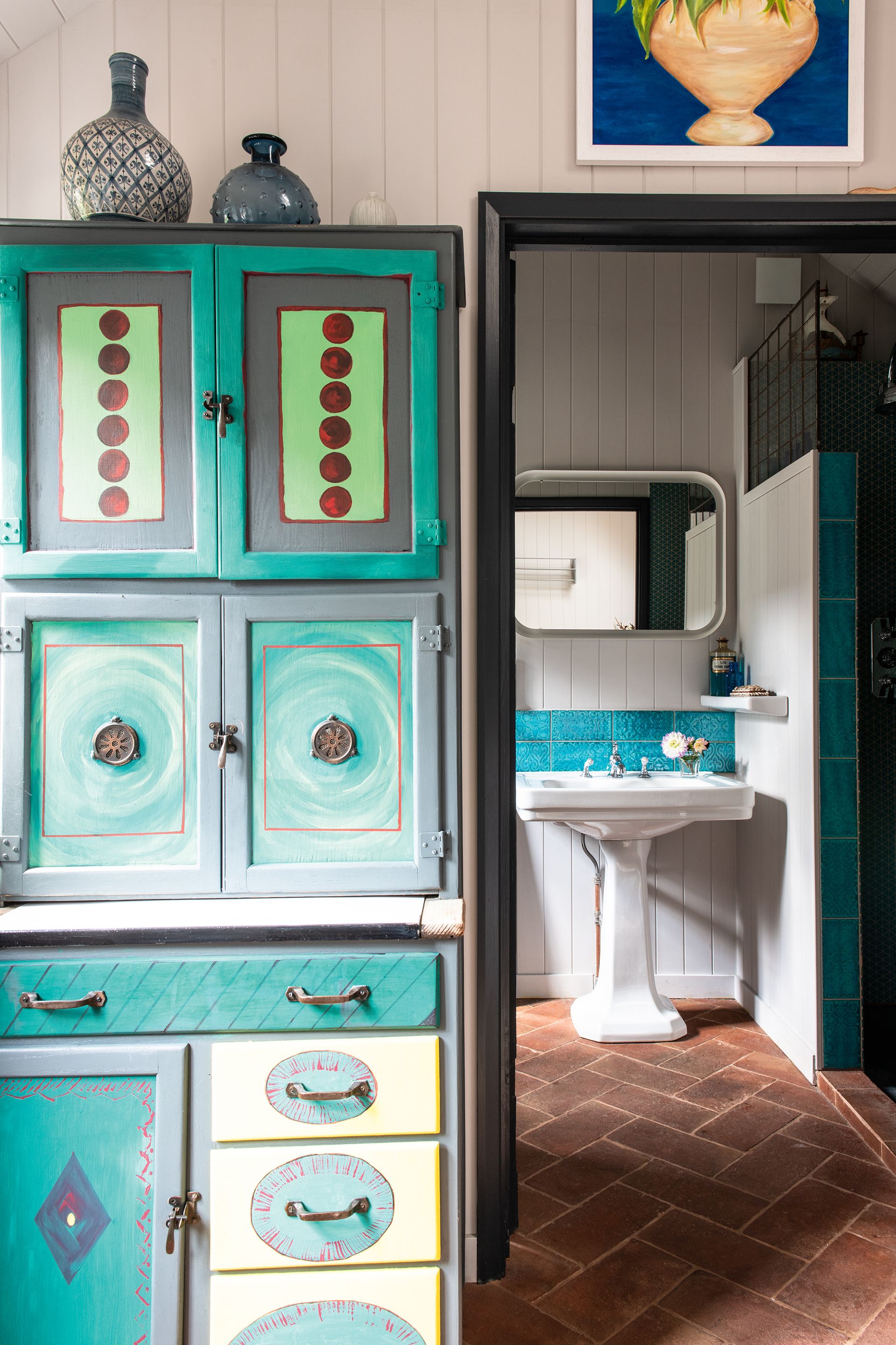 Practical spaces like utility rooms or connecting spaces like hallways are wonderful spaces to add a playful piece of painted furniture. This vintage 1950s cabinet has been given a new lease of life with custom paintwork with tones that cleverly carry through to the tiles in the adjoining room. 
3. Add bring rustic charm with an antique painted piece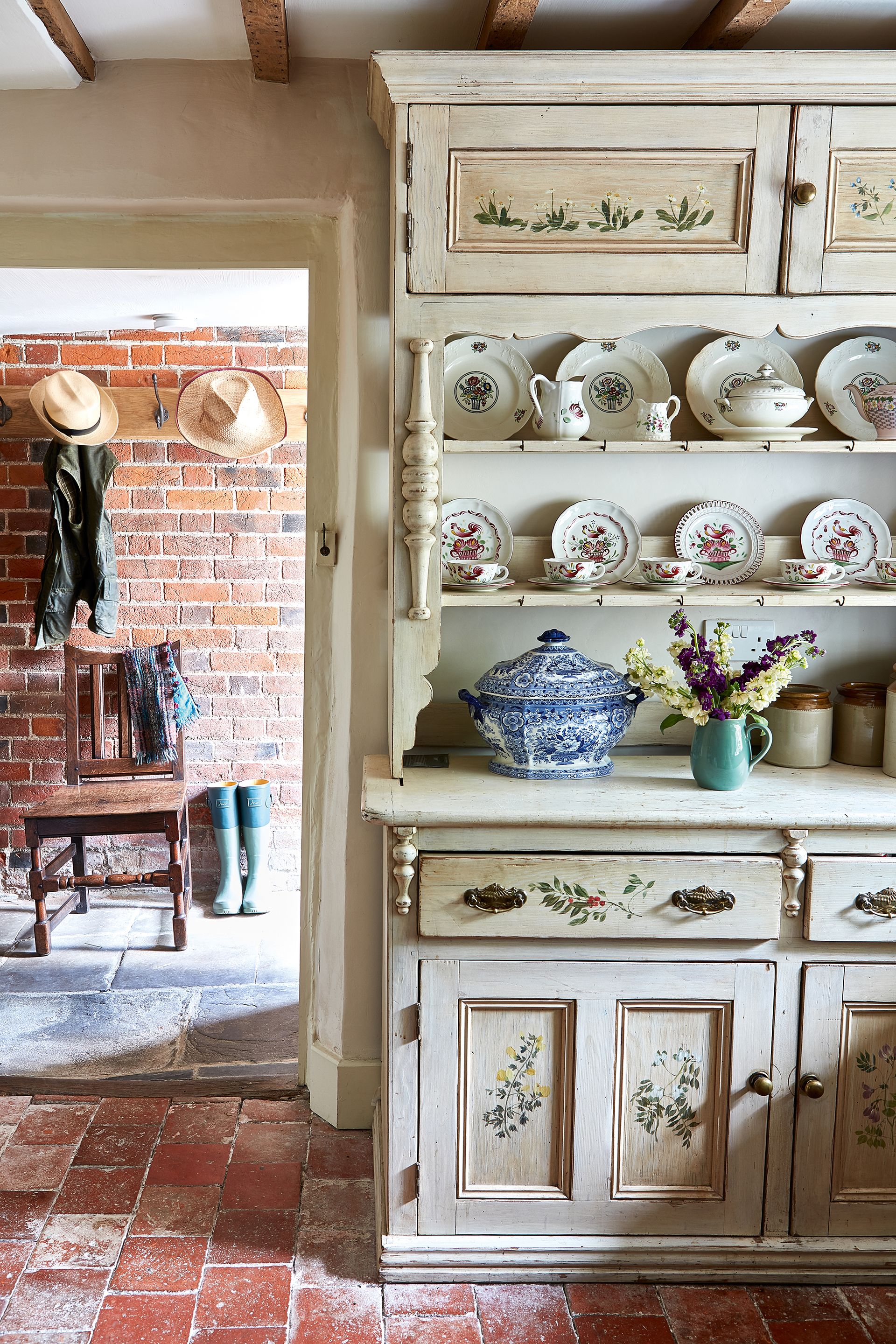 Chipped and worn painted antique pieces boast character inimitable with modern pieces and are perfect for bringing texture and character to period homes. With its aged patina and delicate botanical designs, this vintage dresser found on Ebay is the perfect addition to this country kitchen. However, when decorating with antiques don't be afraid to mix old with new, a rustic piece can look wonderful in a modern home.
4. Paint a fireplace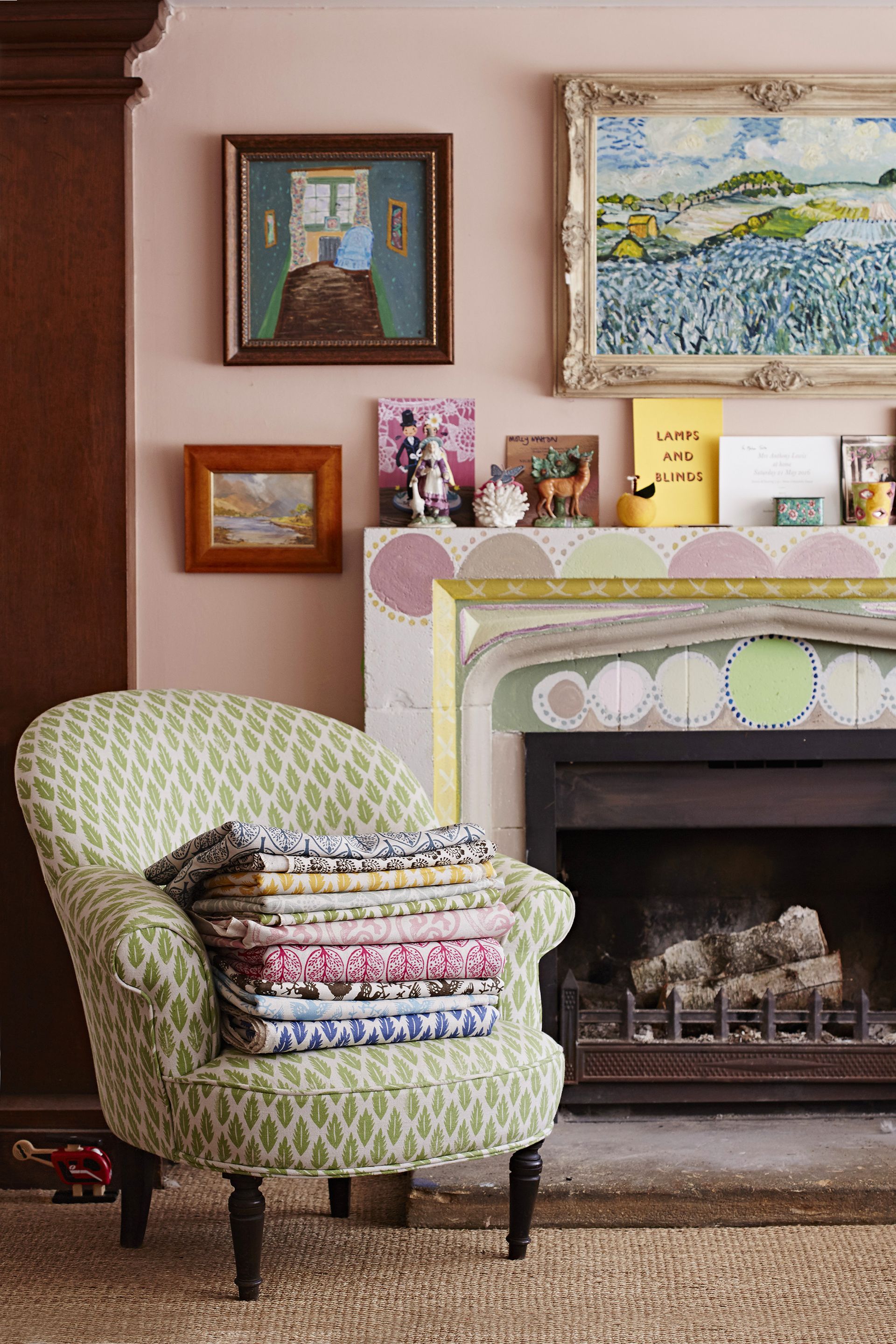 For fabric designer and block printer Molly Mahon painting furniture is a wonderful way to indulge in her love of pattern and color. When it comes to decorating she urges people to follow their instincts and to not overthink things.
 'Being bold has enabled me to decorate in a way that reflects the true personality of my family to create a home where we all feel able to create, reflect, relax and grow,' says Molly Mahon (opens in new tab). 'I followed my heart to do what feels right for our house – whether that means painting the fireplace, embellishing a cupboard door, or printing fabric for my living room curtains.' 
After a year or so of looking at her dreary grey fireplace Molly Mahon decided to paint the surround to create a fun focal point in her colorful living room.
'It has lifted up the space, I feel proud of it now, when it's not lit it's still cheery. I wasn't thinking too much ahead about it. Decorate in the moment; if you find something you love make a place for it, you never know what's round the corner and the main thing is to make your home as joyful as you can today.'
5. Embrace Greco-Roman style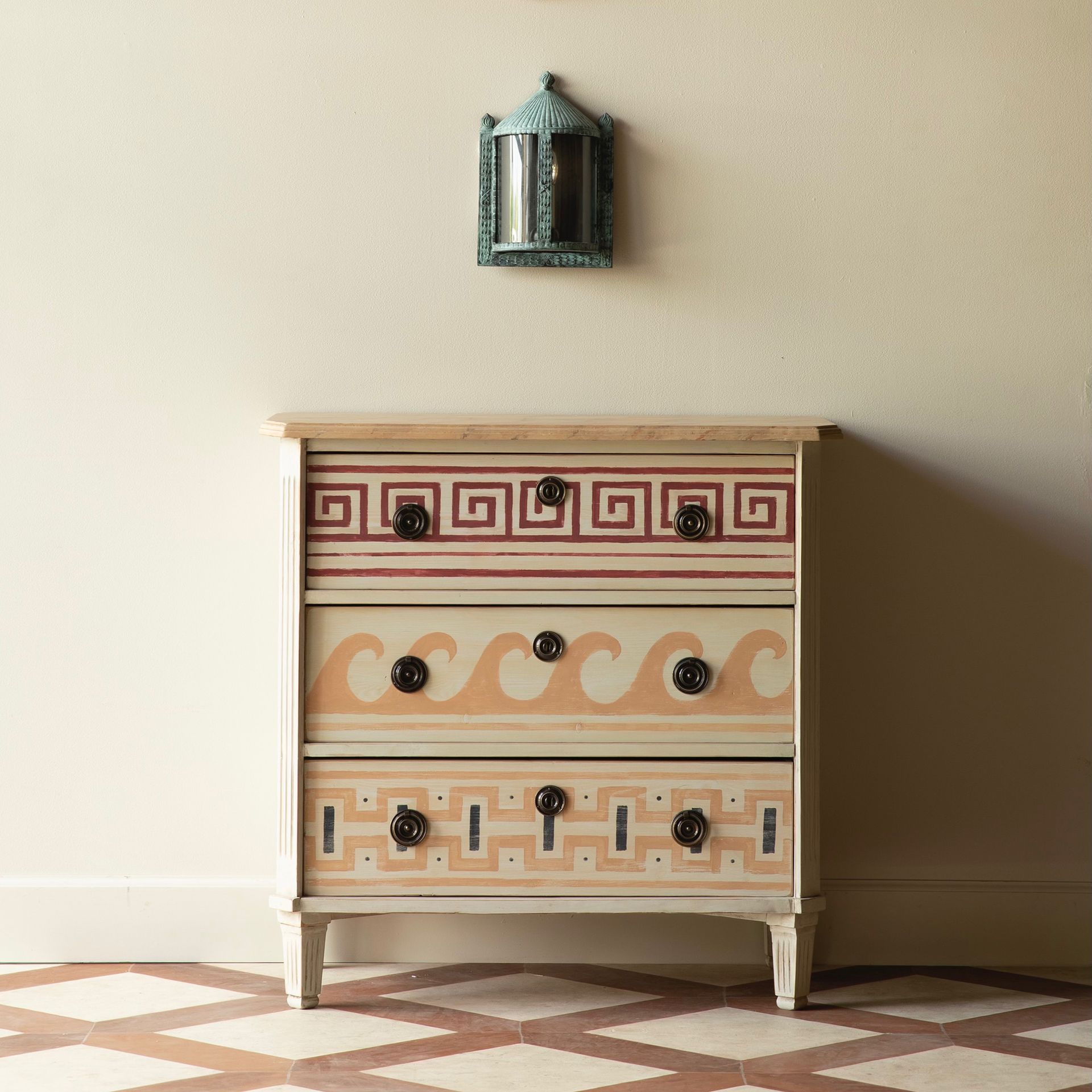 Featuring friezes inspired by classic designs, this Villa Kerylos Chest from Casa Gusto is a great way to bring subtle pattern into a living room, or it could make a fabulous bedside table. 
6. Brighten up small rooms or dark corners with a hand-painted mirror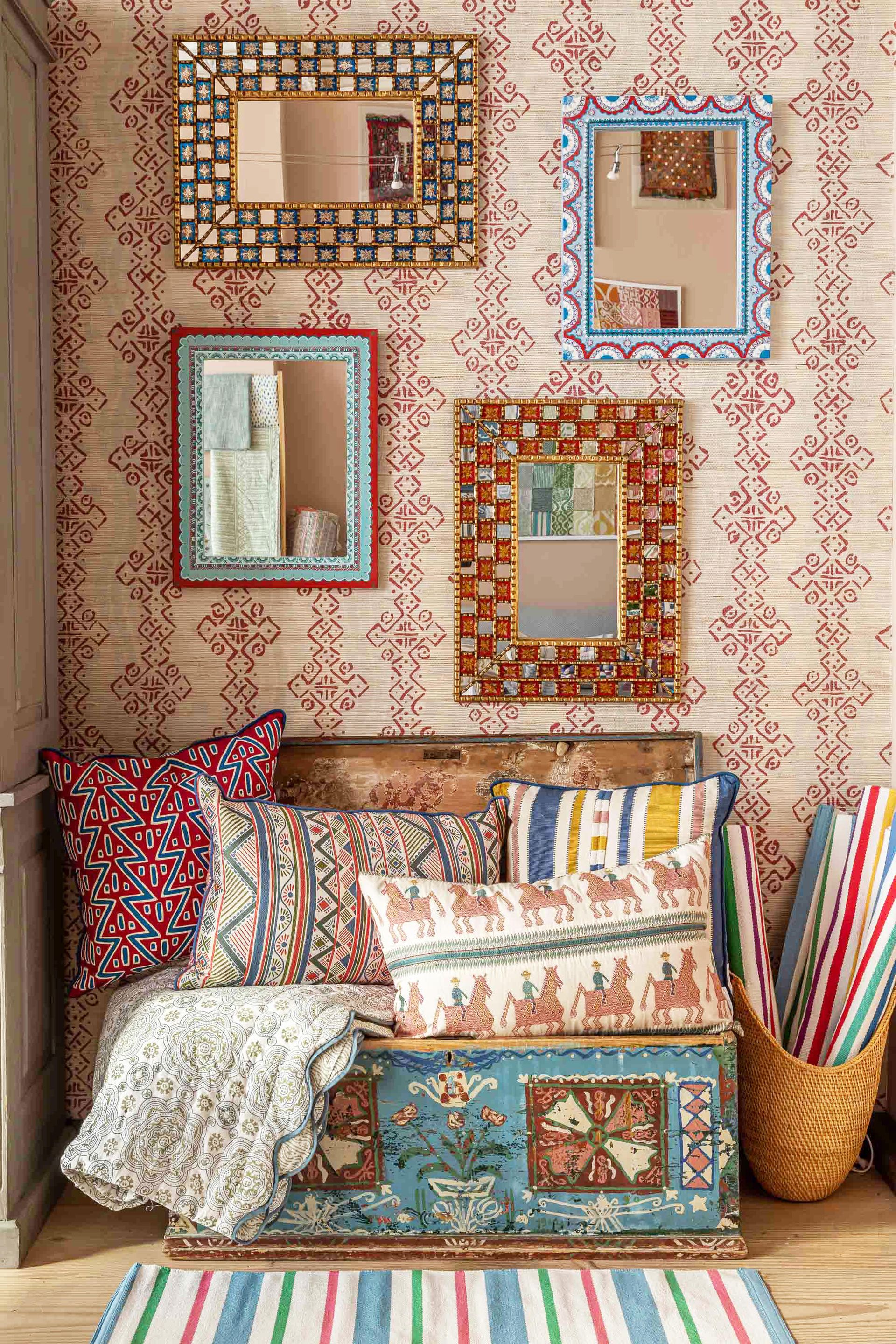 If you're cautious about painting large pieces of furniture then start small with a mirror frame or lampshade base. Taking inspiration from Folksy designs like the antique chest below them, these beautifully painted mirrors by Natasha Hulse, available at Wicklewood (opens in new tab), are perfect for brightening up a bathroom or cloakroom. 
7. Bring fun to kids' rooms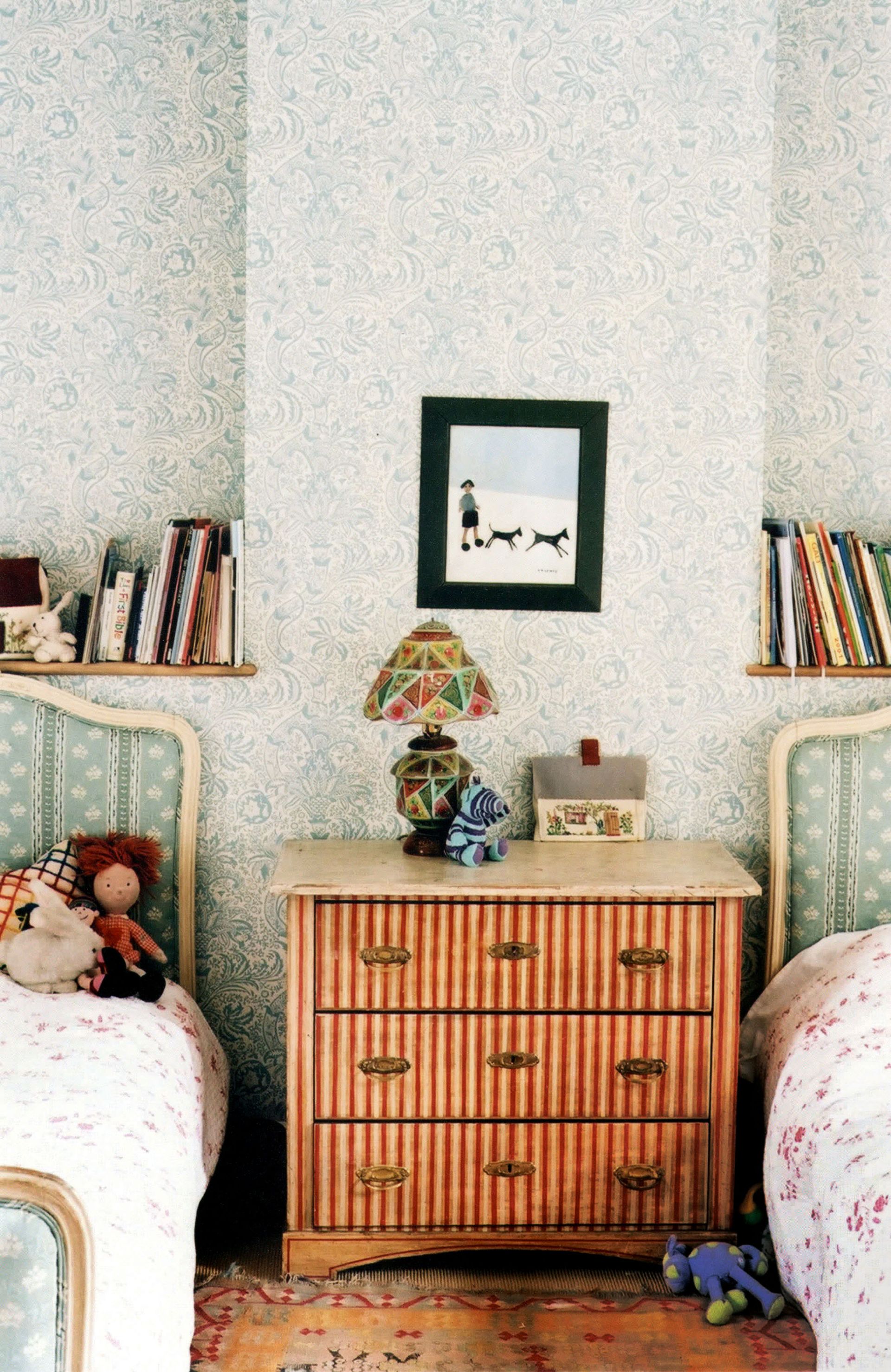 When it comes to kids' room ideas, sourcing secondhand furniture is a wonderful way to add character without breaking the bank. Enhance the look with your own touches, such as painting an old chest of drawers with jolly stripes.
8. Turn heads in a hallway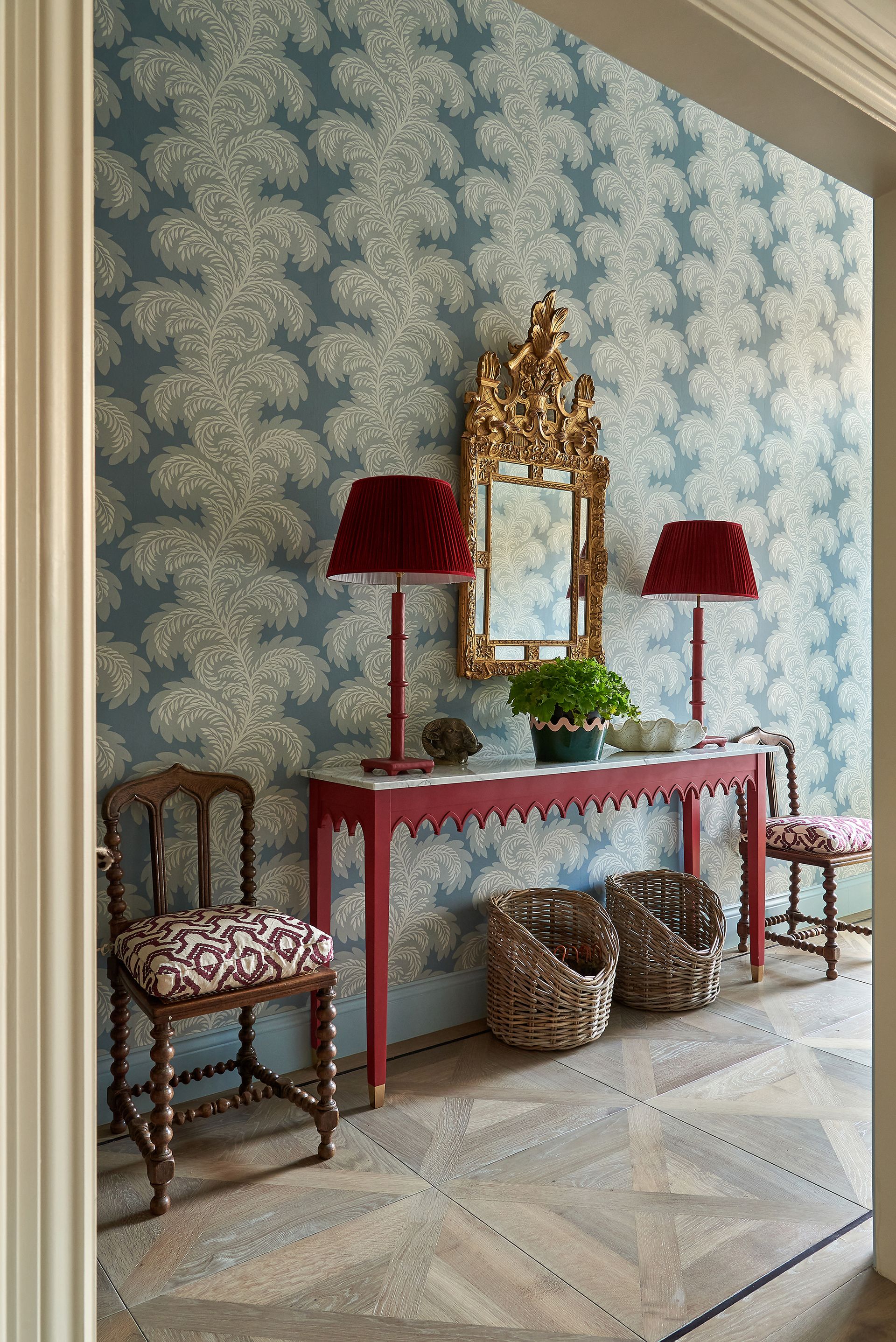 As the space guests first see hallways make a great place to make an impact and showcase your personal style. For an eye-catching look team a patterned wallpaper with a console in a contrasting color. Sarah Vanrenen's Augustus table in red looks spectacular in this traditional hallway, but you could easily create your own statement piece with a lick of paint.
9. Be adventurous with chalk painted furniture ideas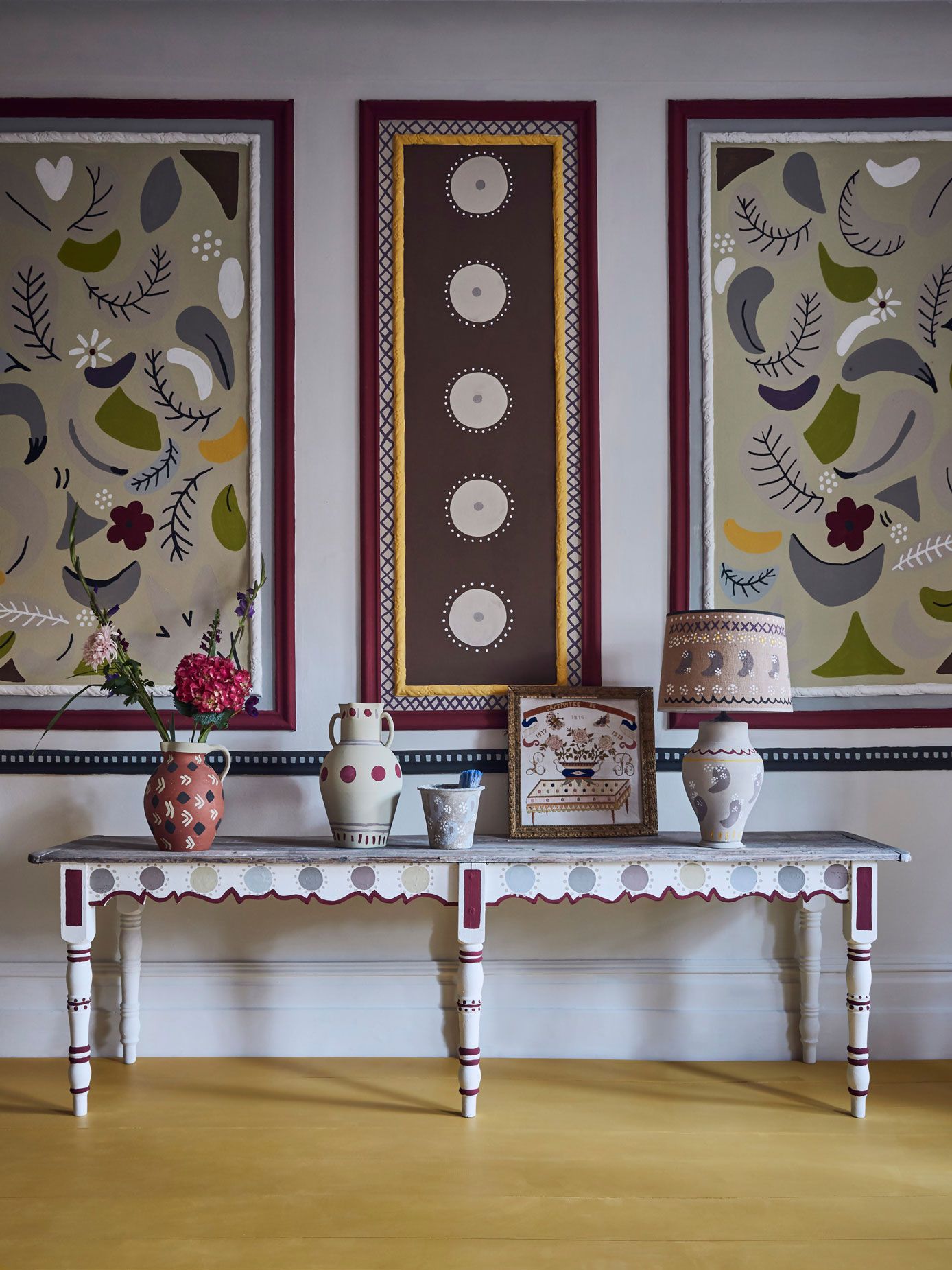 You can create an extraordinarily unique look with painted furniture ideas. Need inspiration for standout hallway paint ideas? Look to color and paint expert Annie Sloan (opens in new tab), who uses chalk painted furniture ideas as a defining feature of her work. 
'This room was painted entirely in Chalk Paint® to suggest the iconic English living museum of art and design which is Charleston Farmhouse (opens in new tab),' she says. 'Around Charleston, you'll notice repeat graphic shapes, botanical motifs, and lots and lots of color. 
'The artists living there liked to emphasize the character of the furniture and the rooms they were working with; here you'll notice the Burgundy outlining on the beautiful crenellations of the table, and the thick borders on the wall panelling which are both effective, easy design quirks you can easily use in your home. For best results, use the shape of the brush to dictate the design of the pattern.'
10. Give antique furniture a contemporary lift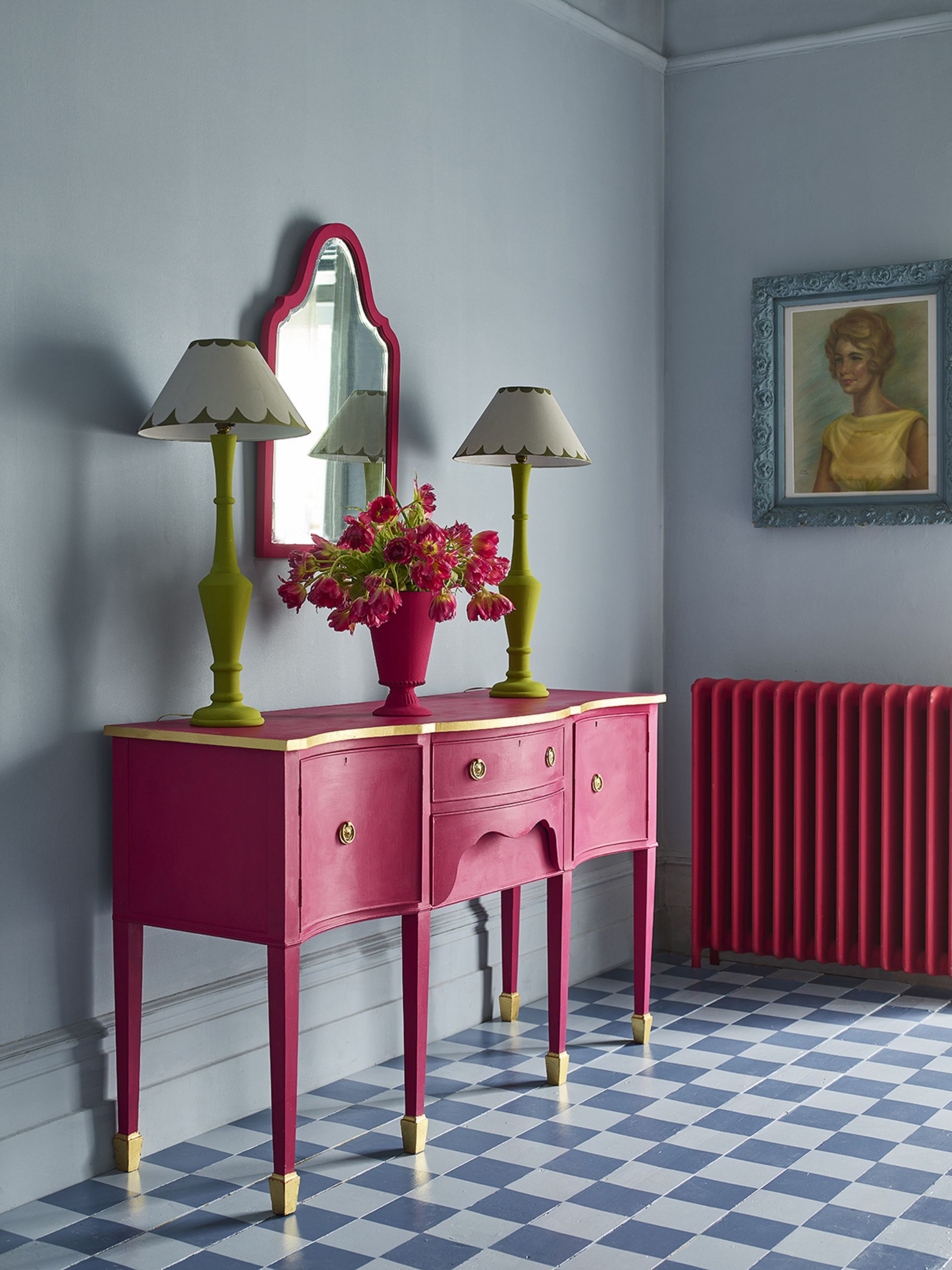 Painting antique furniture can feel like committing a sin, but they payback can be well worth taking the plunge. Here, a period console has been given a bold new lease of life by Annie Sloan with a modern finish reminiscent of antique Chinese furniture. 
'My Chalk Paint™ is one paint that can be used in so many different ways. You can create washes of color, thick and textured paint, layered colors, or a smooth modern finish. There are so many different looks and techniques – you can really achieve anything you like! I created my paint to be flexible and to do all the things I liked about other paints,' says Annie Sloan.
11. Paint furniture to bring character to utility spaces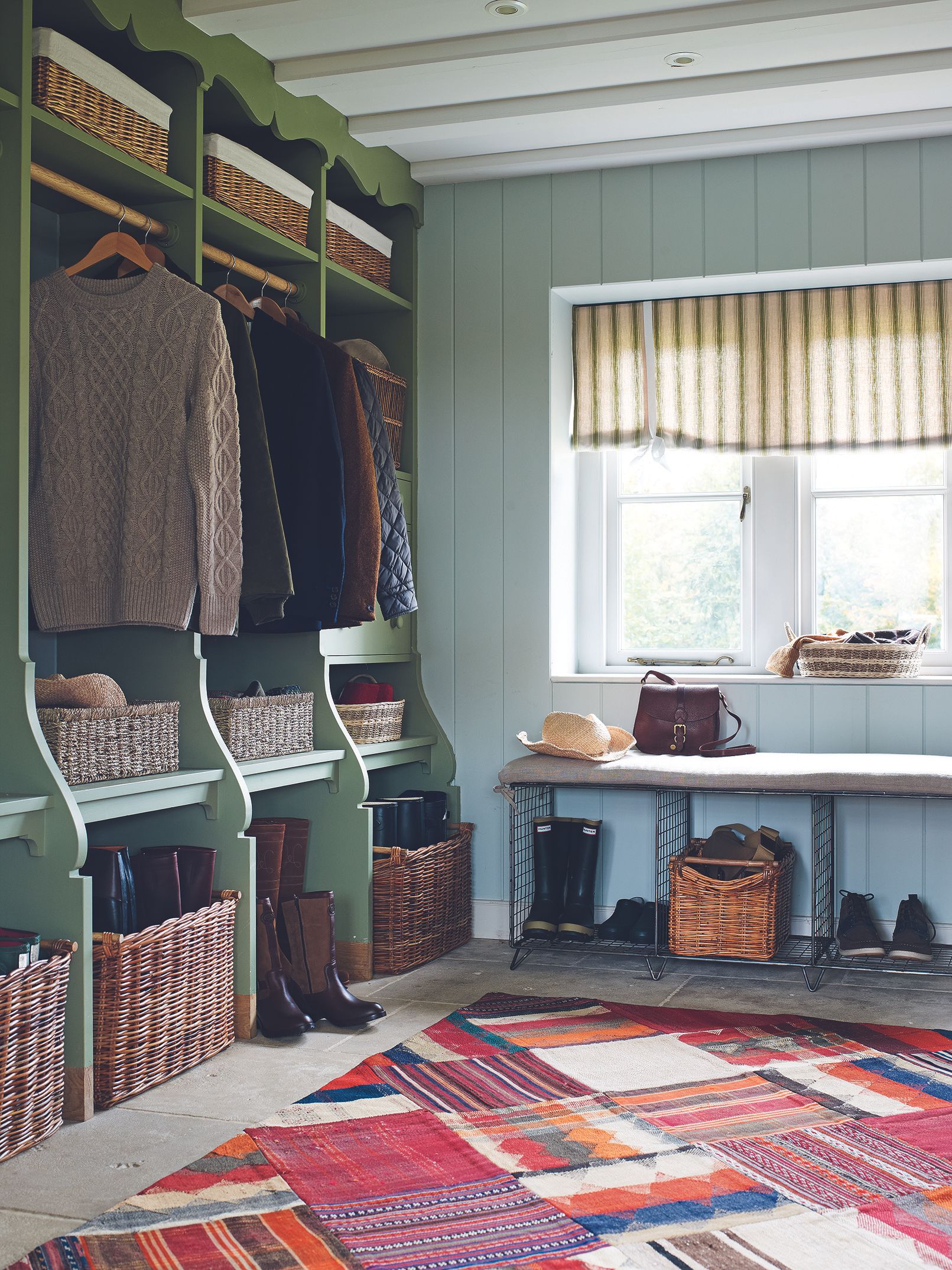 Choosing a bold, toning color scheme for painting furniture in spaces seldom seen by guests – mudrooms and laundry rooms, for example – can make these utility areas feel elevated, and more part of the main house, rather than separate spaces. 
 'A mudroom should include practical storage solutions, such as shelves and coat hooks,' says Emma Sims Hilditch of design agency Sims Hilditch (opens in new tab). 'But that does mean that the walls, where we might normally hang art, are taken up, leaving little space to give the room character.' 
This can be remedied by painting both fitted and freestanding furniture in a characterful color that will not just hide dirt and scuffs more easily than white would, but that might also create a visual link to the room it's adjoining, likely the kitchen. 
12. Paint vintage furniture for a cohesive look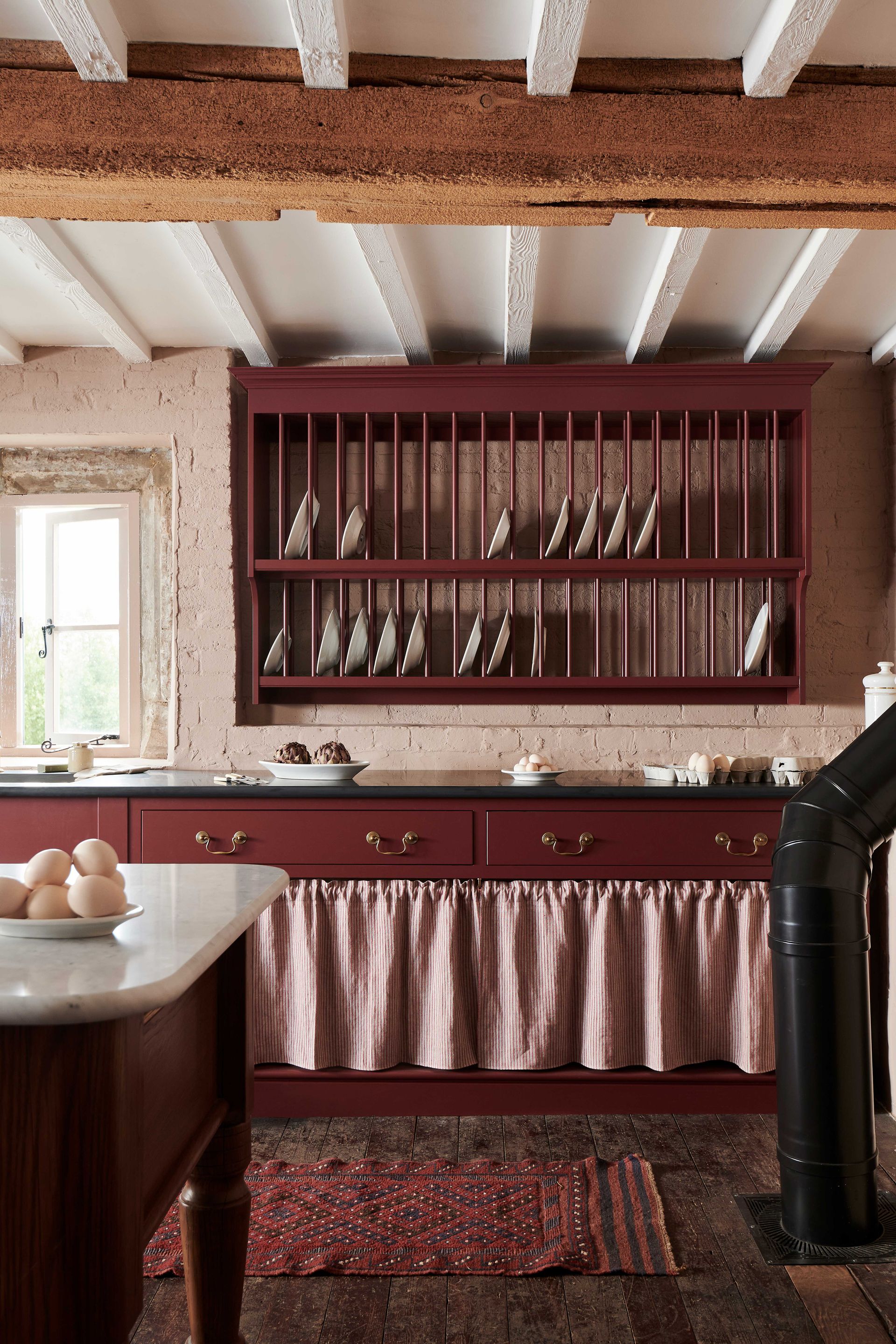 If you are looking to create a rustic kitchen ideas that are created from freestanding furniture from disparate sources and even periods, you can conjure up a cohesive, more uniform look with the clever use of paint. Here, freestanding kitchen cabinets and a plate rack have simply but cleverly been visually linked with kitchen colour ideas to match.
'You needn't pick exactly the same color for different pieces of painted furniture,' says Homes & Gardens' Editor in Chief Lucy Searle. 'Simply choosing differing tones of the same color can create a more layered look. If you are applying this technique to a kitchen, it is always more space-enhancing to put the darker tone on the base units, and the lighter shade on the wall cabinets.'
13. Use painted furniture to cheat a freestanding look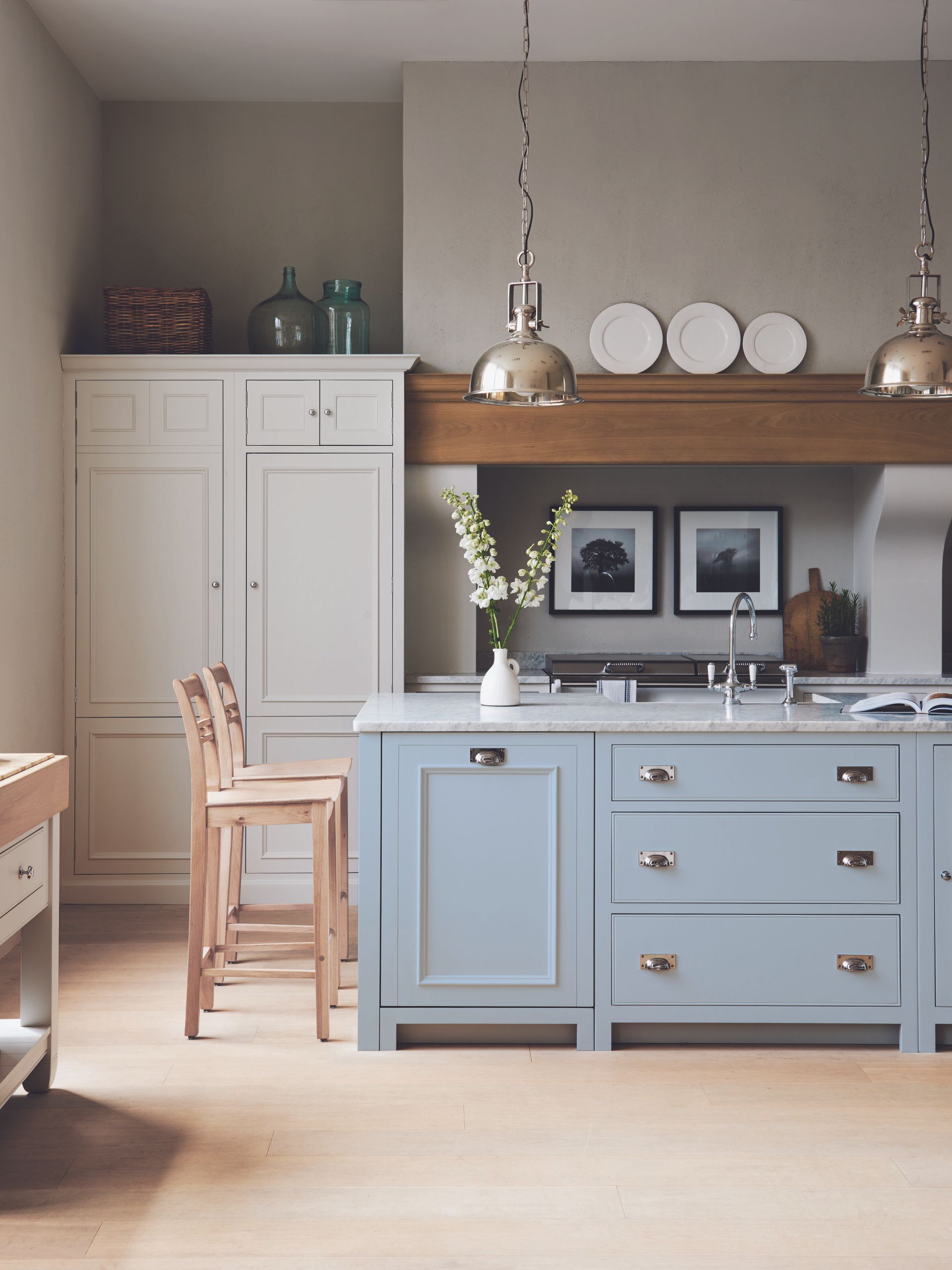 If you love the idea of a freestanding painted kitchen – perhaps you've been browsing Shaker kitchen ideas – but want to make the most of every inch of space in a really practical way, there is a great compromise that can be achieved, in part with paint.
Fitted kitchens that have freestanding-look fronts like this one can be given even more of a freestanding look by differing the choice of paint colors on the different pieces of furniture – as in the kitchen above. Just as we advised above about base cabinetry being painted a darker tone than wall cabinetry, so the rule applies that a kitchen island looks better in a slightly more stand-out tone than the boundary cabinetry. It's not a hard-and-fast rule, but it does work brilliantly. 
Knowing how to paint kitchen cabinets like a professional is key to a smart finish, with an expert always giving you the best results.
14. Part-paint furniture to show off displays of accessories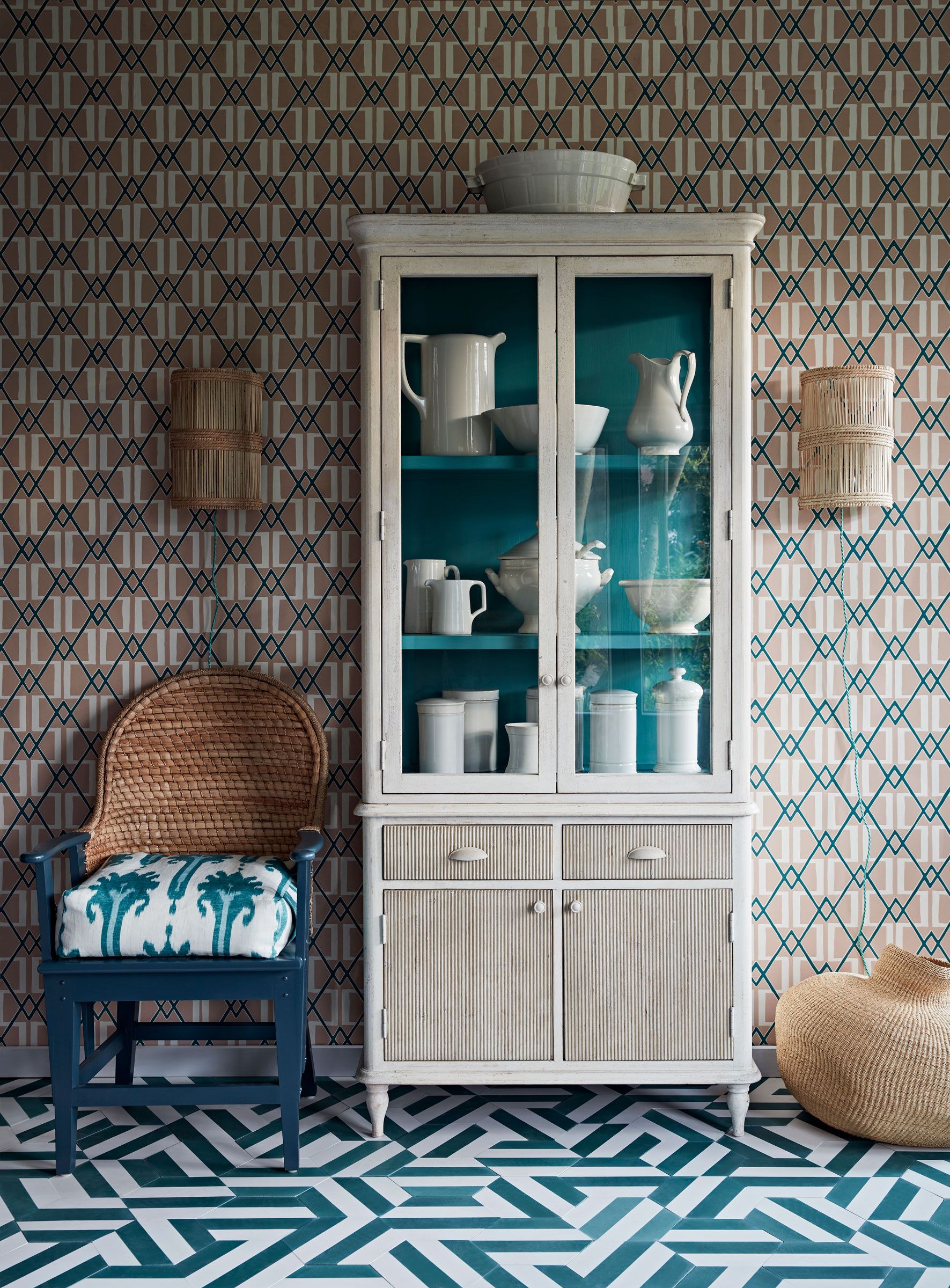 'Simply painting the interior of a display cabinet in a color that works to showcase the display of objets, favorite finds or even just everyday china, can have a transformative effect,' says Homes & Gardens' Editorial Director Sarah Spiteri.
'Here, the blue chosen tones with the most dominant of the accent colors in this space, but there's no reason not to pick a second accent color to add more interest to the scheme.'
15. Upcycle pre-loved furniture with paint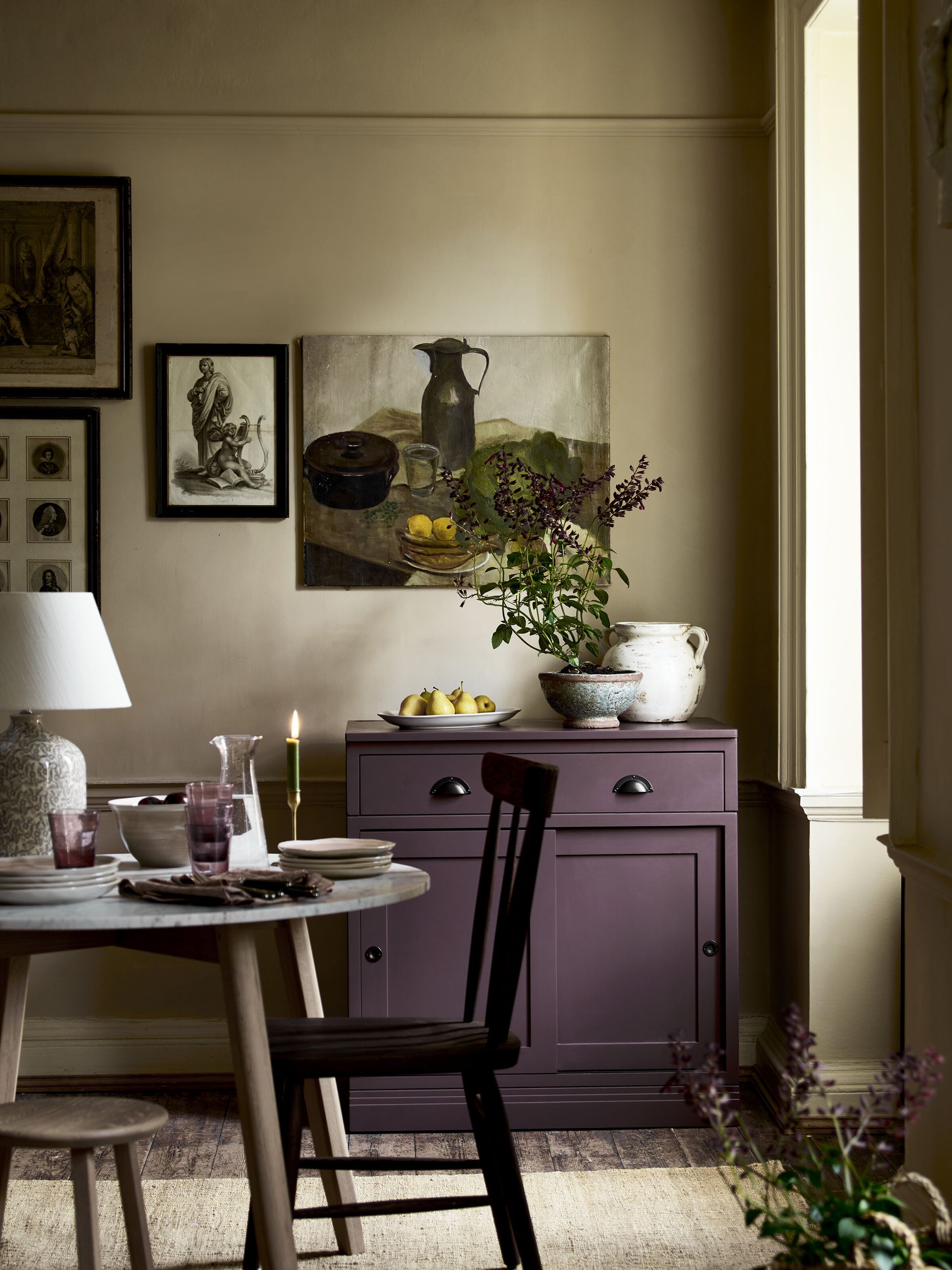 If there's a color you really want to introduce to your scheme, one way to do so is via painted furniture. And while you might look to buy a new piece, it's far more environmentally-friendly to upcycle a piece you already own, or which someone else is happily parting with. 
And because you're using paint, you can be more experimental. Don't love that deep purple you've chosen for that chest of drawers? Let the paint dry and start over.
16. Create contrast with painted furniture ideas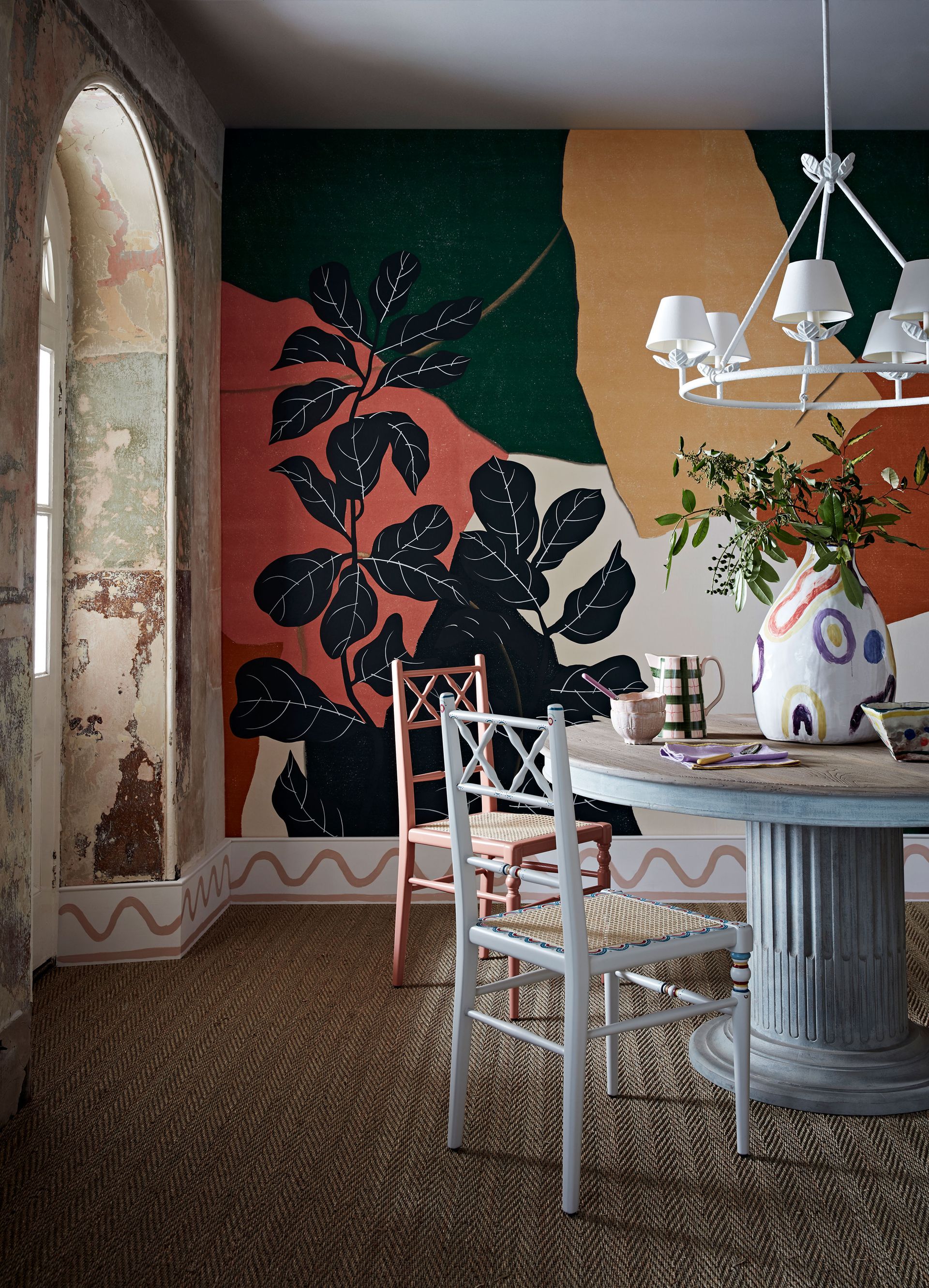 If you are considering really stand-out dining room color schemes, you can introduce contrast with painted furniture.
'We chose this extraordinary hand-painted wallcovering design by Fromental (opens in new tab) for one of our decorating shoots and wanted to add an element of surprise to the dining room set with an unexpected accent color,' says Emma Thomas, Homes & Gardens' Decorating Editor. 'We felt this pale blue on the table pedestal and dining chair, plus the salmon pink were perfect opposites for the deeper, bolder colors on the wall. This same effect could be achieved with painted furniture ideas.'
17. Paint wall-to-wall, floor-to-ceiling furniture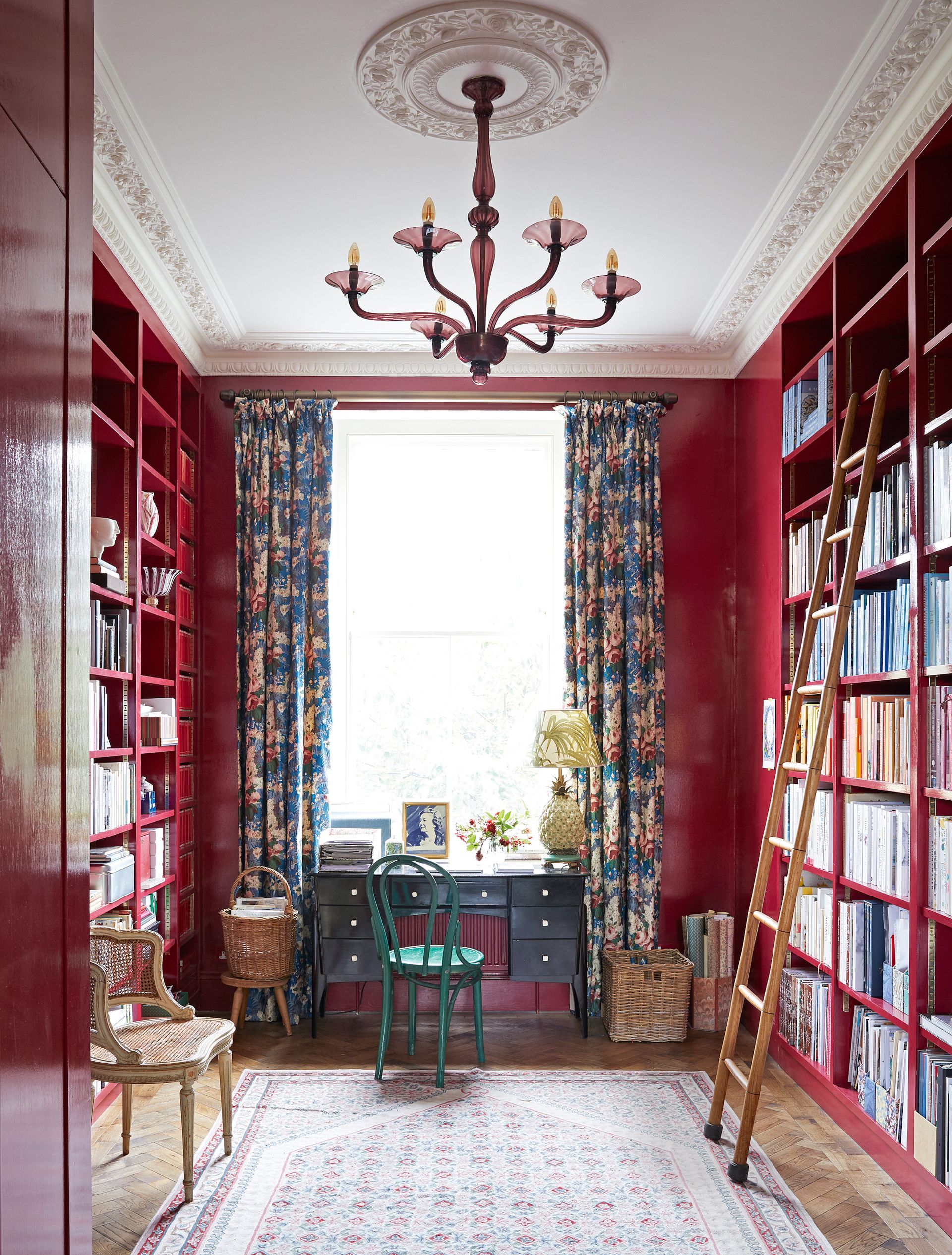 In a room that has wall-to-wall, floor-to-ceiling furniture, it's worth giving it a painted treatment with real impact. Here, a home library has fitted shelves painted in a red gloss, with walls adjacent painted in the same high-sheen finish.
'This brings real contemporary style to an otherwise traditionally styled room, but ensure any walls you paint with a high-shine finish are perfectly flat, otherwise lumps and bumps will show,' says Homes & Gardens' Digital Editor Jennifer Ebert.
18. Mimic the look of folk-art painted furniture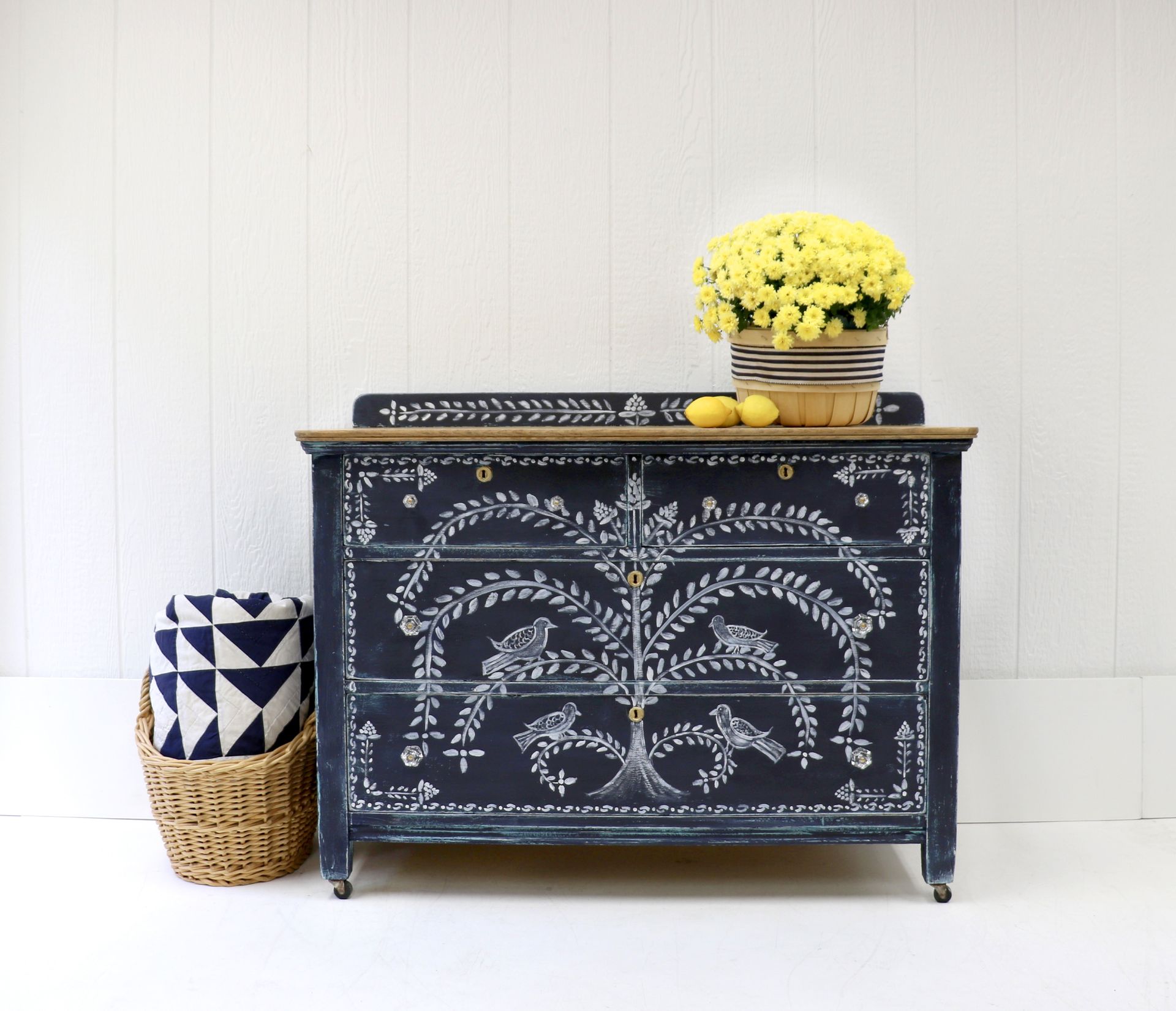 Folk art has come back into our consciousnesses thanks, in part, to the pandemic and a craving for the 'good old days'. And it's a look that can be easily mimicked. 
This piece was painted by Sara Hollister-Jessick from Surrey Lane Home (opens in new tab) with a base of Annie Sloan Chalk Paint in Old Violet, and a dry brush of Provence in the center, with Pure around the edges. A top coat of Oxford Navy was applied, then Sara distressed the piece to reveal the layers beneath and give a rustic feel. 
'I would encourage everybody to look to their local charity shops or online marketplaces with an open and creative eye, rather than purchasing brand new,' says Annie Sloan. 'There's a much greater sense of satisfaction in making your house a home in this way.'
19. Let painted furniture inspire a color scheme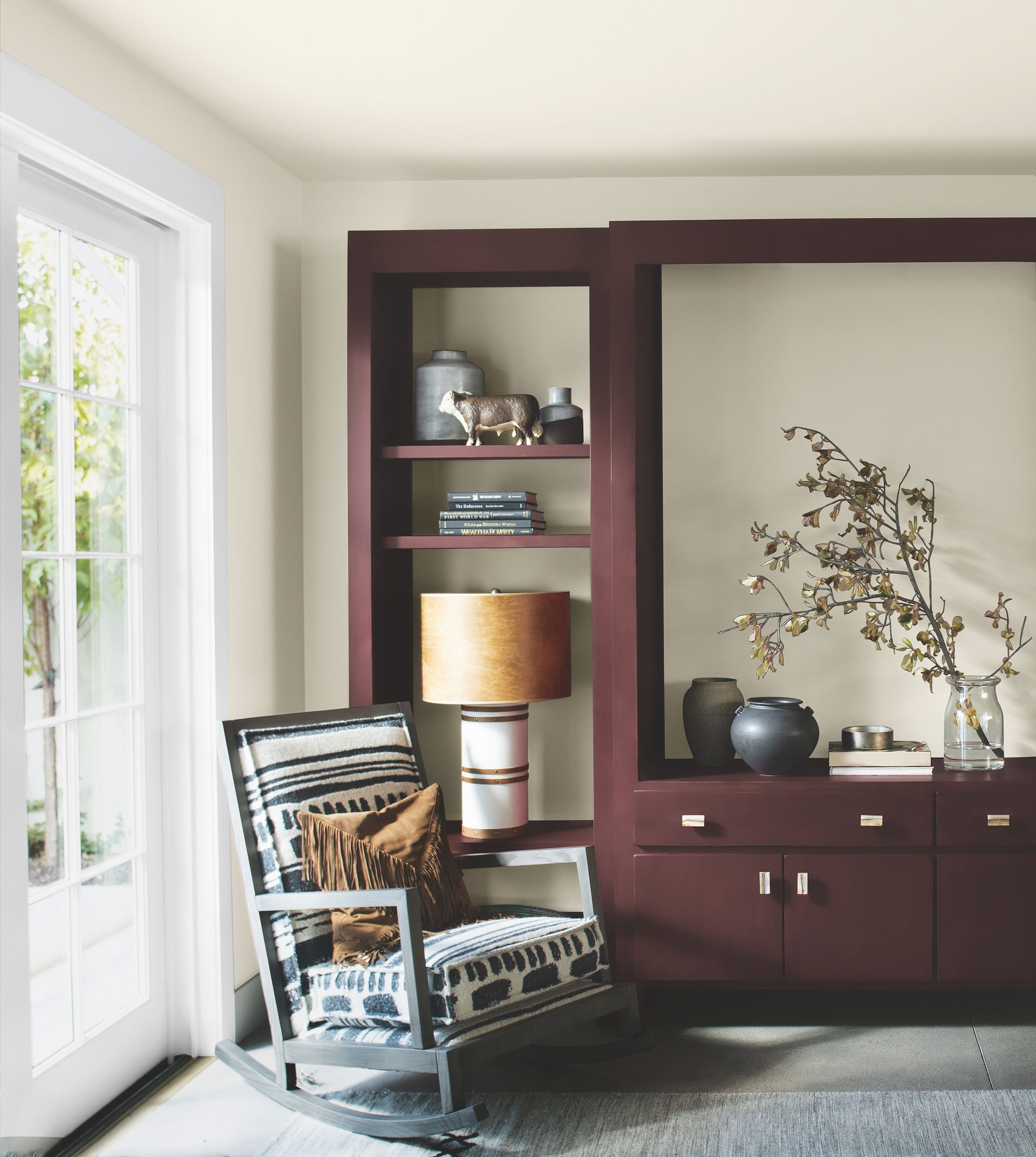 Fitted cabinetry is a ready-made canvas for color. Start with one-coat chalk paint for an easy makeover. More confident? Try satin or matte. 
'Paint cabinetry a bold color and style your room around it,' Helen Shaw, director at Benjamin Moore. Earthy colors inspired by nature create a warm look all year around – the perfect living room paint ideas for spaces small or large, north- or south-facing. 
20. Paint a bed to add depth to a bedroom scheme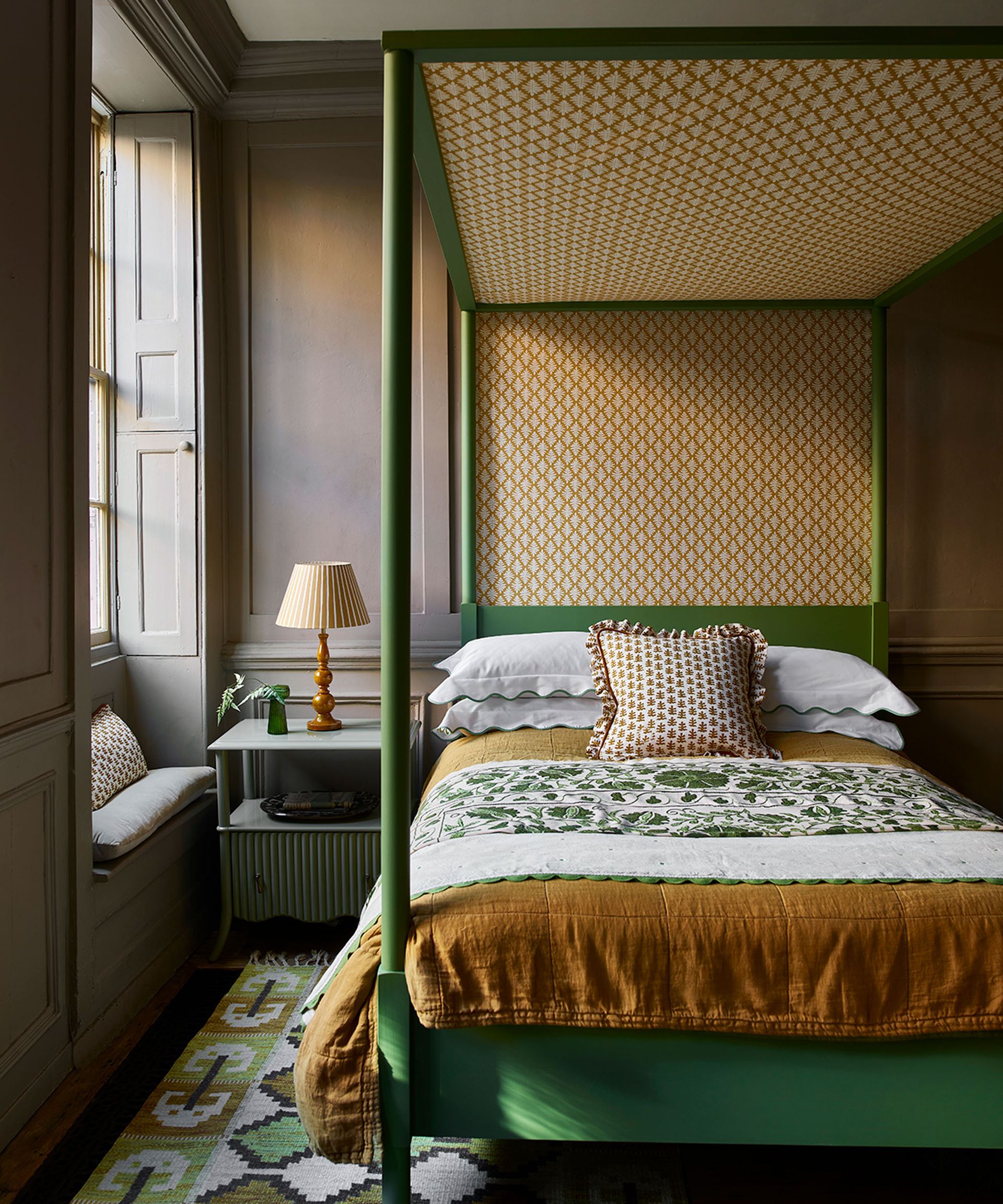 So often we choose neutral-colored or natural materials for beds, when they are a wonderful opportunity for adding an extra splash of interest with adventurous bedroom color ideas. 
'Here, a contemporary four-poster bed in a gentle pea green by Shaker of Malvern (opens in new tab) is lifted by the ochre tones of the canopy, quilt, cushions and lampshade,' says Homes & Gardens' Decorating Editor of this bedroom created for us by stylist Sally Denning (opens in new tab).
21. Take paint beyond furniture for a cohesive look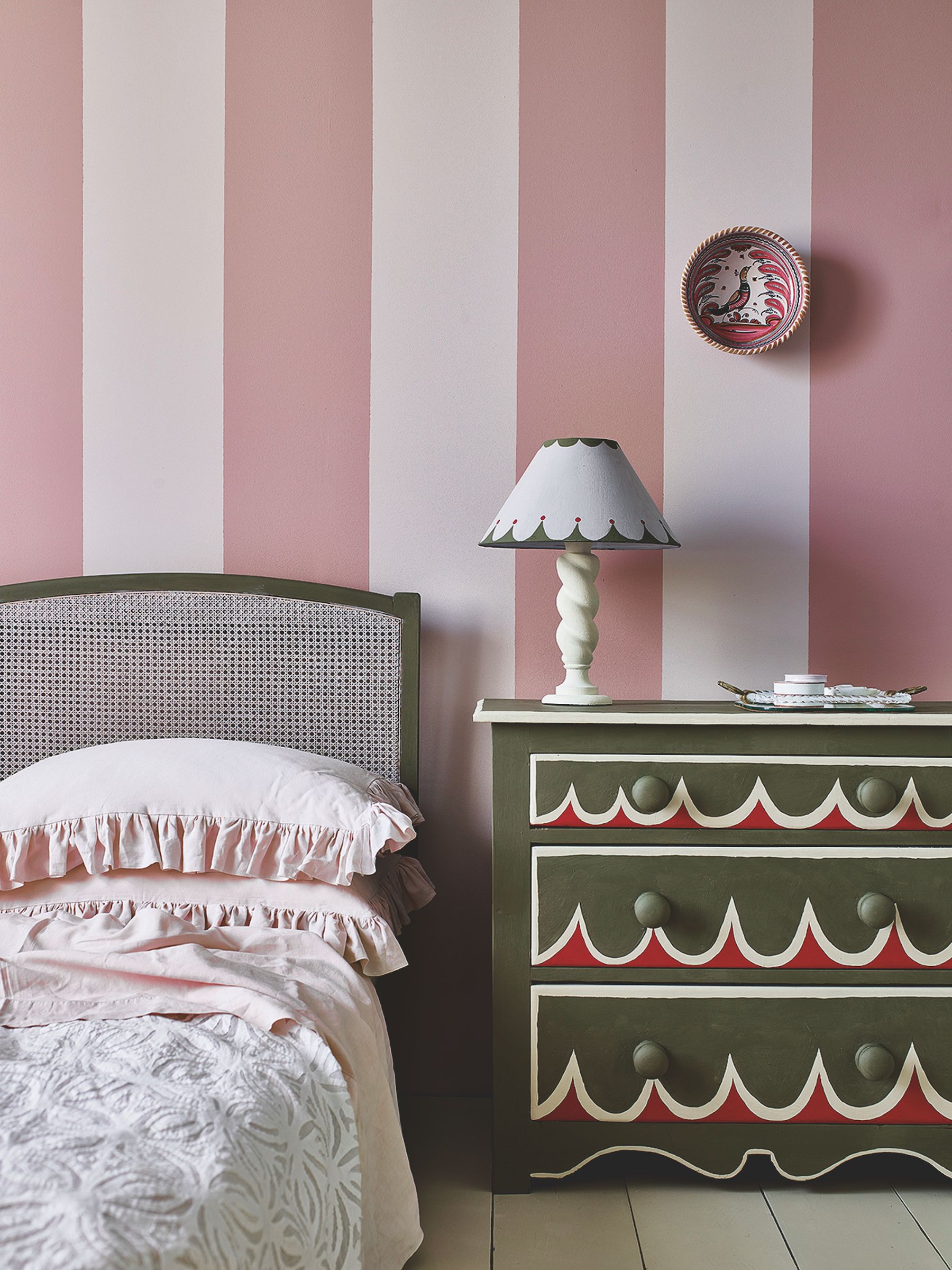 Paint is the perfect medium to bring unique character, add personality and even introduce an element of humor to a home. Painted furniture ideas can inspire the look of the rest of the room, too, as in this bedroom where the colors on the chest have found their way on to the wall, bed frame and even lampshade. 
'A gentle, muted palette evokes a sense of calm and restfulness,' says Ruth Mottershead, Creative Director, Little Greene (opens in new tab).
22. Update children's rooms with painted furniture ideas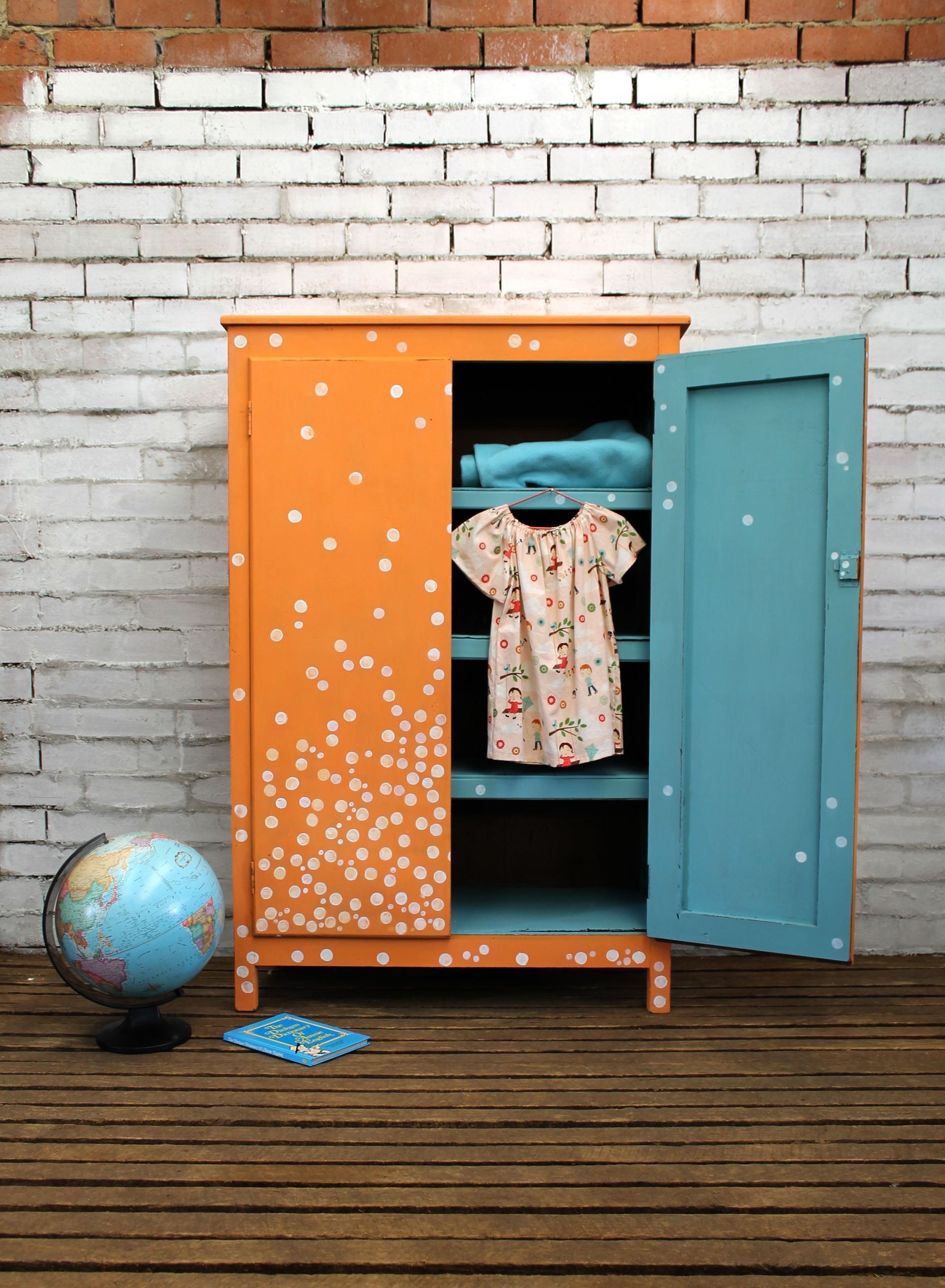 Children's rooms tend to take on a new look more often than adult bedrooms purely because they – and their tastes – change so quickly and intensely over a short period of time. 
'This is where kids' room paint ideas can really come into their own,' says Homes & Gardens' Editor in Chief Lucy Searle. 'Of course, you can repaint or wallpaper the walls, but choosing a white backdrop and repainting the furniture again (and again) can make for an easier approach. Plus, of course, you can have more fun with designs on smaller areas, such as wardrobes, while creating enormous impact. 
In this project, Annie Sloan painter in residence Beau Ford took a characterless old wooden wardrobe and transformed it in to a fun, colourful statement piece using Barcelona Orange and Pure Chalk Paints, creating a peachy-orange colour. 
'One thing I love to do is to put a bold color on the inside of a piece that is painted in quite a neutral color on the outside. It's a good way of introducing color if you're not confident with it,' says Annie. 'I love creating patterns with my stencils – you can layer up a design with a few different stencil designs or create a pattern with one.'
23. Update plain bathrooms by painting furniture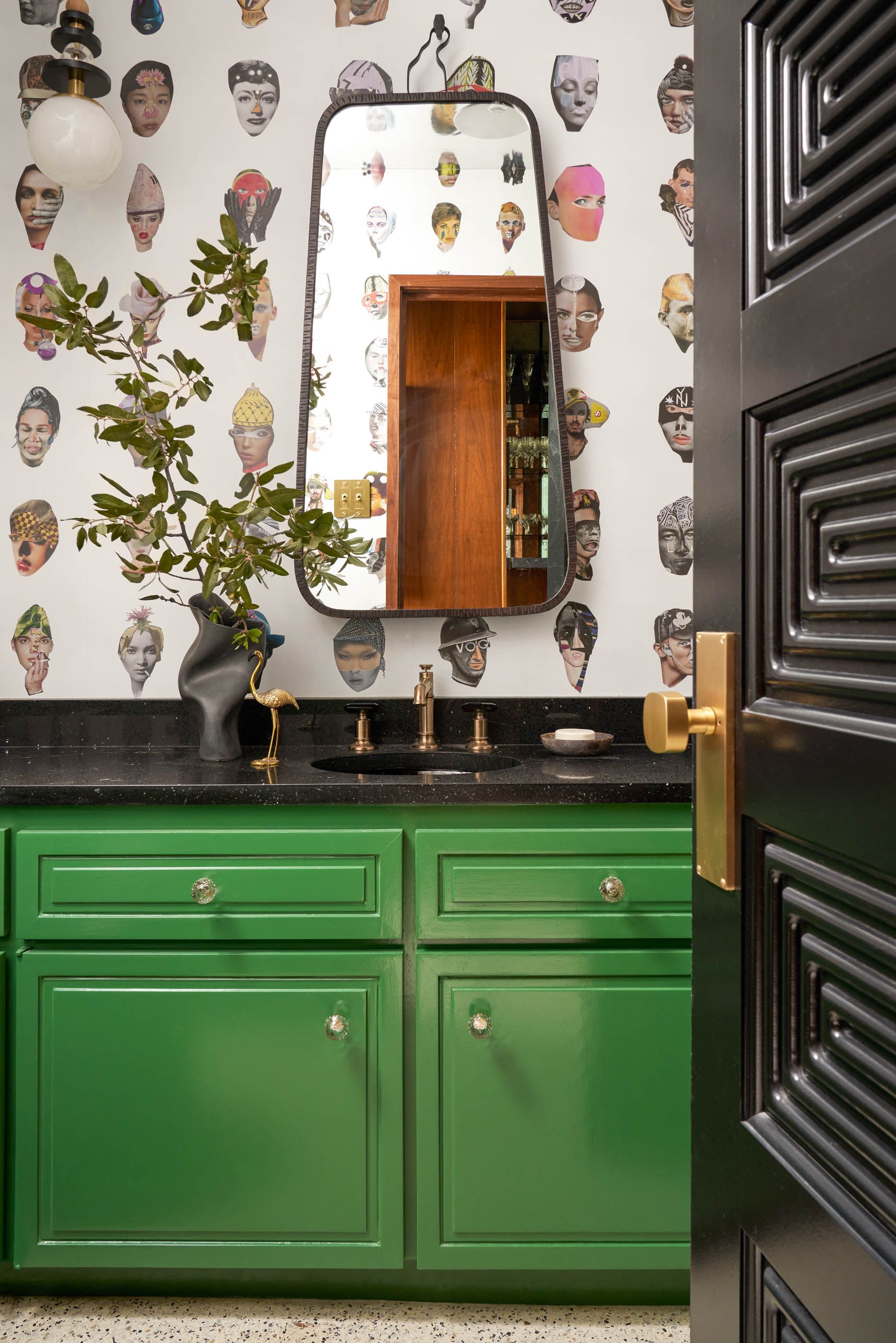 We often play it safe with bathroom color schemes, choosing neutrals, whites, perhaps blues, all of which look clean, practical – but unadventurous. If you have done this, perhaps bolder bathroom paint ideas can give you an update that ticks all the color boxes – but is easily reversible – are the answer? 
Here, a bold green-painted vanity brings a strong dash of color into a bathroom designed by Maestri Studio (opens in new tab). Matched with black and the retro wallpaper, it creates a characterful look that's perfect for a family bathroom, powder room or half bathroom.
What kind of paint is best for painting furniture?
The best kind of paint for painting furniture is one that is designed for the job. This means avoiding matte paint created for painting walls and instead looking for paint that is suitable for painting wood, metal and perhaps even plastic. These paints might come in different finishes – from Annie Sloan's Chalk Paint to home improvement stores' range of satin, semi- and gloss finishes. When you are planning painted furniture ideas, it's vital to consider the preparation needed – and this will really depend on the paint you use, so check the tin; many will require sanding and priming, others might suggest painting straight on to clean, dry surfaces. 
How do you paint furniture to give it a professional finish?
To get a professional finish when painting furniture, begin with thorough preparation. If the top coat you are using suggests using a primer, it is best to sand the furniture to create a key, vacuum and wipe off all the sanding dust, prime the furniture, allowing it to dry and then applying the top coat. If the paint you are using does not need a top coat, a light sanding, thorough dust-removal and application of top coat will be all that's needed. 
However, the key to a really professional finish is the application of the paint. Spray painting can give you the neatest finish on pieces of furniture with intricate curves; flat-surfaced furniture, such as kitchen door fronts, are best removed, laid flat and painted with a small sponge roller; if you are looking to create an antiqued look or to paint stencils or freehand designs, choose soft brushes that are designed for the job. 
Is painted furniture still fashionable?
The wonderful thing about painted furniture is that it never goes out of fashion. If you paint a piece in a bold color but change your mind, it's easy to sand down and change with a fresh coat. The technique is wonderfully versatile and can be used to create all sorts of looks.
Currently we're seeing a trend for naive, folksy designs inspired by antique furniture and the work of the Bloomsbury group.