If you're thinking about updating your bathroom but aren't ready for the inconvenience or cost involved in a full refit, you are in the right place. 
There are plenty of creative ways to give this very important room a revamp without resorting to replacing all the fixtures and fittings. Indeed, when you're looking for bathroom ideas it's often easier to perfect or update an existing look with some minor adjustments rather than starting from scratch and trying to envisage a coherent scheme. 
So if you're wondering how to update my bathroom without replacing it, we've got it covered with some great advice from interior designers who share their tips for bathroom updates, from simply adding in new accessories to changing the walls, floors or basin backsplash. Just the inspiration you need to refresh the look of your bathroom.   
 How to update a bathroom without replacing it
So how can you update a bathroom without replacing it? Start by thinking what you actually want to achieve, and why you're thinking of an update rather than replacing the whole room. Small changes can make a big difference to the look of a bathroom and really bring the scheme together. So it's worth considering the positive impact a few minor updates will have, particularly if you're happy with the existing fittings.
Choosing to update a bathroom rather than refitting it is also a good way to keep costs down. Keeping the existing bathroom furniture – the bath, basin, WC and shower – not only saves money, but also saves a lot of inconvenience and means the room can still be largely in use as you update it. 
These are interior designers' favorite bathroom updates. 
1. Invest in a luxurious new vanity unit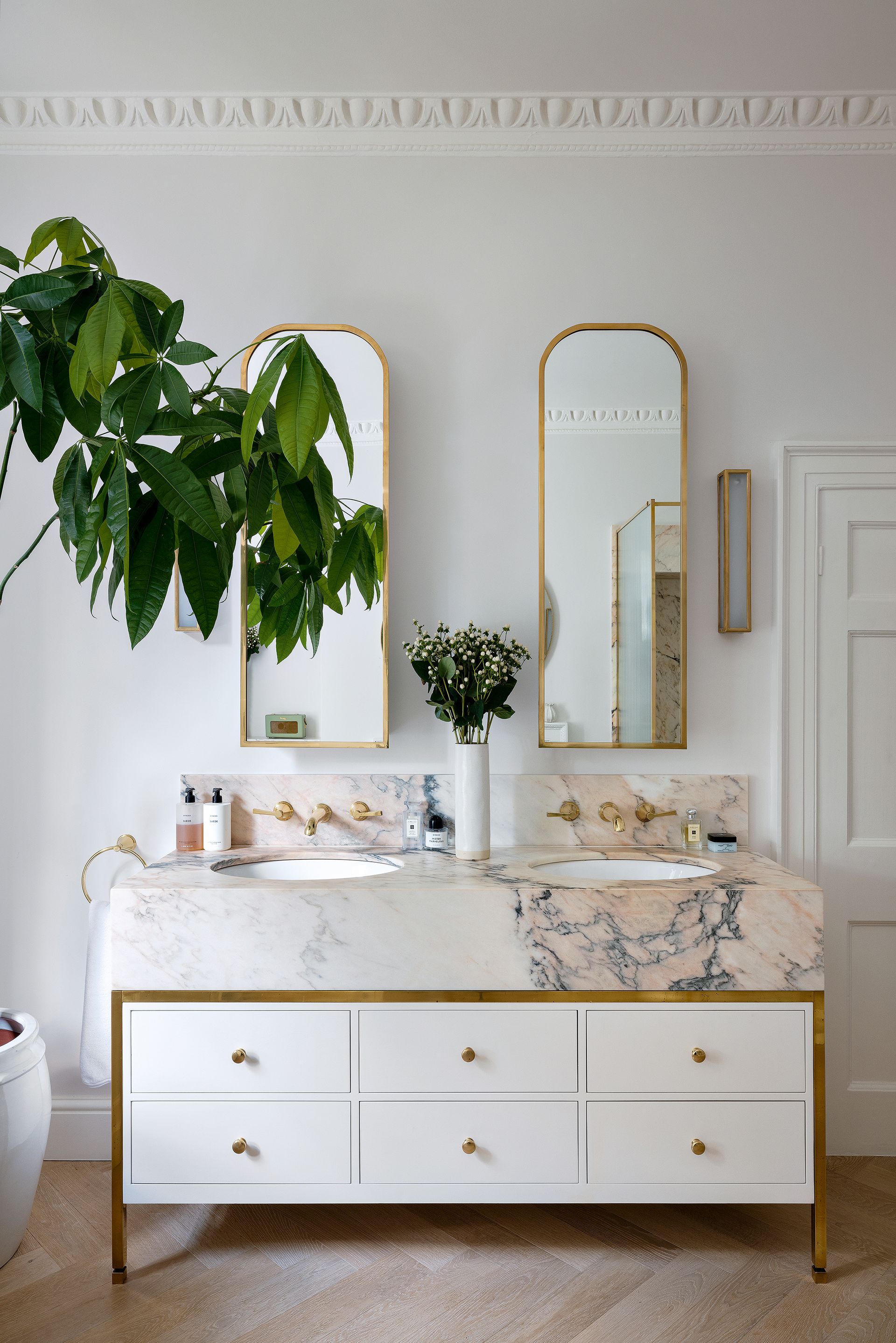 'I love the challenge of updating a bathroom without a full renovation.' says Ruchi Agrawal Mohan (opens in new tab), founder of DesignbyRUCHI. 'Changing the vanity can be one of the easier ways to do this and, yes, a plumber will be required. Get a feature vanity to work within the existing bones of your bathroom and you can create a fresh and new bathroom.' 
If you are looking for inspiring bathroom vanity ideas, the beauty of the statement marble vanity in the image above, is that it's a strong enough piece in its own right to upscale the room without necessitating any other changes. And of course, this natural material will complement almost any existing setting.
We have a list of the best places to buy bathroom vanities to help you find a piece you love.
2. Add character with flooring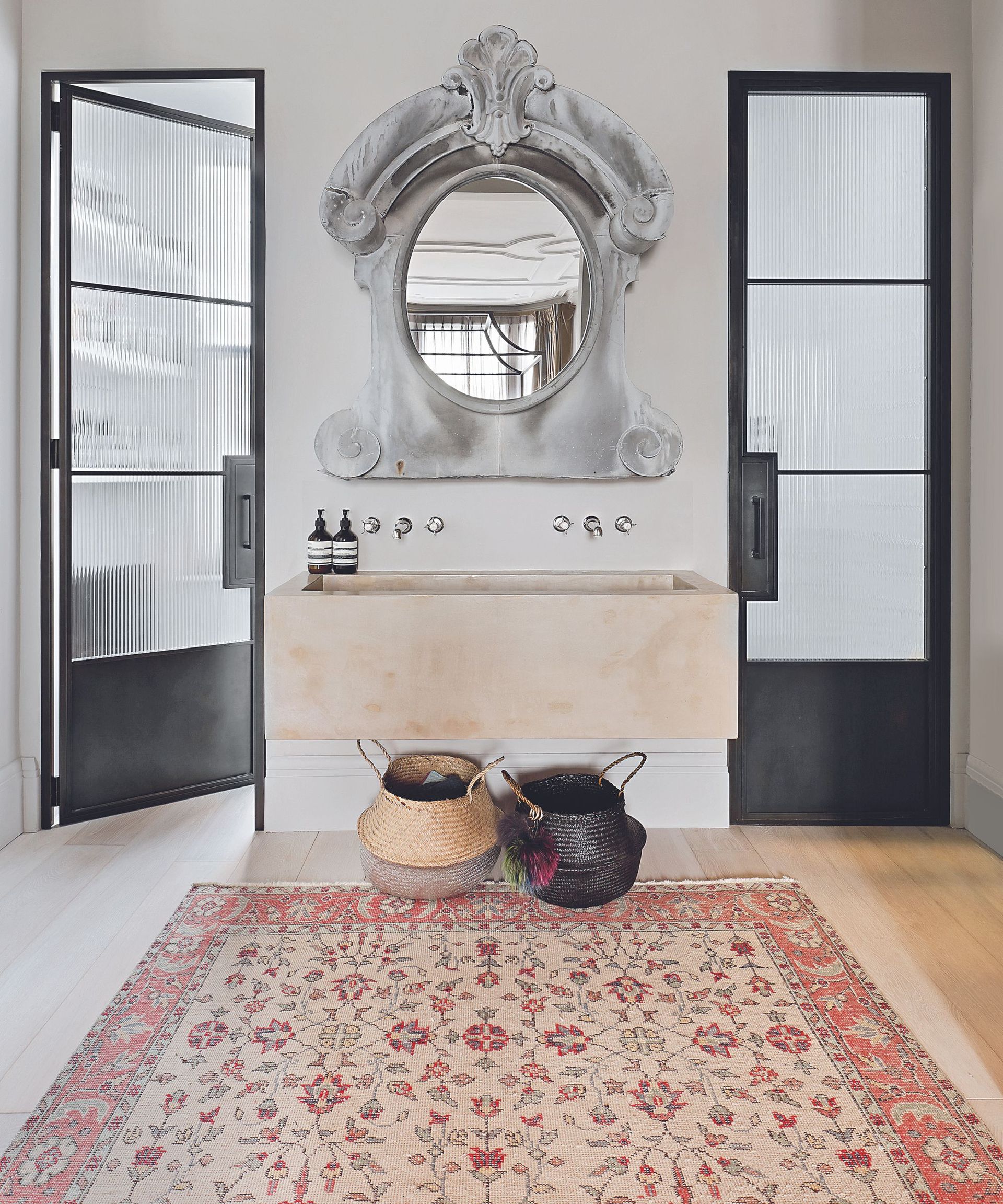 Changing the flooring can make a dramatic difference to the look of your bathroom, even if everything else stays the same. Whether you choose a smart geometric marble tiled look, wood-look tiles, or tiles in a more traditional design, you won't regret making new bathroom flooring ideas one of your key updates. 
And don't underestimate the impact of adding a bathroom rug or bath mat. 
'This is an opportunity to bring in color, texture and pattern depending on the existing colors and patterns in the space. But choose wisely, boho chic is only for dorm rooms,' says interior designer Sashya Thind (opens in new tab). 
3. Restyle the basin backsplash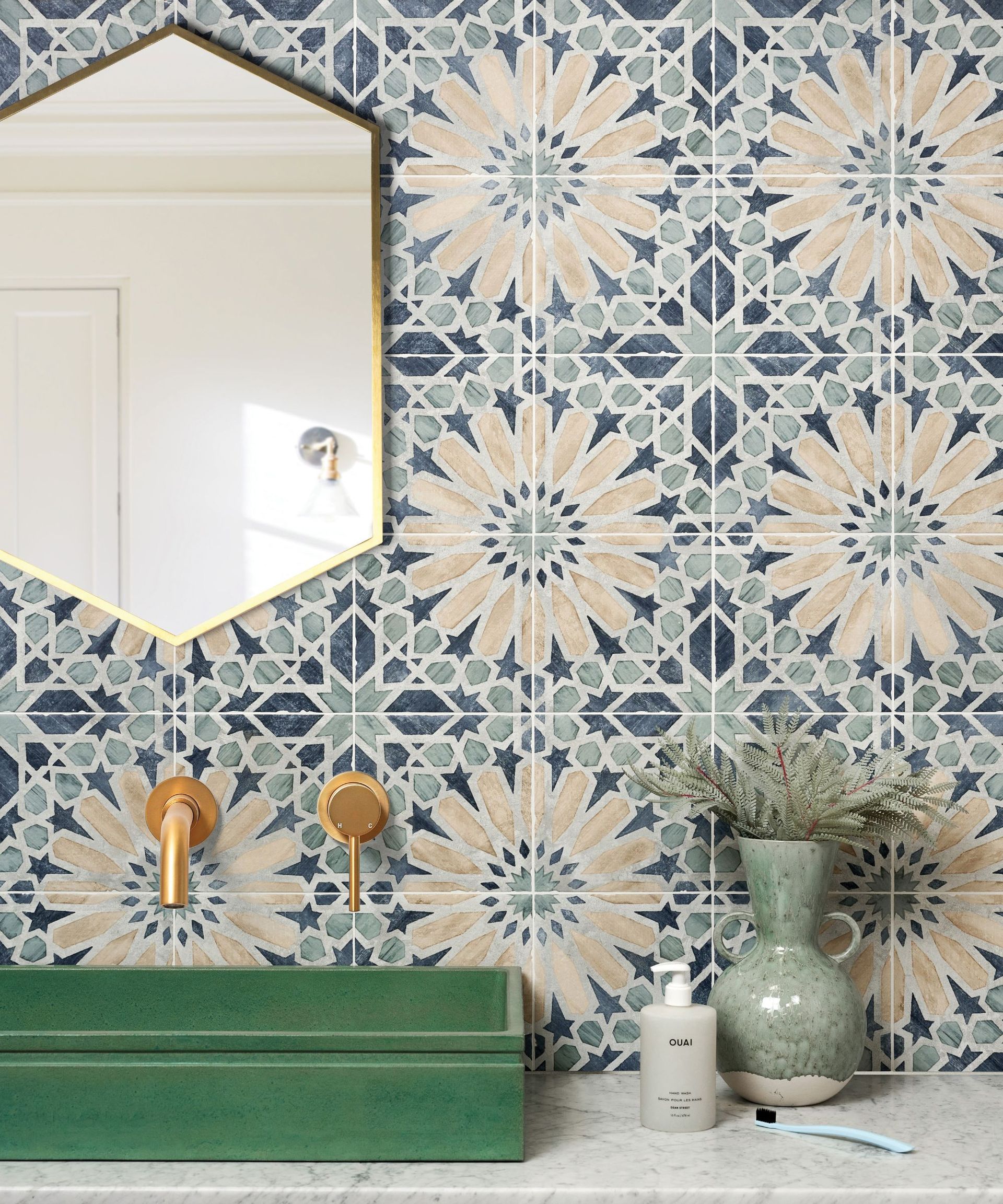 Focusing on the relatively small area behind the basin and retiling the bathroom backsplash allows you to ring the changes without replacing the whole room. Since the area behind the basin can often reveal signs of wear and tear that might not be so apparent elsewhere in the bathroom, it's a good place to concentrate your efforts. 
Among the many bathroom tile ideas the scallop or fish-scale shaped tile looks like a tile trend that's here to stay for a while, as does the highly patterned Morroccan style tile, which looks its best when matched with a colorful basin, should you be swapping your vanity out too.
4. Go all out with a dramatic wallcovering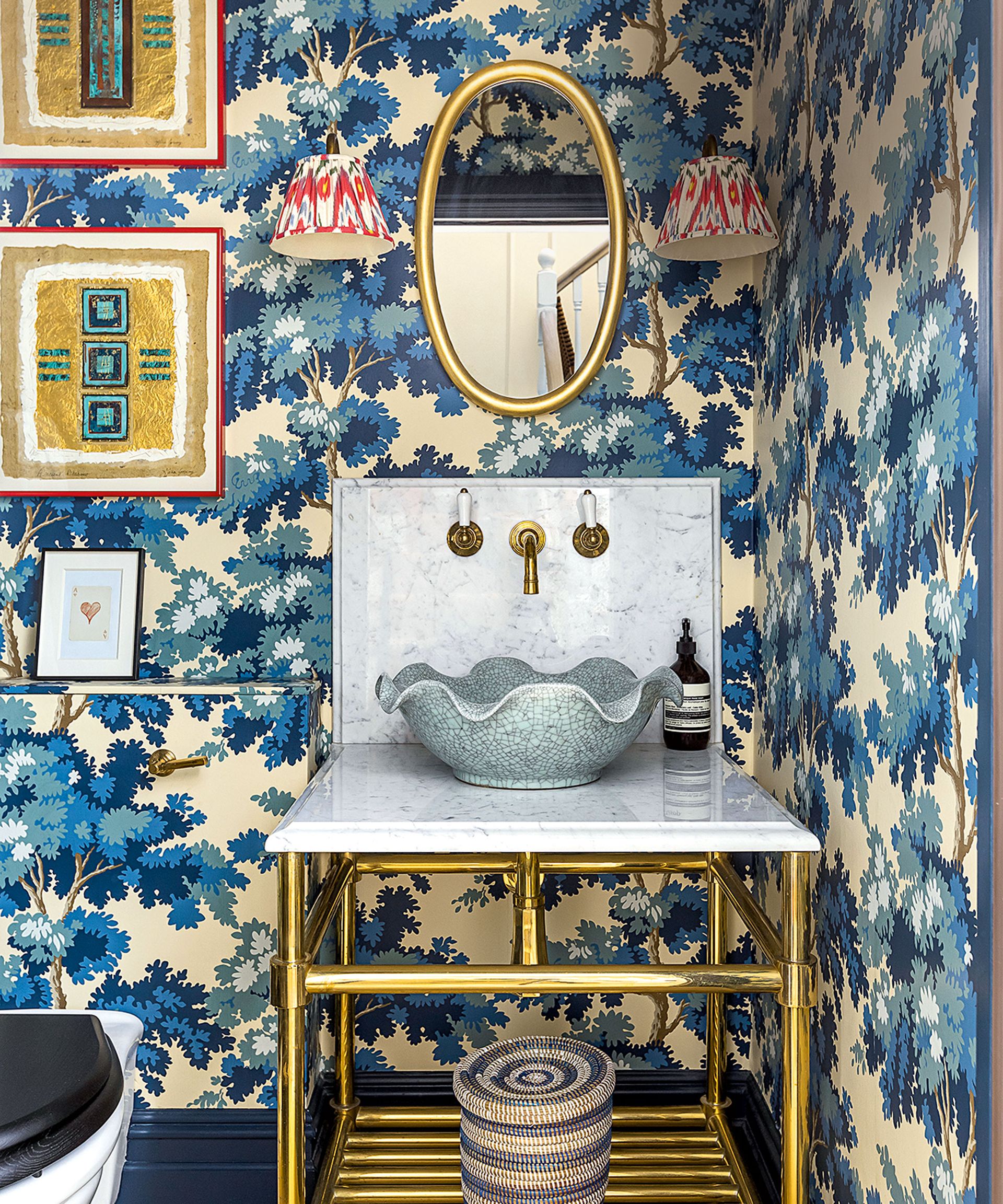 If you're looking for small bathroom ideas and inspiration for updates in a more compact bathroom, why not enhance it as a cocoon of a room with a bold all-over wallcovering? 
Here, Sandberg's Raphaël wallpaper (opens in new tab) creates a dramatic and luxurious look even though space is limited. The gold-accented artworks, gilt-framed mirror, and brass vanity stand and hardware provide gleaming highlights. 
If you are looking for bathroom wallpaper ideas, ensure it is up to splashing, and if not, limit it to one wall that doesn't have contact with water, ensuring the room's ventilation is up to scratch.  
5. Add interest with artwork
A relatively low-cost, easy fix to update your bathroom is to add interest to blank walls. The bathroom so often gets forgotten when we're thinking about hanging artwork and yet bathroom art ideas can make all the difference.
No room for art? Look to bathroom mirror ideas for inspiration.
Katie Browning (opens in new tab) of Lucas Browning Design agrees. 'The easiest way to update a bathroom is to replace the mirror, lighting, and hardware. Your space can be easily transformed by switching out the mirror. Hardware in a black or brass finish will also warm up the space. Whether you have sconces or a pendant above your sink, there are so many inexpensive options out there that can have a dramatic effect. 
'After making these changes, you should also bring in accessories to further add interest and character like a wooden stool, art, fringed hand towels and a fun soap and lotion set,' she adds. 
6. Paint unexpected surfaces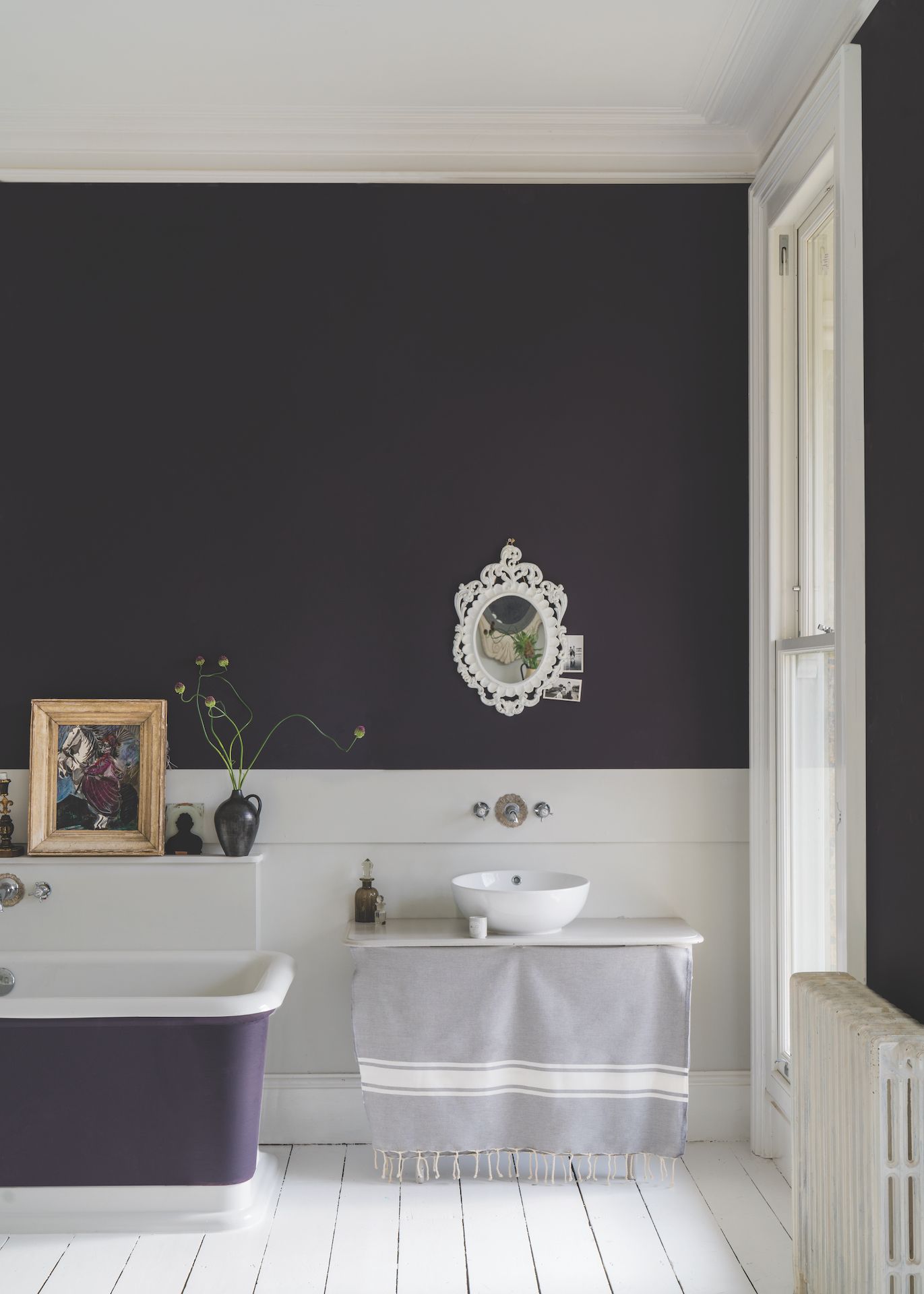 It's amazing how new bathroom paint ideas can change the look and atmosphere of a space, even if nothing else changes. It's an inexpensive way to make a difference, too. Why not use the opportunity to try out a deep and dramatic color, as here? Take it a stage further by painting the sides of the bath for a bathroom update to be proud of. 
'If you have a bathroom that needs a facelift without a complete renovation, painting the walls is a quick and easy way to refresh a space,' agrees designer Sashya Thind. 'Either go neutral (white) or go bold if you want to pull a color from the existing tile or stone. Typically I don't recommend painting cabinets. This can be expensive and if done on the cheap, the result is less than desirable.' 
If you are wondering whether bathrooms should be light or dark, our dedicated piece settles the debate (the answer is: it depends on too many factors to go into here).
7. Upgrade the lighting to something special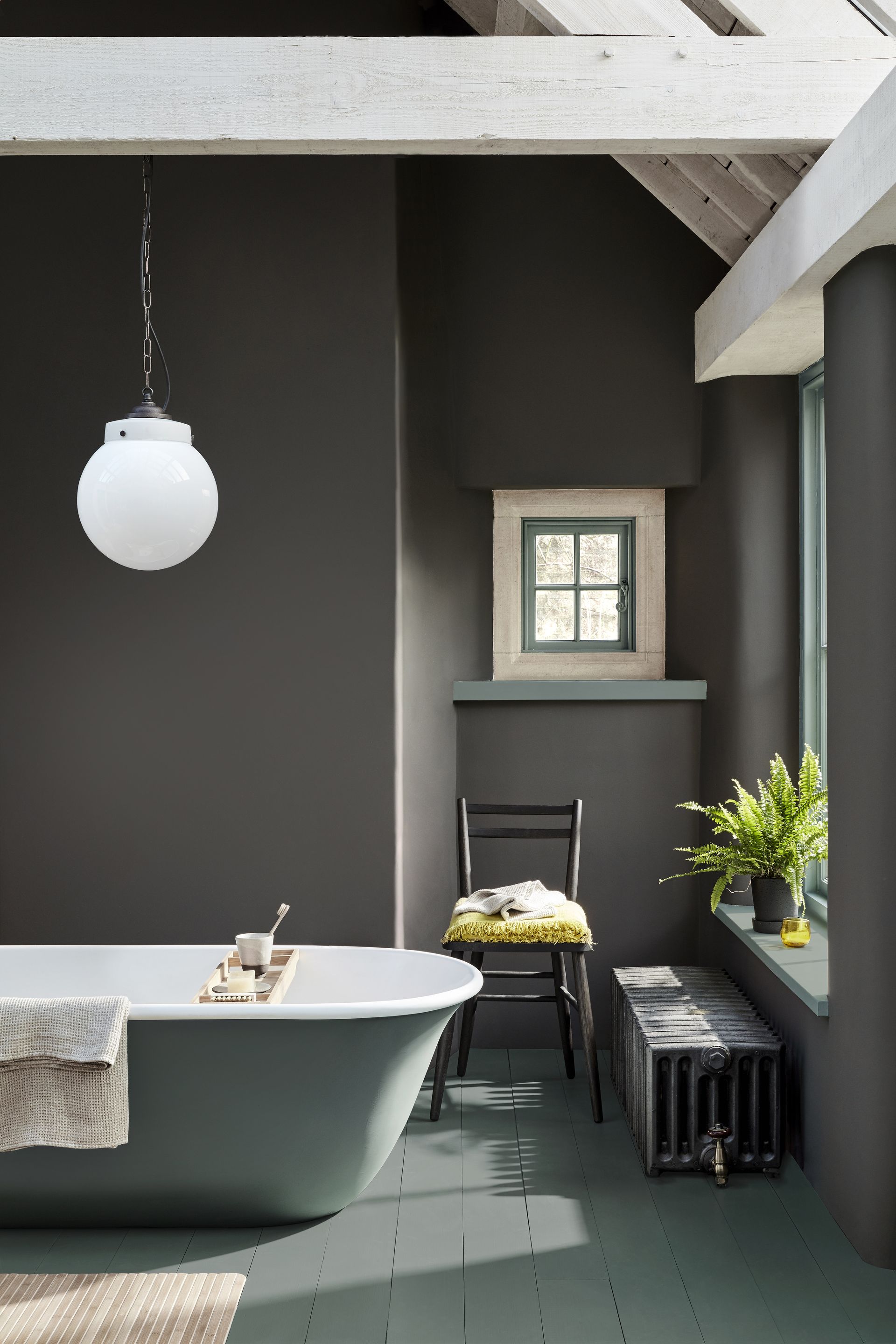 Design experts agree that one of the most important things in a remodel is being clever with your bathroom lighting ideas, and that overlooking the inclusion of all bathroom lighting types can make a space feel soulless.
Jennifer Walter (opens in new tab), owner and principal designer of Folding Chair Design Co. believes good lighting is particularly important in the bathroom, although it it often overlooked. 
'So often we see new recessed lighting installed that still feels bulky and dated. Not to mention the inability to dim the light down to a very low percentage,' she says. 'Upgrading to higher quality recessed lights that not only look better but allow superior angle adjustment and beam spread have changed the way clients feel about their bathrooms. Ambient, customized light that shines right where you want it immediately feels luxe and purposeful.'
Designer Sashya Thind agrees on the importance of bright lighting in a bathroom, 'Several fixtures were only available in a warm tone: 2700k. Updating to 3000k LED can brighten a space instantly. The fixture itself adds personality to the space. It can also determine what you focus on when you walk in!'
Whether you invest in a statement bathroom ceiling light idea, such as a bathroom chandelier, better shower lighting ideas, decorative accent wall lights that can be dimmed  for a relaxing bath-time, or bright task lighting for makeup or shaving, these simple lighting changes represent money well spent. 
8. Make space to display high end accessories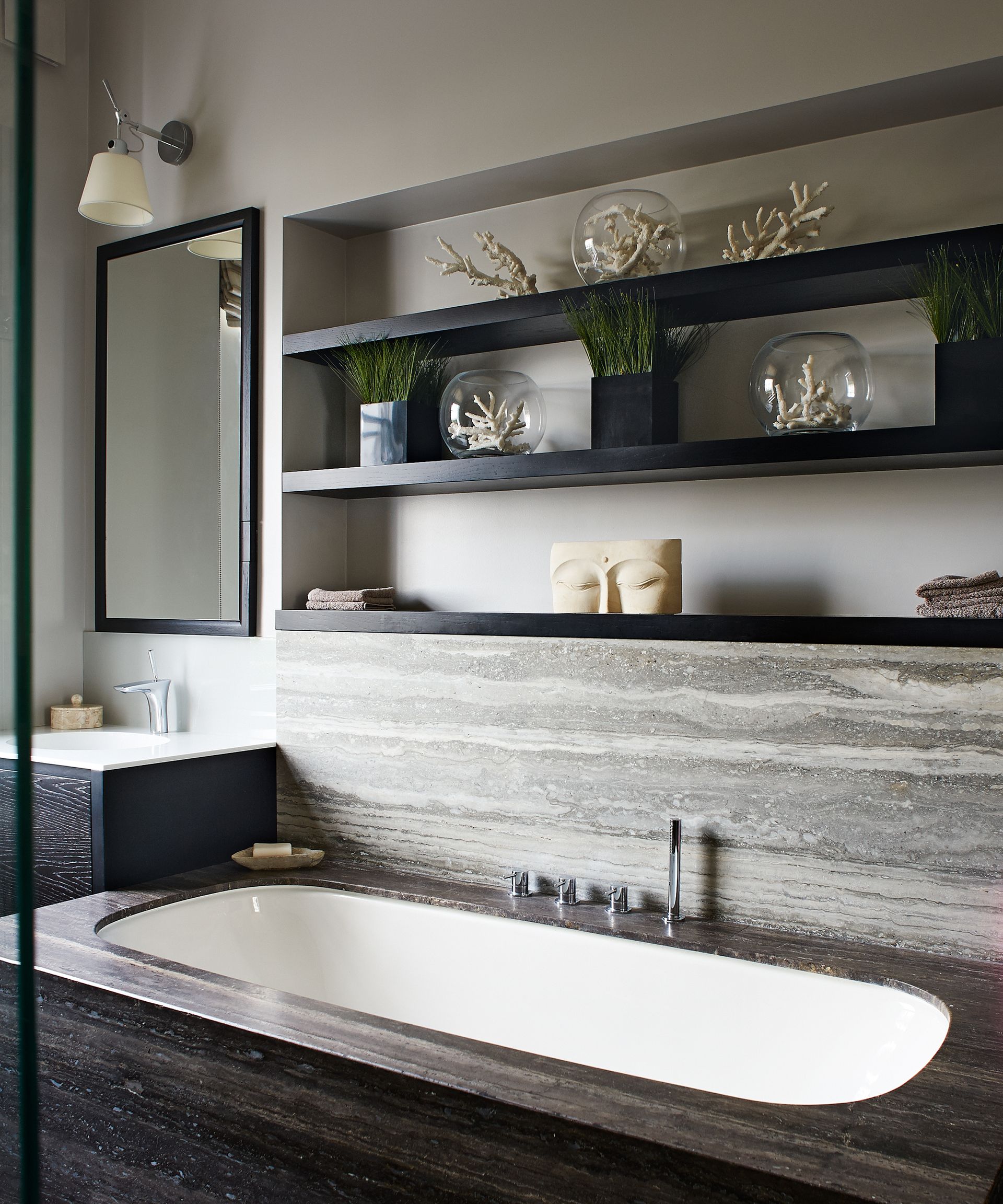 Beefing up bathroom storage ideas is an obvious win, but when you are planning them, ensure you have somewhere to and know how to display ornaments and store towels. This will not only keep things tidy, but create a relaxing ambience. And don't store things away for guests or special occasions, enjoy using your best bath oils, soaps and fluffy towels. 
'Pull out your fancy accessories!' says designer Kristin Bartone (opens in new tab) of Bartone Interiors. 'Start with a neutral and clean air freshener, preferably using essential oils or other non-toxic aromatherapy. I prefer reed diffusers or lamp bergère oil diffusers, as unlike candles, these have no open flame. A beautiful dish with handmade bar soap is also a good idea. Adding high-end or embroidered towels can elevate the utilitarian function of a bathroom.'
9. Boost natural daylight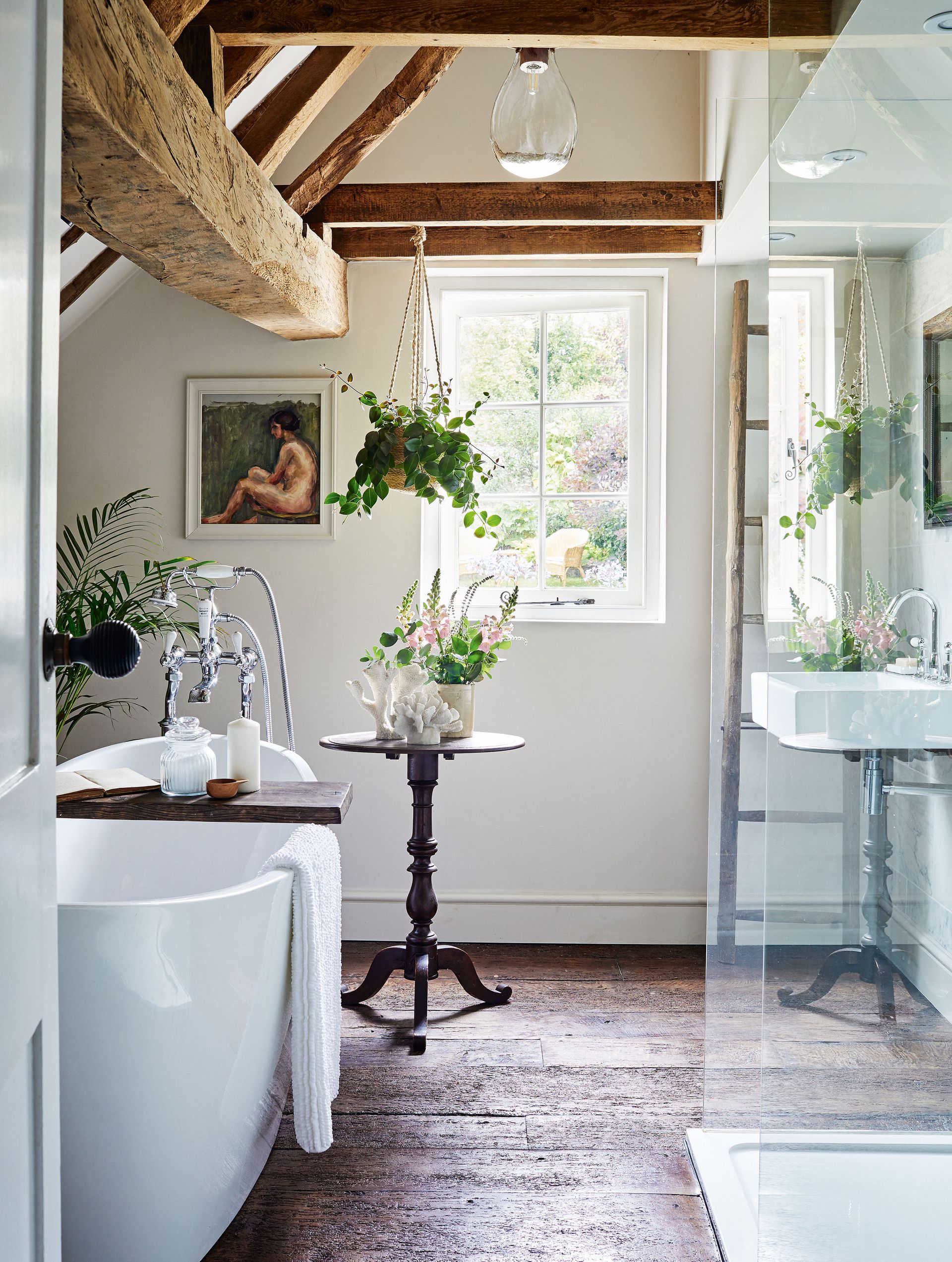 Those of us lucky enough to have a window in our bathroom should be making the most of it. The set-up in the photo above, with both the bath and shower oriented to the window, creates the perfect setting for relaxing bathing.
Annie Oberman (opens in new tab), designer at Colorado-based Forge & Bow, explains the importance of daylight in the bathroom: 'Natural light helps fight against seasonal depression, helps us to focus, is the best lighting for makeup application, and simply makes us happier,' she says. 'If adding more windows or a skylight isn't an option, be strategic with mirror placements so you can enhance the light you have.' 
10. Renew the hardware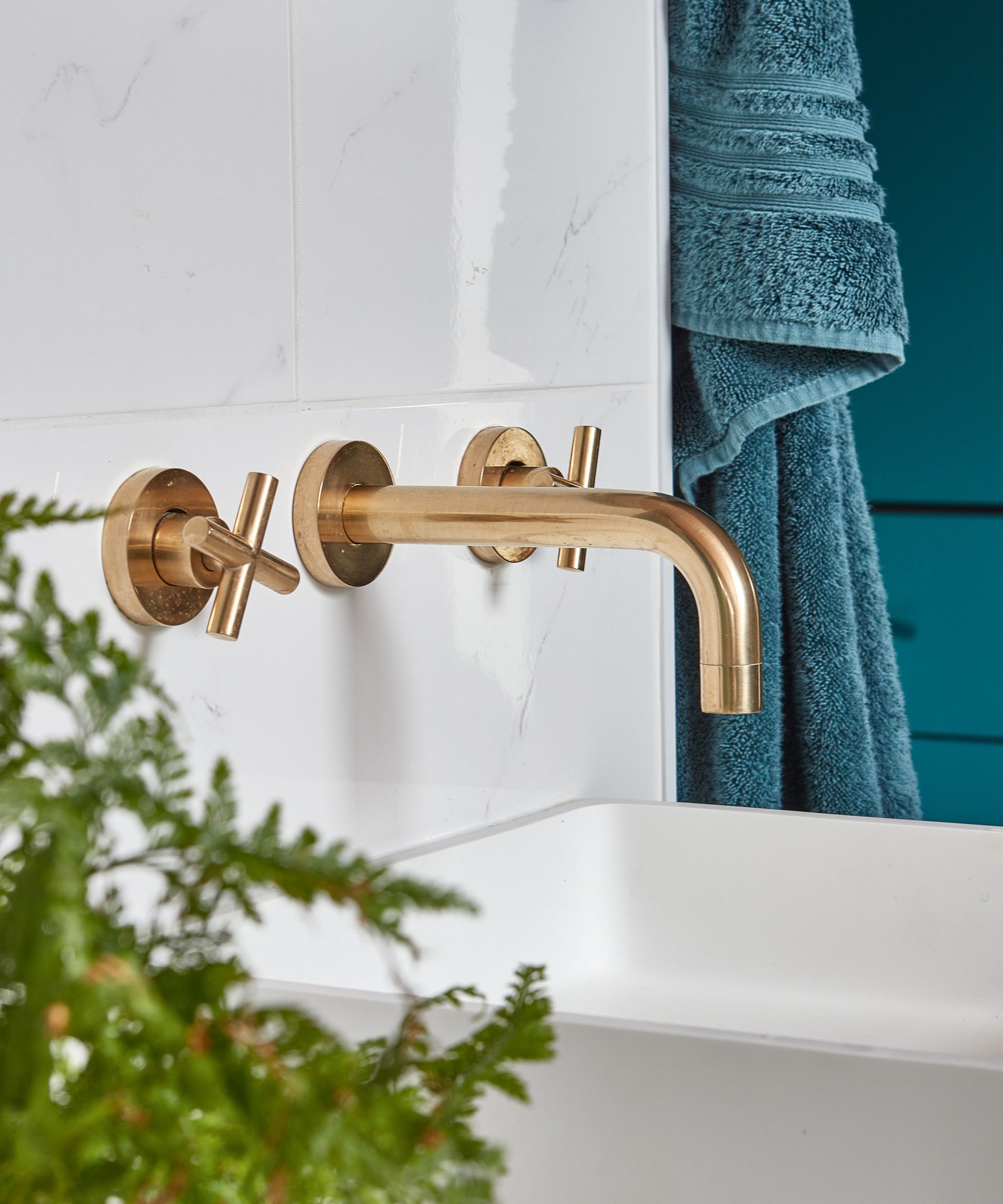 You don't have to be replacing the whole bathroom to switch out the hardware. An old bath and basin can sparkle afresh with a set of new faucets. Opt for a different finish to get the maximum impact from the new look. 
Designer Sashya Thind agrees, 'Changing the hardware is an easy and inexpensive update. There are a multitude of options out there which can be used in a modern or traditional setting. Hardware finishes can also used as accents ie, matte black or brass.' 
FAQs
How can I modernize an existing bathroom?
The best way to modernize an existing bathroom is to update the sanitaryware, floors and tiling. Doing so will give you a fresh space that looks as good as any hotel bathroom. However, there are ways to modernize without replacing a bathroom: first address problems, such as leaks, cracked tiles, poor ventilation; then look to replace damaged or worn flooring, or cover it with a water-resistant rug; then address window coverings, ensuring whatever you choose allows as much light in as possible; make sure bathroom storage is fit for purpose: tall, narrow, mirrored, floor-standing pieces are idea for small spaces; and look to update walls with paint and artwork.
---
Updating a bathroom without replacing it is entirely possible. The least expensive way to make a big change is to declutter and clean, then paint walls a fresh color and introduce better storage. That done, even just a couple of new towels and a room scent can go a long way to creating a brand new look. Introducing the best bathroom plants is a simple way to make a bathroom feel updated, and inviting.