For the ultimate guide on arranging living room furniture, we turned to stylist and interior designer Abigail Ahern, who is known for her tactile, comfortable, and supremely cool room schemes. 
Abigail's look may appear ad hoc and instinctive, but in fact, her living room ideas are meticulously planned, with an attention to detail that takes in everything from how to zone the space to furniture arranging mistakes that are ruining your space.
In her latest book, Masterclass (Pavilion Books), available on Amazon (opens in new tab), Abigail takes readers through the design elements that make a dramatic difference to the look, feel, and functionality of our homes, to create memorable spaces. For Homes & Gardens, we've focused on Abigail's can't-fail rules for arranging living room furniture. How many will you try?
10 rules for arranging living room furniture
With advice on everything from where to place your couch to how to arrange furniture in a broken plan living room, these are the Abigail Ahern's favorite design rules you need to know. 
Abigail Ahern has been called 'One of the world's most influential designers' by W magazine. Her interior design career began in the US, with a portfolio that included residential properties and the Ritz Carlton Palm Beach Hotel. She launched her own-label interiors collection in 2015, and is the author of five design books.
1. Put your furniture in the middle of the room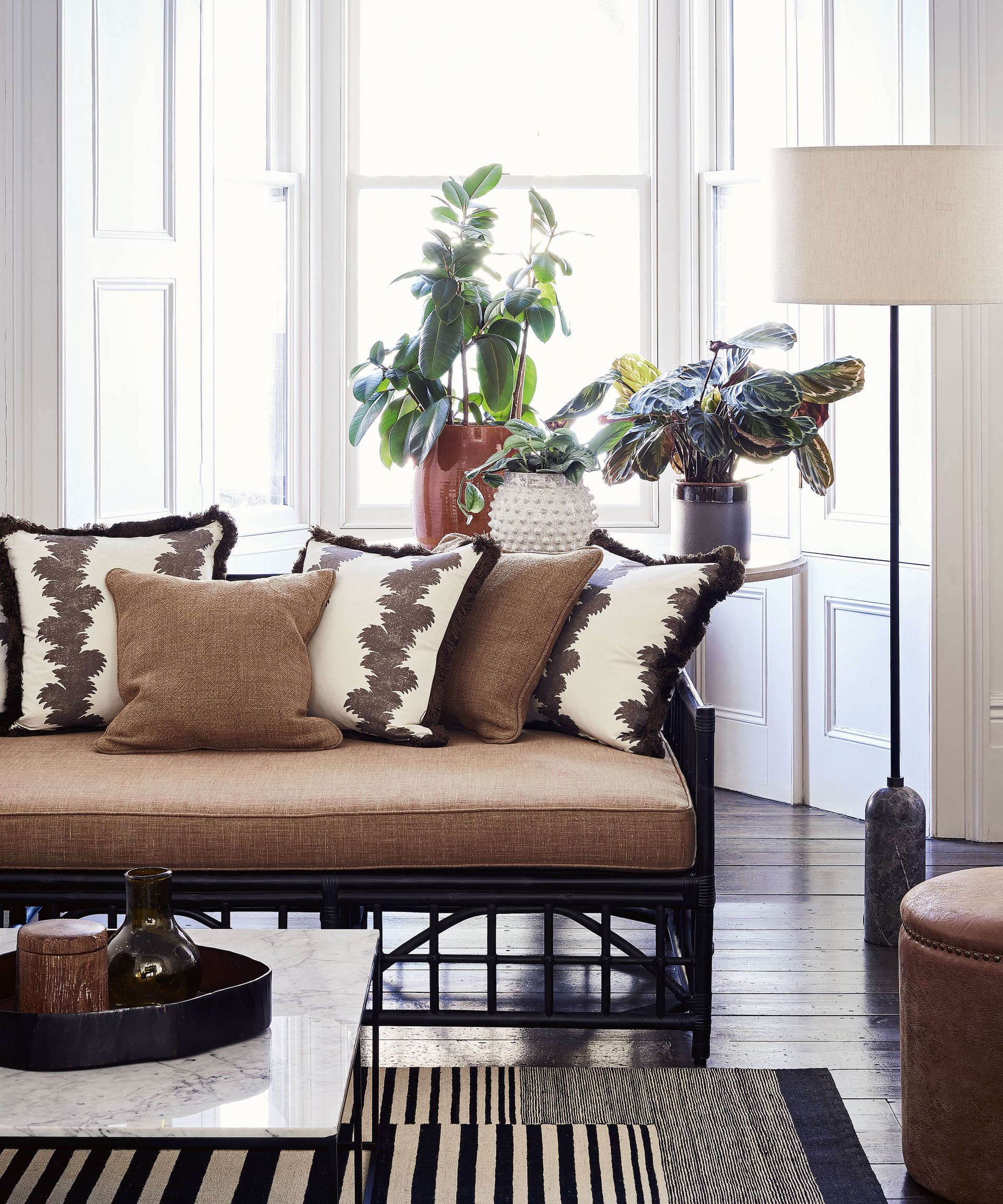 Ever wondered, should a sofa touch the wall? The answer is a hard no, according to interiors stylist and designer, Abigail Ahern. 
'I'm going to get super-bossy and implore you not to push your furniture against the walls, no matter how small the space. If you do, you will get this weird dead space in the middle, and it will just feel wrong,' Abigail explains. 
This rule holds, even if you have a compact space and you're looking for ideas for a small living room.
'I know this sounds counterintuitive, but your room will feel bigger if you let it breathe, and moving the couch off even a tad will create a better sense of balance. No longer will you be highlighting a room's cramped dimensions,' Abigail says. 
'And if you happen to have a larger space, move the furniture into the middle of the room as quickly as you can!'
2. Include great focal points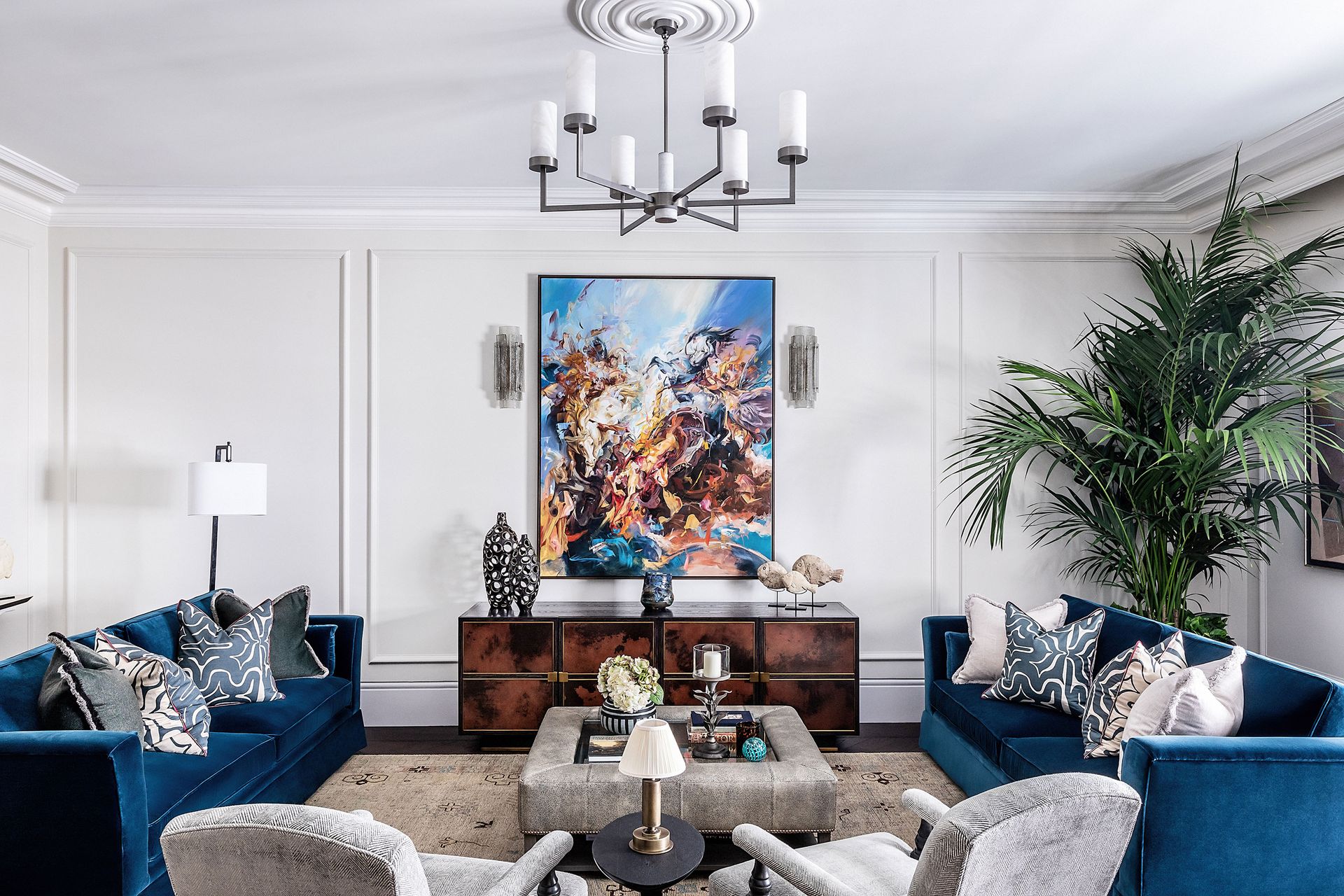 Using a statement piece to create impact in a room scheme, using stylish fireplace ideas, or elevating your mantel decor to draw the eye, are all designer fast-tracks to defining a focal point in a room – and it's a technique Abigail Ahern subscribes to. 
'To create a personality-packed layout, look at the bones of your room and decide what to highlight by selecting a main focal point,' she says. 'Focal points draw the eye instantly and can appear naturally, such as a fireplace mantel or a window. Or you can create your own by adding something the eye is immediately drawn to. You can go big with a mirror, large pendant light, or supersized houseplant; or you can go small with a vibrant cushion or a vase in an intoxicating hue. 
'Orientate the largest piece of furniture you have, which will be the sofa, towards this prominent feature and then position smaller seating options, such as stools and chairs, either opposite or adjacent. Finish off by adding in accent items like coffee tables, occasional tables, and lamps. 
'Once you have your main focus, create two more secondary focal points. Do this and the eye won't know where to look when you first walk into the room, which is a good thing. With one focal point, once the eye has landed there is nowhere else to go; add in a few more and you'll be moving the eye around the room like a pro.
3. Group seating to make conversation easy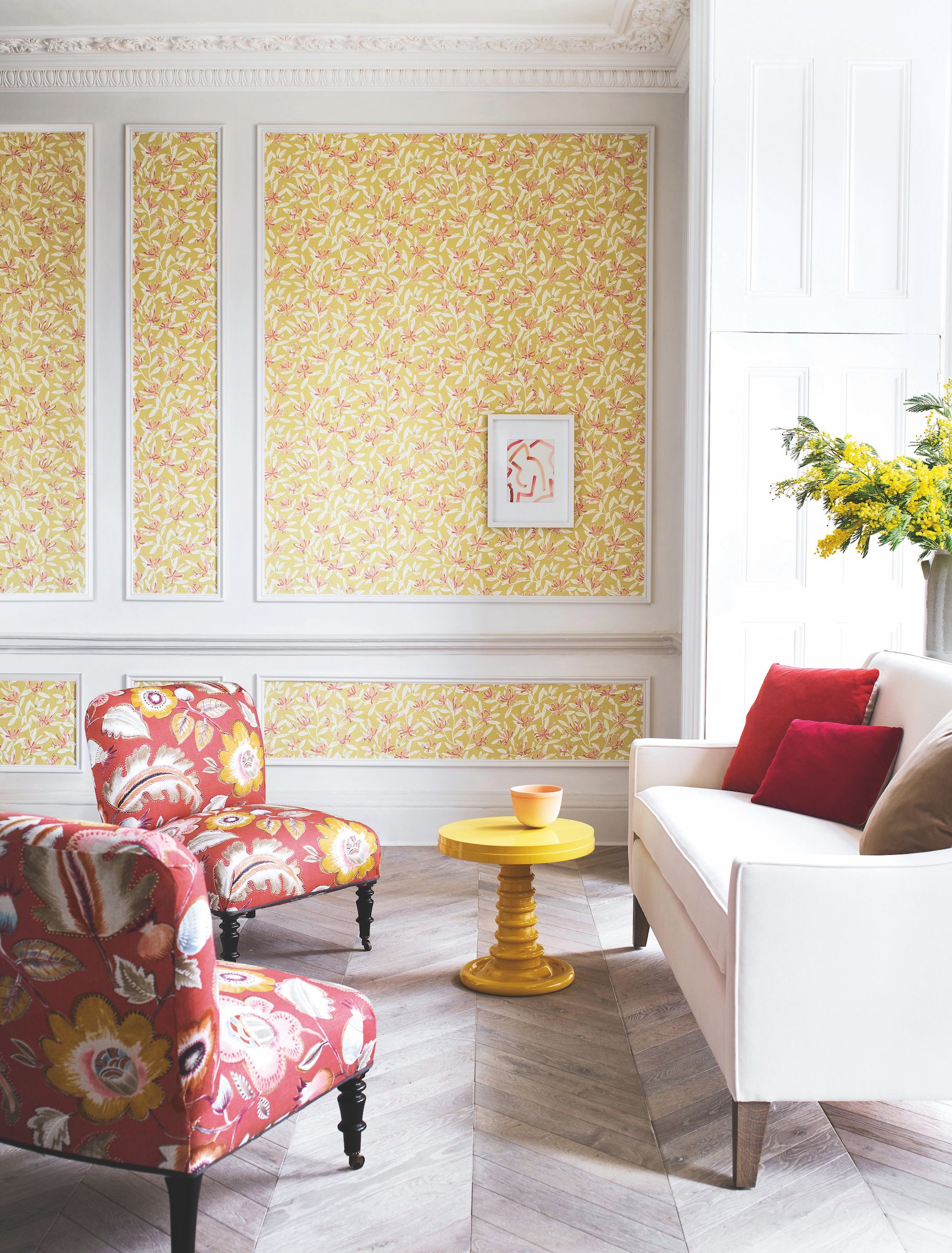 When it comes to living room seating ideas, it pays to get social, Abigail says.
'Conversational areas are fundamental in our super-busy, plugged-in world, so chairs and sofas need to be positioned near one another. 
'In long and narrow living rooms, choose leaner chairs without arms, and add pieces such as ottomans and stools to create additional perches. 
'In larger rooms, establish multiple conversational areas by designating zones. Think about a variety of shapes and sizes to bring balance to the space.' This will also help you to make a large living room feel more cozy.
4. Make traffic flow interesting by banning straight lines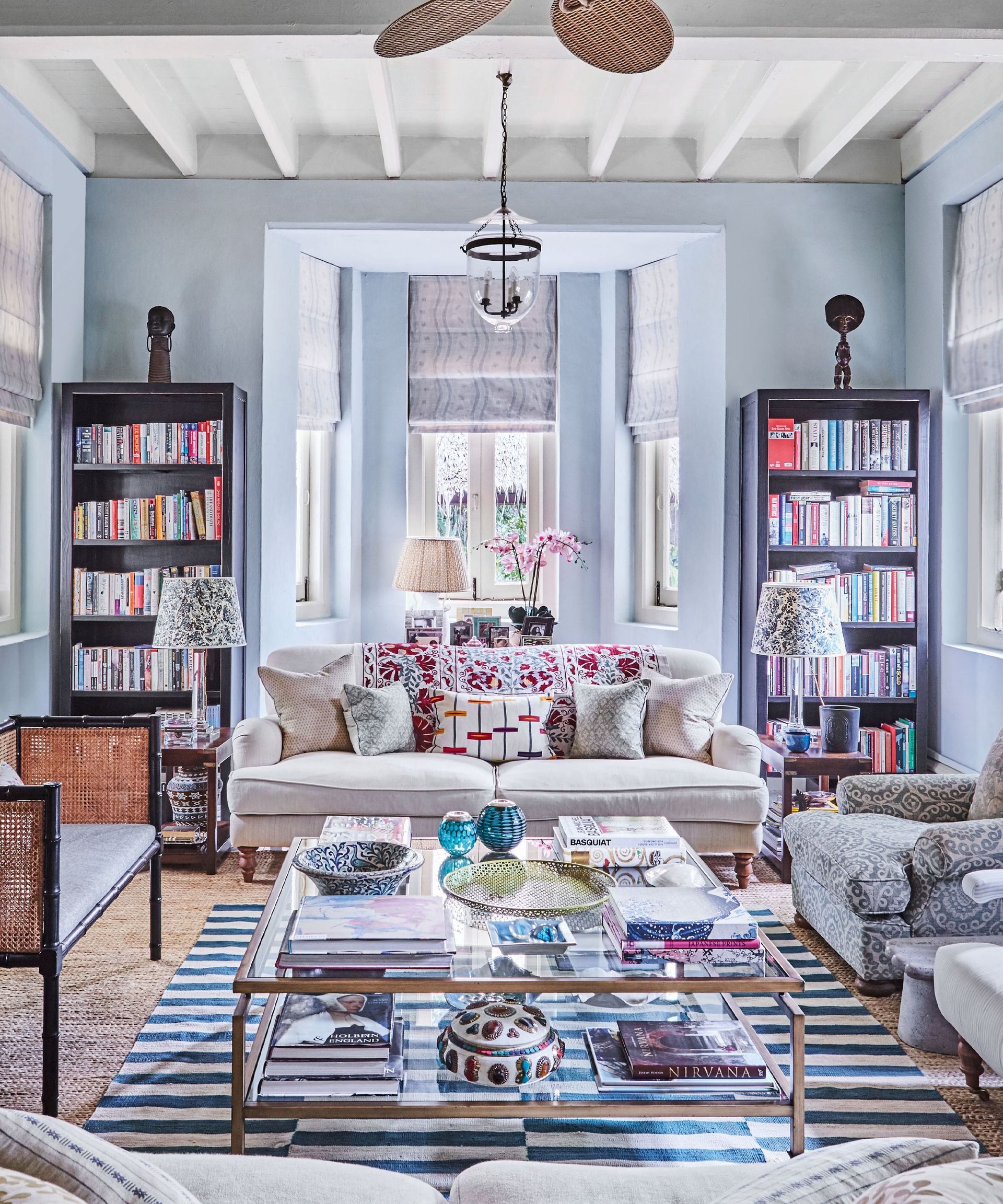 Fixing a home's traffic flow can be a challenge but it's worth taking the time to get it right, especially in an open-plan living space.
'Traffic flow is key, so make sure there's a clear path between pieces – no one wants bruised shins,' agrees Abigail. 
'Odd as this may sound, arrange furniture so you can't walk from one side of the room to the other in a straight line. The aim is to make people weave a little, so place things deliberately in the way. All the coolest retailers do this: it's called activating your peripheral vision. 
'Paths should never be entirely straight, and, as I said in Commandment 1, furniture should not be banked against walls. Subconsciously this activates your senses and stimulates the brain.'
5. Avoid complete symmetry in an arrangement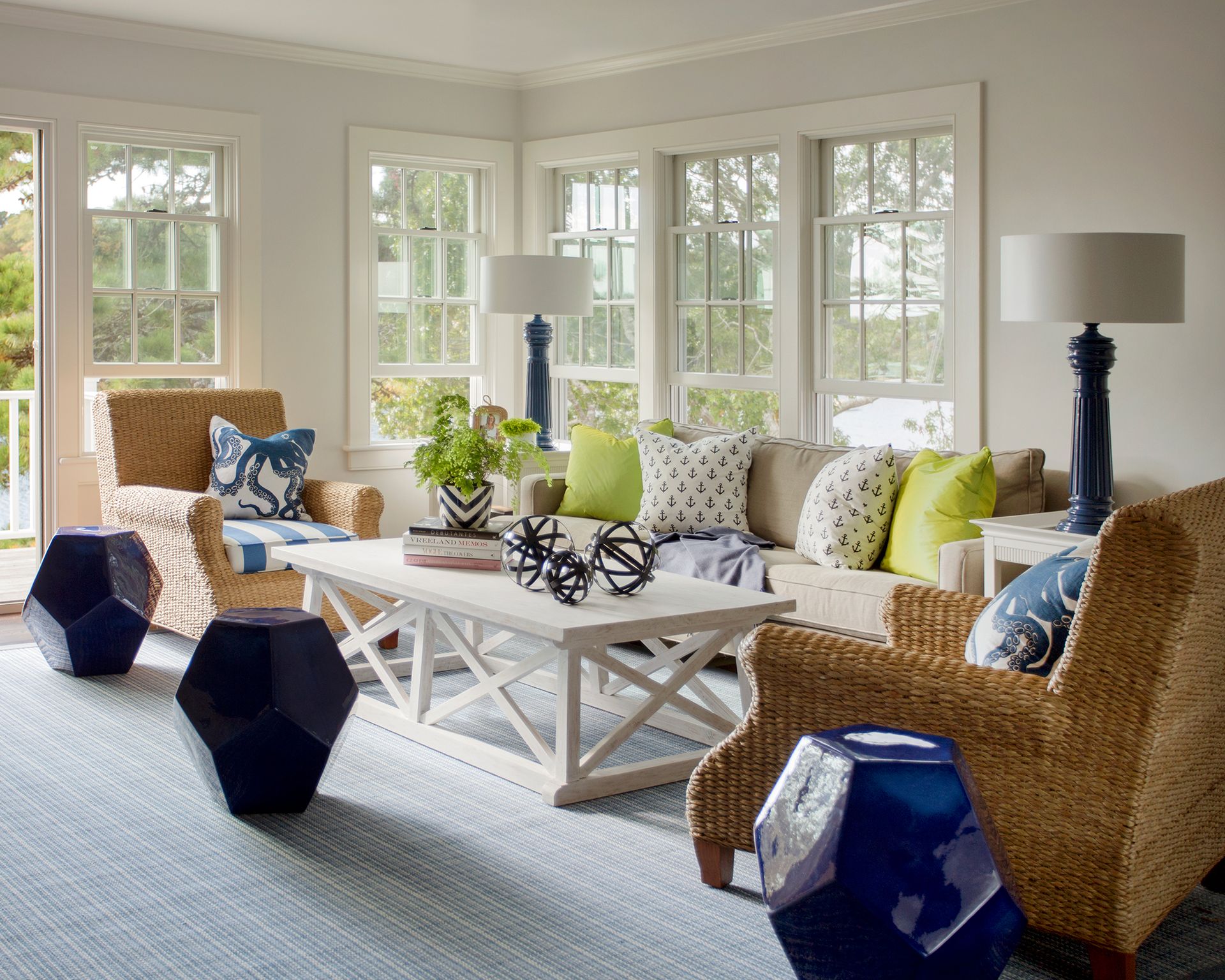 Symmetry in interior design is a vexed subject. On one hand, it can create cohesion and a sense of elevated luxury; on the other, a room scheme that's too matchy-matchy just looks stiff.
'Symmetrical layouts bring cohesion and balance to a room and create a sense of order,' explains Abigail. So typically, seating pieces would face one another, with chairs paired opposite a sofa perhaps. Side tables can be matched, as can lamps, although OD-ing on symmetry makes rooms super-dull and uptight. If you are going for this arrangement, always only match one element like chairs or side tables, never everything. 
I prefer asymmetry: it is much harder to pull off, but so much cooler. Balance is just as important though, so tie everything together with color, pattern, and scale.
6. Use diagonals in a small space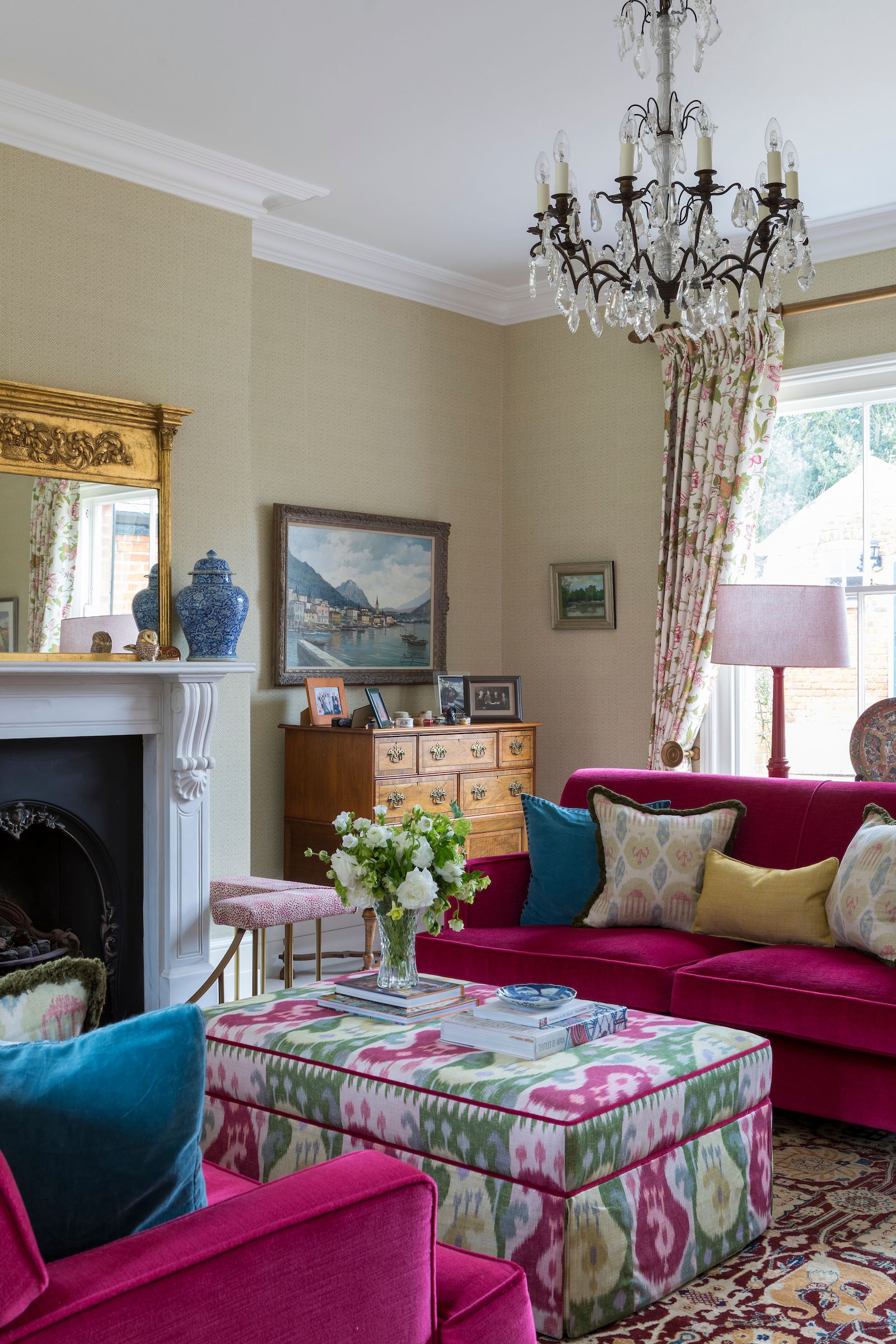 This tip is surprisingly effective and useful if you want to make a small living room look bigger.
'If a room is boxy, go diagonal with your layout,' advises Abigail. 'Diagonal arrangements add more dimension and intrigue. Use the sofa and coffee table to establish the diagonal axis and then arrange additional seating along that axis.'
7. Always pair a chair with a place for a mug or lamp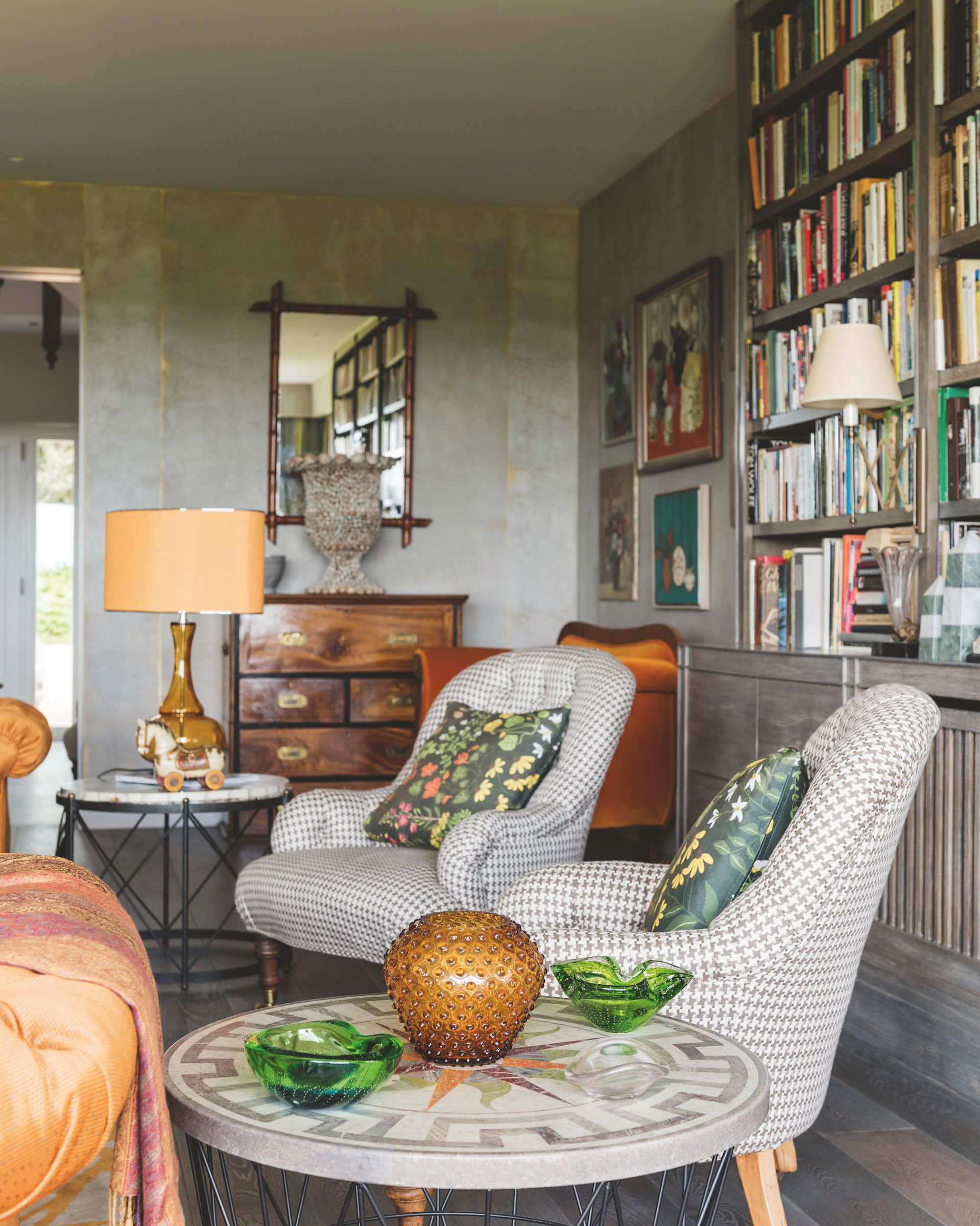 Armchairs, accent chairs, and occasional seating should all be part of your seating set-up. But there's more – they need a buddy.
'Create a more relaxed, laid-back room by dotting chairs about more randomly. So, with a sofa running lengthways and a coffee table in front of it, mix in mismatching chairs in spaces opposite, at angles and on corners,' says Abigail. 
'Always make sure every chair gets a buddy, too – a little table or stool where you can pop a coffee – or it will feel too lonesome.
8. Harness the magic of mirrors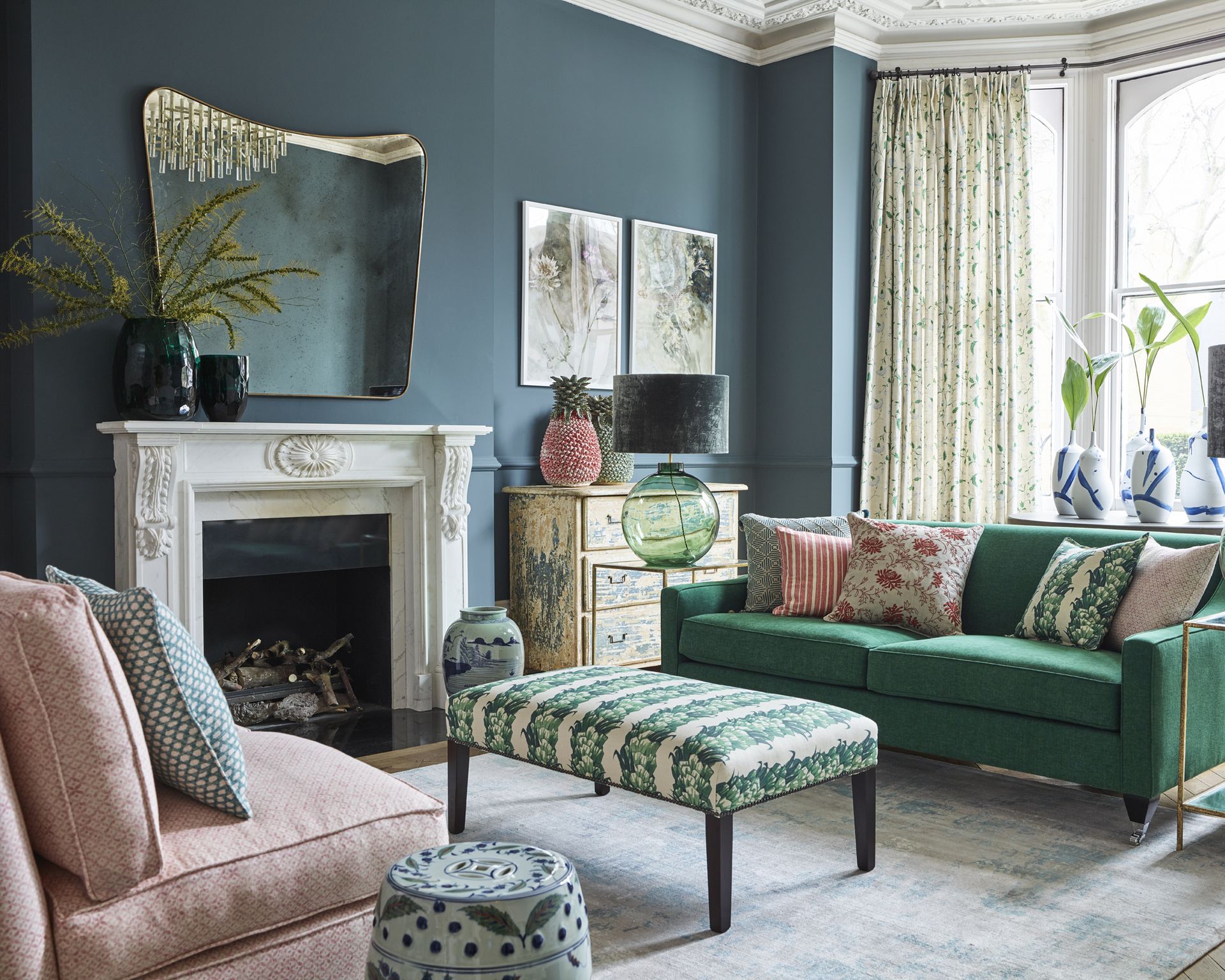 Living room mirror ideas can range from the classic overmantel mirror to a collection of vintage mirrors on a feature wall – and every reflective, glossy and glassy idea in between.
'Mirrors add depth, expand horizons, and look magical, especially if you go big,' says Abigail. 'Place one on a wall opposite a window and the light will bounce around and create the illusion that the room is much bigger than it really is. 'Oh, and win-win, your mirror can also act as one of your key focal points.'
9. Use rugs to anchor your space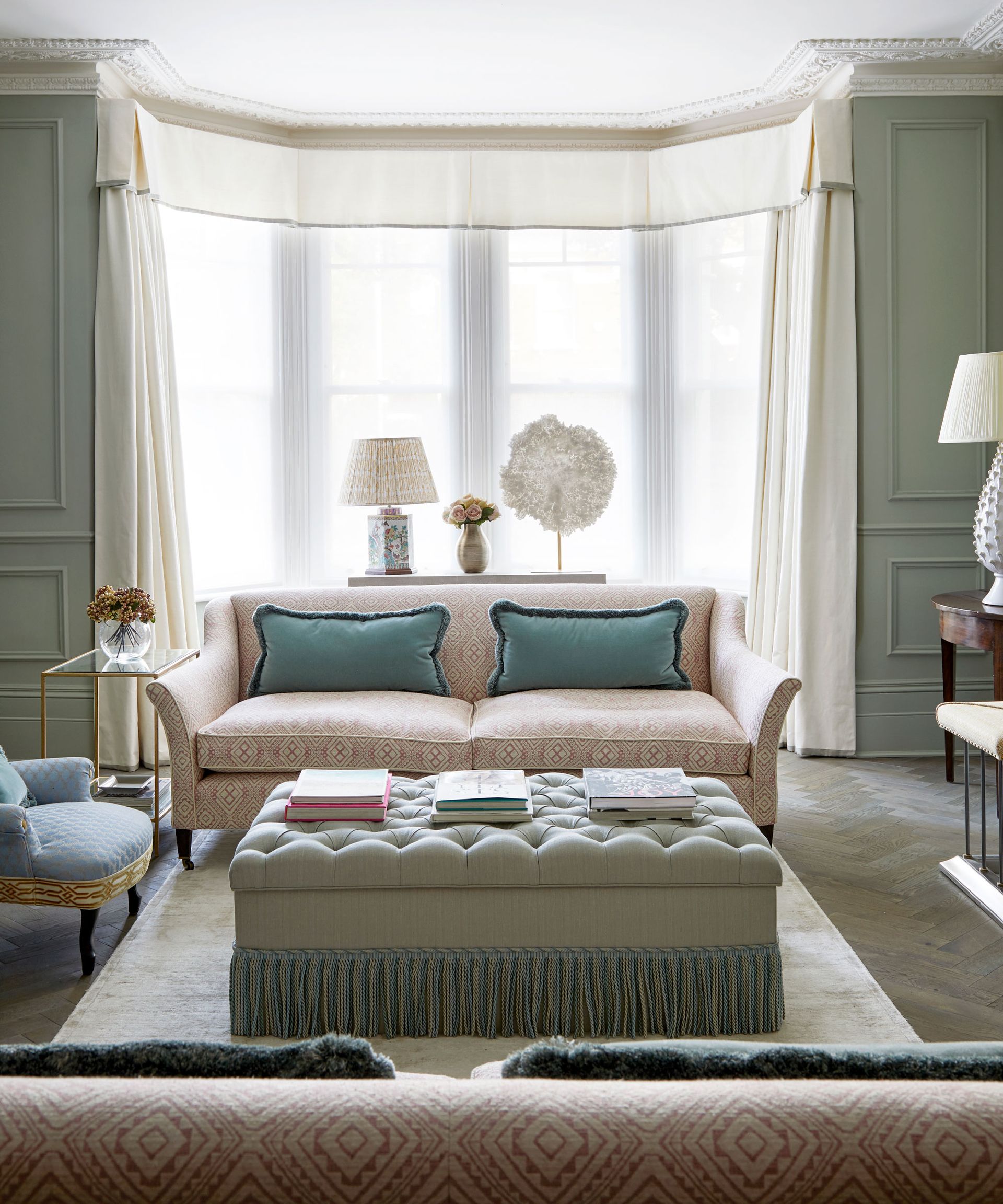 A living room rug does more than warm your toes. It can introduce color, zone an area of the room, conceal an unloved floor, and bring in shape and pattern. And when it comes to furniture placement, a rug is your friend.
'Anchor the space with a rug,' suggests Abigail. 'Area rugs will stop a room looking like a furniture showroom as they ground, define, and add texture and pattern to any space.'
10. Zones areas with clever lighting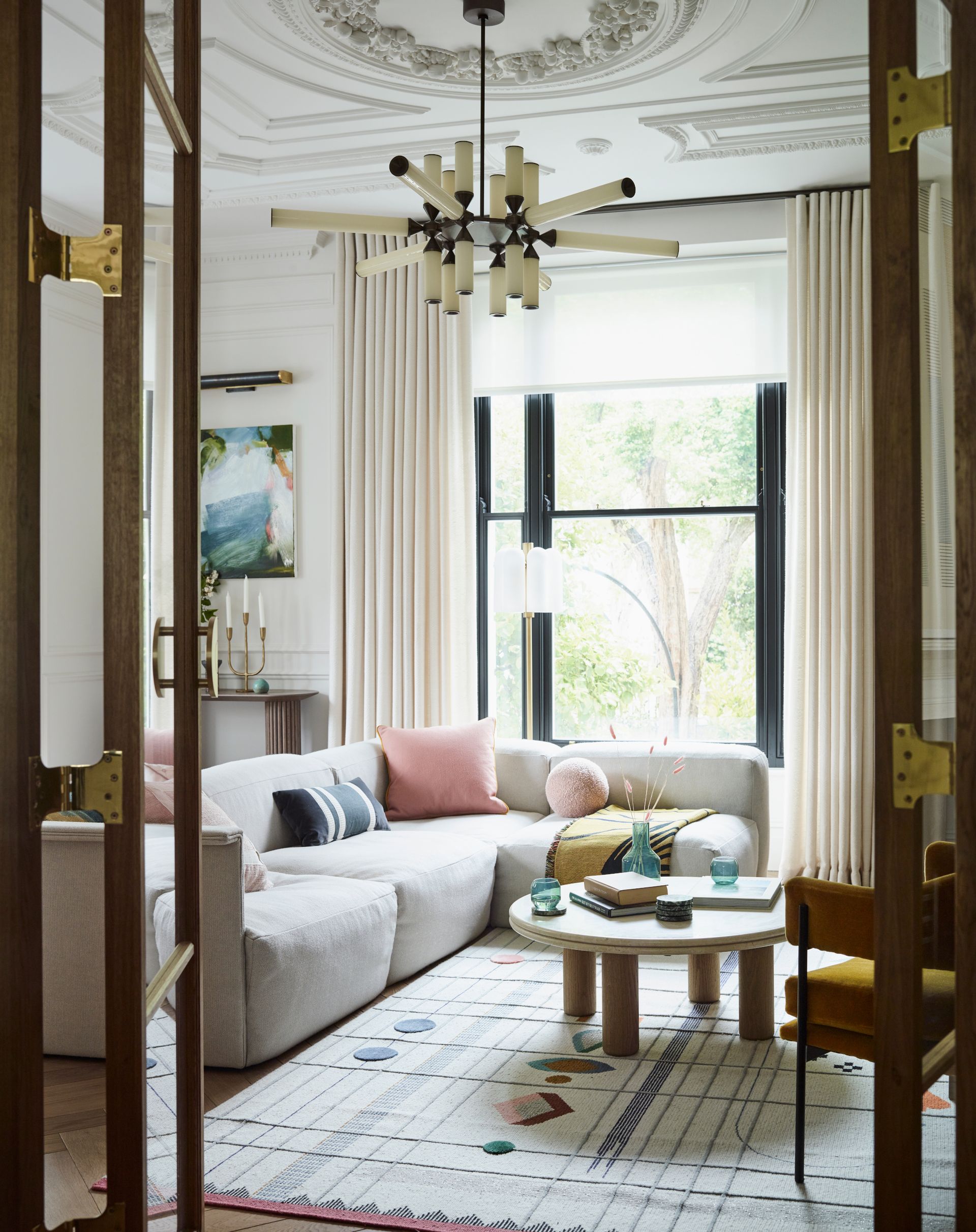 Abigail's moody, atmospheric room schemes rely on dramatic lighting for a lot of their impact. Certainly, living room lighting does more than illuminate a room – the best ideas bring depth and a decorative element to a room scheme, too.
'Break each space into zones,' states Abigail. 'With large spaces, create numerous zones for reading, TV watching, entertaining, etc. With smaller spaces, clever styling can create the illusion of more space, as can multifunctional furniture. Create breakpoints through lighting in these smaller spaces, making every inch count.'
And if you're wondering about your commitment to following these 10 commandments, Abigail has some reassuring last words.
'Remember, every commandment can be broken,' she says. 'If something isn't working, be rebellious, experiment, be creative and flout the rules!'