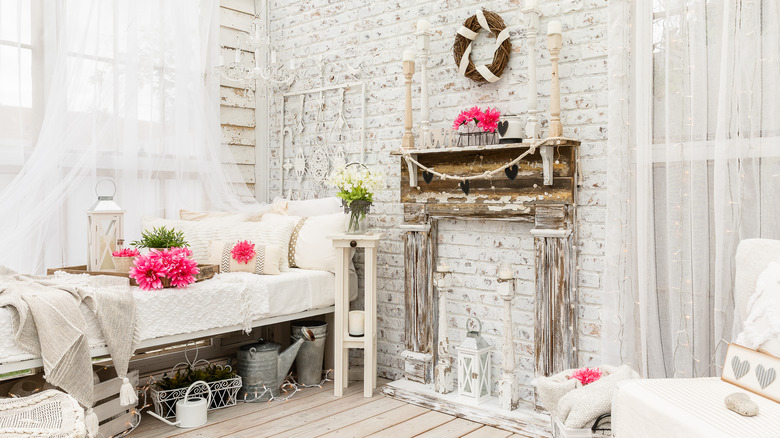 Linda Rhodes/Shutterstock
There are many different ways to show off the decor you love in a bedroom, from rustic to industrial. When considering a design aesthetic for your bedroom, you might have dreamed of a shabby chic decor if you have ever been to the French countryside. Per My Move, the best way to describe the look is a cross between relaxed and totally coordinated. The outlet suggests a few ways to make this style come to fruition with a few decor inspirations to focus on, including vintage furniture (think from the Victorian era) that's distressed, a neutral color palette as the background, and mixing in accessories with a worn, bohemian feel.
Furthermore, Foyr suggests bringing grand chandeliers into your comfortable space, vintage furniture in distressed shades of white or even floral patterns, and plenty of frilly white linens or ruffles to complete the overall vibe of the space. If you don't want to go with white, light pastel hues like green, pale pink, or blue will work as well. To embrace your sentimental side within your design, choose items to display that have meaning, from photos to accent pieces you picked up on a special trip. If you're going to recreate the popular shabby chic aesthetic in your main bedroom or guest room, keep reading because we have 25 spectacular ideas to get you started.
1. Make it distressed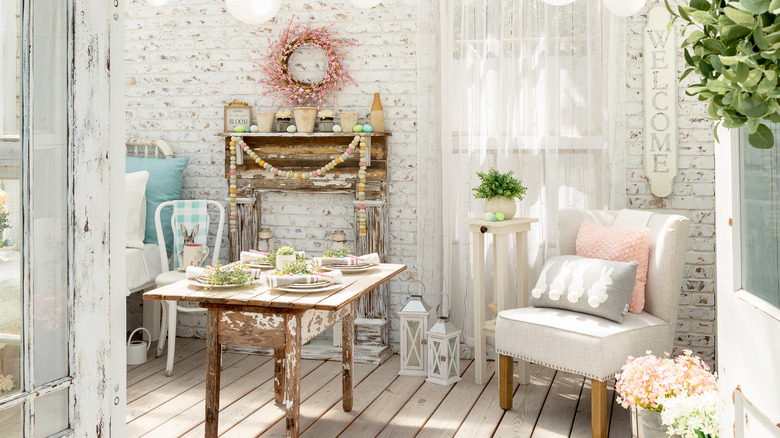 Linda Rhodes/Shutterstock
A large bedroom has room to display your best distressed furniture pieces. A faux fireplace featuring peeling white paint gives off the right amount of a weathered look, as does a beautiful brick wall. An antique table is a perfect addition to the corner of your room if you need a workspace or a place to do crafts.
2. Focus on accessories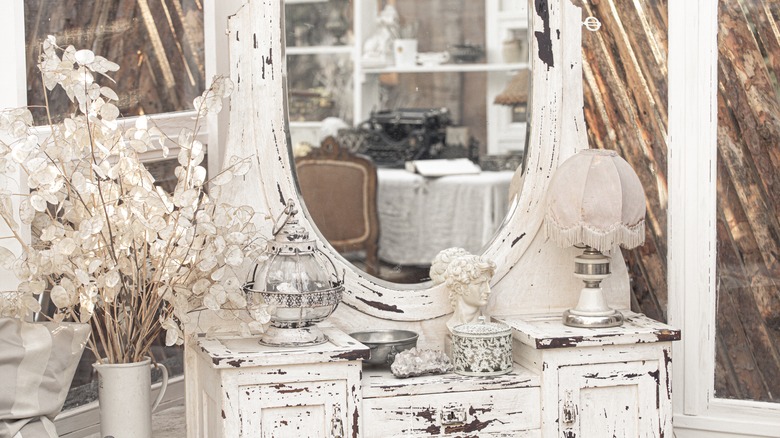 Elena Eryomenko/Shutterstock
Pick up an exquisite shabby chic distressed dressing table from a local flea market and focus on displaying your favorite accessories like an ancient bust, white dried flowers, and a vintage lamp. The key here is to make sure you have a mix of cool, antique items to show off.
3. Add glamorously rustic pieces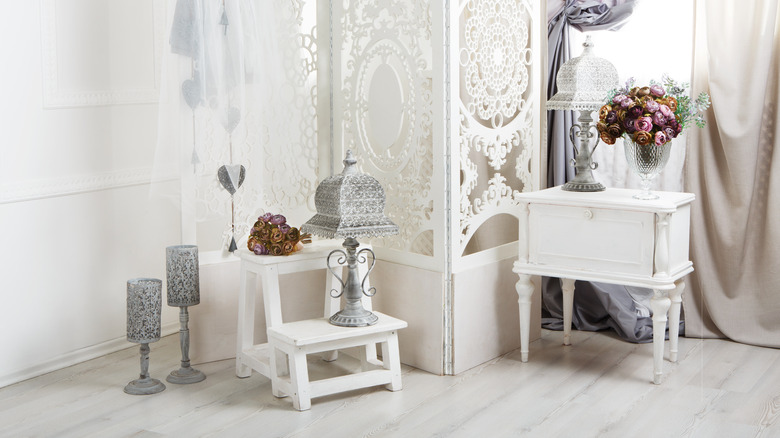 Prostock-studio/Shutterstock
Add furniture pieces that are glamorous yet rustic into the space, like this completely ornate white room divider that works in the corner of a bedroom. Consider bringing in small tables at different heights to display pretty lamps, vases filled with flowers, and photos of your best memories.
4. Delicate floral walls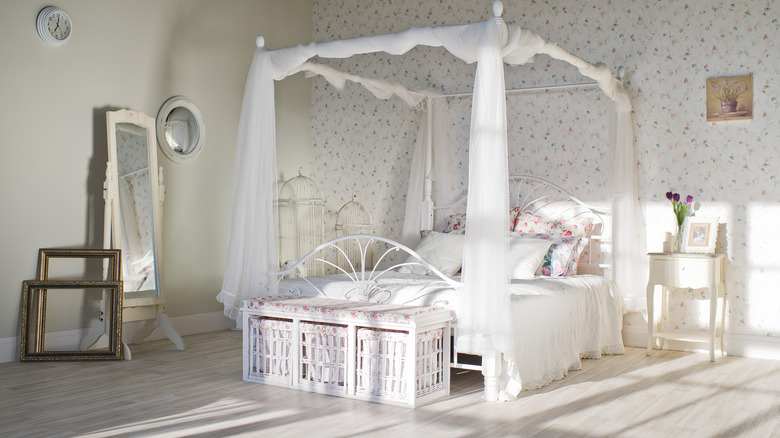 Mironov Vladimir/Shutterstock
The fashion bible Vogue says a more modern grandmillenial look is still chic, so go ahead and add that delicate floral wallpaper to your bedroom. Even though the glamorous outlet says to go for it regarding this style of wallpaper, they also suggest adding more modern furniture to give the look a fresh spin.
5. Distressed in color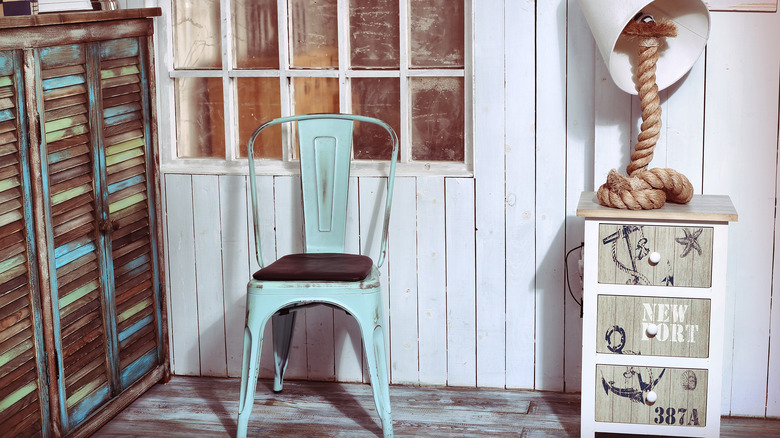 Lapina/Shutterstock
Fall in love with distressing everything from your walls and floors to your furniture. Case in point: the shutters of this accent furniture piece are distressed with tones of wood, turquoise, and green, which go perfectly with the single turquoise chair.
6. Tassels and tea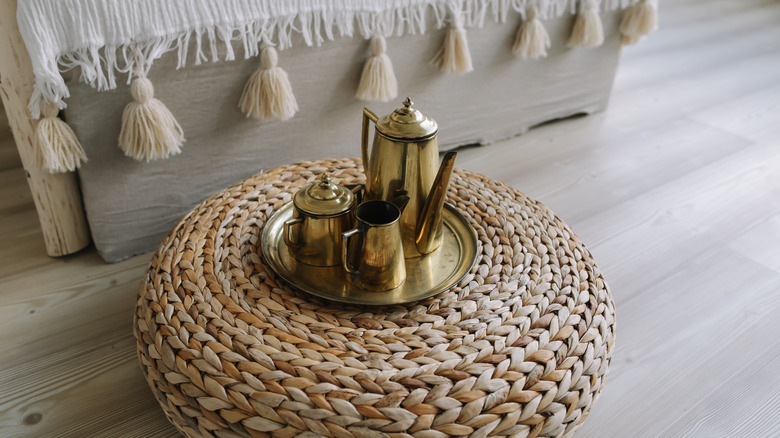 paralisart/Shutterstock
It's all in the details when it comes to decorating your shabby chic boudoir. Add oversized tassels to your neutral bedding and bring in a wicker pouf, where you can display your vintage tea set or other items you've scoured for on your travels that mean something to you.
7. A dash of romance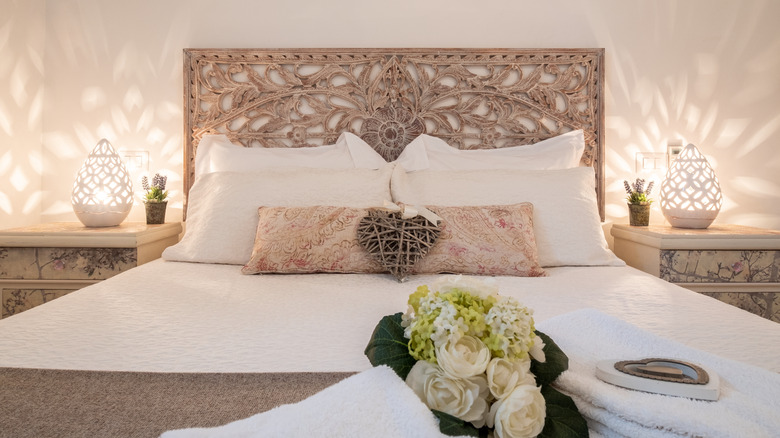 Susan Howard/Shutterstock
This hand-carved wooden headboard is the perfect vintage find and makes the room look well-traveled. The small lamps on the side tables add a dash of romance with how the light reflects onto the wall. It shows that the most simple of bedrooms can still be beautiful!
8. Intricate floral pillows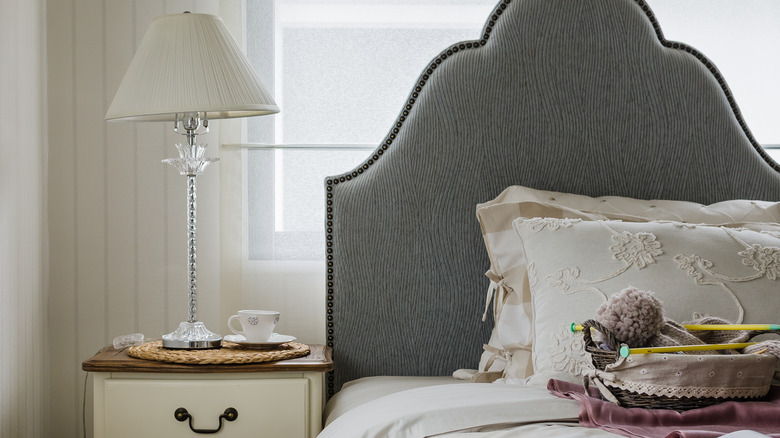 All About Space/Shutterstock
One simple way to bring the shabby chic design aesthetic to your main bedroom or guest room is by picking up gorgeous pillows with an intricate floral design. These cream flower pillows make a great statement in the slightest way possible.
9. Layer different fabrics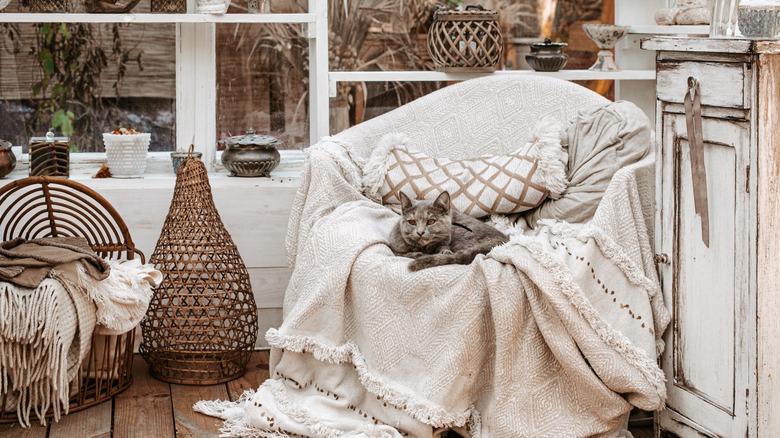 Elena Eryomenko/Shutterstock
Create a comfortable nook in your bedroom and layer a vintage white or cream fabric chair. It's the ideal spot for your feline friend to take a nap or a place for you to curl up with a good book. The dresser has the right amount of distressing and is the best spot to show off your one-of-a-kind items.
10. Provencal style greenery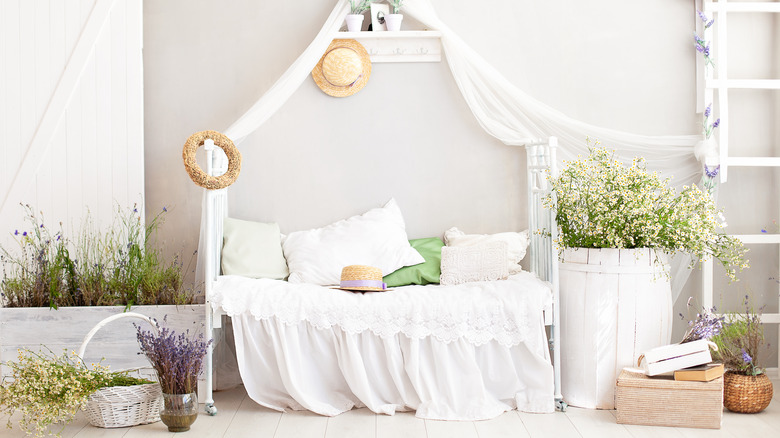 stock_studio/Shutterstock
Don't be afraid to bring gorgeous greenery into your bedroom that emulates French country decor, such as lavender. If you don't have a green thumb, artificial plants would look beautiful as well. You can even use distressed pots to feature the trend.
11. Accent furniture
brodtcast/Shutterstock
A room with neutral furniture is a great way to get this romantic feel in your bedroom. A French-style vintage chair with a plush gray velvet seat would turn heads in a bedroom, as would the distressed white side table with the simple lamp with a ruffle shade.
12. Garden chic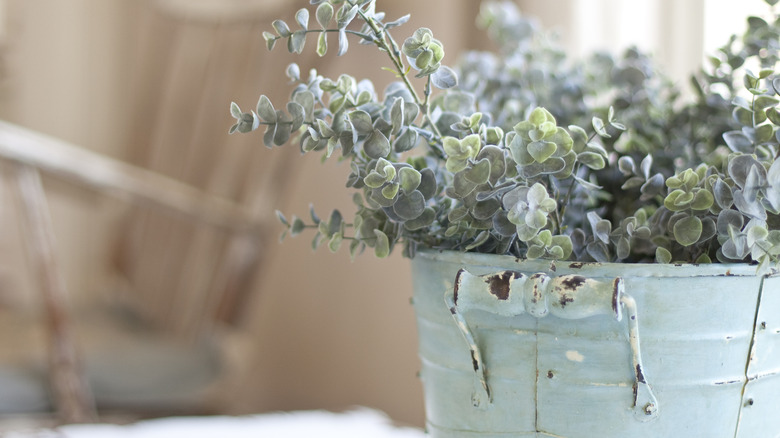 brodtcast/Shutterstock
A pale blue flower pot with greens atop a distressed desk is a beautiful way to bring some romanticism to your bedroom. You can show off your green thumb in style. Considering hanging it on the wall as you would display any work of art.
13. Two-toned neutrals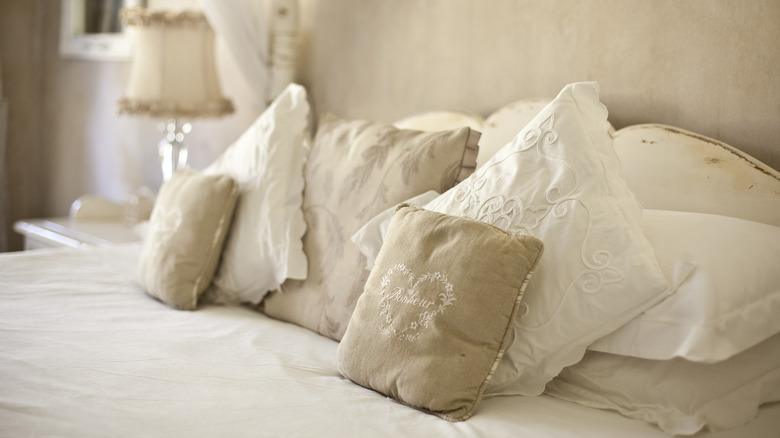 brodtcast/Shutterstock
Bring two-toned neutral hues in with your bed's throw pillows, such as white or taupe. Leia T. Ward of LTW Design tells TZR, "embracing beautiful warm-toned woods, velvet throw pillows in taupe greige, cozy throw blankets in varying neutrals, and textured vintage planters," is going to be popular in 2023.
14. A place to lounge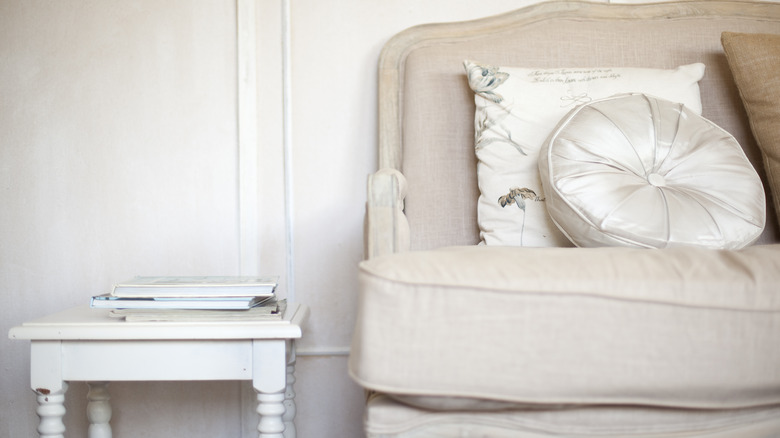 brodtcast/Shutterstock
A vintage chaise lounge in a neutral color would be the ultimate furniture piece to bring into this space. Accent it with a gorgeous white wood side table, and bring in fresh flowers to make the room pop.
15. Royally chic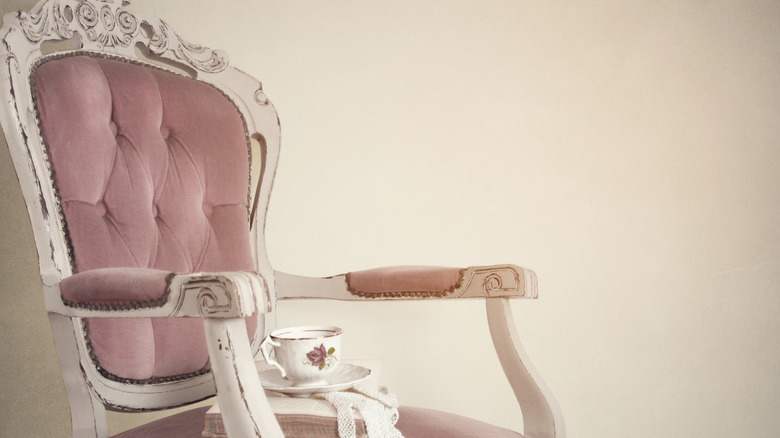 Ethiriel/Shutterstock
Add a little regal flair to your bedroom with a spectacular vintage find like this! A French Louis XV chair is perfectly distressed and features gorgeous pink velvet on the seat and backrest. Add a classic book and a tea set to the chair's seat when not in use to set the stage.
16. A taste of Provence, France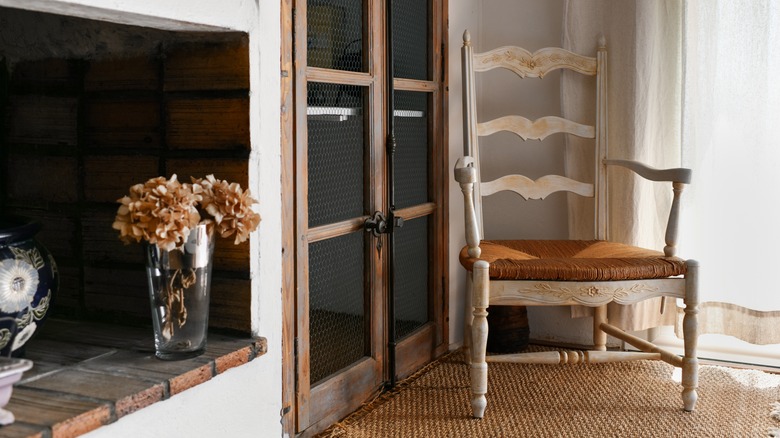 kipgodi/Shutterstock
Bring in elements you would find in the French countryside, like a white and rust-colored chair that conjures happy memories of past travels. It's a great way to bring natural pieces to your bedroom.
17. Ornate wallpaper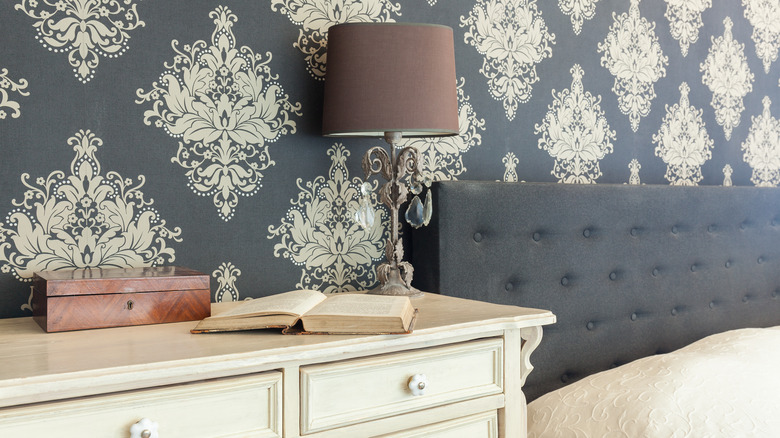 Ground Picture/Shutterstock
This retro print has the prettiest ornate pattern that looks divine with the tufted gray headboard, white vintage dresser, and small lamp with large tear-drop crystals. All the side table needs now is a little DIY distressing.
18. White on white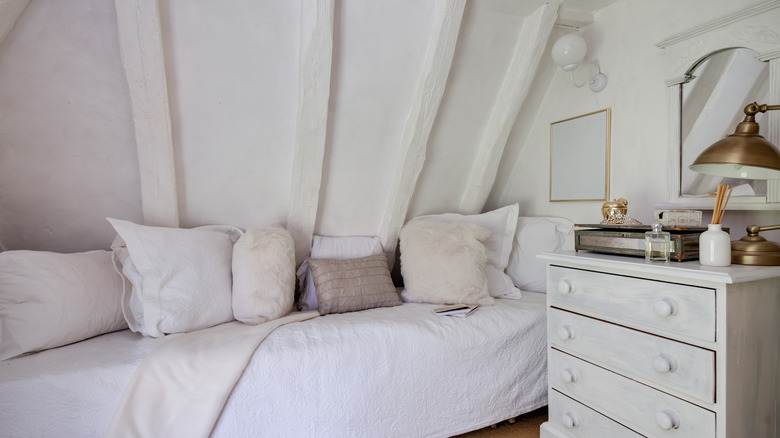 Mike Higginson/Shutterstock
Different shades of white look simple and are a great way to style a bedroom. The bed features white linens and a variety of pillows in gorgeous fabrics. A vintage dresser can look unique by adding special objects with sentimental value to display for all to see.
19. Vintage details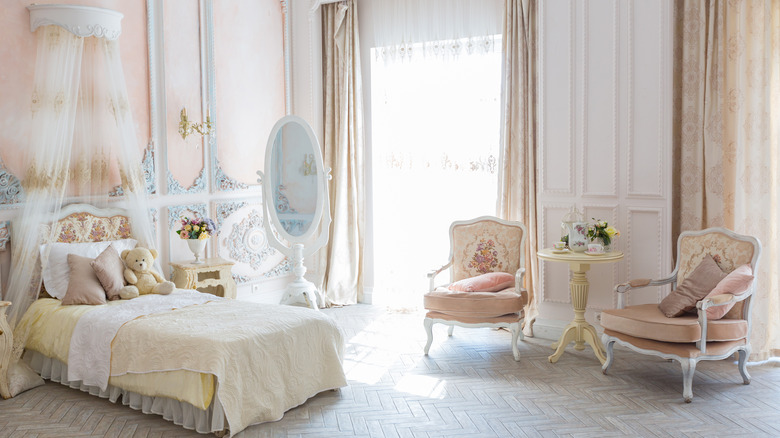 Pinkystock/Shutterstock
A kid's room with neutral walls, ornate detailing, and a bed with a floral headboard is inspirational. A vintage table and French-inspired chairs would be the best spot for your kids to enjoy an afternoon tea party with their friends.
20. Matchy-matchy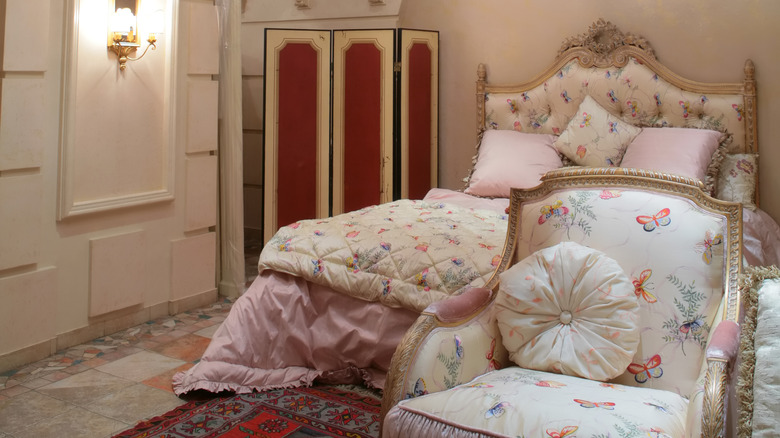 Zholobov Vadim/Shutterstock
Here's a classic room with plain walls, but a matching butterfly headboard, bedding, and chair make it a total standout. If you want to complete the room, get an eye-catching chandelier.
21. Accessorize with style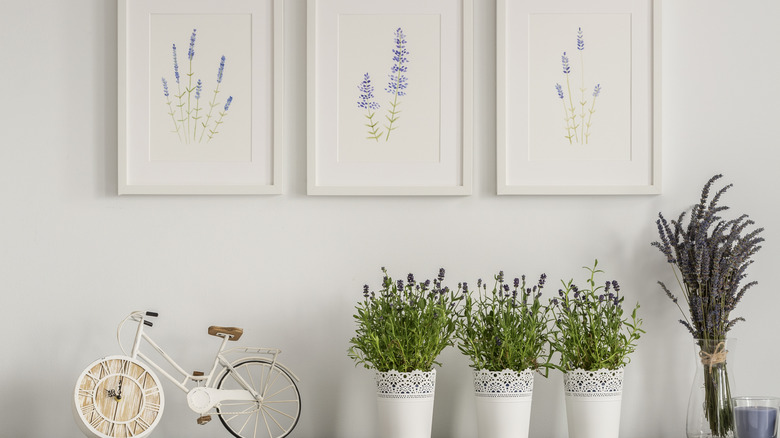 Katarzynabialasiewicz/Getty Images
This room screams French country! A unique bicycle clock and lavender artwork bring this bedroom's shabby chic style to life. If you have great memories of touring a lavender field, you can incorporate that into your bedroom with three small potted plants and artwork.
22. Show off your greenery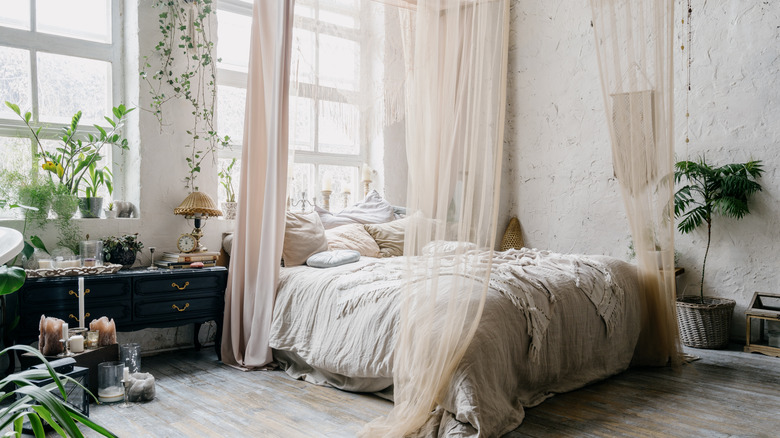 Brizmaker/Getty Images
Don't be afraid to bring gorgeous greenery into the bedroom. Not only does it show off your green thumb, but it's a beautiful way to add a little romance to the bedroom. White linen bedding and a neutral canopy give the room a relaxed, yet comfortable feel.
23. Pink and white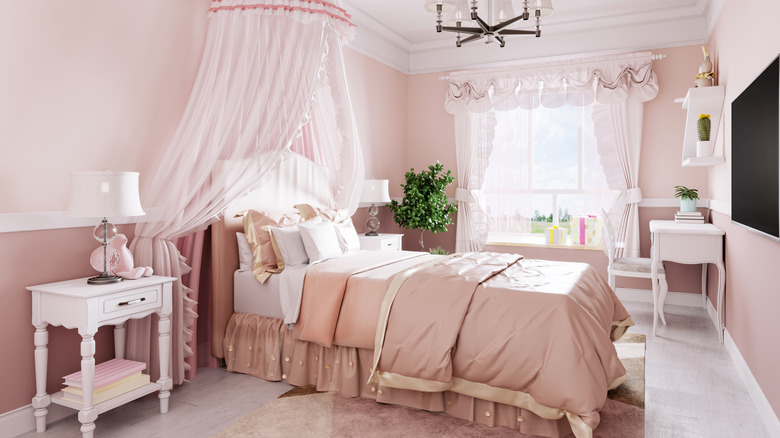 Peter_visual/Getty Images
This light pink is an ultra-pale shade and acts as a neutral. The white vintage-style furniture, canopy bed, and greenery in the corner of the room are all tell-tale signs of the shabby chic design aesthetic.
24. A gorgeously designed vintage bed frame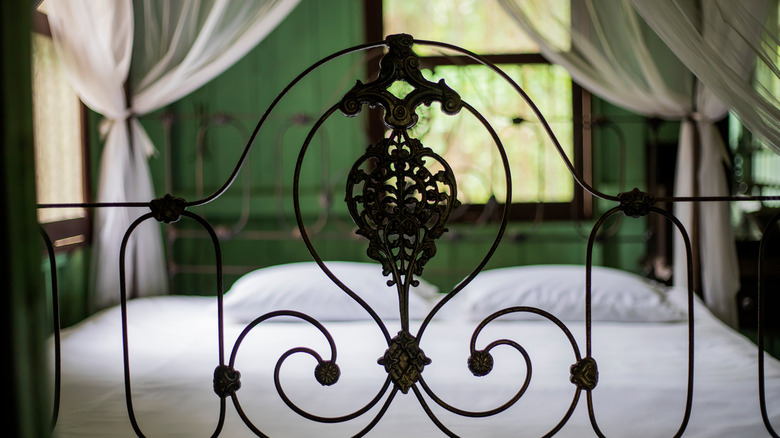 Chonnipa Aranwari/Shutterstock
An ornate iron bed frame is a beautiful way to show off your love of vintage furniture. If you want to give it more of a shabby chic look, consider distressing the frame during a weekend DIY project, which would definitely give the bed character.