Unless you're one of the (very) few people that plans their decor around a feature piece of brassware, it's unlikely that buying bathroom faucets is going to be top of your to-do list. But that doesn't mean it should be an afterthought – if anything, brassware should be a top priority when it comes to planning a bathroom. 
It's easy to underestimate the hard work moving parts like shower fittings and faucets are required to put in on a daily basis. Choose something substandard in quality or just not suited to your space, and you will quickly regret it. Broken faucets can be costly to repair or replace – particularly if they are wall or floor mounted. That's why, when you are conjuring up a list of bathroom ideas, it's wise to allocate a substantial part of your thought and budget to your brassware.
Faucets do present the chance to embrace current bathroom trends through a metallic finish such as gold or bronze, or to enhance a traditional bathroom through classic copper or brass that will age gracefully over time. That said, every look requires a different level of maintenance – and that aftercare should also be considered before you buy. 
Read on to discover the key questions you should ask before you invest in bathroom brassware. You may be surprised at just how much thought can go into a faucet, but you won't regret spending that little extra time…
1. What style do I want?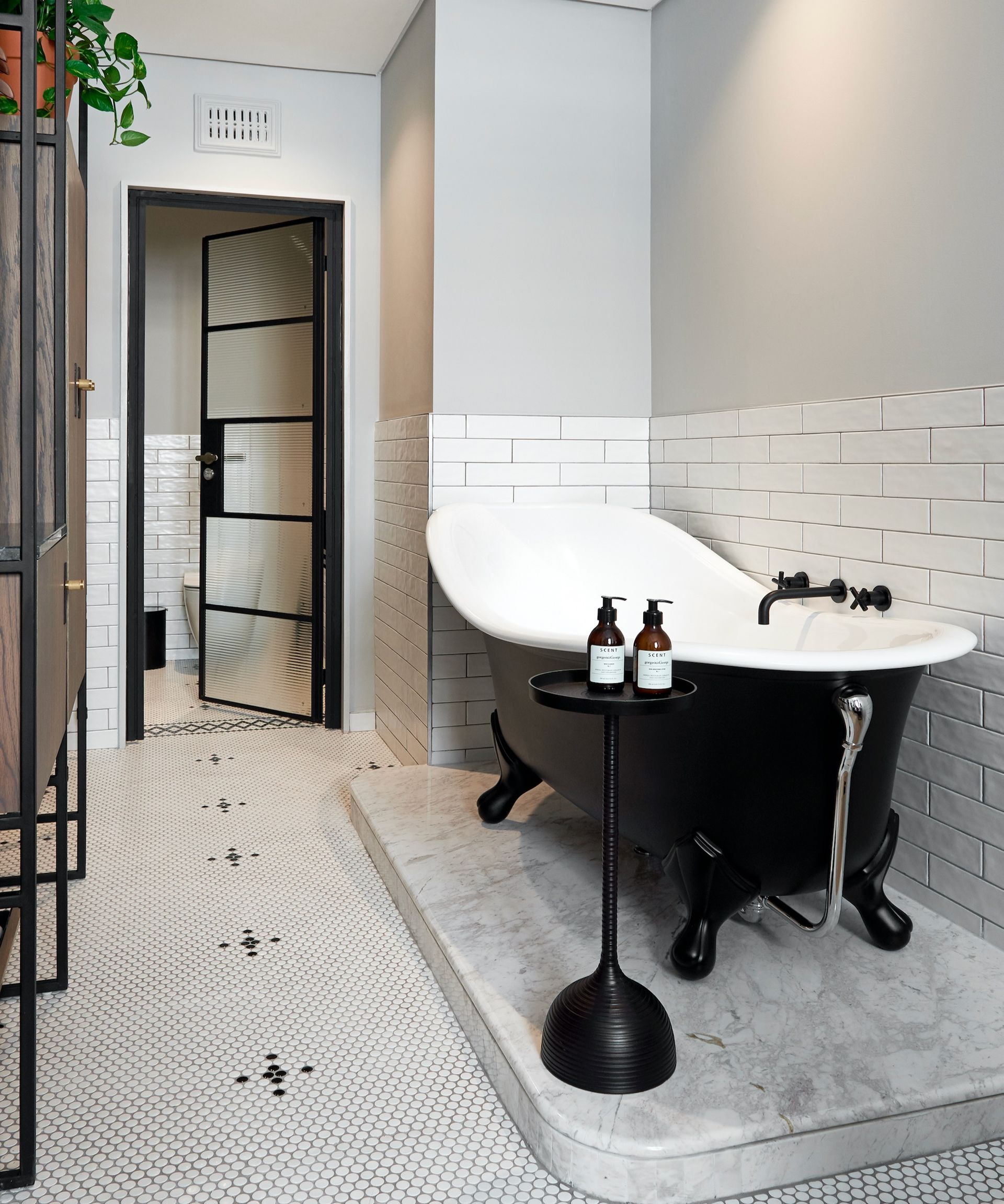 There's no question that your brassware options can definitely be overwhelming. It's best to begin by narrowing down the finish and general design style – in other words, contemporary, classic or traditional.
Once that's settled, you can move on to finish, where again, your options have widened from a choice between chrome, nickel or brass. 'Driven by the wealth of new finishes available on the market, they are reassessing the contribution brassware can make to the overall look of a bathroom,' says Emma Joyce, brand manager, House of Rohl (opens in new tab). 'For example, a sophisticated matt black finish is a brilliant contemporary alternative to a standard chrome finish.'
It can look particularly stunning when paired with a black roll-top bath, as in this example from Victoria + Albert. 
Polished nickel is still a good option for classic bathrooms – being warmer than chrome, but not as 'bling' as gold. For more traditional bathrooms, 'living finishes', like unlacquered brass, bronze and copper will age in random ways that add patina and charm to your bathroom… though they're not recommended for perfectionists.
2. How much should I spend?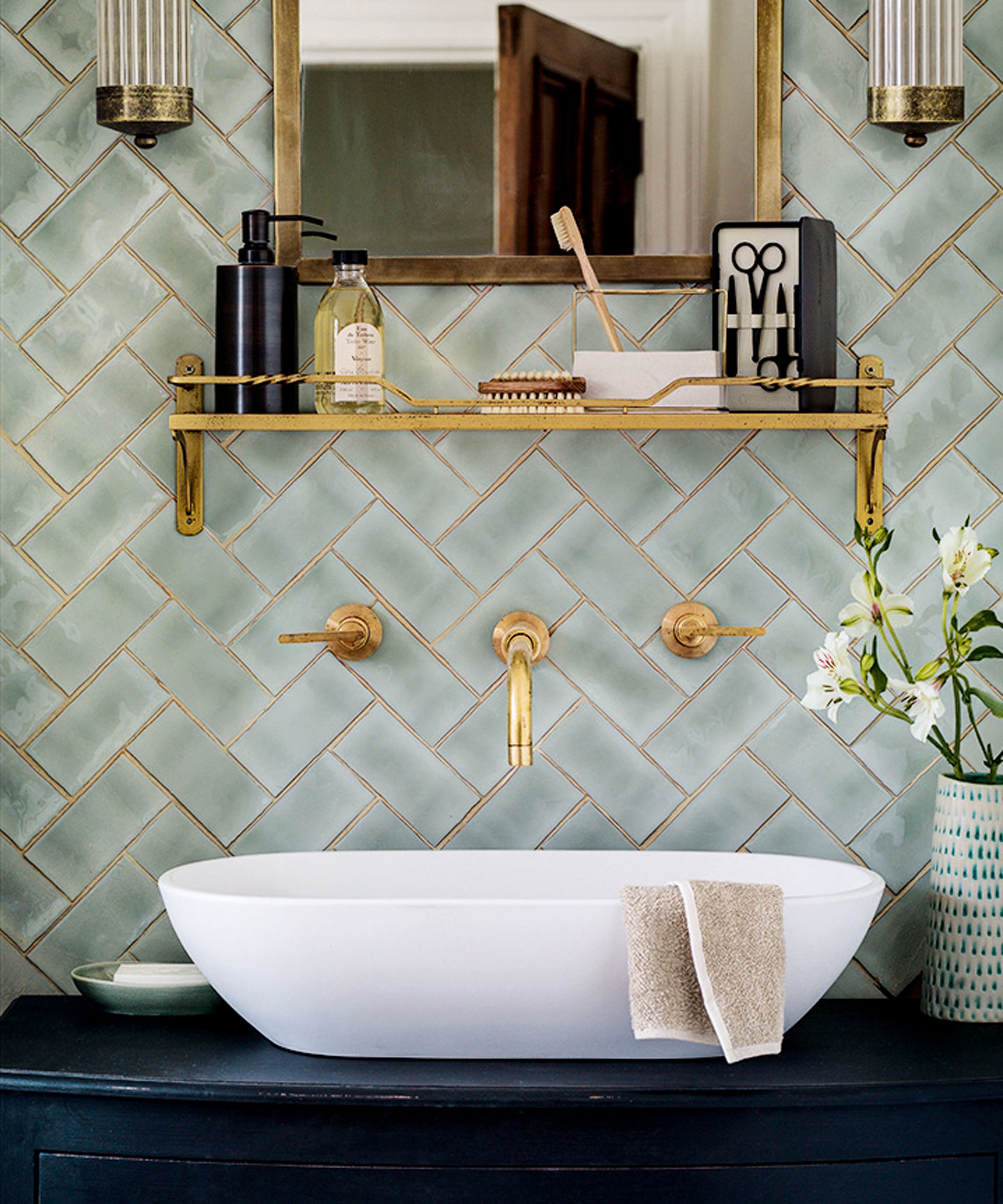 Ask any bathroom designer or brassware expert, and you will get the same answer – spend as much as you can reasonably afford. And from our own experiences of home remodels, we would definitely agree. In fact, we'd go as far as to say it's better to budget on the likes of a basin or even a bath than your faucet. It's one of the biggest bathroom design mistakes you can make.
In fact, any 'moving parts' that are likely to be put under daily stresses – such as you faucets, shower system and toilet – should be where you spend the bulk of you budget, as they are the elements that are most likely to fail if you 'go cheap'. 
'Very cheap brassware is never a good idea. It may look good to begin with, but in no time at all it can tarnish and begin to look tatty,' says Emma Mottram, brand marketing manager at Laufen. 'The solution is to invest in quality brassware from the get-go. It will not only look fantastic but will also save you money in the long run because you won't need to replace it for years.'
'I always advocate spending as much as you can afford,' agrees Louise Ashdown, head of design at West One Bathrooms (opens in new tab). 'Brassware takes the strain in the bathroom and poor build quality at lower price points can end up costing more in repairs and replacements in the long run.'
3. What is the faucet made from?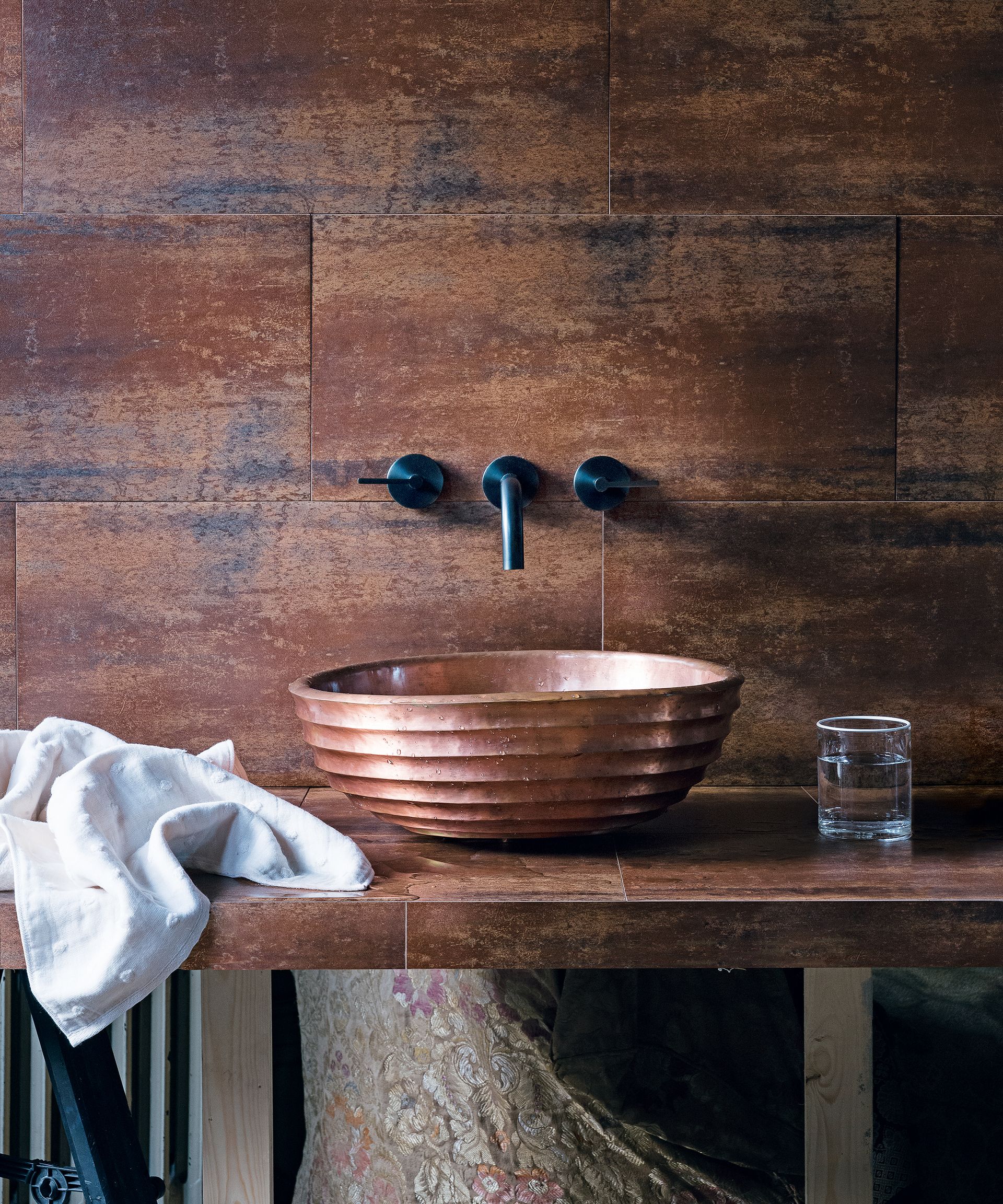 Choosing brassware that stands the test of time is essential. 'This is particularly important for those that are fitted into the wall; there's often no direct access, which makes repairs trickier and more costly,' says Yousef Mansuri, head of design at CP Hart (opens in new tab).
So how can you ensure the quality is good? We would definitely advise buying bathroom faucets from a 'known' supplier that has a warranty on the life of its brassware – and has been around long enough to establish a reputation for that quality. 
Materials are important, too. Spend less, and you're likely to get a faucet made from lower quality materials with less durable internal components. Increasing your budget means you're more likely to get a faucet made from solid brass, which is very resistant to corrosion. Brass has long 
been the material of choice for this reason, hence the name "brassware'. 
If you want something pretty indestructible, stainless steel is worth, ahem, splashing out for. It tends to be more expensive because the metal is harder to work with, but the taps are scratch resistant and durable. If you want the best of the best, look for mention of '316 marine-grade stainless steel'.
The final thing to be aware of is the 'coating' or finish of the faucet. Typically, four methods are used – PVD (Physical Vapour Deposition), lacquer, electroplating and powder coating. 
PVD is considered the most durable finish around, and is commonly used for metallic effects such as on-trend gold. 'It's available on Roca's Titanium Black and Rose Gold brassware,' says the brand's marketing manager, Natalie Bird. 'As a coating, PVD boasts anti-corrosive and anti-limescale properties for a surface that's highly resistant to scratches and cleaning products.'
Polished chrome electroplating is second to PVD in the durability stakes, and delivers a mirror-like look. Lacquers are less durable, but give a deep finish that can be glossy or flat. Finally, powder coats are often used to produce colored and/or textured taps, and are reasonably chip-resistant. 
4. What's my water pressure?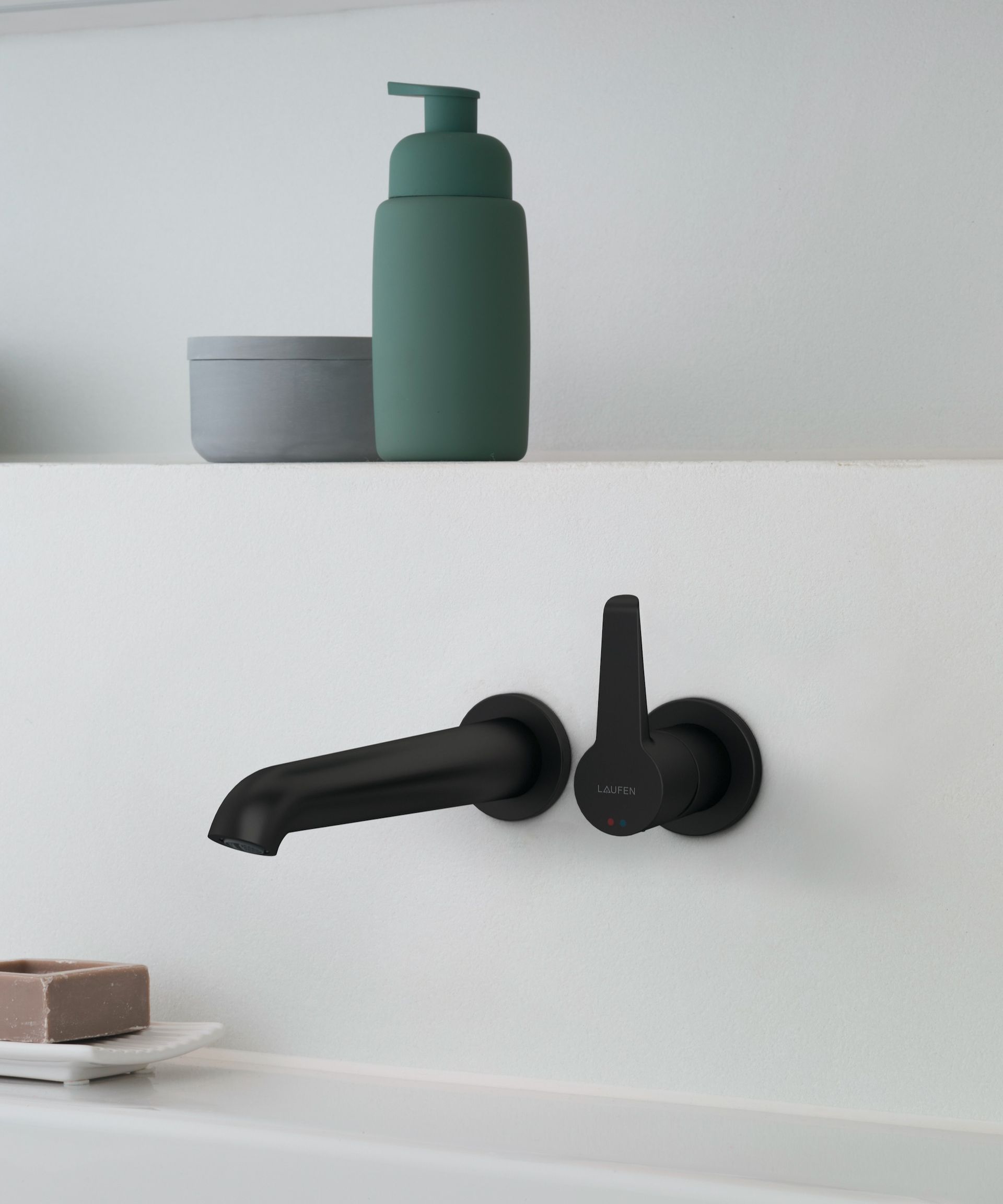 'Always check that the water pressure in your home is right for the brassware you choose,' advises Emma Mottram, brand marketing manager at Laufen (opens in new tab). 'Matching your tap or shower to the water pressure will deliver optimum performance, whereas a mismatch can lead to slow water flow and difficulties in getting an even and constant temperature.' 
'You can ask your plumber to calculate the water pressure for you or buy a gauge tool and work it out it yourself. Once you have the measurement, check the minimum water pressure requirement for your chosen products. Laufen and Roca brassware collections are all compatible with a water pressure of 50 PSI.' 
For reference, 'normal' water pressure in the USA is judged at between 40 and 60 PSI, or a 50 PSI average. If you you find you have lower pressure around 30 PSI, you may need to look for a specialist faucet that can handle these lower flow rates. It doesn't tend to be such an issue with showers, and pressure can usually be boosted with a pump. 
5. Do I have basin holes? And how many?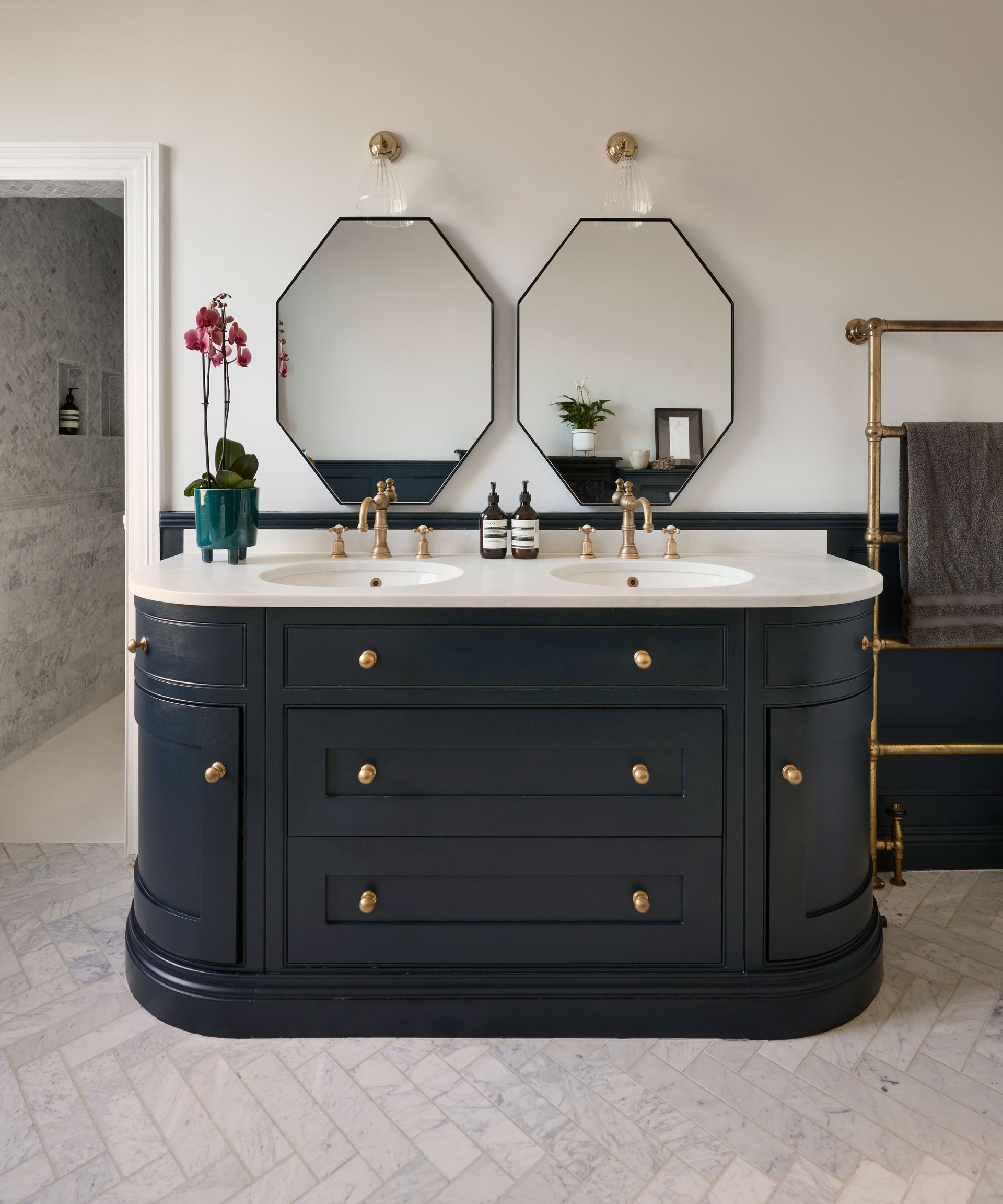 'Before splashing out on brassware, take a quick look at your basin – how many tap holes does it have?' explains Laufen's Emma Mottram. 'This will help you narrow down your options. For example, you could install wall-mounted brassware over a basin with no faucet holes. This hotel or luxury bathroom look works well with double washbasins.'
'If your basin has one pre-drilled hole, you'll need a monobloc faucet (a single spout that delivers a mixture of hot and cold water). If you have two pre-drilled holes, you'll need a pillar tap with one tap for cold water and another for hot. These are operated by either rotating handles or levers.' 
'And if you have three pre-drilled holes, you'll need a three-hole mixer faucet that delivers a mixture of hot and cold water through a single spout. Unlike the monobloc faucet, it will have separate water controls for hot and cold.'
6. Do I want everything to match?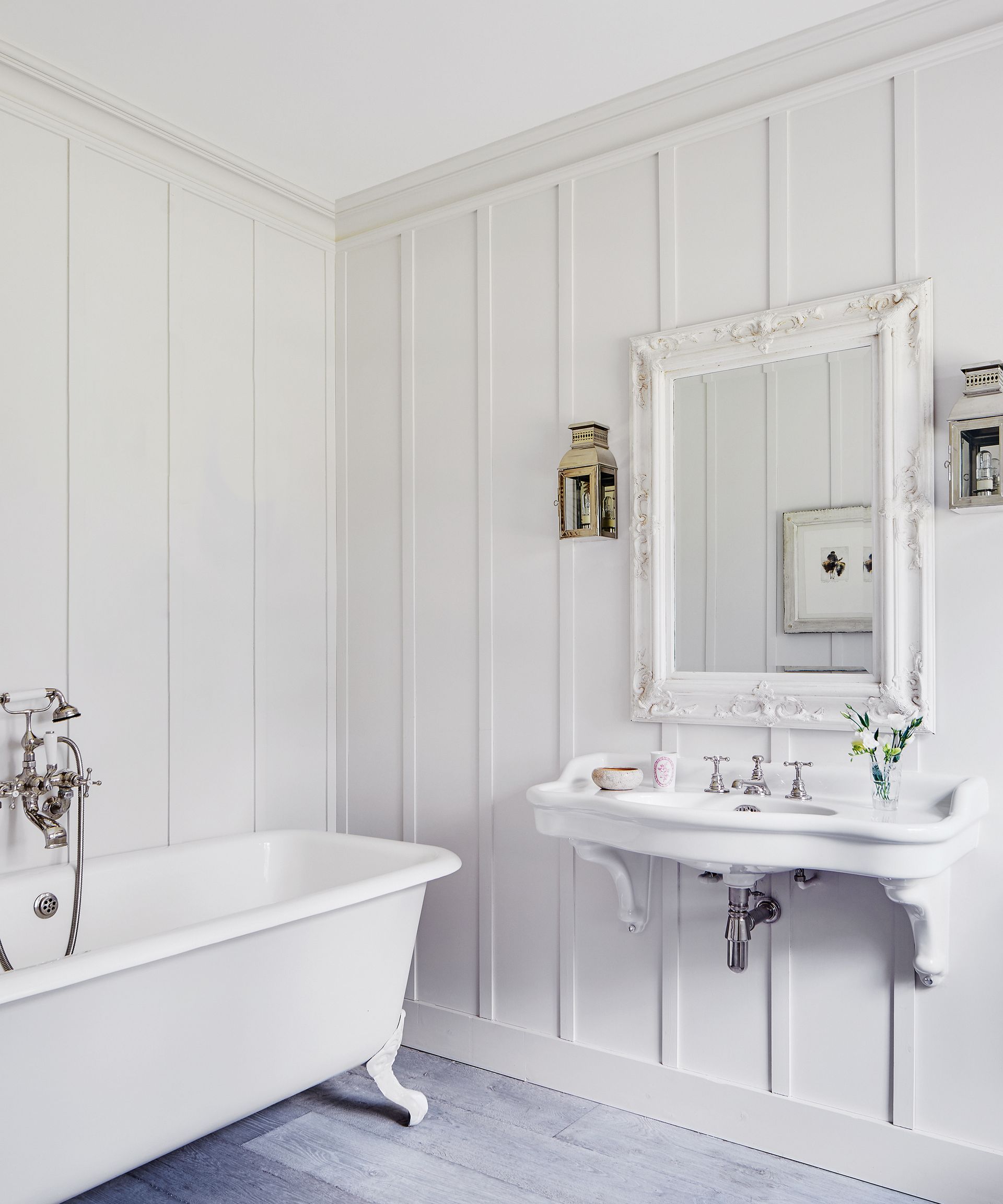 In a small bathroom, where everything can be seen at once, most designers will recommend that your brassware matches – and ideally that you buy it all from one manufacturer so that you can guarantee a consistent finish. 
This doesn't just apply to faucets, but to shower heads and controls, exposed pipework, flush plates and sometimes even peripherals such as towel bars and toilet paper holders.
In bigger bathrooms, there's scope to mix up finishes more freely, without disrupting or destroying the overall look. 'While I wouldn't put copper and brass finishes too close together, there are finishes, like black and white for example, that pair really well with others,' says Louise Ashdown.
7. If they're vintage, have they been tested?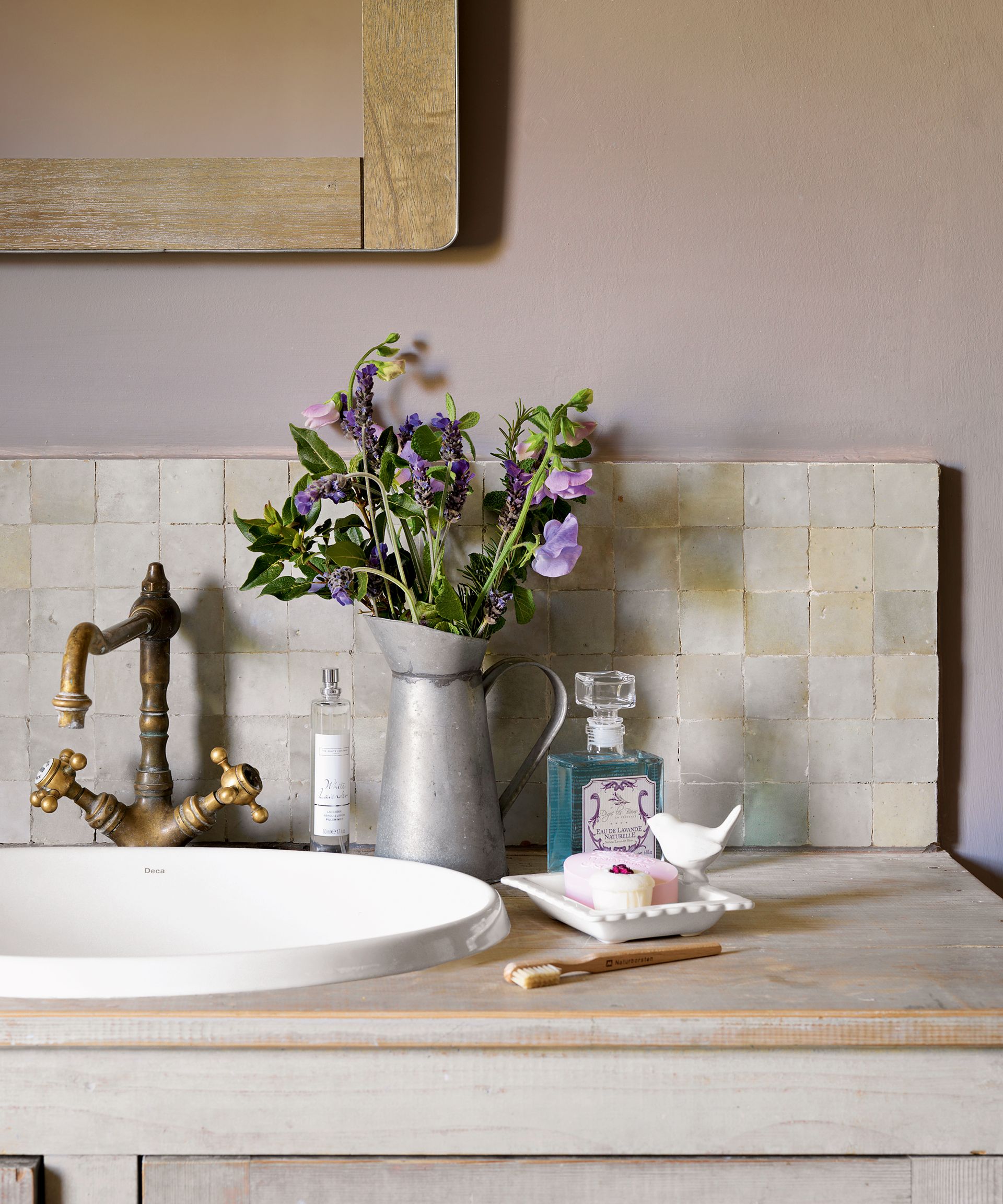 If you're eager to get that vintage bathroom look, you may have considered tracking down worn-in antique brassware. It can be a good option, but you should never buy on looks alone. Ideally, have reclaimed fittings reconditioned and tested to ensure they work properly. And if you plan to fit your antique taps onto existing sanitaryware, check that the hole sizes correspond and there's enough room for fixings underneath.
Also be aware that toxic lead didn't used to be used to make pipes, but also in some faucets, valves and fittings. It's best to get any older faucets tested to ensure they won't taint your water supply.
8. Where should my faucet sit in relation to my basin or bath?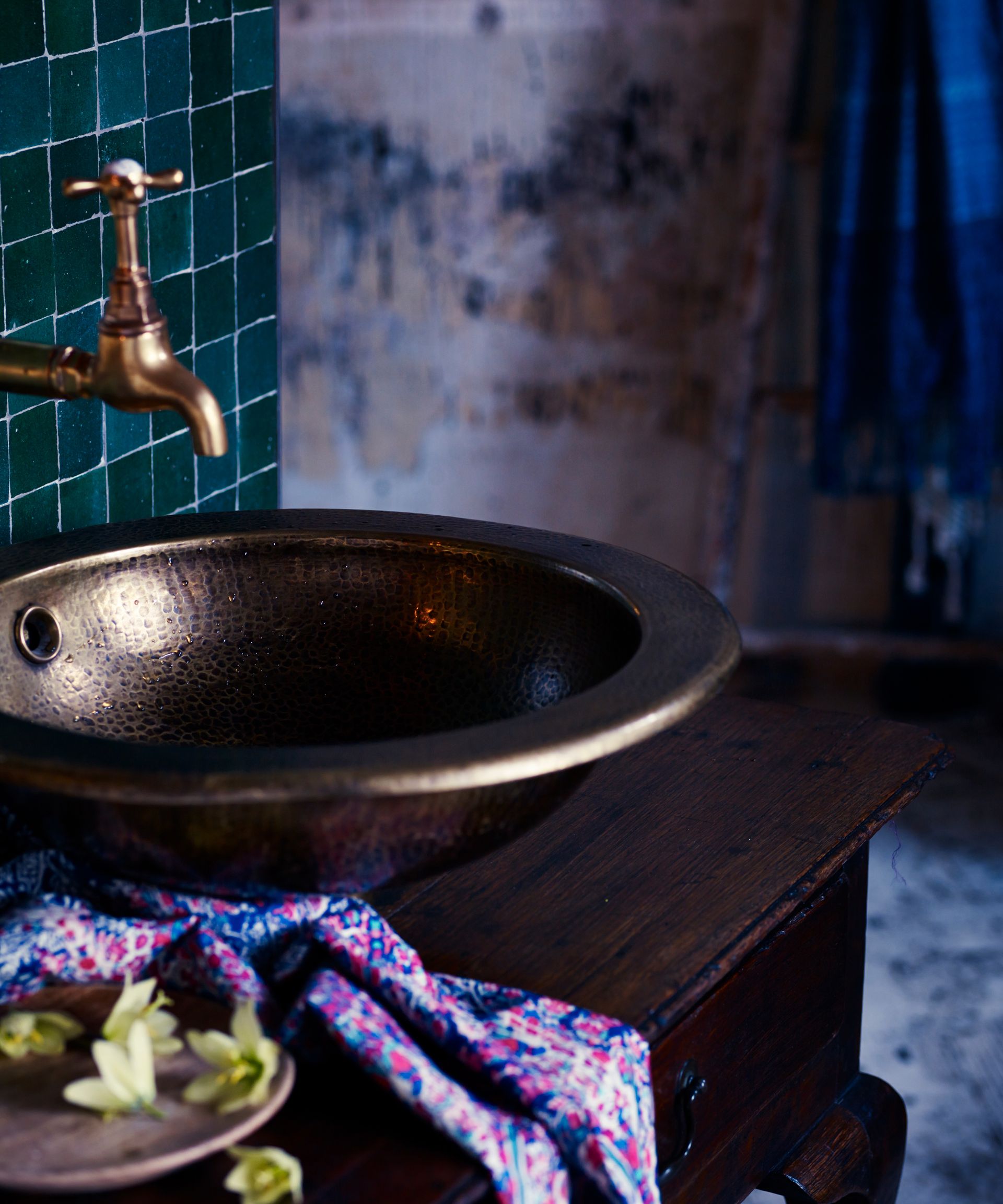 Pairing and basin or bath with a faucet isn't just about style – there are practical considerations, too. Aside from the holes (or lack of) in your ceramics, you will need to think about positioning. 
A spout needs to project enough over the basin or bath that it doesn't catch the edge and flood the worktop or floor below. Similarly, the height needs to be right. Too high and there will be too much splash. Too low and you might not fit your hands beneath to wash them.  
Your plumber or contractor should be able to help you with this, but the industry standard distance between the hot and cold water taps is around 7 inches between the hole centers. As for spout reach from the faucet to the sink, again, a distance of 7 inches will give you ample space to wash your hands. 
'With so many options on the market choosing taps or faucets may cause a few issues, for example you may like the design, but does it work with your basin? Is it a mixer tap, is it too high, will the water flow cause splashing?' says Duravit's Martin Carroll. 'That's why Duravit has recently introduced a configurator, Duravit Best Match (opens in new tab), to find the perfect partnership of tap and washbasin.'
9. How do I clean the faucet?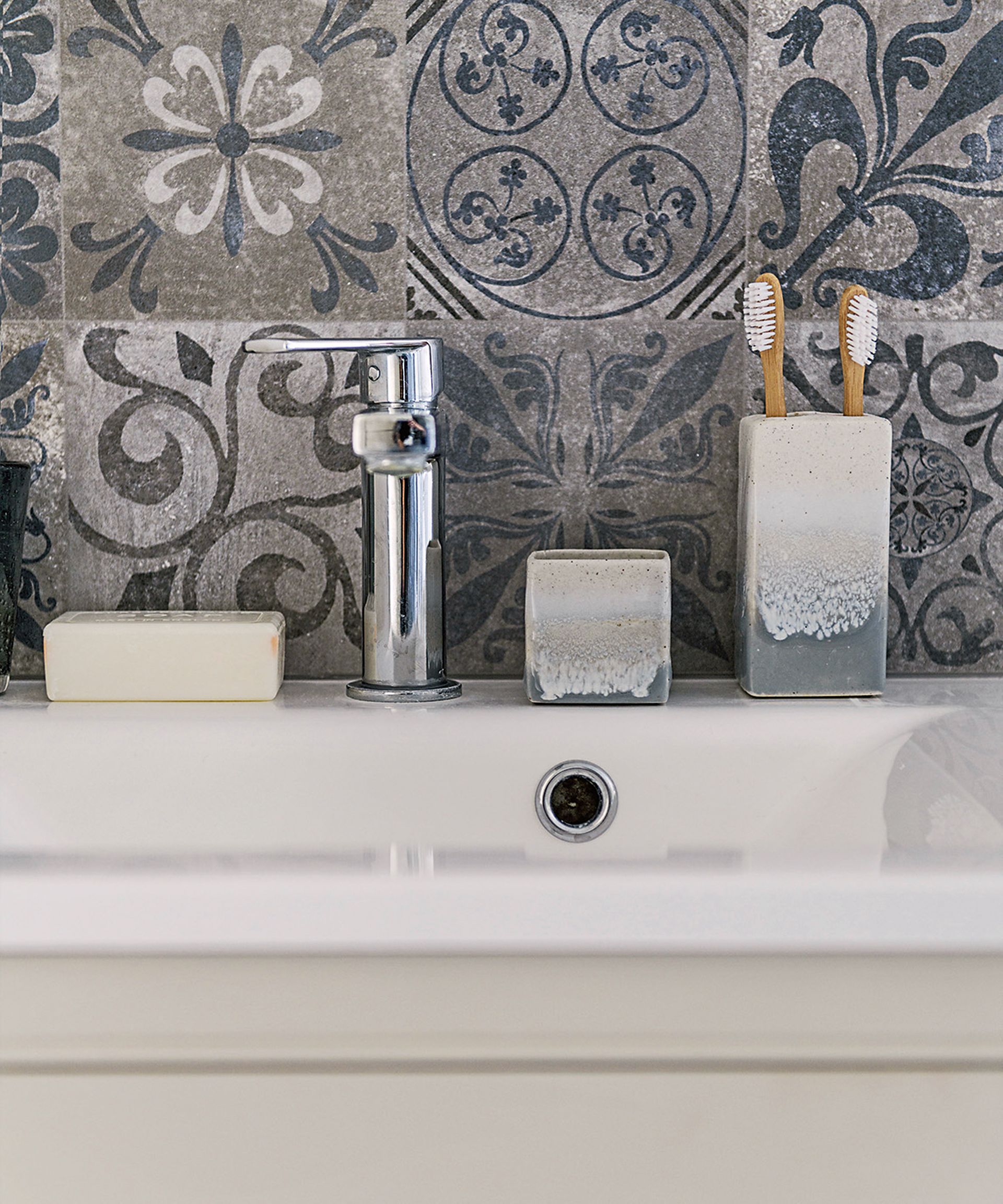 So how do you look after your new facet, once installed? Well it should be surprisingly easy – a simple wipe down after use with a soft cloth, warm water and washing-
up liquid tends to work best. You should avoid using abrasive cleaners, as these can tarnish the surface of many taps, taking away their shine or spooiling a matt finish. 
'Our matt black and titanium black finishes for brassware not only make a stylish statement, but are easy to maintain,' says Roca's Natalie Bird. 'No more smudged fingerprints or tarnished brassware – just a quick clean with soap and water will do the trick.'
It's key to not let limescale to build up as this won't just be hard to shift from teh surface of your faucet, it can also destroy its inner workings. if you live in a hard water area, consider investing in a water softener to help keep limescale at bay. 
10. Will the faucet do its bit to save water?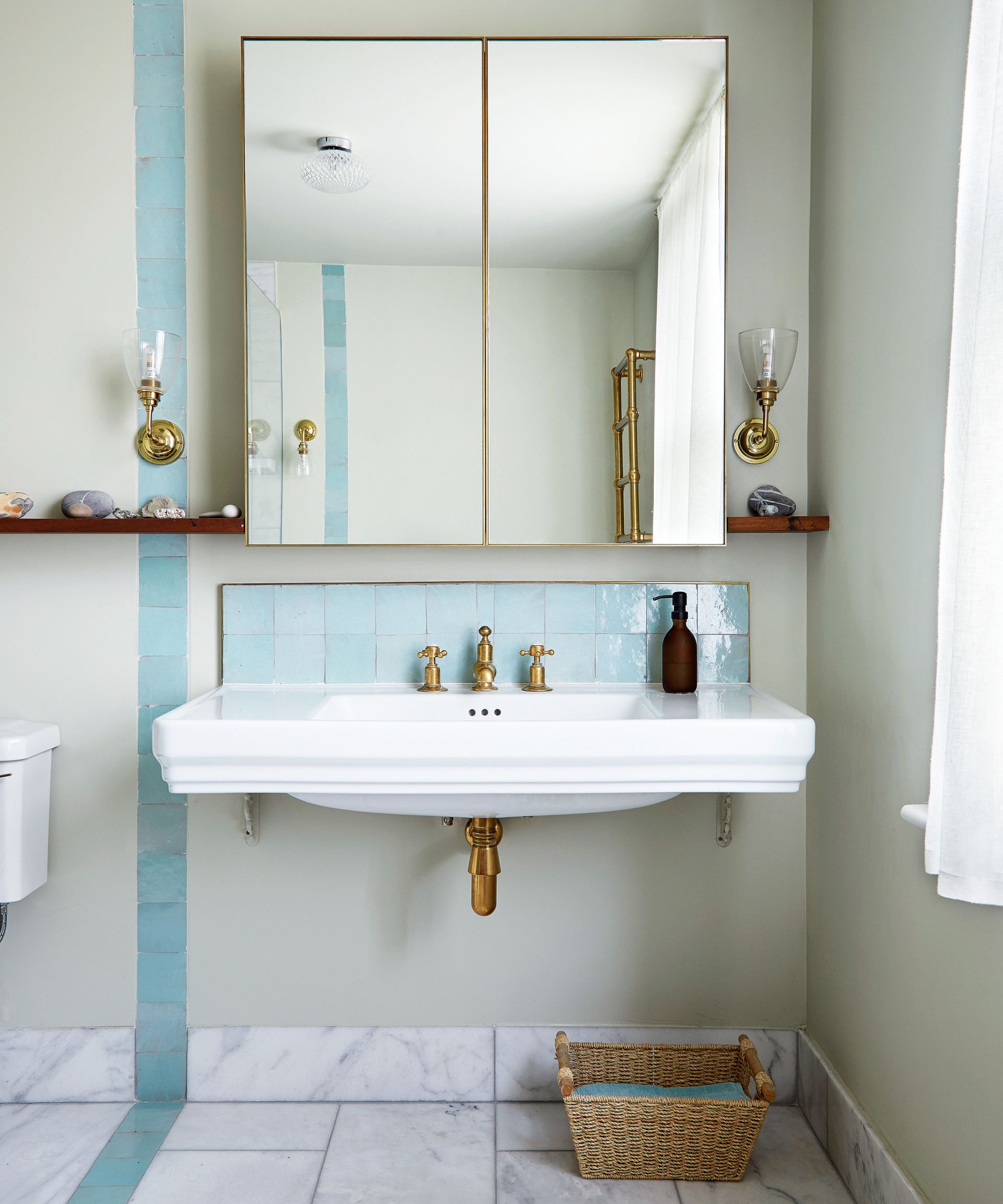 Most of us take the fresh water that's piped to our homes for granted. But treating it and heating it use precious energy and resource, so if you're environmentally conscious, you'll want to use as little as possible by way of water-saving bathroom fittings. 
'We all have our part to play in saving water,' says Natalie Bird, brand marketing manager at Roca. 'Choosing bathroom brassware that features a flow limiter restricts the amount of water flowing out of the faucet.' 
'Roca has also developed the Cold Start system for its brassware. This means that when the tap is turned on, by default, the water will be cold. The handle then needs to be turned gradually introduce hot water. It's only at this point that the furnace is engaged, therefore avoiding its unnecessary operation and potentially saving money on utility bills.'
It might not be your first consideration when you're buying brassware, but we think it's an easy way to do your bit for the environment that will have little impact on your lifestyle.