Soloviova Liudmyla/Shutterstock
Even if we're still in the midst of cloudy winter weather, it's never too early to start planning how you want to decorate your sunroom, especially when there's so much to think through. We're talking about color schemes, furniture, window frames, layouts, and more. It's better to get ahead of the game so you're ready to sit in a beautiful solarium when the weather starts to warm up. Of course, there are other factors homeowners need to consider when designing a sunroom. According to Patio Enclosures, it's important to pinpoint exactly how you will use the space. Whether it's for entertainment, relaxation, or gardening, figuring this out first will help everything else fall into place.
We've found 25 beautifully styled sunrooms that will surely give you the inspiration you're craving. We'll break down which characteristics of each example make it a great design, and point out all the unique aspects you can incorporate into your own home.
1. All the right colors and tones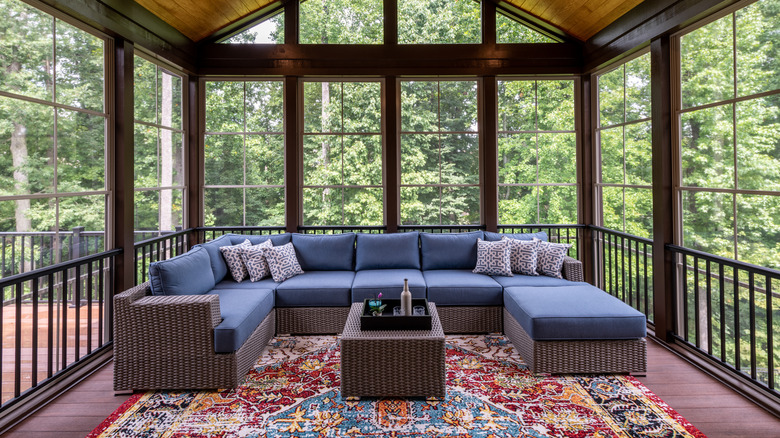 VIS Fine Art/Shutterstock
The mixture of colorful décor with neutral finishes has created a balanced design in this sunroom. The tone of the blue couch is similar to the wooden floor, and several complementary colors are introduced with the red, turquoise, orange, and yellow area rug.
2. Simple colors, interesting décor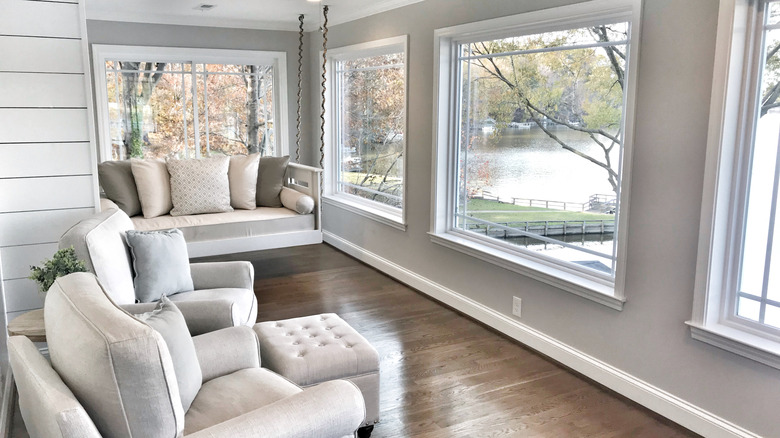 ocwarfford/Shutterstock
Although the color scheme of white and gray is simple, the designers made this room interesting by introducing fun furniture including a sofa swing by a large window. The texture of the tufted ottoman also elevates the design.
3. Modern and cozy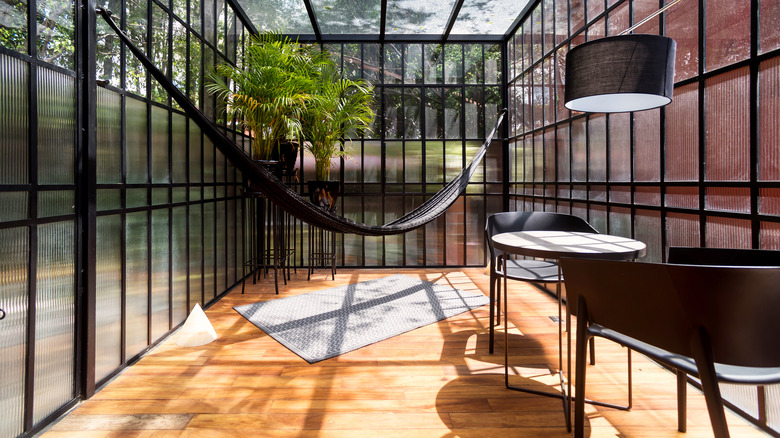 Bisual Photo/Shutterstock
This sunroom was made to feel modern due to the black décor and window frames. However, a sense of coziness and relaxation was created with the hammock and luscious green plants.
4. Add plenty of plants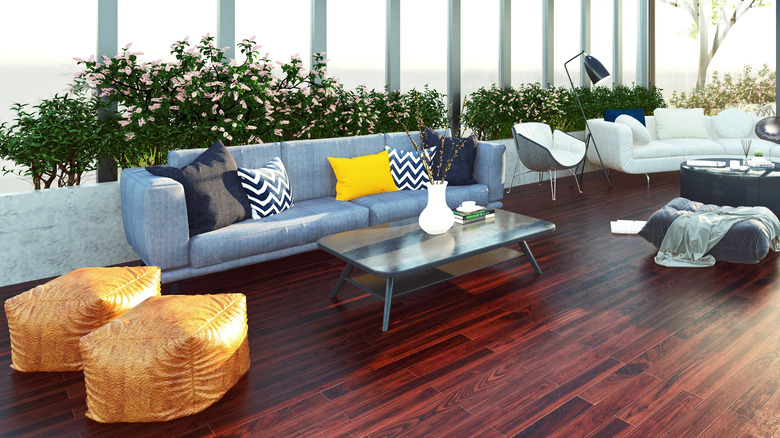 Hayriye Tellioğlu/Getty Images
Speaking of luscious greenery; unique houseplants can become statement pieces. They're a great decorative tool to bring a space to life, and they're useful for adding a touch of color, such as the pink flowers shown in this example.
5. Statement lighting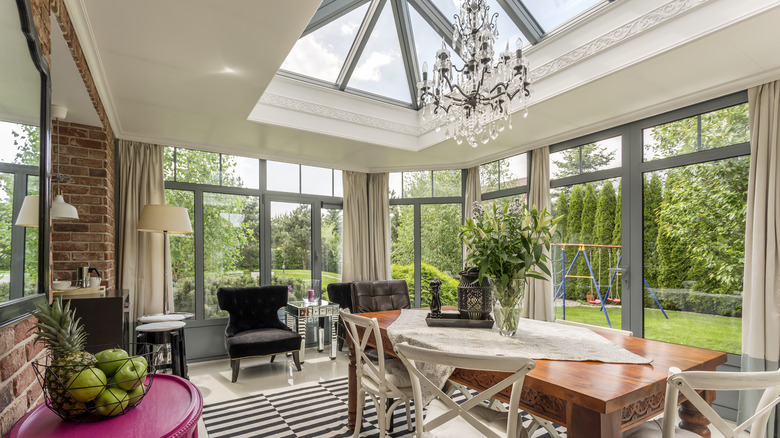 Katarzynabialasiewicz/Getty Images
If your sunroom desperately needs a focal point, an extravagant light fixture may do the trick. In this space, the designers strategically installed a crystal chandelier below the glass ceiling. Now, each crystal will sparkle when the sun shines through and create a stunning visual during the day as well as at night.
6. Variety of finishes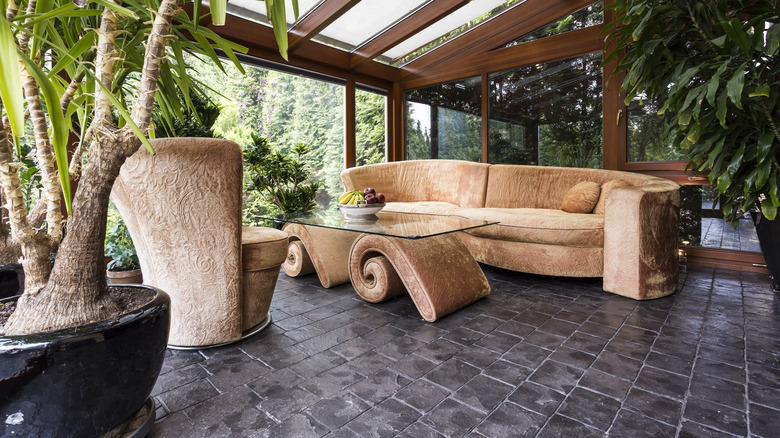 Ground Picture/Shutterstock
Here, they've mixed together different finishes to create a cohesive look. The cool tones of the slate flooring are warmed up by the unusual wooden frames, and the velvet furniture softens the overall appearance. 
7. Something simple
Irina88w/Getty Images
A sunroom doesn't always have to be designed lavishly, especially if you're working within a tight space. Here, they've created a charming sitting area in a small solarium with petite pieces of furniture and décor that perfectly balance out the room without making it feel cramped.
8. Contrasting window frames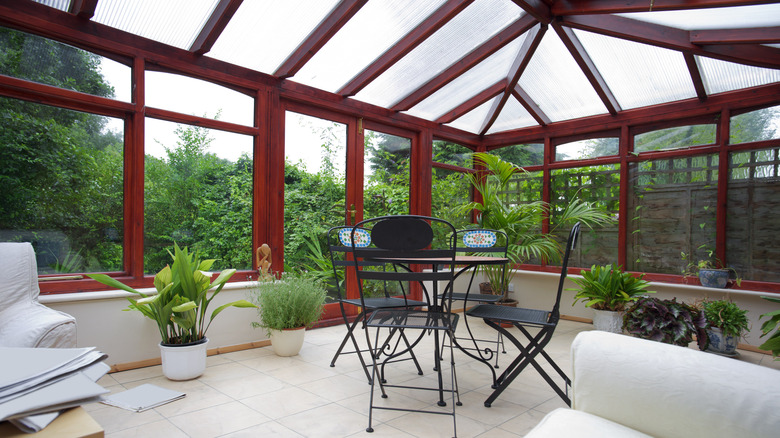 Davidmartyn/Getty Images
If your sunroom is full of neutral-colored furniture, we suggest painting your window frames a darker color to add contrast. As shown above, they've painted their frames a bright red, increasing the contrast as well as the character of the space with a fun hue.
9. Accent wall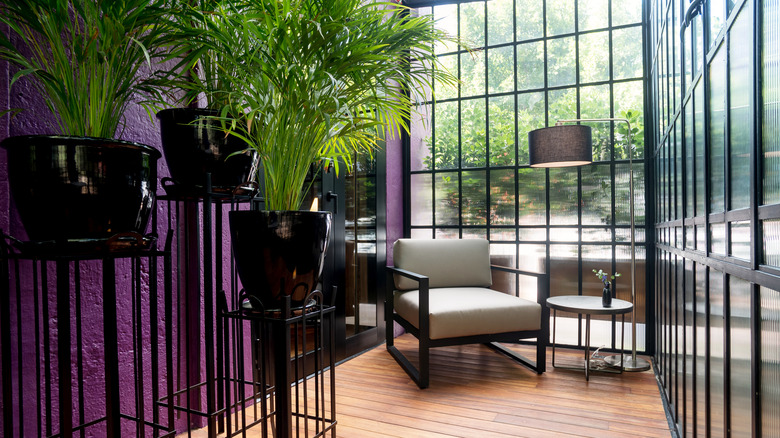 Bisual Photo/Shutterstock
Painting all of the window frames in a sunroom can be a bit too laborious. Instead, try painting a single accent wall for an easy touch of interest and bold color. 
10. Colorful paradise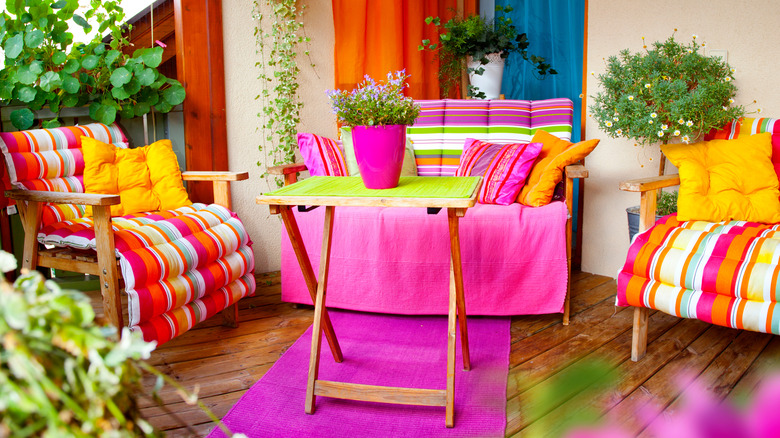 Patrizia Tilly/Shutterstock
A sunroom is a perfect spot to let your imagination shine. If you're someone with eclectic taste who loves color, we suggest incorporating all the bright hues you adore into a complementary color scheme.
11. Floral theme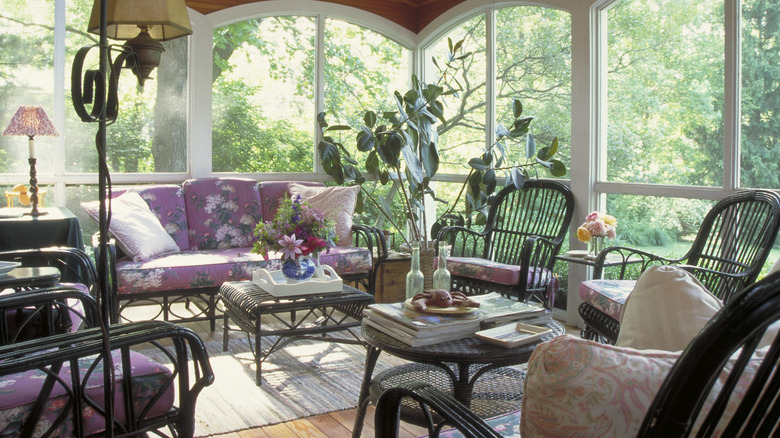 Wirestock Creators/Shutterstock
Choosing a specific theme can be helpful in narrowing down the wide range of options. Here, they've chosen a floral theme and incorporated different furniture pieces dressed in mixed and matched botanical patterns. They've also included a few fresh flower arrangements to create some necessary texture.
12. A warm and relaxing space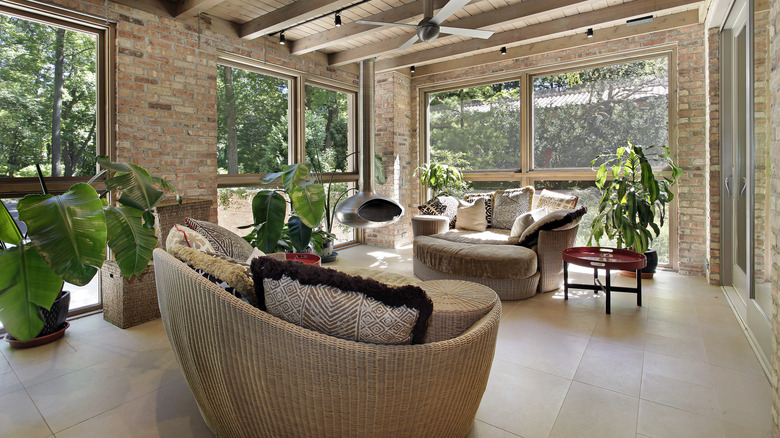 pics721/Shutterstock
Adding a fireplace to any space is rarely a bad idea, especially when paired with deep couches you can lay on as you watch the fire crackle and the wildlife pass by outside.
13. Flashback to the Renissance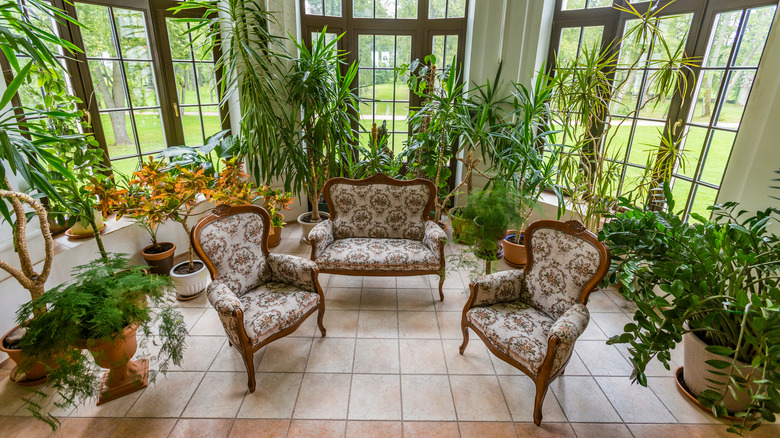 Gintare Judzente/Shutterstock
Those aspiring to create a Renaissance design can incorporate furniture with curvy legs and frames with antique-looking patterns. We also suggest adding a few vases with detailing related to the time period. 
14. Fun patterns in the flooring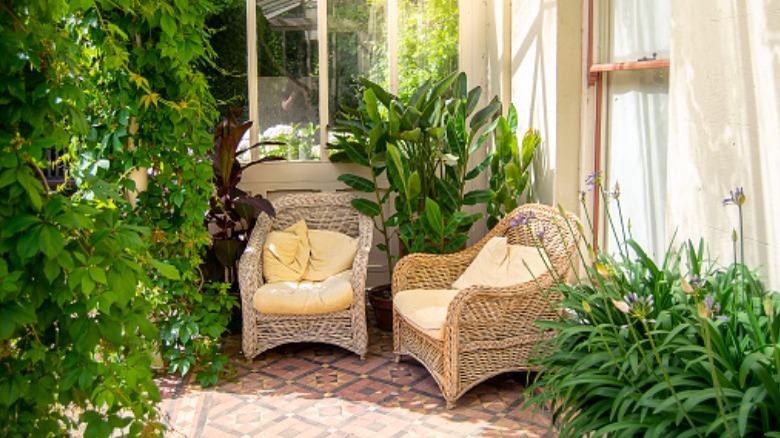 Stanzi11/Getty Images
Designing a sunroom means it's your chance to use those fun tiles you wouldn't use anywhere else. There are many patterns available — you could go floral, Moroccan, geometric, and more. 
15. Drapery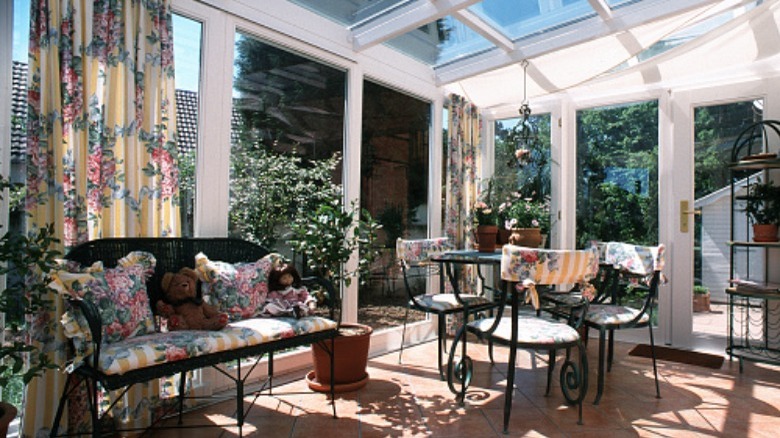 Frankoppermann/Getty Images
Although the point of a sunroom is to allow bright rays of light to pour in, we urge you to consider installing drapery. Not only can it be used to introduce interesting colors and patterns, but it's also important to maintain privacy when necessary.
16. A reading nook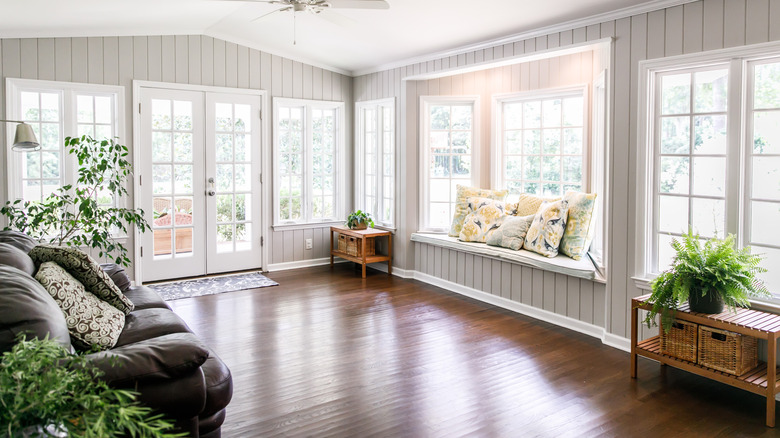 Ursula Page/Shutterstock
If you have a bay window with plenty of depth, then you've got to take advantage of it! Using this space to create a cozy corner to sit in and read a book will make your sunroom a relaxing space you'll always want to retreat to.
17. A more modern take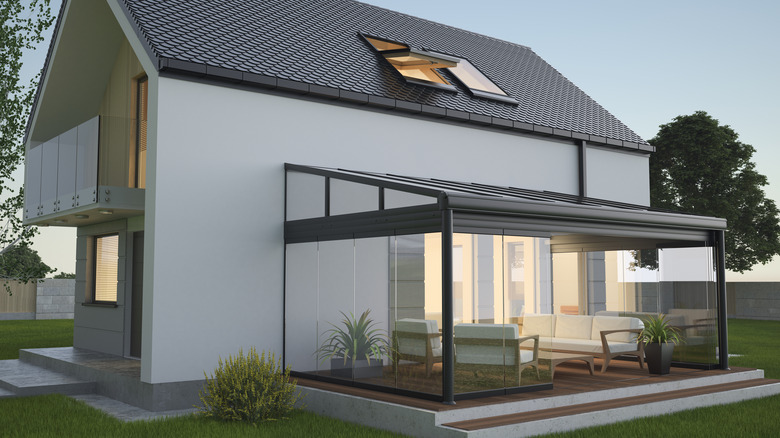 Kangestudio/Getty Images
If you're hoping to create a sleek and modern sunroom, we suggest avoiding too much framing. For example, this rendering shows that limited framing creates a cleaner and smoother design that will better accommodate the style of your contemporary home.
18. Pet friendly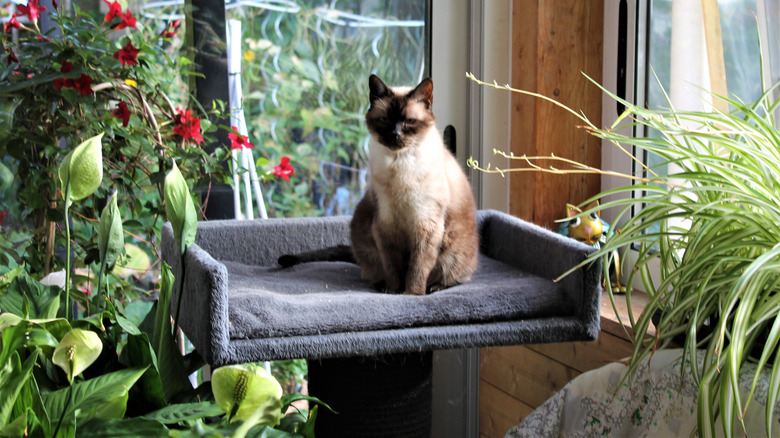 Titania/Getty Images
It's not a bad idea to make your sunroom pet friendly. In this example, they installed an adorable sofa bed for their cat. If you're concerned about space, place it by a window and add a few plants to avoid disrupting the flow of the room. Your feline friends will feel like they have their very own jungle.
19. Glass ceiling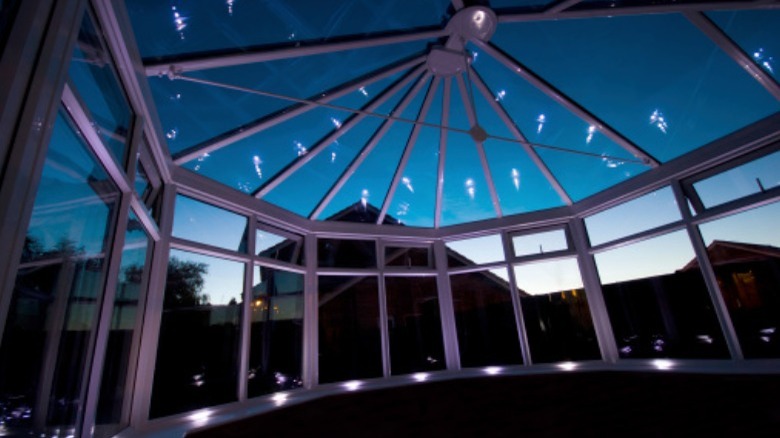 Mayersgd/Getty Images
Make every night a magical experience by designing a sunroom with a glass ceiling. When the sun sets, you'll be able to observe the stars while leaning back on your cozy furniture. 
20. Outdoor furniture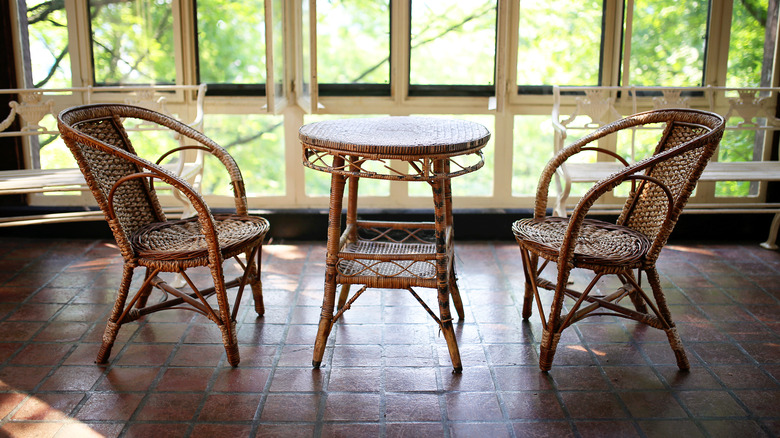 Christinlola/Getty Images
When it comes to designing a sunroom, you can use almost any type of furniture. If you'd like to create a vibe similar to a greenhouse or conservatory, we suggest using outdoor furniture. You can either use something made of natural material like rattan or go for wrought iron, depending on your style.
21. Use an area rug to create comfort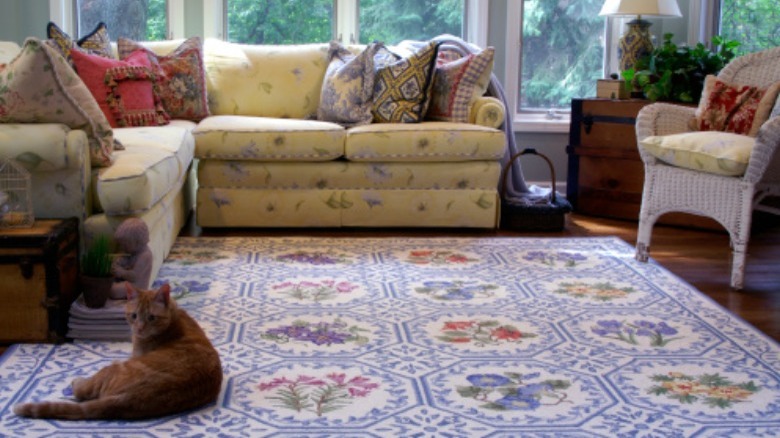 Cluckhart/Getty Images
If your sunroom feels cold and uninviting, take a look at the floor. Simply adding an area rug can be a quick fix, especially if the flooring is made of hardwood or natural stone.
22. Different types of seating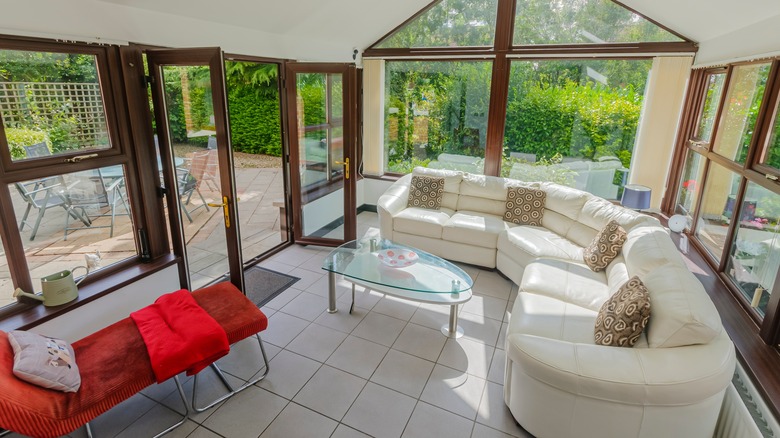 Stephen Barnes/Shutterstock
To create a sunroom with an interesting style, we recommend incorporating different types of seating. In the picture above, they've used a sectional as well as a lounge chair to seat multiple people and serve different relaxation purposes. The placement and contrasting colors also keep your eyes moving around the room.
23. Create multiple functionalities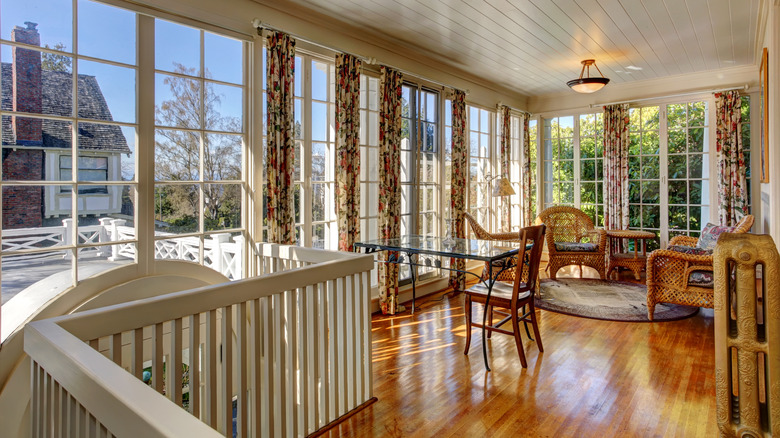 Irina88w/Getty Images
If you have enough space, then why not create different seating arrangements meant for different purposes? In this example, they have a sitting area in one corner of the room for relaxation, and a glass desk and chair on the other side of the room where one might eat or work.
24. French doors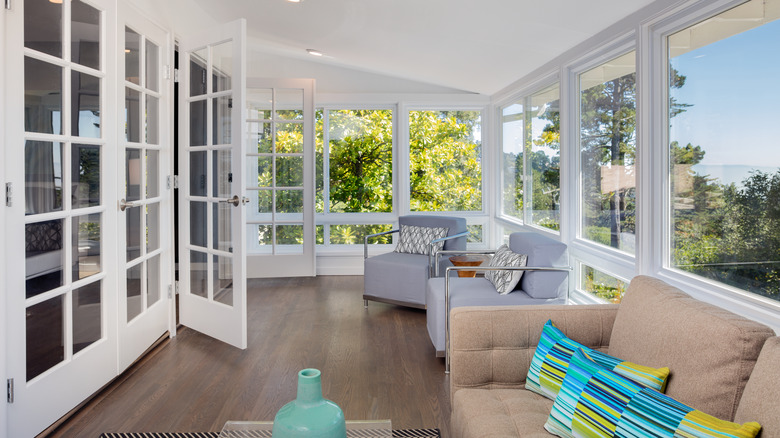 BondRocketImages/Shutterstock
Every aspect of your sunroom matters, including the doors that lead to the space. French doors pair well with the ambiance of this room and elevate the entire design while allowing for even more natural light to pour into the home.
25. Pure luxury
Katiejaussie/Getty Images
If you've got the budget, you might as well go all out. The combination of heavy white drapery, stone fireplace, crystal chandelier, and stylish furniture has created an extravagant sunroom in the picture shown above. Design-wise, we appreciate the luxe combination of neutral tones and gold accents.