The bedroom layout mistakes many of us fall into can easily make a room look smaller. 
While we all tend stick to fairly fixed bedroom layout ideas, whether we large or small bedrooms, the problems some furniture arranging mistakes cause are universal. But what are the most common bedroom layout errors and how can we avoid them?
This guide will walk you through the top missteps we all make, and design experts explain what to do instead.
Bedroom layout mistakes – and how to fix them
Don't fall into these traps – a quick rework this weekend could transform your space for the better.
1. Trying to include too much furniture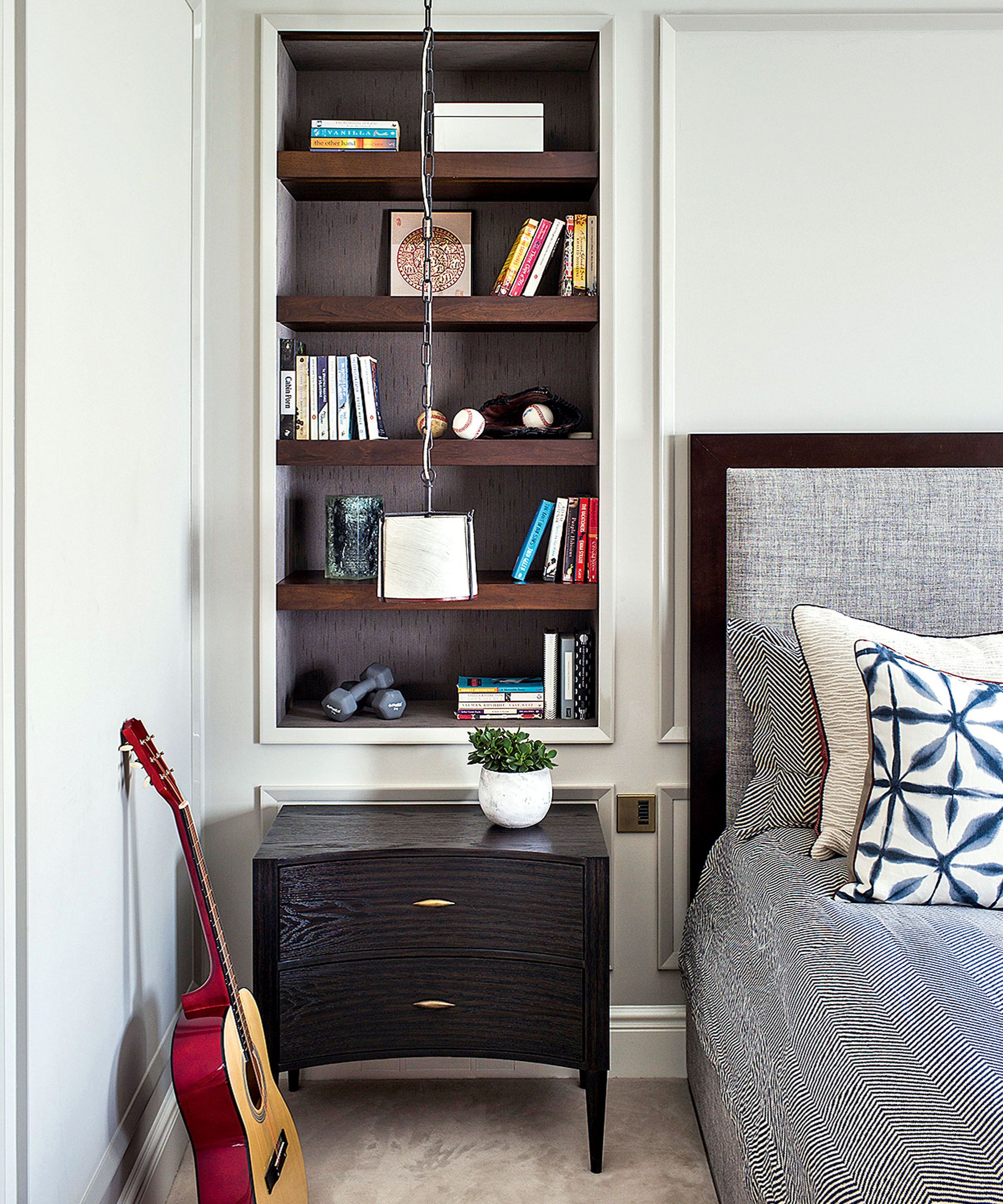 Given that bedrooms usually include a bed, side tables, and clothes storage – along with space to get ready including mirrors and maybe even a dressing table – it can be easy to over-stuff them.
'In small bedroom layouts, rethink what you might consider a traditional bedroom layout and instead consider how to make best use of the space you have,' advises Katie Lion, senior interior designer at Kitesgrove (opens in new tab). 'In general, the more furniture you try to include, the smaller and more cluttered your bedroom will feel, so invest in built-in storage, and incorporate multi-functional furniture where you can.'
Adding too much furniture can also disrupt traffic flow, preventing seamless transitions from one room to another. If you are having to move a chair to access your closet or to open your bedroom door, then you have overfilled the room. As a general rule, a walkway should be at least two feet wide to accommodate moving around the space, making a bed, and getting ready. 
'A rounded back bedroom chair takes up less volume visually, and can fit snugly in a corner,' adds Susie Atkinson of Studio Atkinson (opens in new tab), opening up opportunities for additional bedroom seating even in a smaller space.  
Kitesgrove is a London-based interior design studio based in the heart of Chelsea. They work across a variety of projects with a diverse portfolio from private client homes and family offices to residential developments and commercial spaces.
2. Under-furnishing a bedroom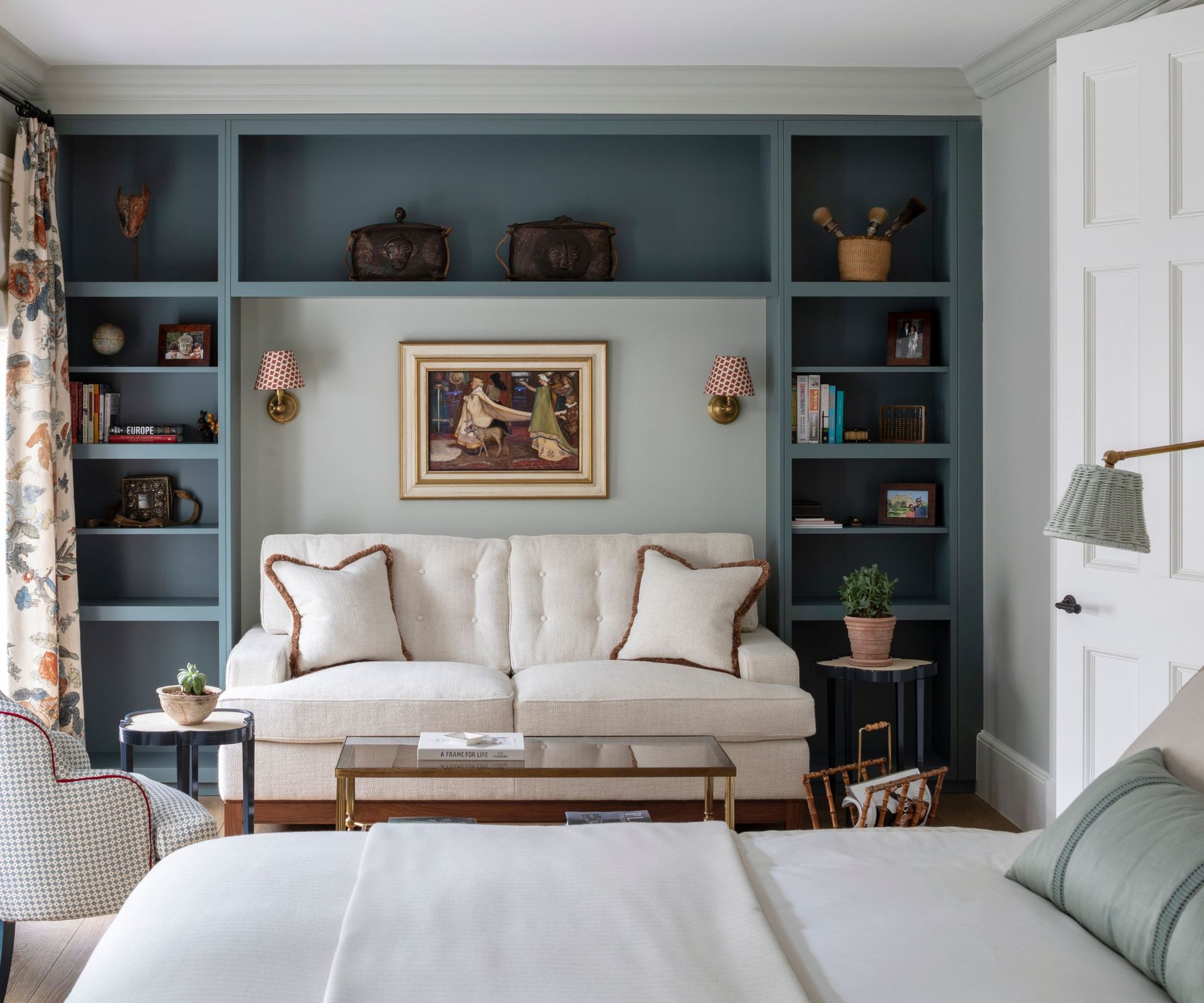 The complete opposite bedroom layout mistake to overstuffing the room? Under-furnishing a large bedroom, which may leave too much space between pieces, making everything feel disconnected. 
For a larger space, consider filling the room with additional functional furniture such as larger built-in units for expansive clothes storage, or adding a separate seating area to provide an additional resting spot that isn't the bed. Consider using bedroom rugs to help zone the spaces if so. 
'We love to introduce four poster beds into our schemes,' says Camilla Clarke, creative director at Albion Nord (opens in new tab). Larger beds like this help to fill both floor space and vertical height in rooms with tall ceilings. 
'We also use a lot of half testers above the bed to add that extra layer of softness to a bedroom instead of it being a blank wall behind the bed. Although sometimes seen as traditional, four-poster beds can be very contemporary, looking elegant, and making a statement in both new and old spaces.'
Across her formative years, Camilla turned a love of art and sketching into a passion for interior design – and, since then, she has worked on everything from contemporary penthouses to Georgian homes. Her strong relationships with suppliers and craftsmen, coupled with her deep knowledge of art and antiques, allow her to craft compelling and unique identities for all kinds of interiors. 
3. Not using niches and alcoves to best effect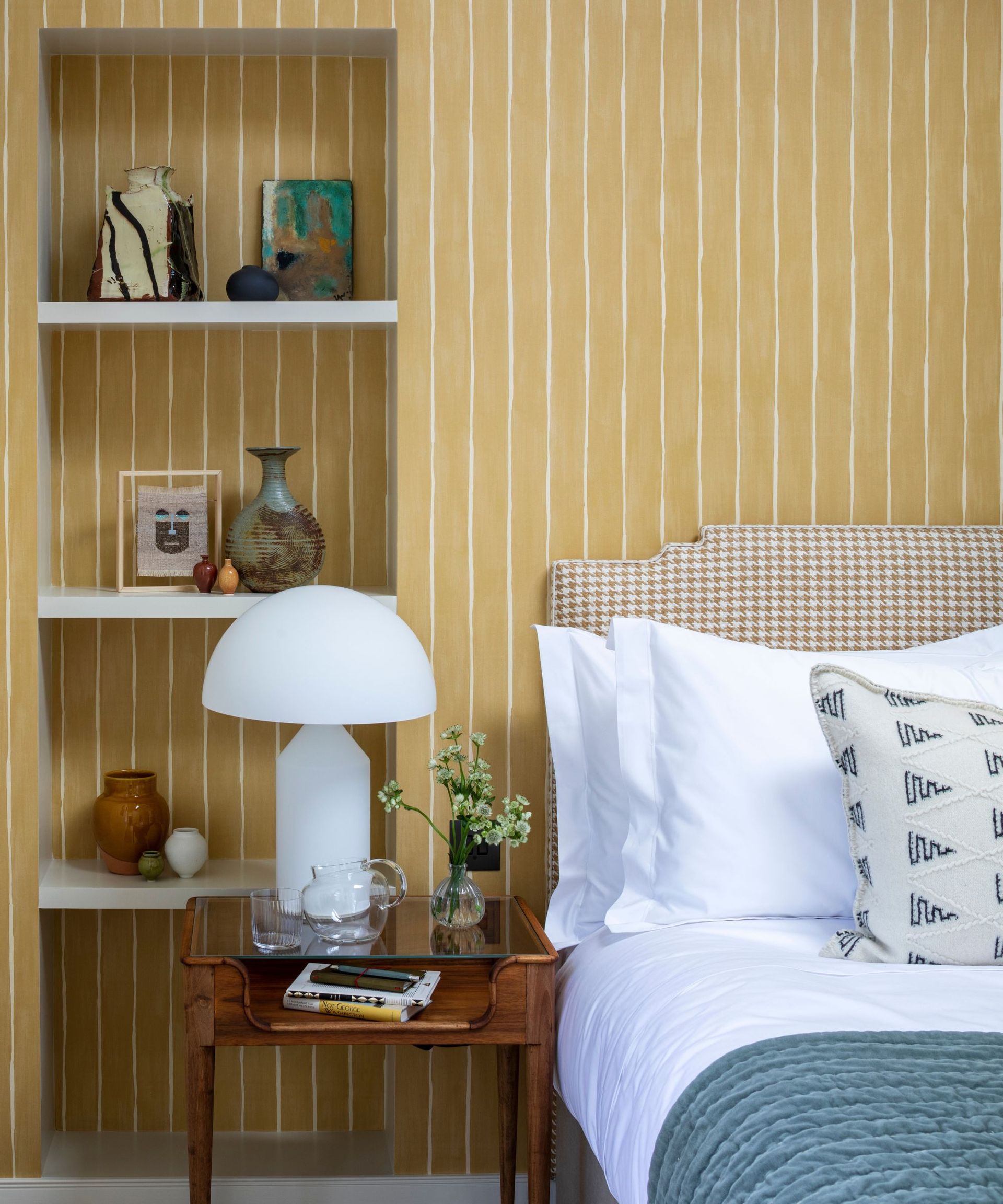 Bedroom storage is a must even in a small space, but bulky furniture and stand-alone closets can break the flow of the room and make it feel more cluttered and less streamlined, says 1stDibs 50, 2022 (opens in new tab) designer, Brigitta Spinocchia Freund (opens in new tab)
'Including storage under the bed or fitted closets made seamless by matching the wall finish to the outer doors offers a more effective way to make use of small space,' she explains. 'Or hide it within the walls, to create less division between walling and furniture pieces.'  
'Too much clutter and open storage on all elevations or wall alcoves should be avoided – an open hanging rail can work as long as the space around it is neat – it's really about curating each corner of the room,' Brigitta warns, however. 'Decluttering and folding neatly reap huge rewards in creating a calm environment.'
Spinocchia Freund is a British design company with a reputation for delivering outstanding international residential projects to discerning clients, whether private individuals, premium developers or boutique hoteliers. Since its 2009 founding by Brigitta Spinocchia Freund, the company has introduced new levels of boutique luxury and originality to the interior design world.
4. Not picking furniture that matches your room's proportions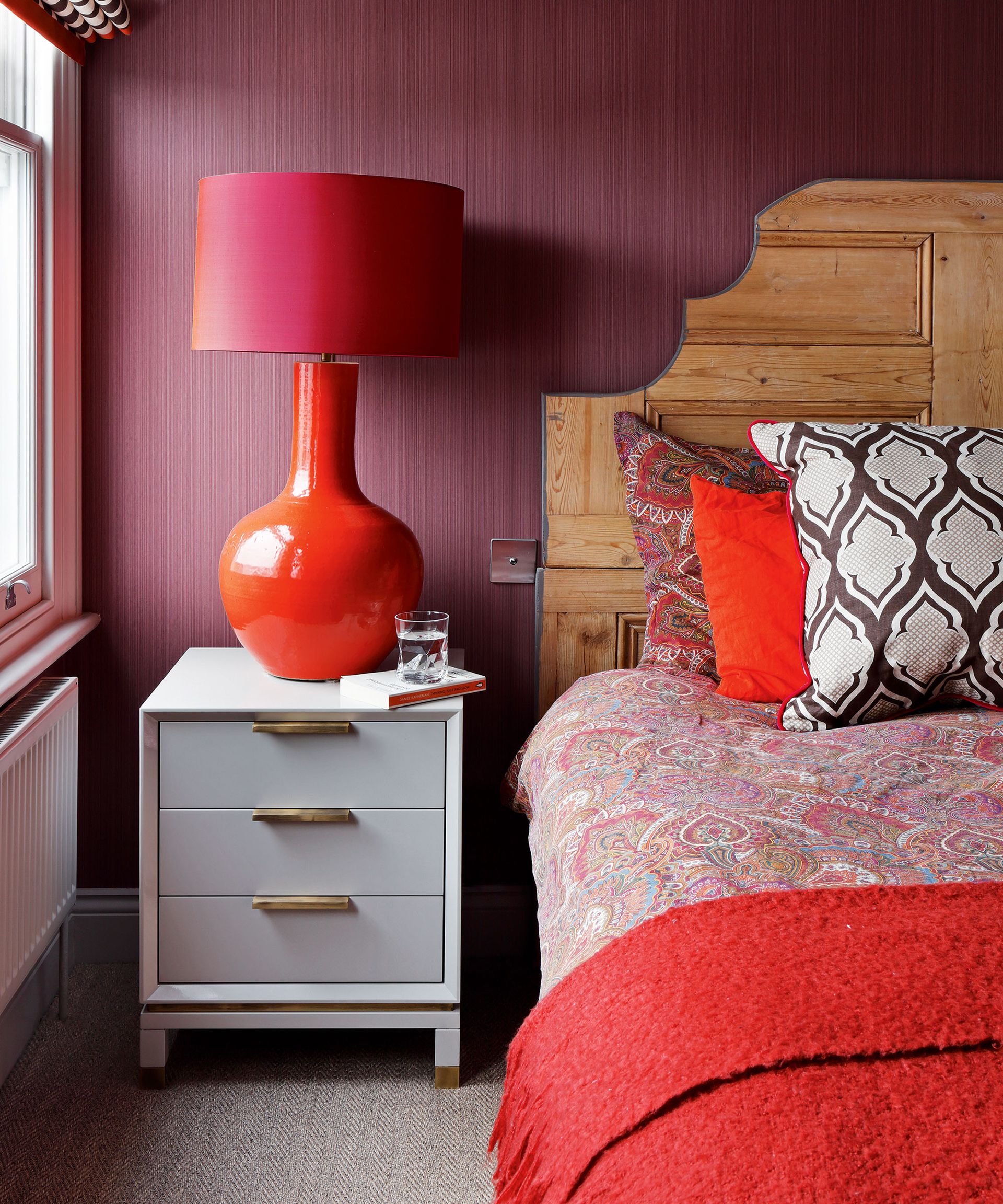 Bedroom furniture should always be scaled to the size of the room, and to one another, recommends Susie Atkinson, founder of Studio Atkinson (opens in new tab). 
'It is always important to consider the size of a bedroom when choosing furniture. It should align so that the chosen pieces don't either look enormous in a small bedroom or minute in a huge bedroom. A bed that's too high for the room can make the space feel smaller, lowering the bed can give the illusion of more space, for example.'
It is not just the larger foundational bedroom pieces that this rule applies to, adds interior designer, Heidi Caillier (opens in new tab). 'An ill-sized rug or bed that is too large for the room can disrupt a space too.' 
Heidi Caillier Design is a full-service interior design firm, with a project portfolio spanning San Francisco, Los Angeles, New England, the Pacific Northwest and beyond. The studio works closely with architects, builders, contractors, furniture makers, and artisans to create unique spaces.
5. Not questioning the bed's position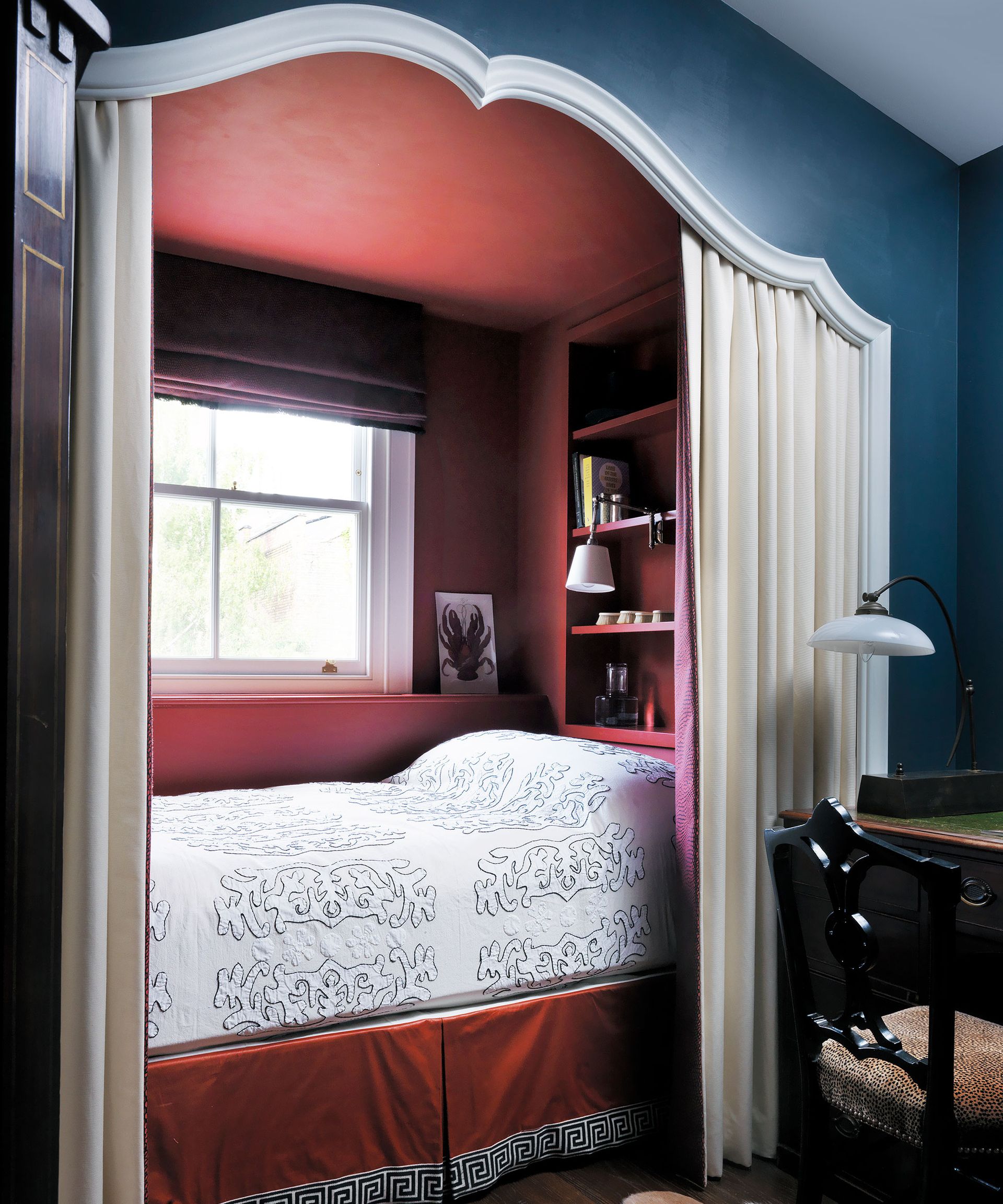 The best position for your bed isn't always immediately obvious, but as it's the focal point you should try to decide where it should go before you consider anything else.
'Incorporating a bed alcove is a great way of making use of space in a small bedroom or for making large bedrooms feel cozier,' suggests Suzanne Duin, founder of Maison Maison (opens in new tab). 'Add a curtain for additional privacy – a secret yet magical hideaway from the outside world.'
In a larger bedroom this may be impractical, however, warns interior designer Heidi Caillier. 'We always strive for two bedside tables. It can help a room feel balanced, even if the tables have to be small.'
Located in the heart of Houston's River Oaks, Maison Maison is noted for beautiful lamps and antique pillows, French antiques and home accessories. Suzanne's residential design firm covers everything from remodels to ground up projects.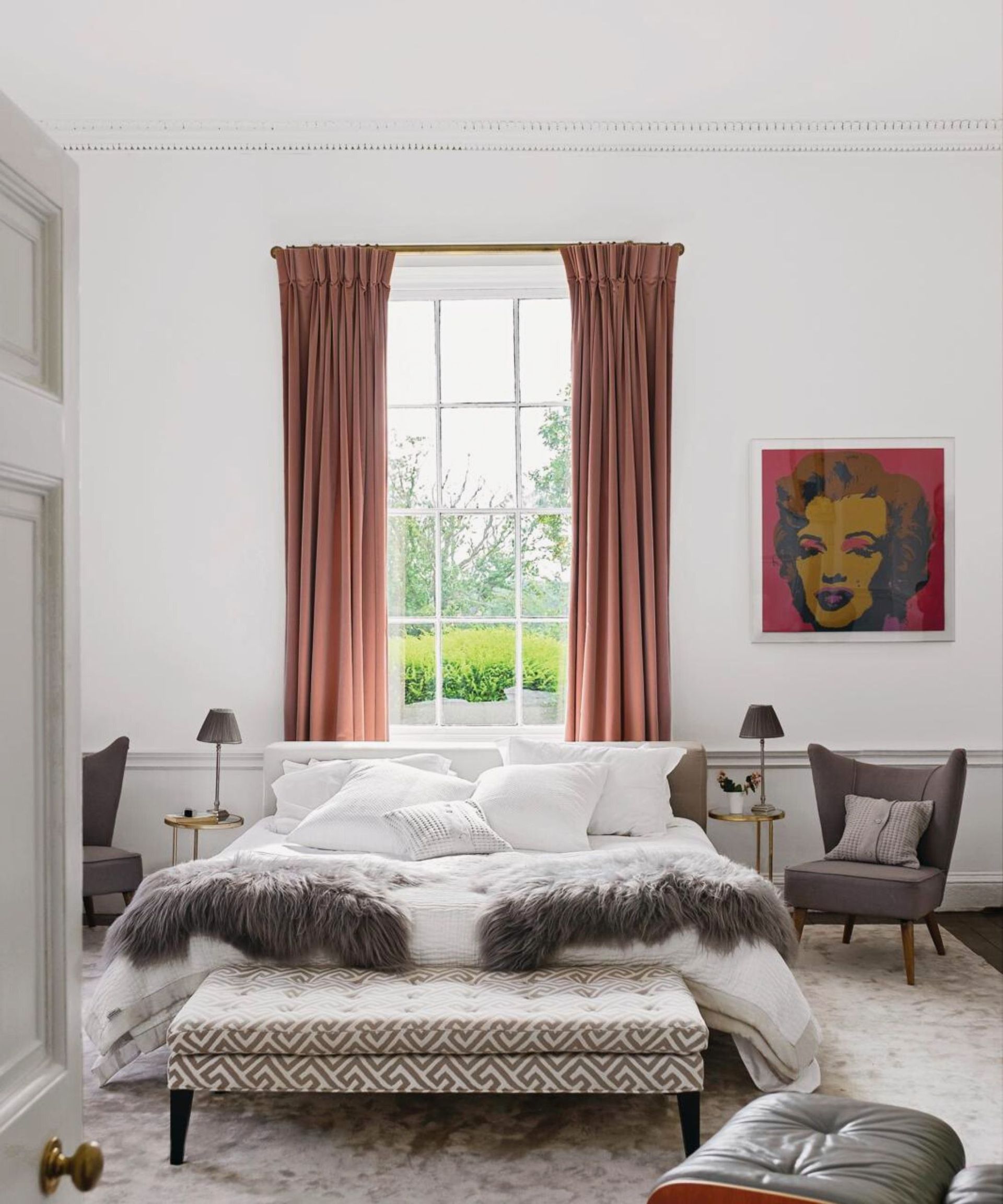 'I like to have a bed facing a window,' says Susie Atkinson of Studio Atkinson. 'This helps provide a really good view from the bed and allows more natural light to flood in.' 
If placing the bed opposite the window is not possible, then using a bed with a lower headboard beneath the window can help with the flow around the room, but you may need to create a new focal point on the opposite wall for the bed to look out over. 
Using a low headboard allows the window to frame the bed, especially when bedroom curtains are hung on either side to create symmetry behind bedside tables. You could also center the bed between two windows for a similar effect.
Susie Atkinson uses her experience and broad knowledge honed over many years to create spaces that are inviting, timeless and indulge all of the senses. Understanding a client's dreams and aspirations and collaborating with them to create interiors that are individual and bespoke, is at the heart of her design philosophy.
6. Not leaving space for lighting on walls and floors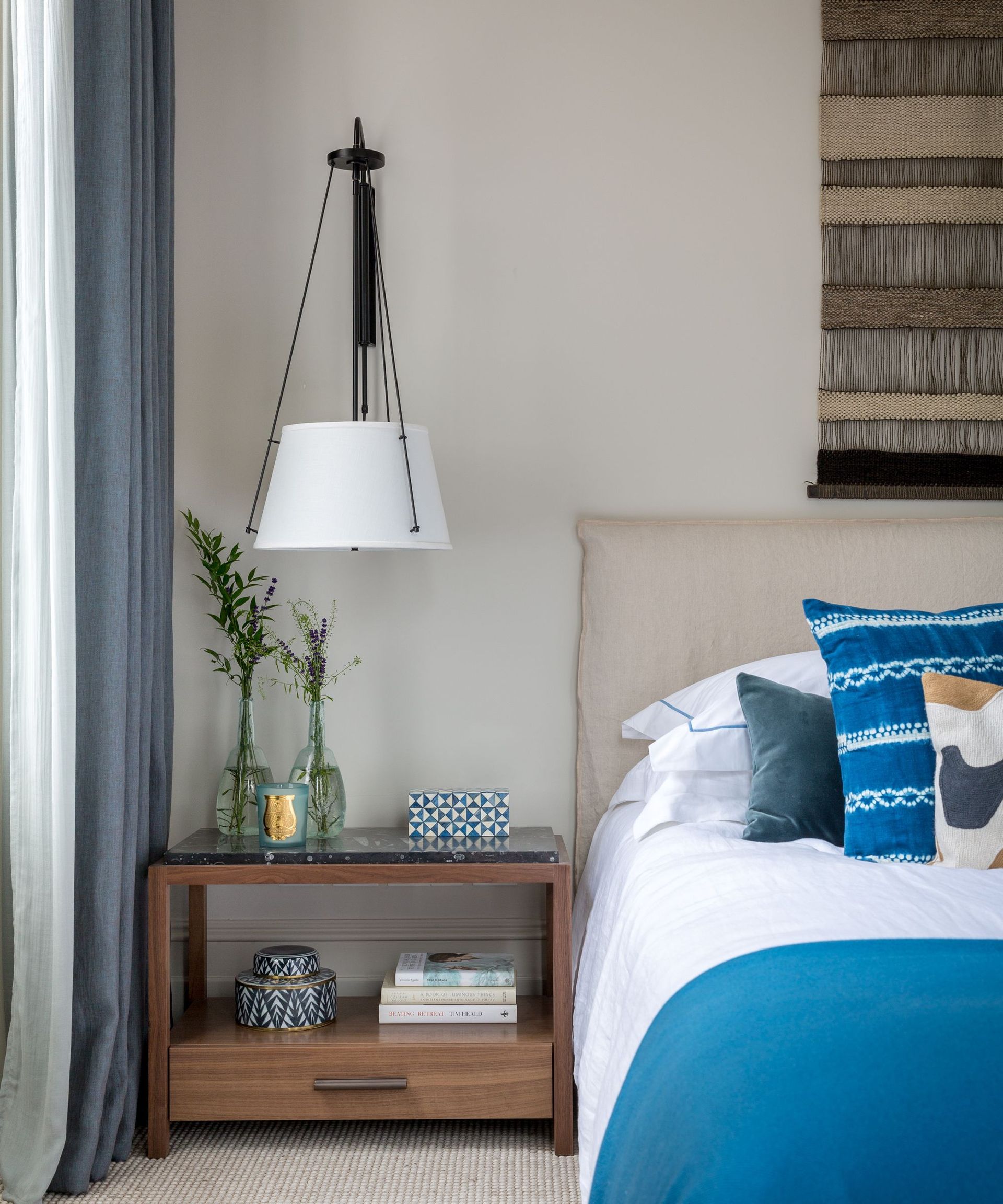 Bedroom layout mistakes can including lighting. 
If you have lots of tall furniture blocking walls, expansive wall decor, or have a small footprint, then you may be inhibiting proper bedroom lighting. 
Bedroom lighting mistakes such as neglecting to layer lighting, or skipping out on key lighting fixtures can all make even the best bedroom layout look or feel impractical. 
'Bedrooms, especially, need ambient lighting throughout to make them feel glowy and cozy,' says Heidi Caillier. 'Lamps are crucial in all bedroom layouts, and the shades provide for a soft muted light that feels nice in a bedroom.'
'Always allow for warm-up lighting, reading lighting, and good mirror lighting for makeup,' adds Brigitta Spinocchia Freund. 'A common mistake is having incorrect overhead lighting that creates glare, not allocating reading lighting in correct locations, and not having enough settings on lighting to create different scenes throughout the day.'
Consider removing a piece of wall art in favor of a sculptural wall lamp, or using space in a corner or beside the bed to add in a standing floor lamp to help in layering. 
8. Not planning in enough closet space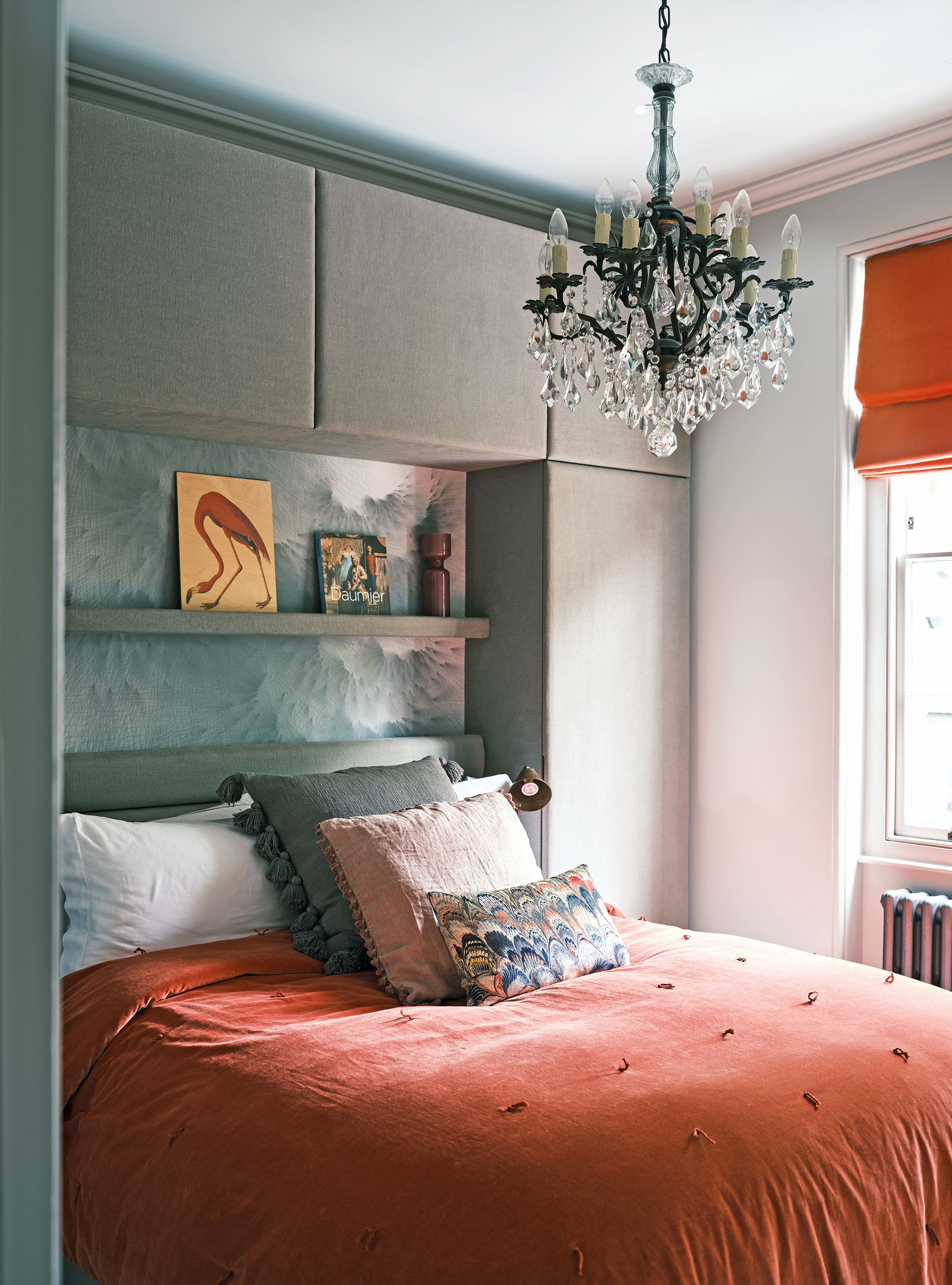 While it can be tempting to guess how much clothes storage when designing a bedroom, it's easy to misjudge and end up with less space than you really need. It's always preferable to have a surplus of bedroom storage to grow into than too little. 
'Not only a practical addition, but the installation of fitted furniture will also help to instantly refresh a home's aesthetic,' says the director at bespoke furniture specialists Neatsmith (opens in new tab), Philipp Nagel. 'The format that a closet takes will be equally as important as the style and finish of the design. 
'Behind-the-bed, walk-in closets have seen a surge in popularity for houses with a large principal bedroom but no spare room. By moving the bed away from the wall and placing the closet between the two, a longer or larger principal bedroom utilizes the available space within the room. Aside from having more space, ease of use is prevalent in these designs, assuring convenience by keeping items close at hand.'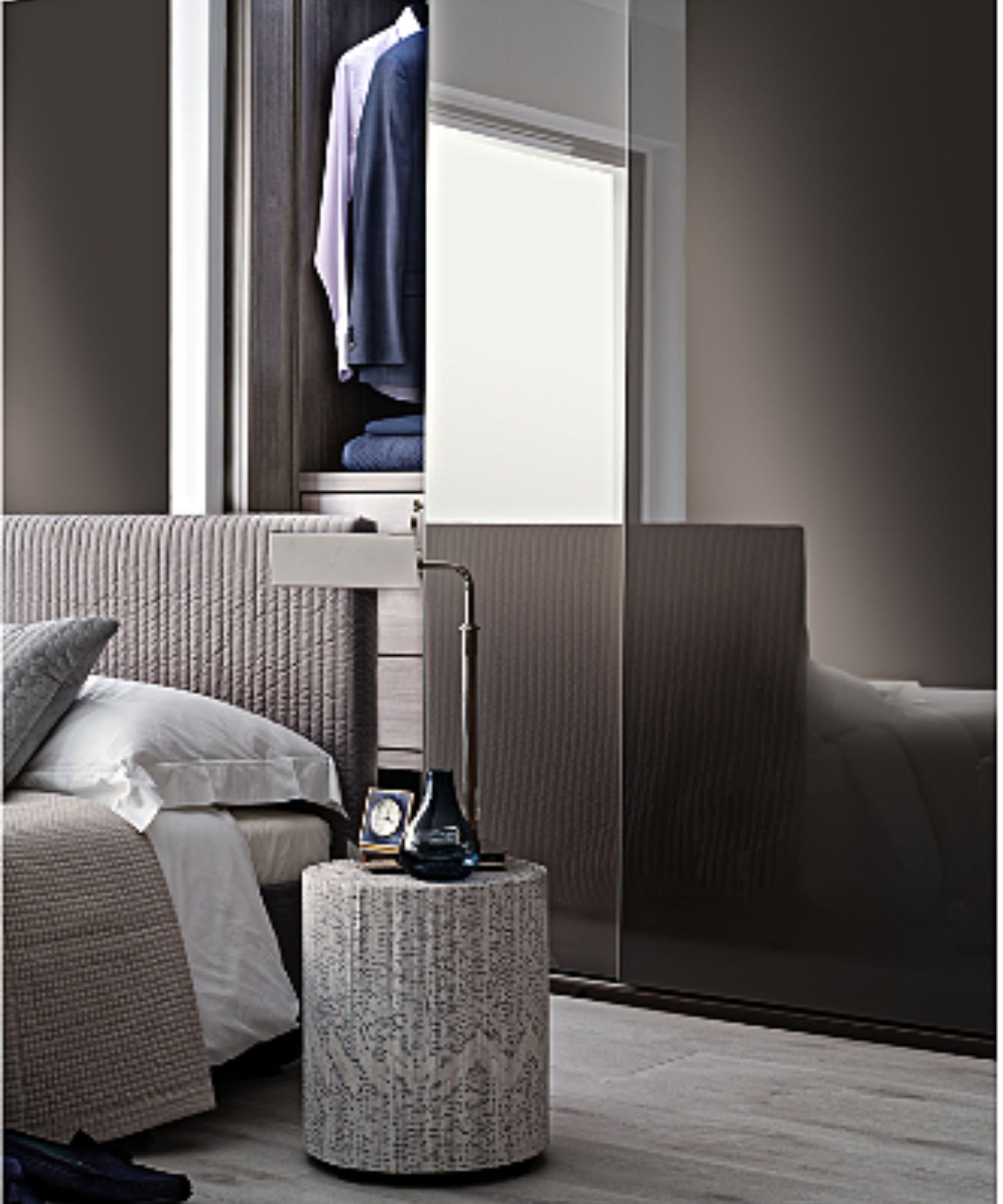 'For those with the extra space, the desire to take an existing and under-utilized spare room and make it into a walk-in is a big priority for many of our clients,' Philipp continues. 'By working with the individualities of each home, bespoke designs are created to accommodate and fit the specific space, ensuring a streamlined, perfectly fitted, and sleek finish.'
9. Blocking natural light with large furniture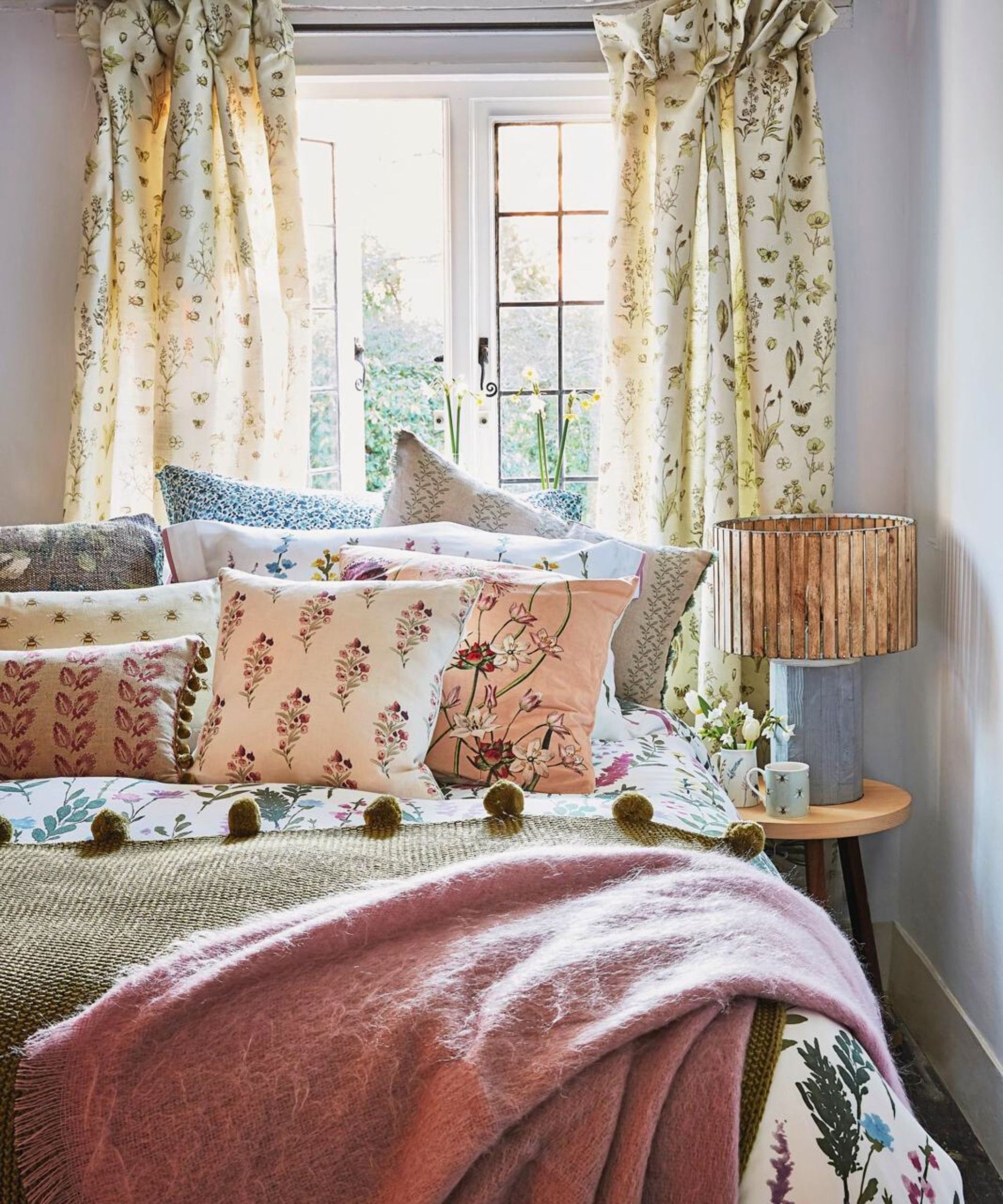 Letting natural light into a bedroom can help you feel happier at home. It is, therefore, essential to prevent blocking windows with bulky furniture. 
'Blocking windows with furniture like dressers or tall headboards can make a room feel claustrophobic,' explains Jennifer Ebert, deputy editor (digital) for Homes & Gardens. 'If you need to put a piece of furniture by a window, consider a desk without a mirror for casual working to prevent blocking light, or a bench to sit on while getting ready or to admire the view,' Jennifer suggests. 
What should you not do in a bedroom layout?
Poor positioning of the bed is possibly the worst bedroom layout mistake you can make. A double bed should be accessible from both sides to be practical, and you should ideally never place the bed so that the foot of it faces the door (known as the 'death position'), according to Feng Shui bedroom layout priniciples.