London Houses, Property Images, New UK Capital Homes, Buildings, Architects, Residential Architecture
Contemporary Residential Buildings in Southeast England – Contemporary British Homes in the UK Capital
post updated 21 March 2023
London Houses in 2023
London Residential Architecture News, chronological:
10 Mar 2023
Holly Walk House, Hampstead
Design: Square Feet Architects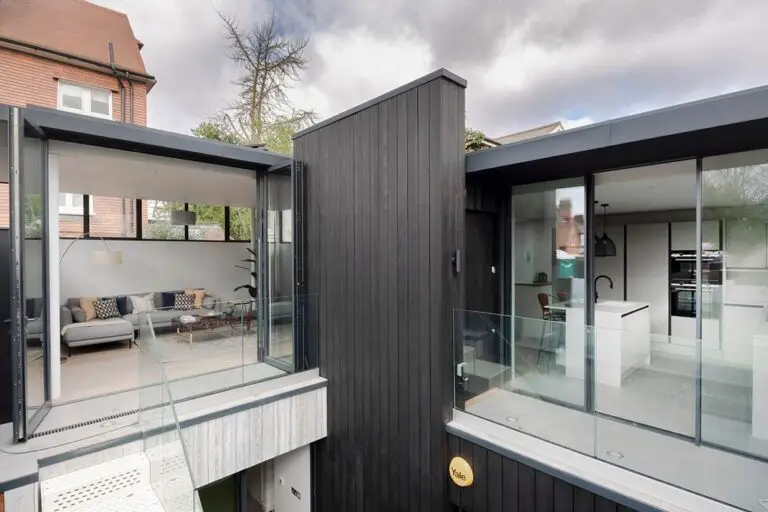 photo : Daniel Leon
Holly Walk House, Hampstead
This stunning new build North London house has just been completed on a backland site. The plot, which was previously home to three garages, has been transformed into a luxurious family home, set opposite a picturesque church graveyard.
9 Mar 2023
Thornhill House, Islington, northeast London
Design: Bradley Van Der Straeten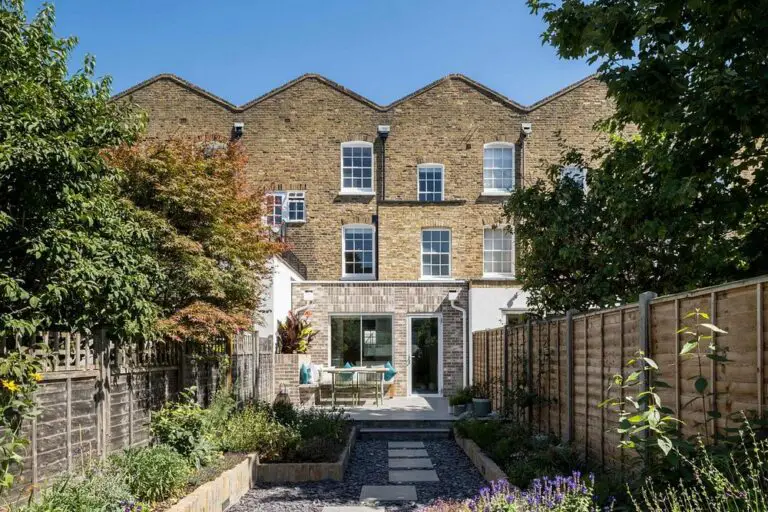 photo : French + Tye
Thornhill House, Islington
Thornhill House – a respectfully modernized Grade II listed terrace in Islington, that provides its owners a quiet and secluded retreat. Bradley Van Der Straeten's clients had been recommended by a previous client of the architects' and were looking for an architect to help them transform their beautiful Grade II listed property in Islington.
26 Jan 2023
Bloomsbury Mansion Apartment
Design: LLI Design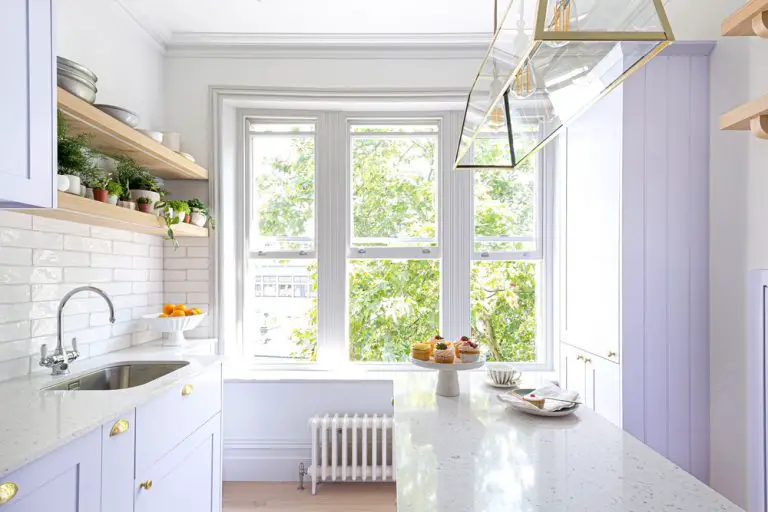 image courtesy of Barnet Council / architects practice
Bloomsbury Mansion Apartment
LLI Design were commissioned to completely redesign and refurbish Bloomsbury Mansion Apartment, a period apartment in a grand mansion block in the heart of Bloomsbury London.
London House Designs in 2022
29 Dec 2022
Abstract Barnes, Borough of Richmond upon Thames
Design: Matteo Cainer Architecture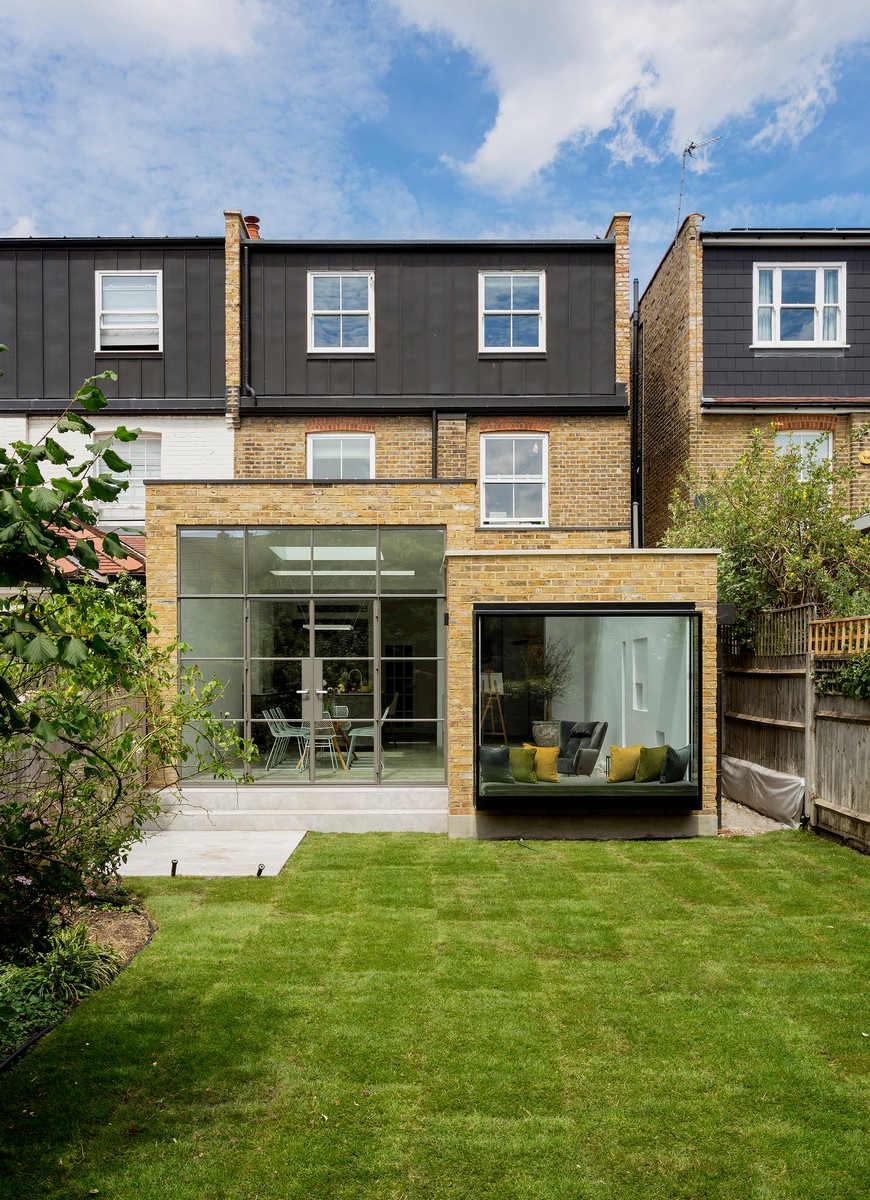 photograph : Guifré de Peray – Veeve
Barnes house extension in southwest London
25 Nov 2022
Mews House Deep Retrofit – sustainable property shortlisted for RIBA House of the Year 2022
Design: Prewett Bizley Architectss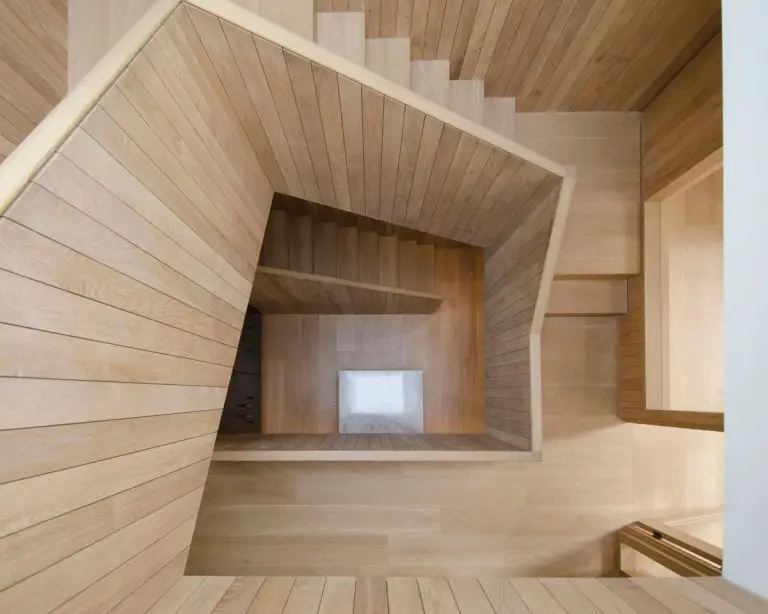 photo © Tom Graham
Mews House Deep Retrofit, London
This interesting residential project extensively refurbished an existing end-terrace mews. As well as enabling the client's family to remain in their community, the upgrade has radically improved the house's carbon footprint and enhanced its local conservation area setting.
21 Nov 2022
Former Elton John Recording Studio, St Stephen's Avenue, Shepherd's Bush, Hammersmith, west London
Design: Granit Architecture + Interiors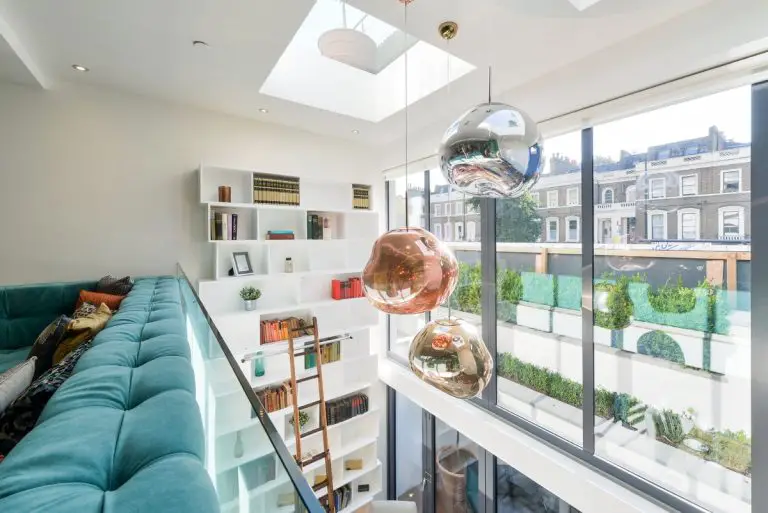 photo courtesy of Dexters estate agents
Former Elton John Recording Studio, Shepherd's Bush
Located in Townhouse Mews on St Stephen's Avenue in Shepherd's Bush, the historical address that was once the old Virgin recording studios – where Elton John famously recorded the fastest selling single of all time, 'Candle in The Wind'. The property is a 2000 sq ft four-bedroom family townhouse for sale via Dexters.
4 Nov 2022
EDEN HOUSE, Green Belt, near London, southeast England, UK
Design: Windsorpatania Architects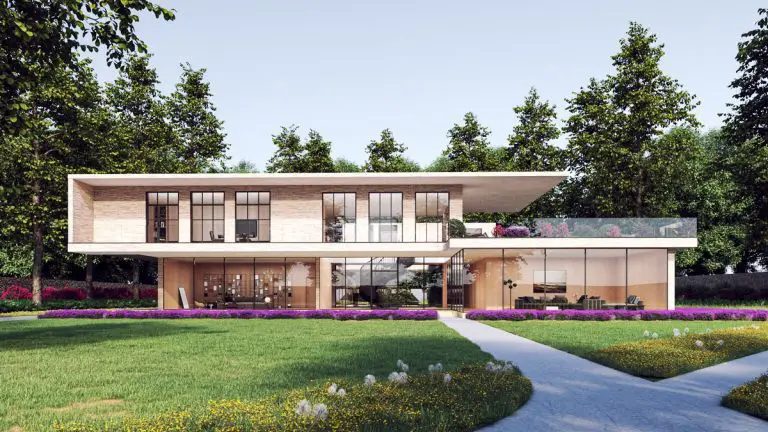 image courtesy of architects practice
Eden House, sustainable luxury country home
Eden House is an ambitious and innovative project that is about to set a new standard for sustainable luxury country houses in the UK. The technologies and knowledge acquired during the process will be shared with the local and national communities, setting a new standard for sustainable luxury private residences.
22 Aug 2022
Casa del Sol, South London
Design: Sophie Nguyen Architects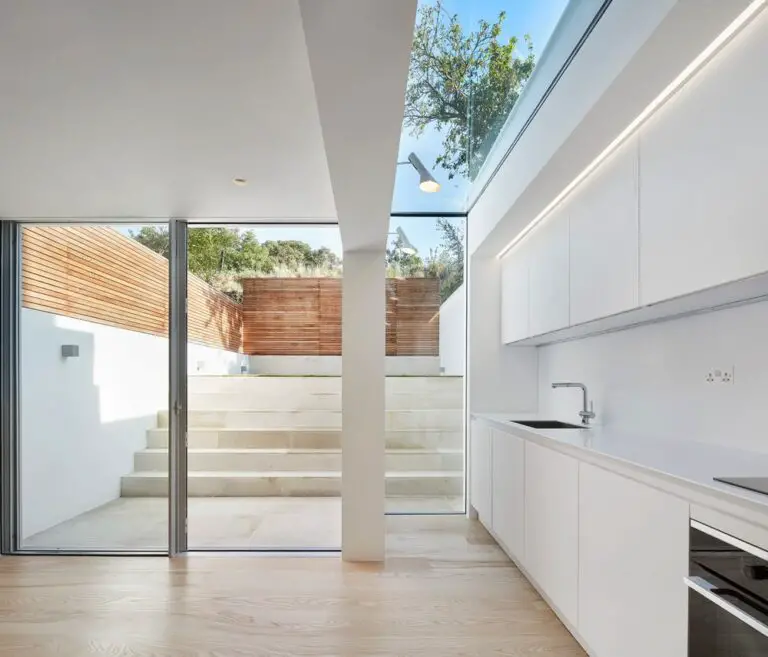 photos by Hufton + Crow and Ruth Ward
Casa del Sol, South London
Casa del Sol is the remodelling of a townhouse in South London to create a generous living space on the lower ground floor and add a new bedroom and bathrooms on the upper floors. An innovative glazed gap was created to define the new kitchen.
4 Aug 2022
Chiswick House
Architects: Gregory Phillips Interior Design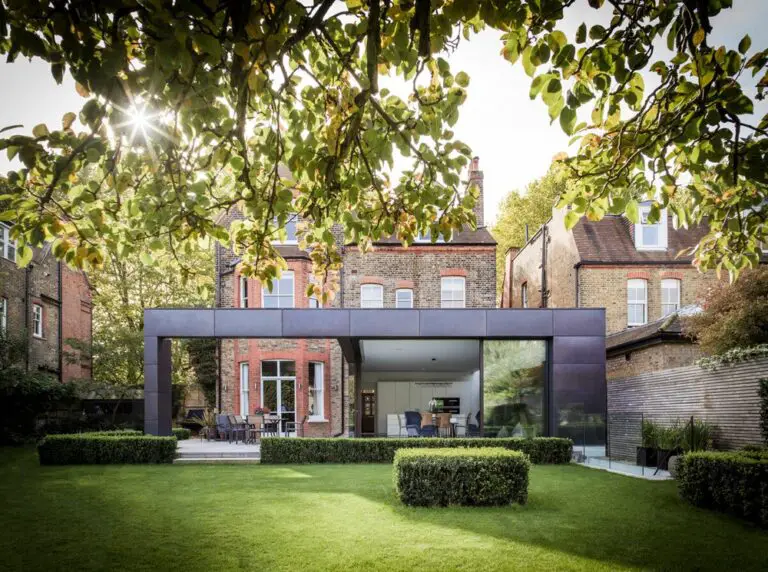 photo : Mel Yates
Chiswick House, West London Property
This 6-bedroom Victorian home in West London has been given a contemporary update while preserving its period grandeur. Gregory Phillips Interior Design were commissioned by their clients in Chiswick to create a luxurious and comfortable modern home that is both practical and beautiful.
27 July 2022
St Augustine, Camden, North London
Design: Square Feet Architects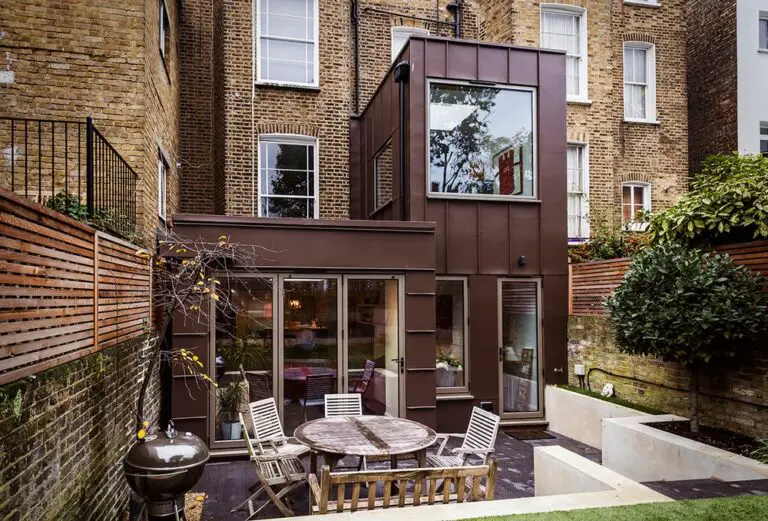 photo : Rick McCullagh
St Augustine House, Camden
The new owners of the St Augustine townhouse close to Camden Square wished to reconfigure certain aspects to better meet the needs of their family. Square Feet Architects created two study/work areas – one a raised, ground-floor glass and brown zinc cube; the other, a garden room clad in black zinc.
7 July 2022
Islington Loft Conversion, Upper Street, Islington
Design: Square Feet Architects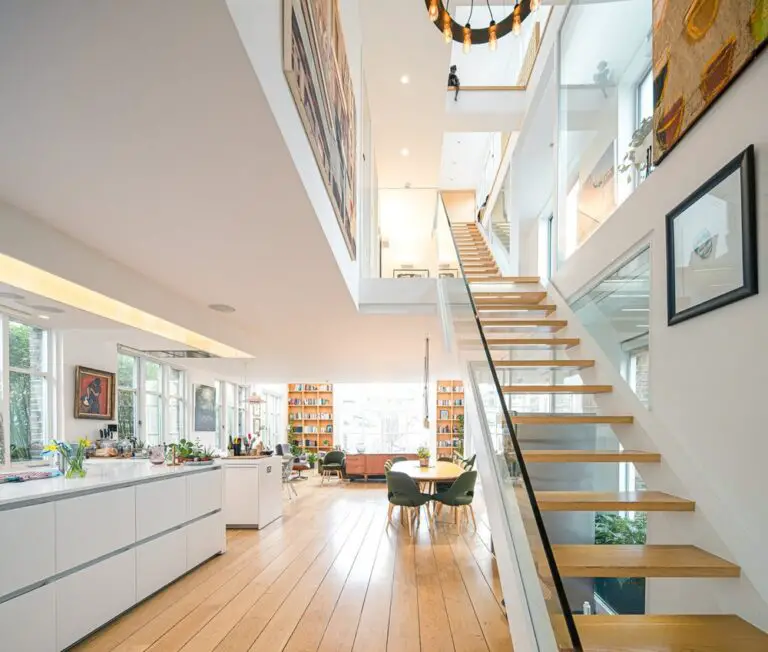 photo : Dan Welldon
Islington Loft Conversion
The Islington Loft Conversion property is a former factory building, converted into a three-bedroom triplex in the 1990s tucked behind and above the hustle and bustle of Islington's Upper Street.
4 July 2022
Totteridge House, Totteridge, Barnet, Northwest London
Design: Gregory Phillips Architects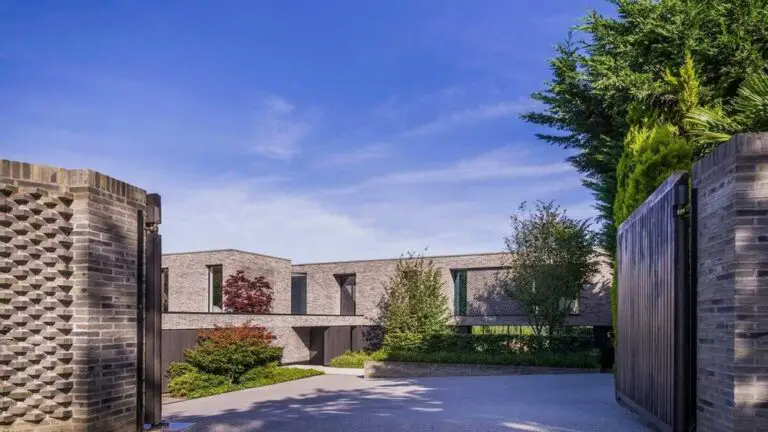 photo : Mel Yates
Totteridge House, Barnet
Sitting adjacent to its traditionally designed neighbours, in a sparse area on the edge of London and the Green Belt, Totteridge House is unequivocally contemporary home has replaced a dated bungalow, where the clients lived for many years. Gregory Phillips Architects has designed and built a striking, contemporary, five bedroom family home.
24 June 2022
Ditton Hill House, Surbiton, Southwest London
Design: Surman Weston Architects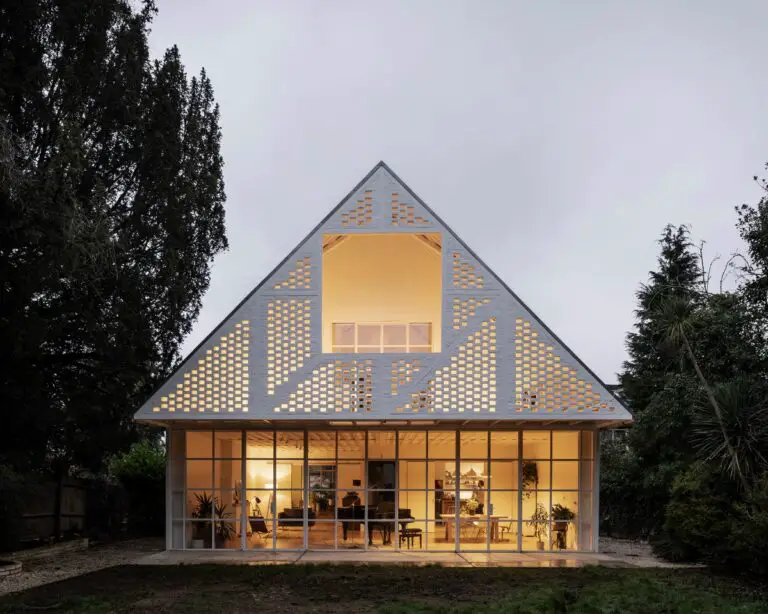 photograph : Johan Dehlin
House in Ditton Hill, Surbiton, Surrey, London
Ditton Hill House is a new-build, two-storey detached house on a suburban street in Surbiton. The client's brief was for a contemporary two-bedroomed home with an industrial aesthetic, but not simply a minimalist open plan box.
6 Jun 2022
Culverden Road House, Balham, Borough of Wandsworth, South London
Design: Ciarcelluti Mathers Architecture Ltd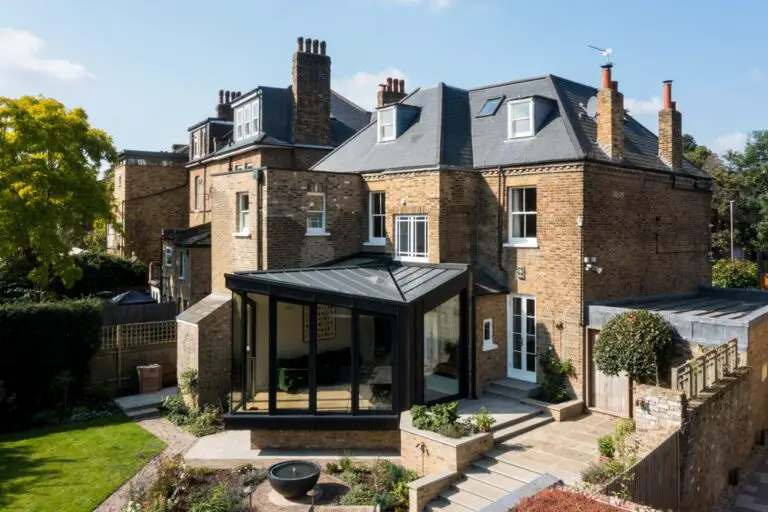 photo : French + Tye
Culverden Road House, Balham
The cantilevered garden room at Culverden Road House replaces an outdated, inefficient conservatory that had occupied the prime position at the rear of a detached property in Balham. A Victorian house within the Culverden Road Conservation area, the rear garden has views and direct access to Tooting Bec Common.
9 May 2022
Stanhope Avenue House, Finchley, North London
Design: Iguana Architects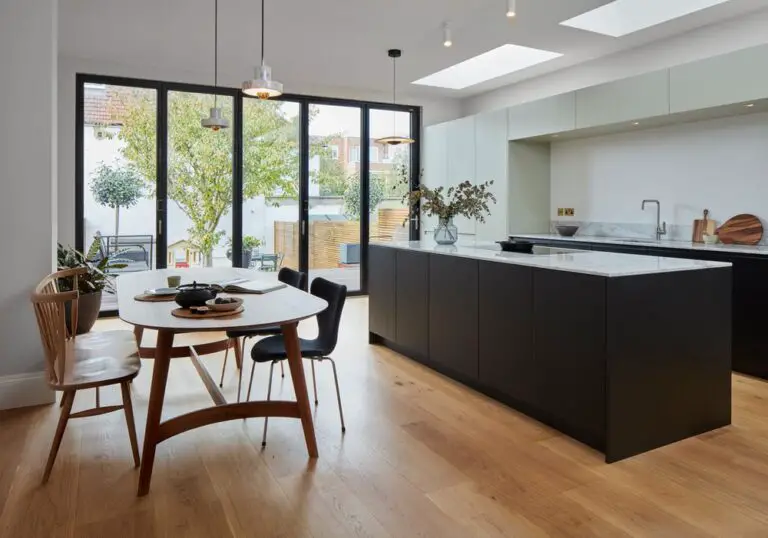 photo : Juliet Murphy
Stanhope Avenue House in Finchley
The big challenge on a fast paced project like this is that whilst all the 1st fix work was done and being built, non of the second fix was developed. It took a lot of effort from the clients and ourselves to develop an interior design language that met their requirements and the clients were absolutely fantastic with their choices of finishes and lighting.
7 April 2022
Victorian Terraced Townhouse, Highgate, North London
Design: LLI Design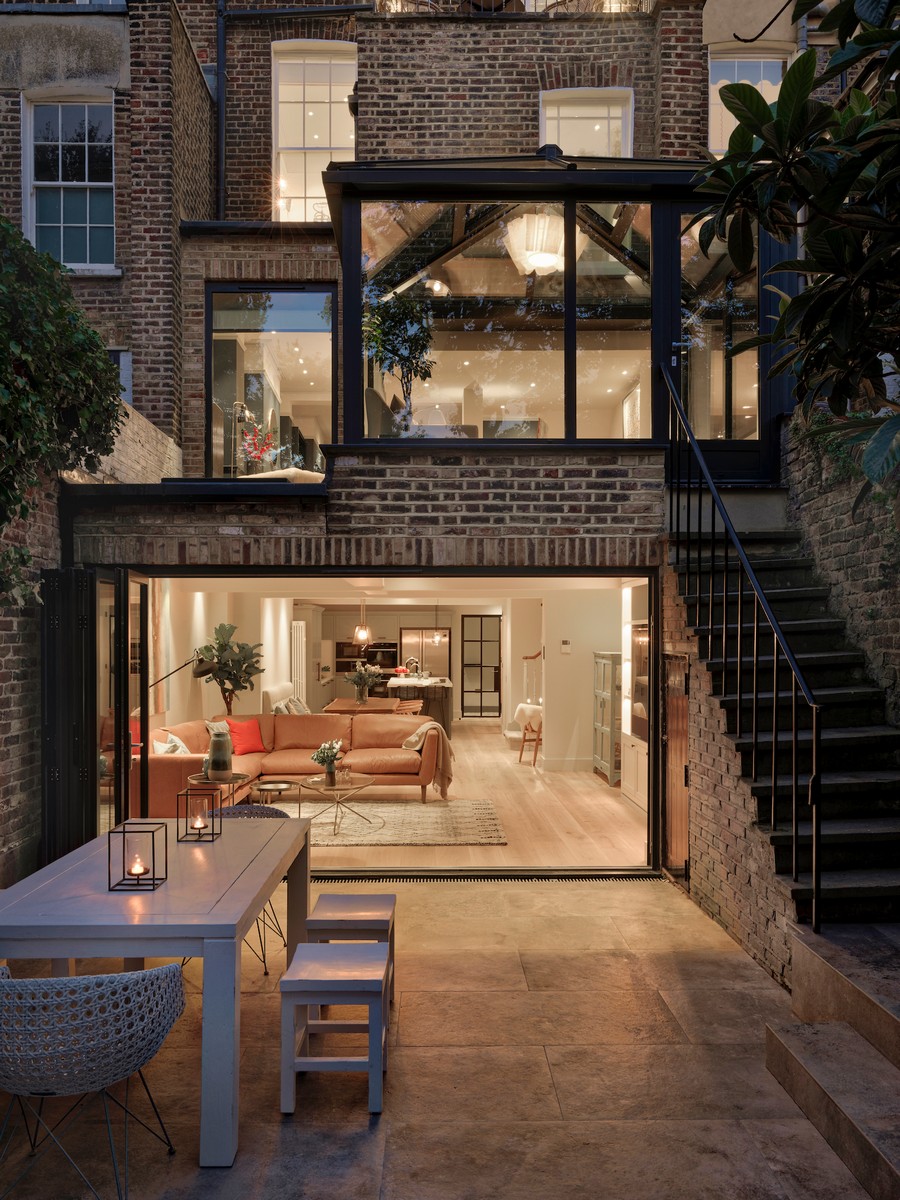 photo : Richard Gooding Photography
Victorian Terraced Townhouse in Highgate
LLI Design recently completed a total redesign and refurbishment of a 5-storey, period terraced townhouse in Highgate, North London. The townhouse sits within the Highgate Conservation area, so any architectural amendments had to be approached in a sensitive manner.
More contemporary London Houses on e-architect soon
London Houses in 2021
28 Oct 2021
Walters Way, Lewisham, South London
Design: MAP Architecture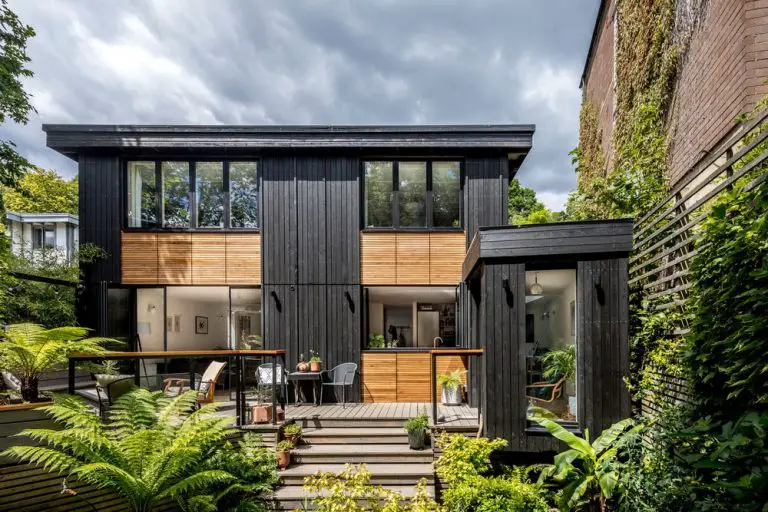 photo : Taran Wilkhu
Walters Way House, Lewisham
MAP Architecture was asked to design and oversee the Walters Way extension and full-house refurbishment for this locally-listed, self-built, timber-frame "Segal House" in south-east London. The architects worked closely with the clients themselves – who carried out the majority of the construction work – as well as with Jon Broome, who assisted renowned architect Walter Segal on the original house in the 1980s.
31 October 2021
De Vere Gardens Apartment, Kensington
27 September 2021
House + House, Northwest London conservation area
Design: Robert Hirschfield Architects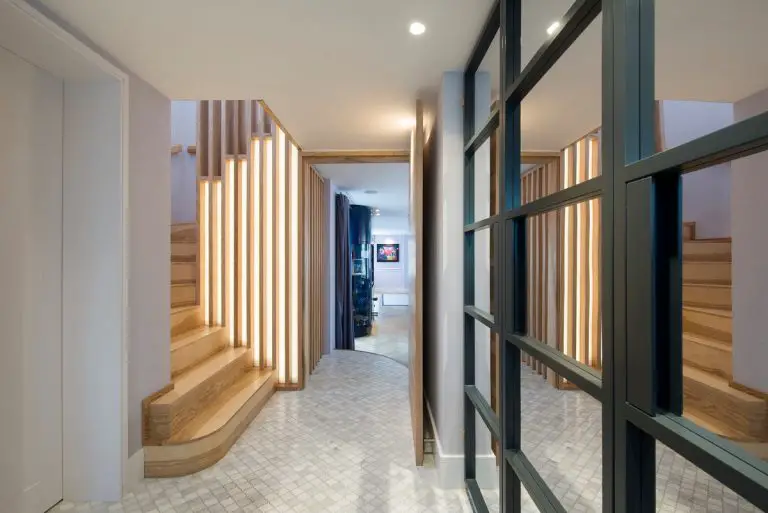 photo : Leigh Simpson
House + House, Northwest London
RHA has completed the radical transformation of a home in a North-West London conservation area. In a city where land is scarce and house prices are rising 'House + House' offered a solution for densifying low-rise semi-detached residential plots that could no longer be extended individually. By amalgamating two houses into one, these combined dwellings offered the house owners and their family additional living space without the need to relocate from their existing home.
15 Sep 2021
Wooden Annex
Design: Tsuruta Architects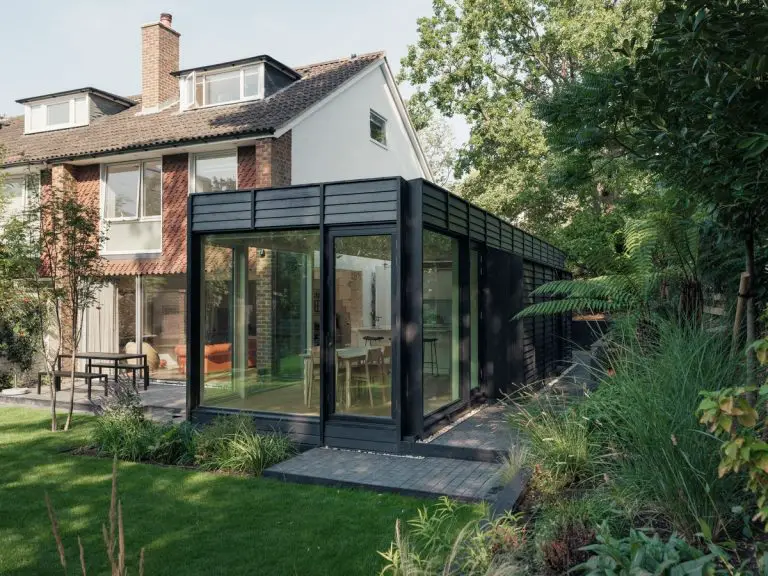 photo : Tim Crocker
Wooden Annex London House Extension
Tsuruta Architects fully refurbished the existing 1950's end of terrace house and extended it with the addition of a single-story timber annex. The large garden came with 9 different adjacent landowners and three beloved mature trees, all of which influenced the proposal.
Wooden Roof
Design: Tsuruta Architects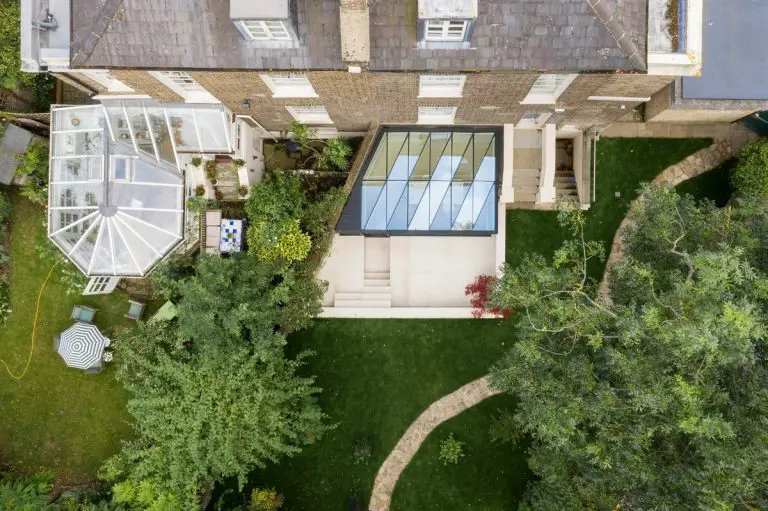 photo © Ståle Eriksen
Wooden Roof by Tsuruta Architects
The simplicity of adding conservatory to house provides incredible range of expressive opportunities – sophistication and elegance.
4 Sep 2021
Wandsworth Cottage, Wandsworth
Design: Patalab Architecture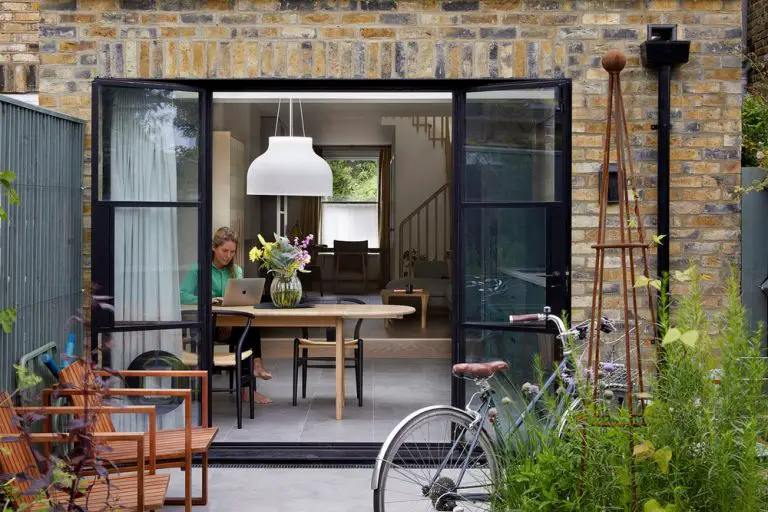 photo © Julian Abrams
Wandsworth Cottage, South London
Built in the late 19th century as part of a large new estate in South London, Wandsworth Cottage is a small Victorian terrace house originally built as a modest workers' cottage. The house was in a tired state and there were structural issues that needed to be addressed, justifying the opportunity to fundamentally rearrange the layout.
4 Sep + 30 Aug 2021
The Picture House, Balham, South London
Design: NOTO Architects Limited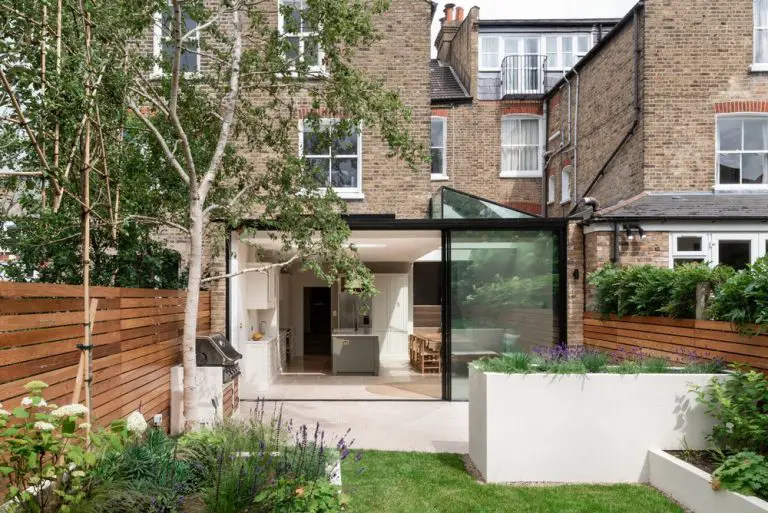 photo : French + Tye
Balham House Extension
The Picture House was derived from a clear client brief for a rear extension- maximise the proportion of the glazing to the rear facade, and in turn minimise the appearance of the other constructed elements. Through considered architectural detailing, the roof structure and drainage details are visually independent of the large-format sliding doors, allowing the glazing to sail in front of the structure.
4 May 2021
Highgate House Restoration, Highgate Conservation Area, North London
Design: Cairn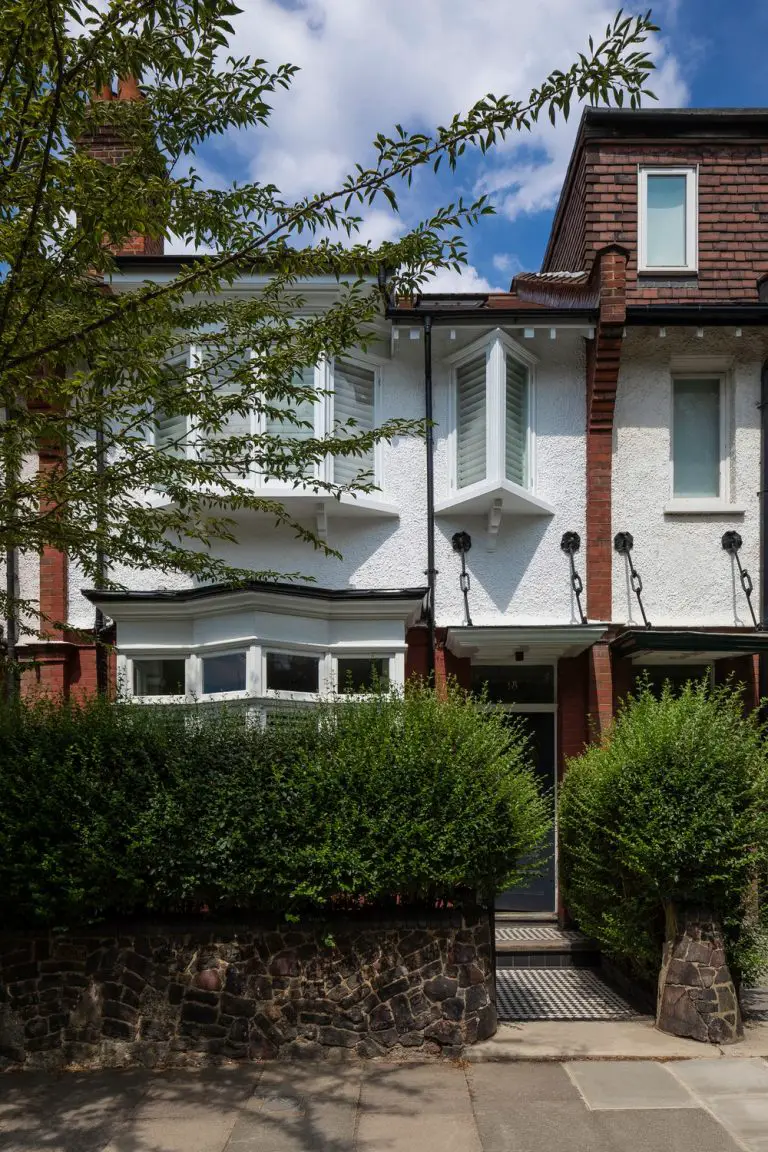 photograph : Peter Landers
Highgate House Restoration
This Edwardian property restoration project brought a dilapidated home back to life, re-organising the arrangement to suit the lives of a young family and converting the roof space. A huge amount of work was required to restore the home and modernise the layout and environmental performance.
27 Apr 2021
Sponge Urban Living
21 Apr 2021
House for a Gardener, Haringey, Northeast London
Design: Amos Goldreich Architecture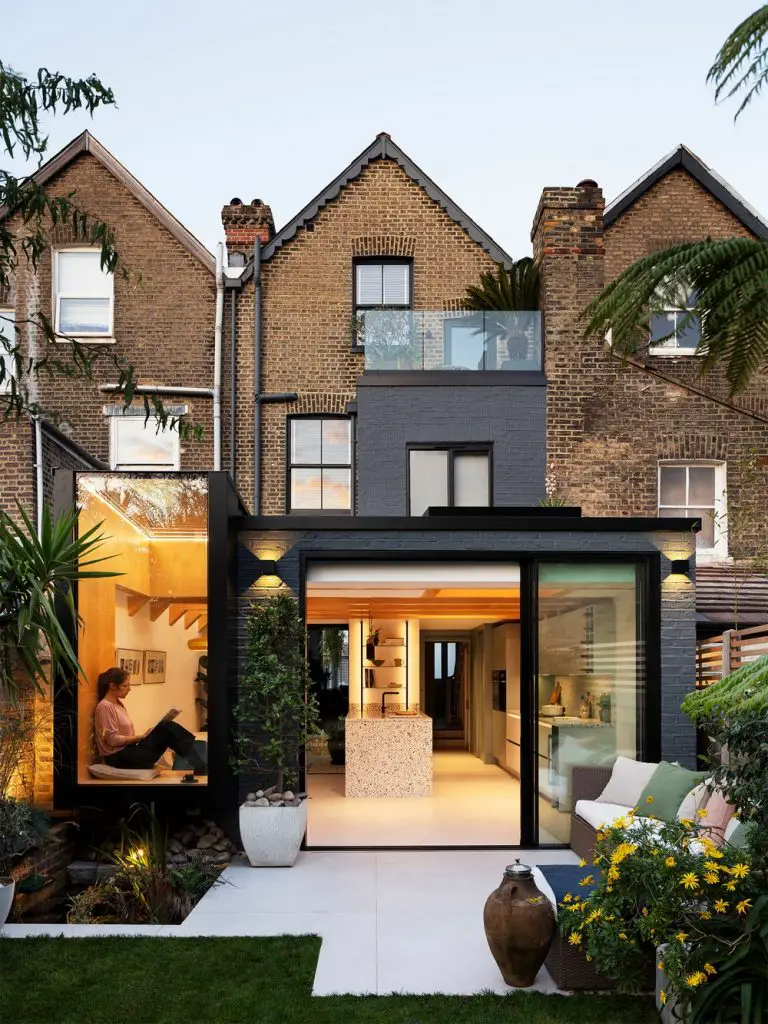 photograph : Ollie Hammick
House for a Gardener, Haringey
A much-loved garden was central to our design of this side and rear extension for a Victorian mid-terrace house in the Stroud Green Conservation Area of Haringey. The project arranges a sequence of living spaces around the garden and an internal courtyard that gives constant connection to greenery.
21 Apr 2021
Vault House
Cascade House, Hampstead Village
1 Mar 2021
Cloistered House, Chelsea, south west London
Design: Turner Architects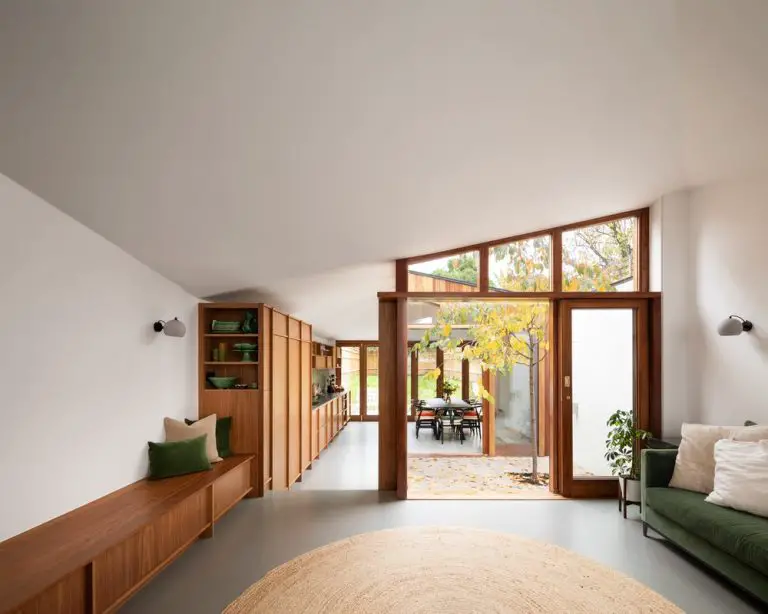 photograph © Adam Scott Images
Chelsea Georgian terraced house
The restoration and extension of a Cubitt-built Georgian terraced house in a conservation area. The Cloistered House was carefully given life having been left to ruin for many years.
20 Feb 2021
Library House
16 Feb 2021
Eclectic House, Camden
14 Feb 2021
Melbury Studio
14 Feb 2021
Harcombe House
14 Feb 2021
St Georges House
14 Feb 2021
Boscombe House
29 Jan 2021
The Rower's House, Chiswick, south west London
Architects: Loader Monteith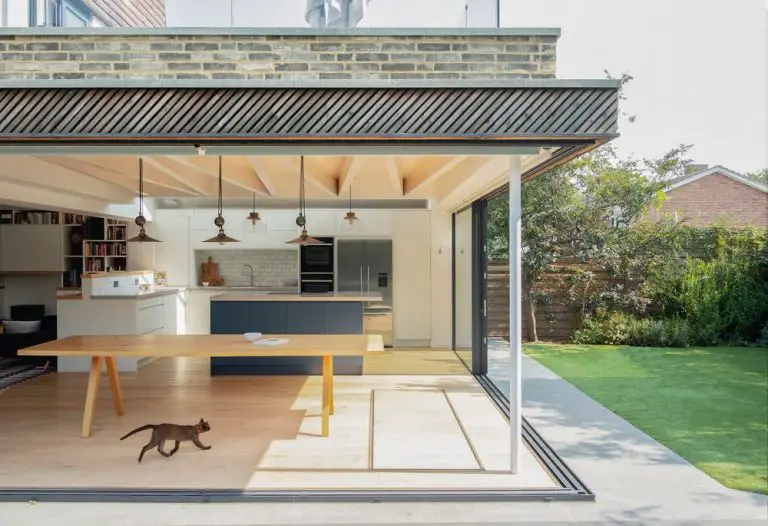 photography : Emanuelis Stasaitis
The Rower's House in Chiswick
The clients wanted a home with four bedrooms, space to entertain, and an accessible garden – with plenty of space to live and work, as well as a divisible section for a relative to use autonomously. Despite a questionable original design, the couple found the perfect potential property in a quiet corner of London.
1 Feb 2021
Art House, Paddington
More modern London Houses online here at e-architect soon
London Houses in 2020
10 Dec 2020
Kensington Townhouse
Design: KNOF design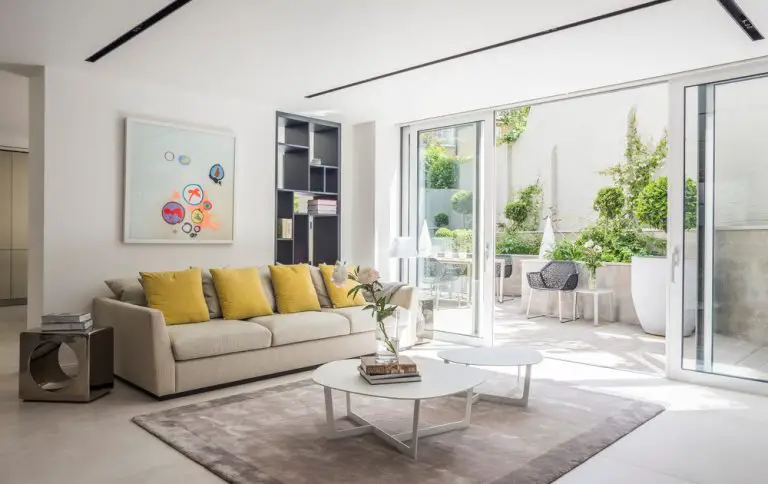 photography: David Cleveland
Kensington Townhouse, Hyde Park
KNOF Design, an international design practice founded by Susan Knof, has just completed a major London commission – the unification of two separate townhouses near Hyde Park to create a single 7,500sf family home.
4 Dec 2020
Pitched Black House
26 Nov 2020
Sugar House
17 Nov 2020
17 Portland Place Renovations
16 Nov 2020
Regency Villa, Kensington
16 Nov 2020
EC1 Penthouse, Clerkenwell
15 Nov 2020
Chiswick House Extension, West London
Architects and Interior Designers: Found Associates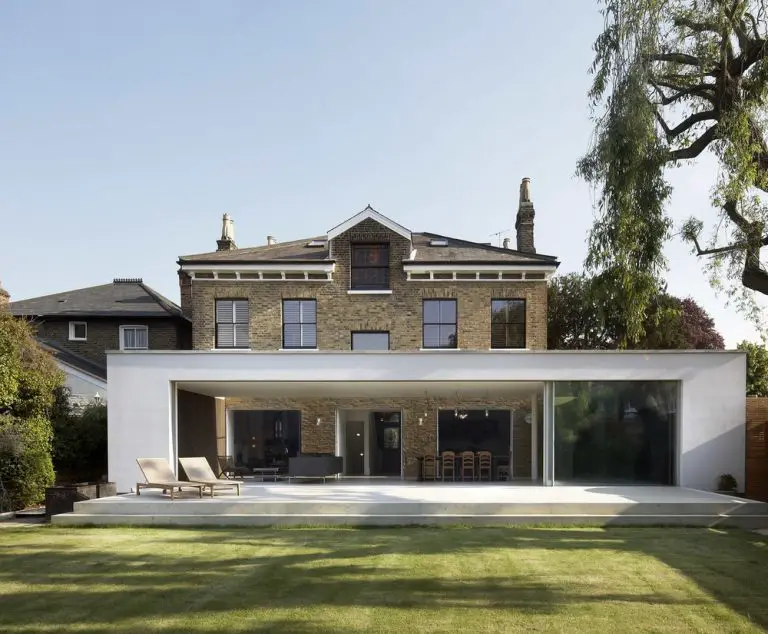 photograph : Nick Hufton, Al Crow
Chiswick House Extension
A double-fronted Edwardian house has been updated and extended in dramatic fashion for a television and radio presenter and his family. This four storey villa sits on a corner site with unusually large gardens to the rear. The renovation and reinvention of the villa reinforces the sense of connection between house and garden.
7 Nov 2020
Winter House Renovations
24 Apr 2020
Two and a Half Storey House, Central London
Architects: Bradley Van Der Straeten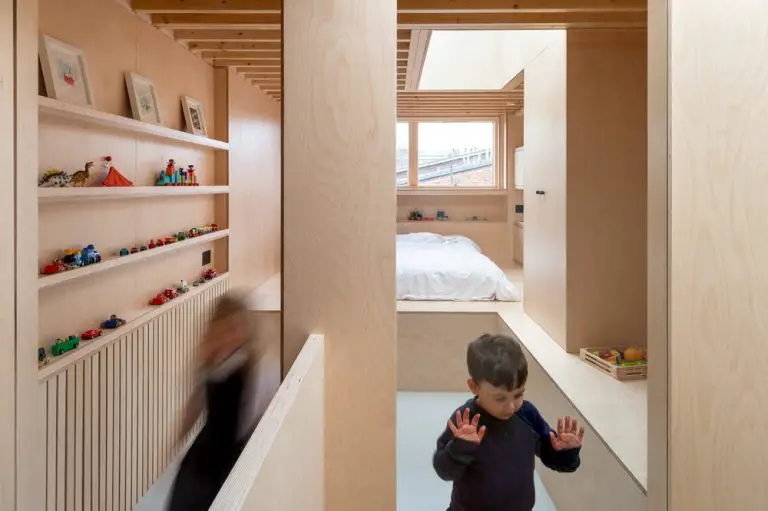 photograph © French + Tye
Two and a Half Storey House
The Two and a Half Storey House project that circumnavigates a local planning restriction by building a half-height roof extension! The clients owned the existing two-storey, two-bedroom property, located on a central London Housing Estate.
1 Apr 2020
Hampstead Penthouse Property, North London
Design: Ungar Architects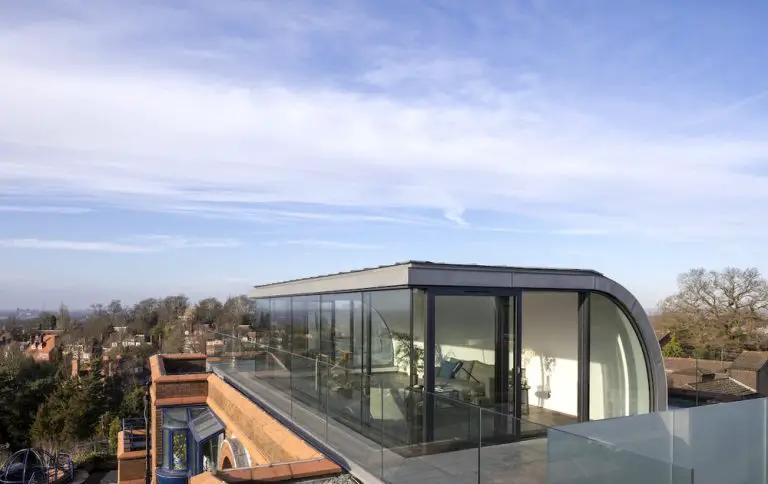 photograph : Peter Cook
Hampstead Penthouse Property
A breathtaking new penthouse in Hampstead, with panoramic views across the UK capital city.
1 Apr 2020
Contemporary London Penthouse Properties
Penthouse Properties London
5 Mar 2020
An Eclectic Victorian Home Extension North London
3 Mar 2020
Slim Studio's Flat Interior
26 Feb 2020
Collector's Flat, Central London
Design: MATA Architects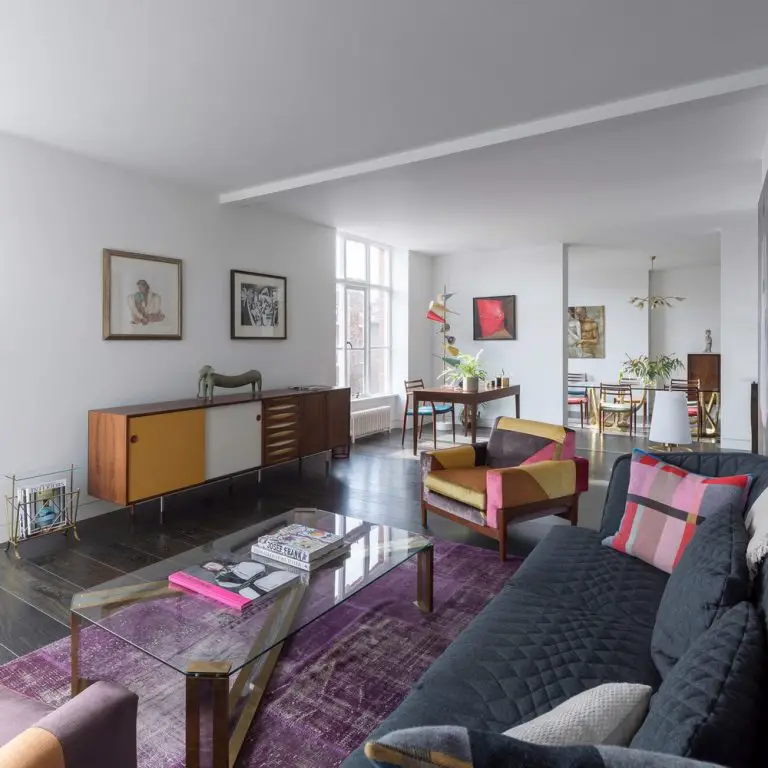 photograph © Peter Landers
Collector's Flat Interior in Central London
Extensive refurbishment and interiors fit out of an apartment in a mansion block constructed at the turn of the 19th century. The works included substantial structural modifications altering the flat's layout and introducing new services.
More new London Houses online here soon
London Houses in 2019
30 Oct 2019
Brexit Bunker
Design: RISE Design Studio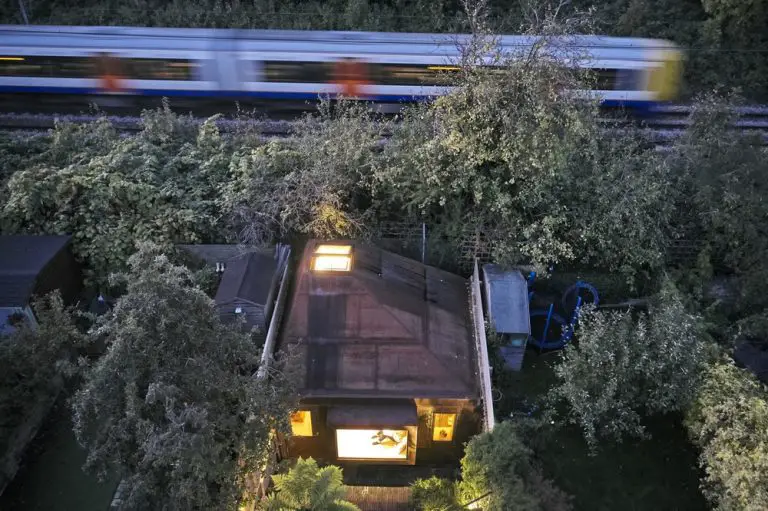 photograph : Edmund Sumner
Brexit Bunker
This sunken garden room was envisioned as a way of adding a new studio and extending the program of the house, without having to intervene in the existing portion of the building.
15 Oct 2019
Fleet House in Hampstead
20 Sep 2019
Dukes House, Alexandra Palace, Muswell Hill
Structural Engineer: TZG Partnership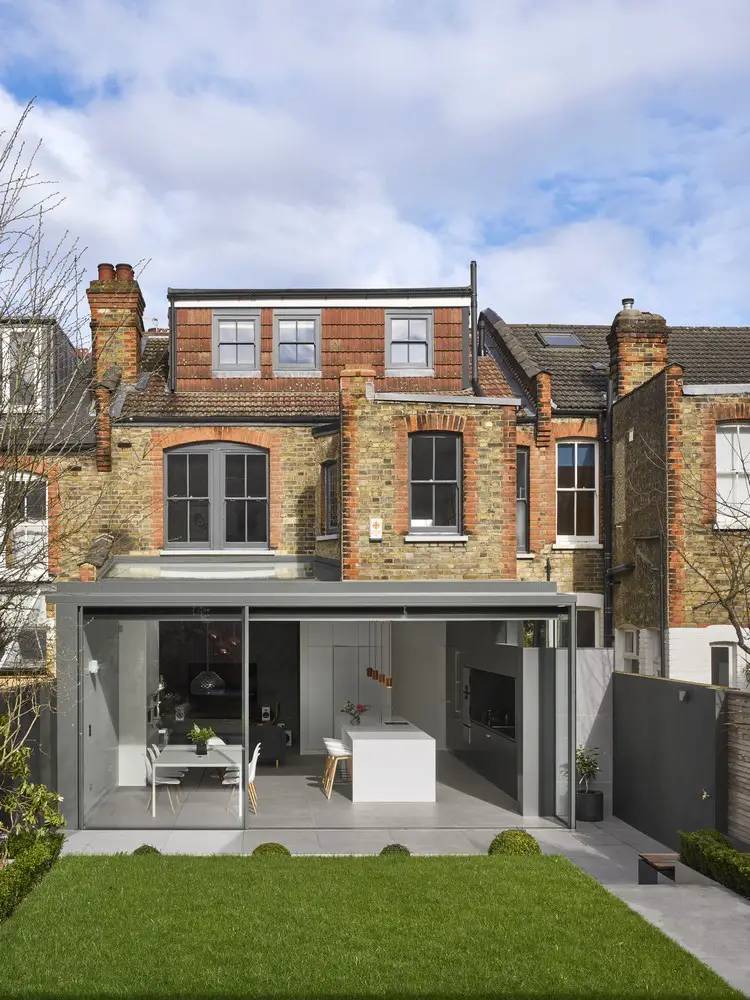 photograph : Will Pryce
Muswell Hill House
This North London property is an ornate Edwardian Terrace, in the shadows of Alexandra Palace. The home has been given a complete make over.
20 Sep 2019
Aperture House in Islington
More contemporary London houses designs online soon on e-architect
London Houses Designs in 2018
23 Oct 2018
Duke's Avenue House, Chiswick
Architects: IBLA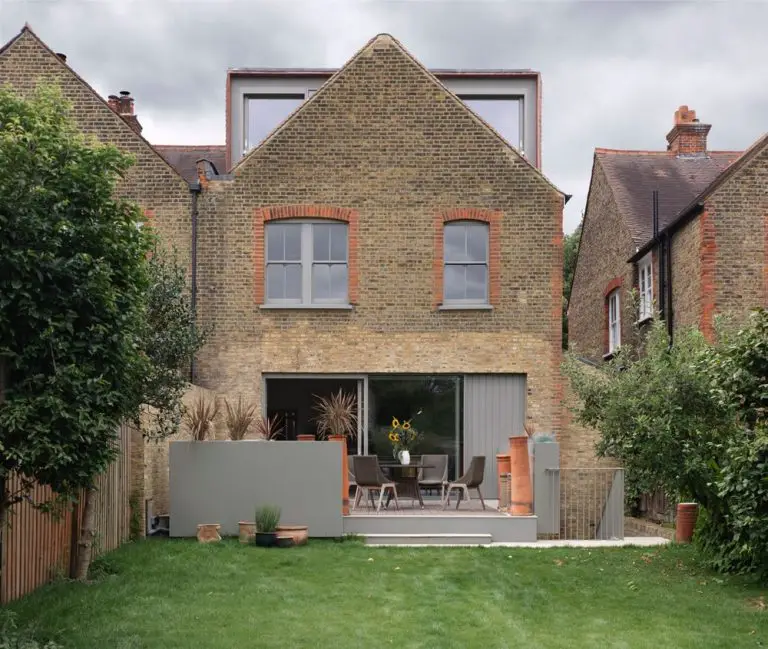 photograph : Brotherton Lock
Contemporary House in London
The clients, a pair of doctors, wanted to significantly increase the amount of floor-space in their West London home, whilst maintaining the existing character and external massing of the original house, and keeping their garden intact.
2 Oct 2018
Volcano House, Shoreditch, East London
Architects: Urban Mesh design ltd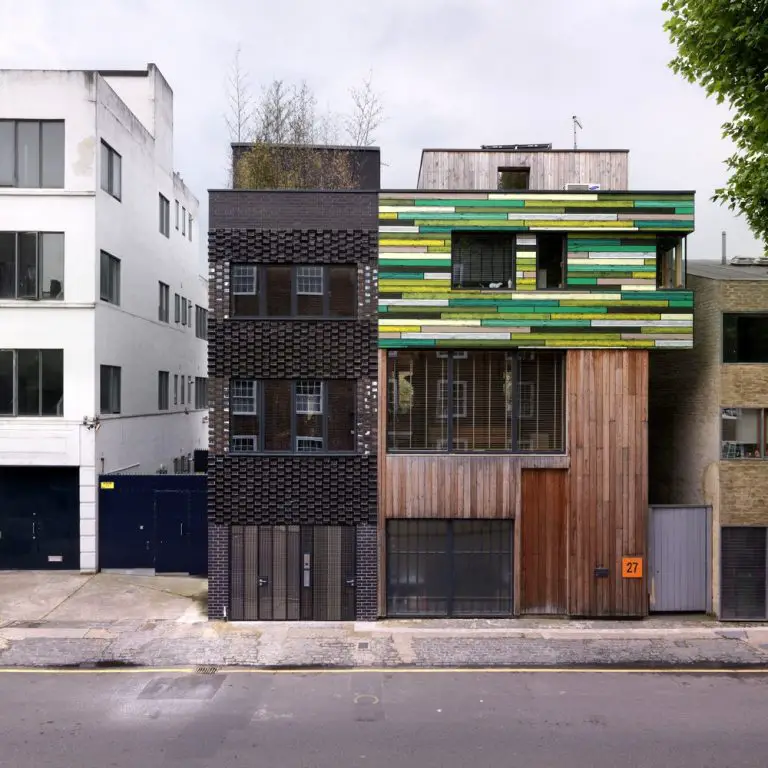 photograph © Charles Hosea
New House in Shoreditch
The interiors of the home were playfully designed to suit the desires and personalities of the Client and his family.
20 Aug 2018
Benbow Yard Home, Southwark, South London
Design: FORMstudio Architects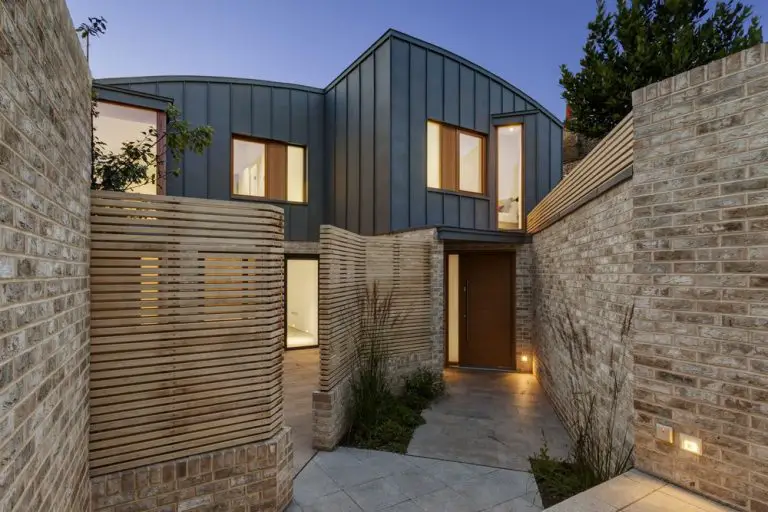 photograph © Bruce Hemming
Contemporary Home in Southwark
This new property is a response to the Mayor of London's Policy to optimise the re-use of small sites across the UK capital city.
19 Jun 2018
Victorian Townhouse, Highgate, North London
Design: LLI Design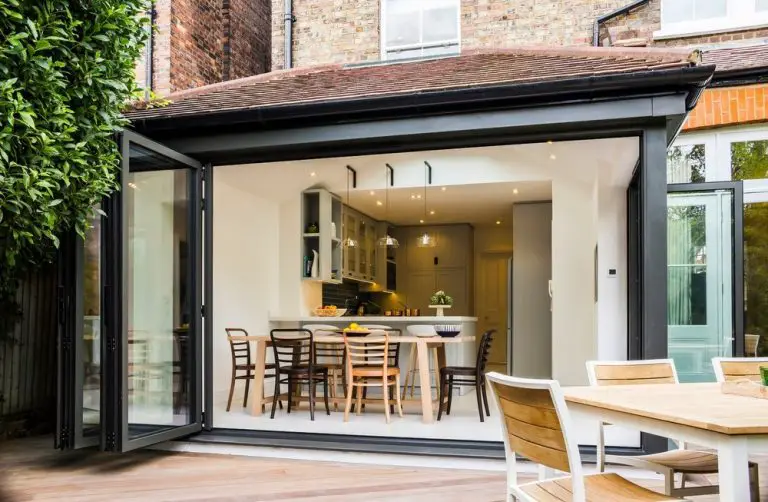 photograph ©
Victorian Townhouse in Highgate
Conversion of a Victorian property in reasonable condition to form a warm, comfortable home with contemporary style touches.
30 Apr 2018
Step House, North London
Architects: Bureau de Change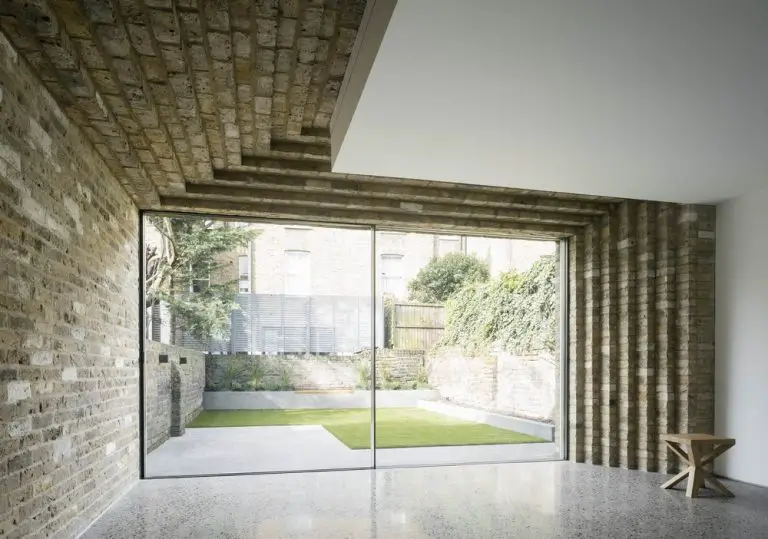 photo © Ben Blossom
North London Property Extension
Using bricks reclaimed from the fabric of the house, the architects exploited the rights of light diagram to create a staggered, extruded form that appears to melt away from the existing structure. This rhythmic stepping generated by the brick is echoed throughout the interior, and is integrated in both the plan and section of the extension.
27 Apr 2018
Roof Conversion, Crouch End, North London
Design: JaK Studio, Architects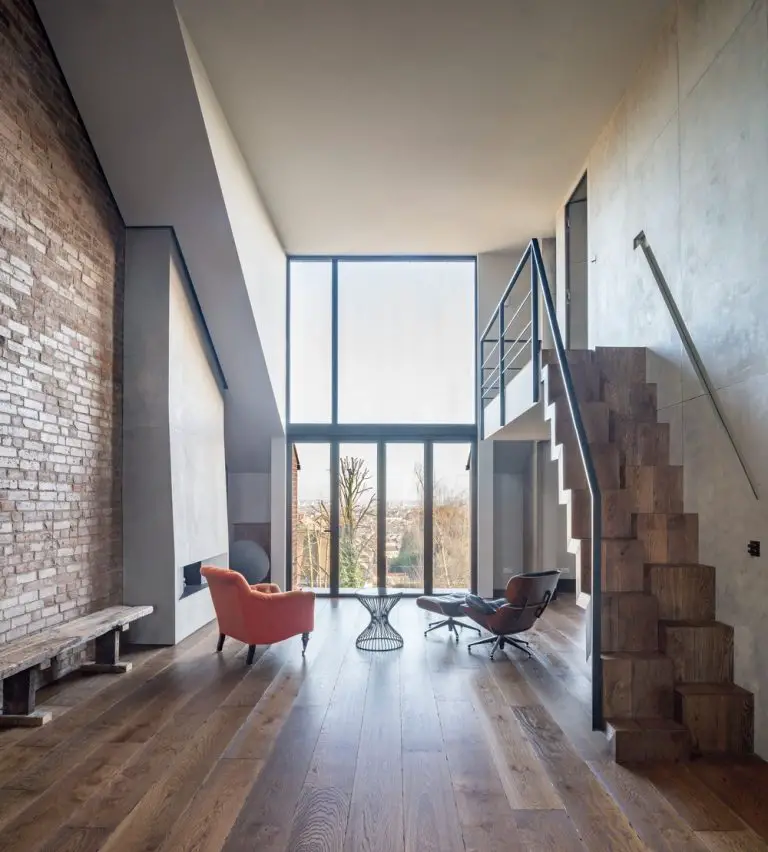 photo : Francesco Russo
Crouch End Flat Extension
JaK Studio create unique loft conversion in large Victorian property by adding a new dormer extension to form a dramatic two-storey cathedral-esque space.
29 Jan 2018
The Etch House, Honor Oak, Lewisham, South London
Design: Fraher Architects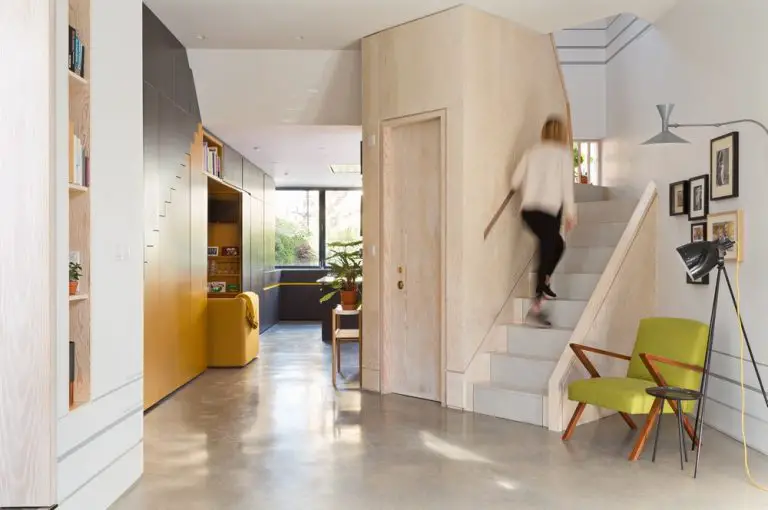 photo : Adam Scott
Honor Oak Home Extension
Joint Third Prize in 'Don't Move, Improve!' 2018: this 1460 sqft property re-examines the layout of the traditional Victorian terrace house. A modern floor plan sits within the old house walls, hidden behind the retained street elevation.
26 Jan 2018
Sun Rain Rooms, Islington, North London
Design: Tonkin Liu Architects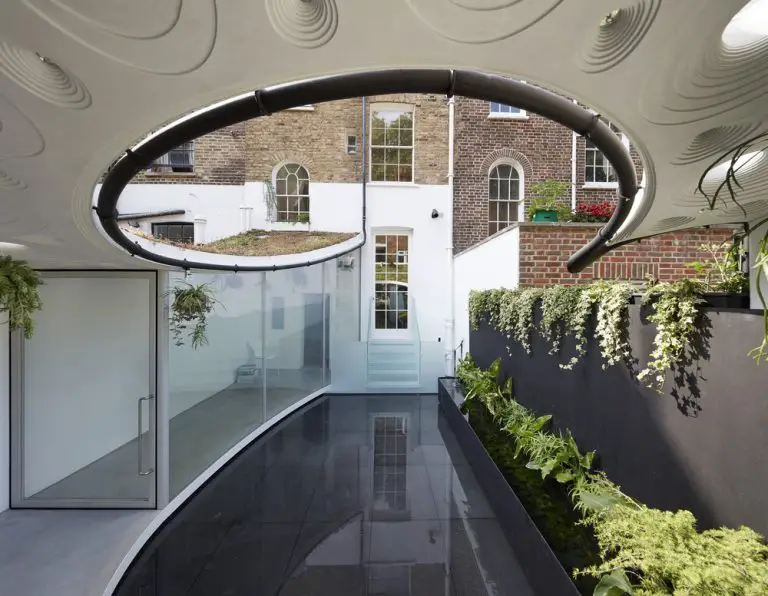 photo : Edmund Sumner
Sun Rain Rooms Home Extension
'Sun Rain Rooms' has been crowned London's best and most innovative home extension as overall winner of New London Architecture's (NLA) annual 'Don't Move, Improve!' competition.
London Houses Design News for 2017
8 Dec 2017
Highgate Hill Townhouse, North London
Design: LLI Design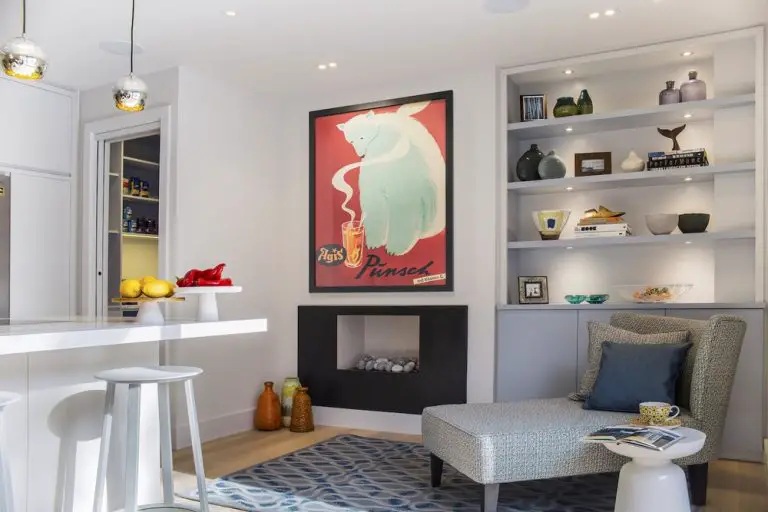 photo from LLI Design
Highgate Hill Townhouse
Winner in the Interior Design, London category – UK Property Awards 2017-18. LLI Design recently completed a total redesign and refurbishment of a 7 storey townhouse in Highgate, a leafy and desirable part of London.
15 Aug 2017
Hilltop House, Kingston-upon-Thames, Southwest London
Architects: Coupdeville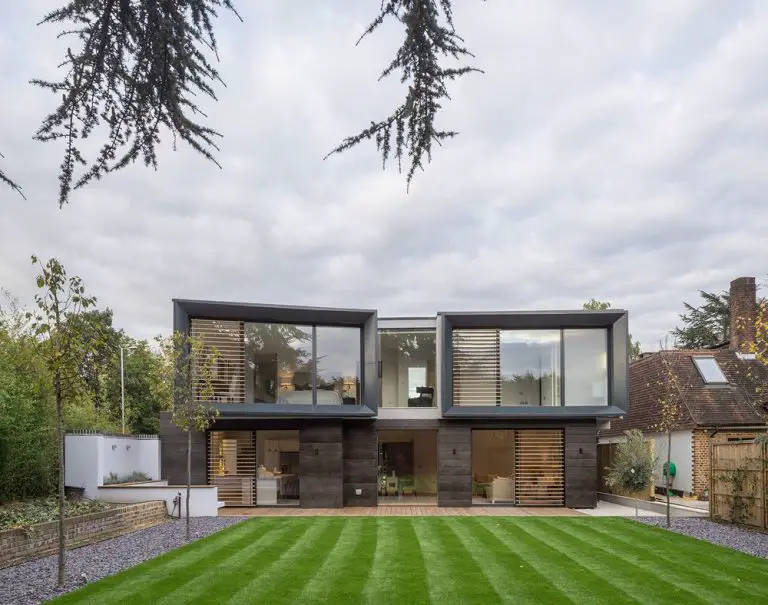 photograph : Simon Kennedy
New Teddington House
Commissioned in 2012, the architecture studio were asked to design a five bedroom house on a large 0.26 acre single plot, while retaining the existing building.
11 Aug 2017
Fairfax House, Teddington, Southwest London
Architects: Coupdeville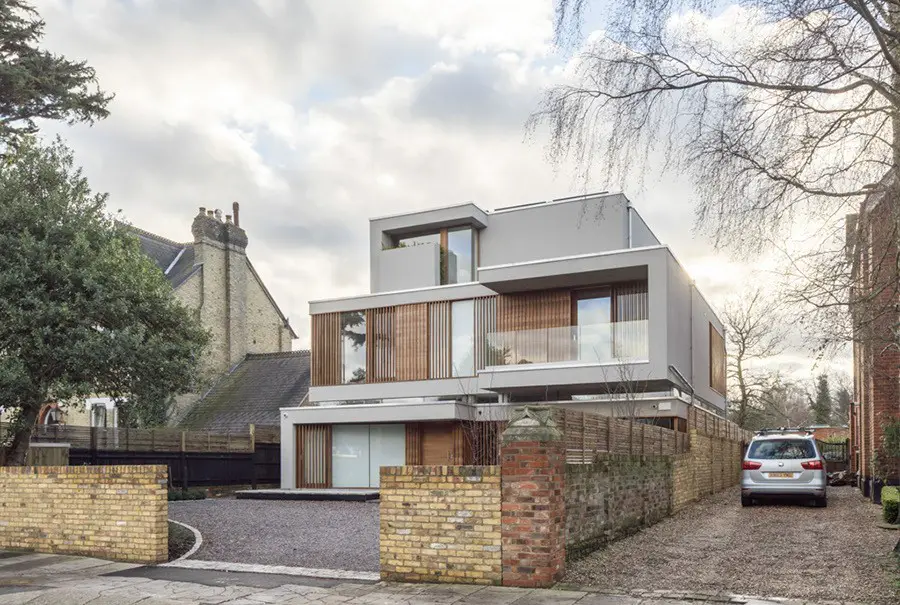 photograph : Simon Kennedy
New Teddington House
The proposal is for a contemporary dwelling that is based on a series of banded layers, that allow for a light filled interior and a dynamic and interesting external appearance.
24 Mar 2017
Oak Hill House, Hampstead, North London
Design: Claridge Architects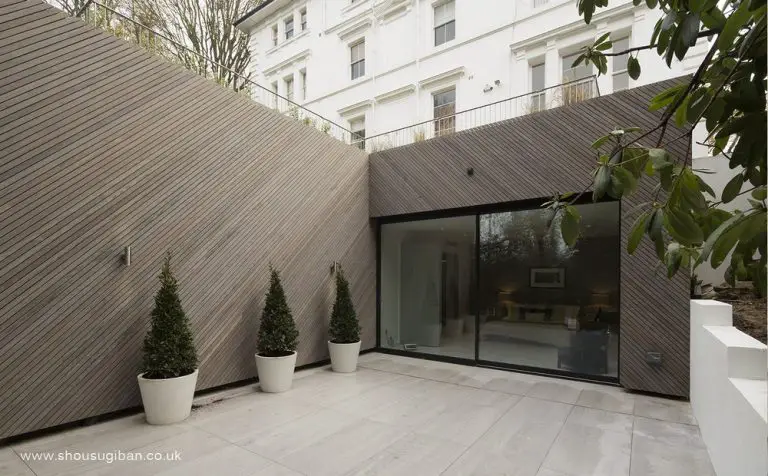 photograph : Simon Kennedy
New Hampstead House
Shou Sugi Ban, a UK based manufacturer of charred timber products, has selected Kebony, to create a distinctive modified timber cladding using the ancient Japanese techniques of burning, brushing or pre-weathering timber to provide a long-lasting and beautiful wood.
London Property Design News for 2016
27 Nov 2016
Increasing Value of Residential in the British Capital City
Flipping Property Prices in London
1 Sep 2016
House of Trace
Design: Tsuruta Architects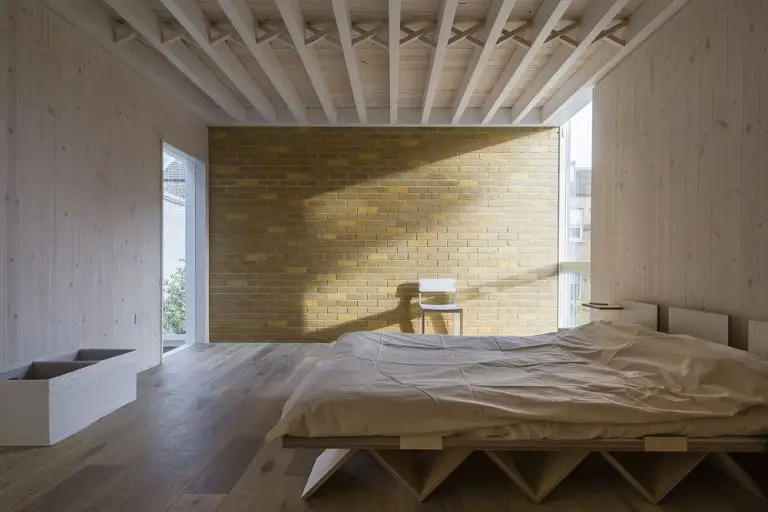 photo : Tim Croker
House of Trace
A beautiful and unconventional extension to a London terraced house designed by Tsuruta Architects has been awarded the 2016 Stephen Lawrence Prize.
2 Jan 2016
Madeira Residence, Bromley, South east London
Design: Rado Iliev Architect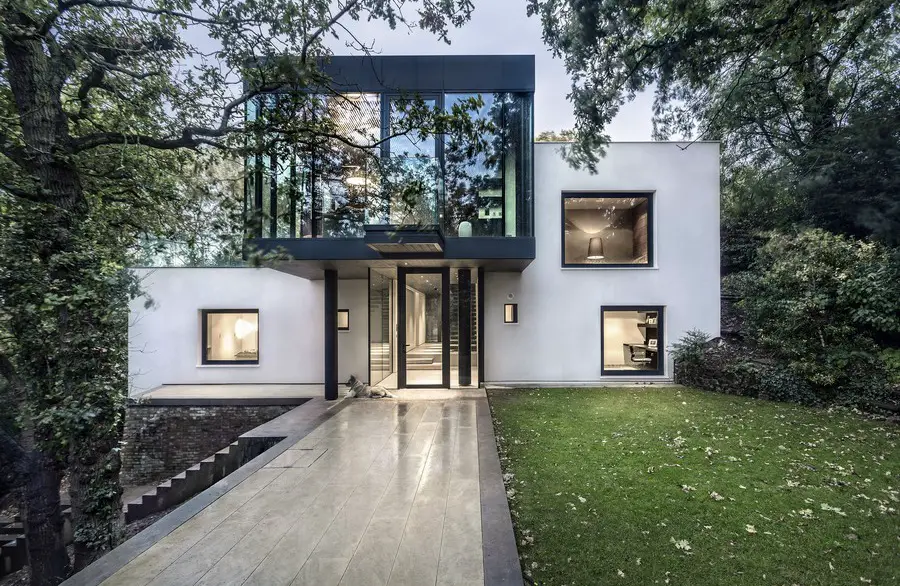 photograph : Assen Emilov
New Residence in Bromley
5 Nov 2015
Newington Green Road Property, North east London
Architects: NK Architects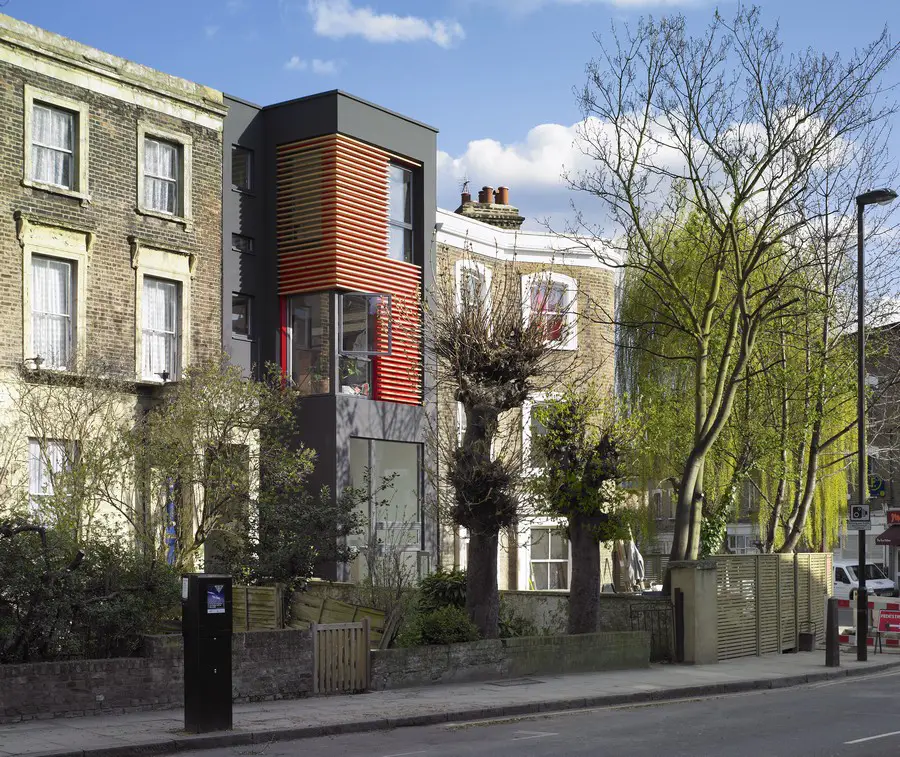 image : Robin Hayes
Newington Green Road House
16 Sep 2013
Mayfair House
Design: Squire and Partners, Architects


photo : Gareth Gardner
Mayfair House
The contemporary interpretation of leaves are crafted as a metallic shingle, which cover a three storey elevation and rooftop pavilion. The PPC coated folded aluminium leaves – 4,080 in total – subtly vary in tones of bronze to mimic organic growth patterns. The concept was designed over a three year period of research and development working closely with Swiss manufacturer Tuchschmid.
London Homes – archive page up to and including 2013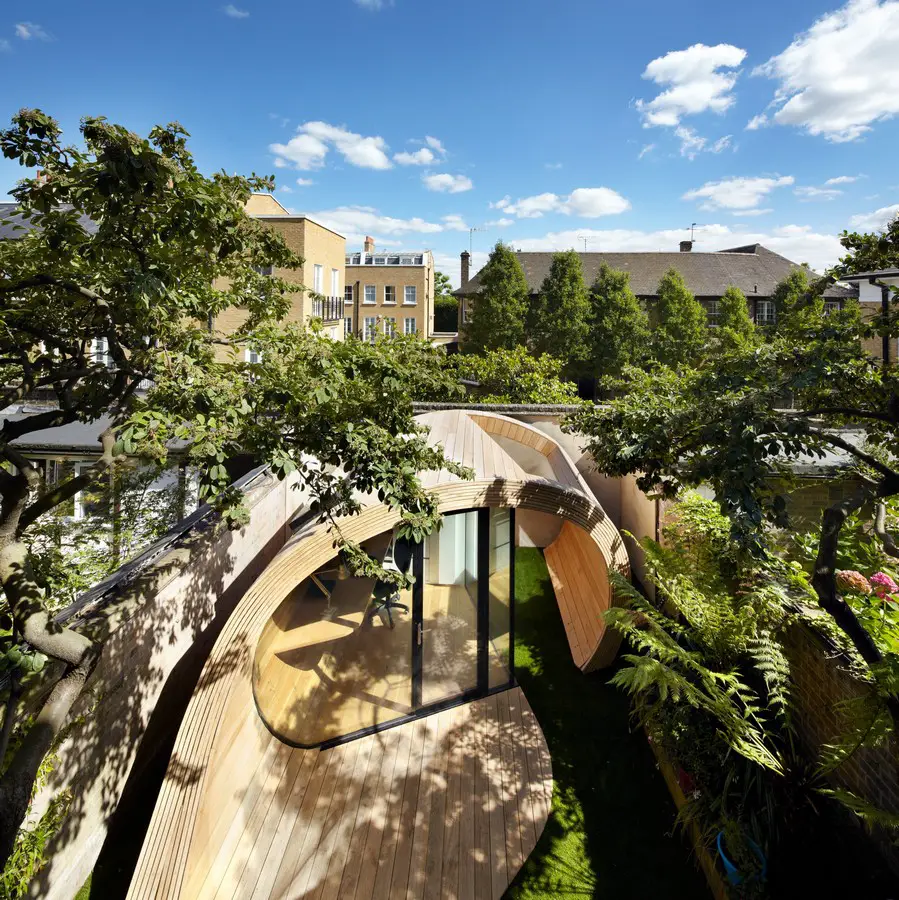 photo : Alan Williams Photography
Location: London, England, UK
London Architecture
London Architecture Design – chronological list
London Architecture Walking Tours
London House Extension Competition
New Properties / photos for the London Houses page welcome