Choosing the right curtains can make a big difference in the look of your overall design scheme, but should your curtains match your wall color? We talk to the design experts to find out.
Curtain ideas not only create practical window coverings and provide insulation, but they are also a chance to bring in beautiful color palettes, tactile textures, and eye-catching patterns into your chosen space. 
When it comes to matching your wall color, experts are in agreement that it all depends on your chosen style and the overall visual effect you are trying to create in the room. Complementary curtains can create a clean and cohesive look, whilst contrasting designs often offer greater visual interest, so, which are you going to choose? Let us help you decide with our 6 inspiring ideas.
Should curtains match your wall color?
'There's no need to subscribe to a hard and fast rule on whether to match or not. Rather, every room should be evaluated based on the end result desired.  
Is the goal to emphasize the curtains or are these supporting the overall scheme?  Does the scheme follow a maximalist approach where pattern play and contrasting colors suit or is the scheme more monochrome or contemporary where a layer of textures is more suitable? Perhaps it is something in between?  
Curtains that contrast will draw the eye and (depending on color and pattern) become a focal point. Curtains that match will provide a textural difference & layering effect but will allow other elements to pop,' explains Cathrine Dal (opens in new tab), founder of London-based interior design firm, Cat Dal Interiors (opens in new tab).
Copenhagen born, Cathrine Dal, is the founder of London-based interior design studio, Cat Dal Interiors, who have a design ethos rooted in Scandinavian design.
Yes, for cohesion and simplicity
This is how matching curtains to walls is beneficial.
1. Mirror your wall color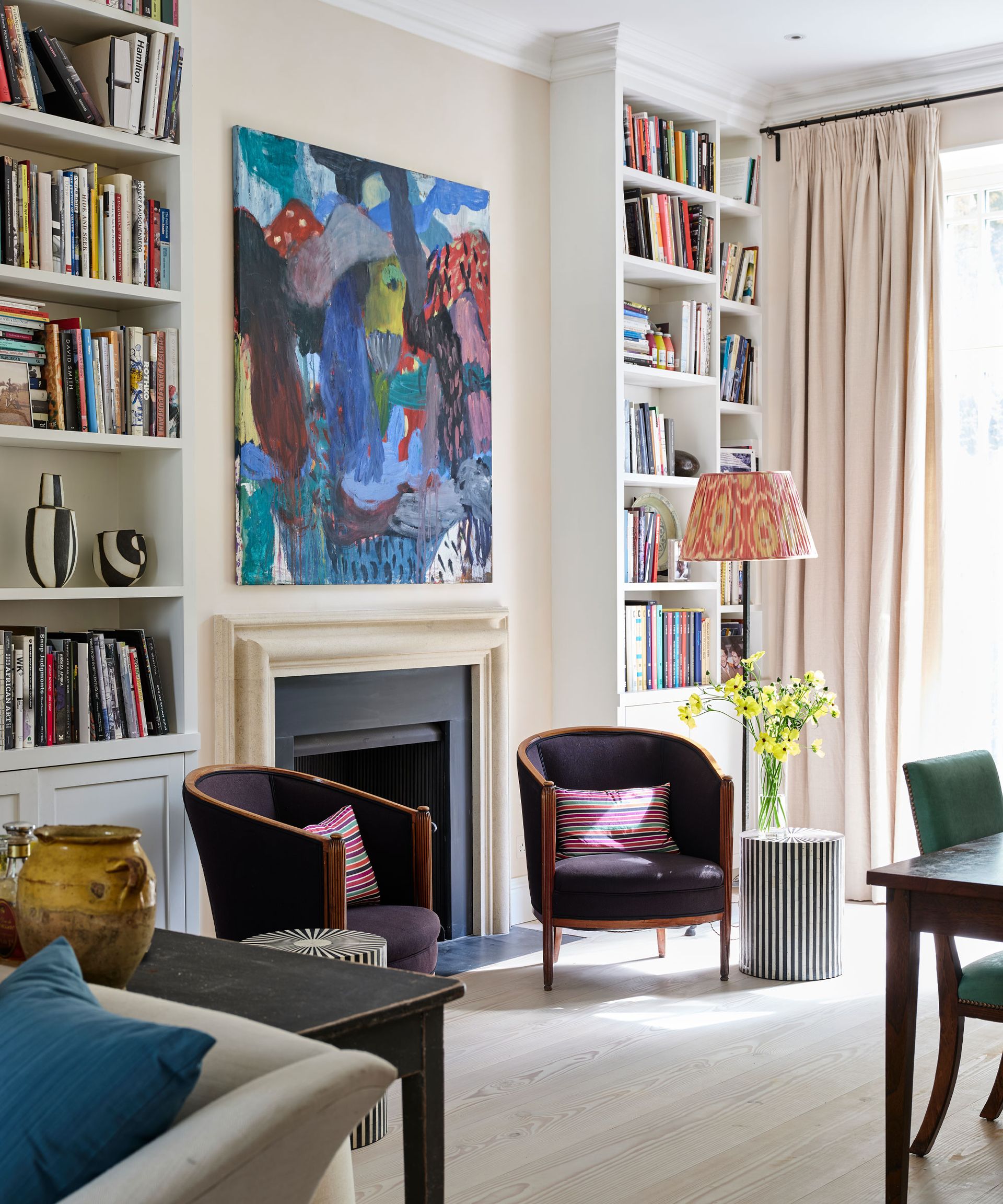 Matching your curtains with your wall color will create a unified look that feels both simple, stylish, and relaxing.
Whether you embraced dark or light paint ideas, choosing curtains that match your wall color will blend both elements together as one, and work to establish a more calming and restful atmosphere where there are fewer visual disruptions.
NYC-based interior designer, Artem Kropovinsky (opens in new tab), founder of Arsight (opens in new tab) says, 'matching curtains to your wall color can make your room look larger and more spacious. It can also create a soothing and relaxing atmosphere that is ideal for bedroom curtain ideas or living room curtain ideas.'
A great option to consider for a more minimalist scheme, mirroring your wall color is one of the most popular options to embrace for curtain color ideas in the home.
Founder of NYC-based interior design firm, Arsight, Artem Kropovinsky has a decade of extensive global design experience, connecting a cohesive, collaborative team of passionate professionals, and working on projects in the U.S. and worldwide. 
2. Look to shades in the same color family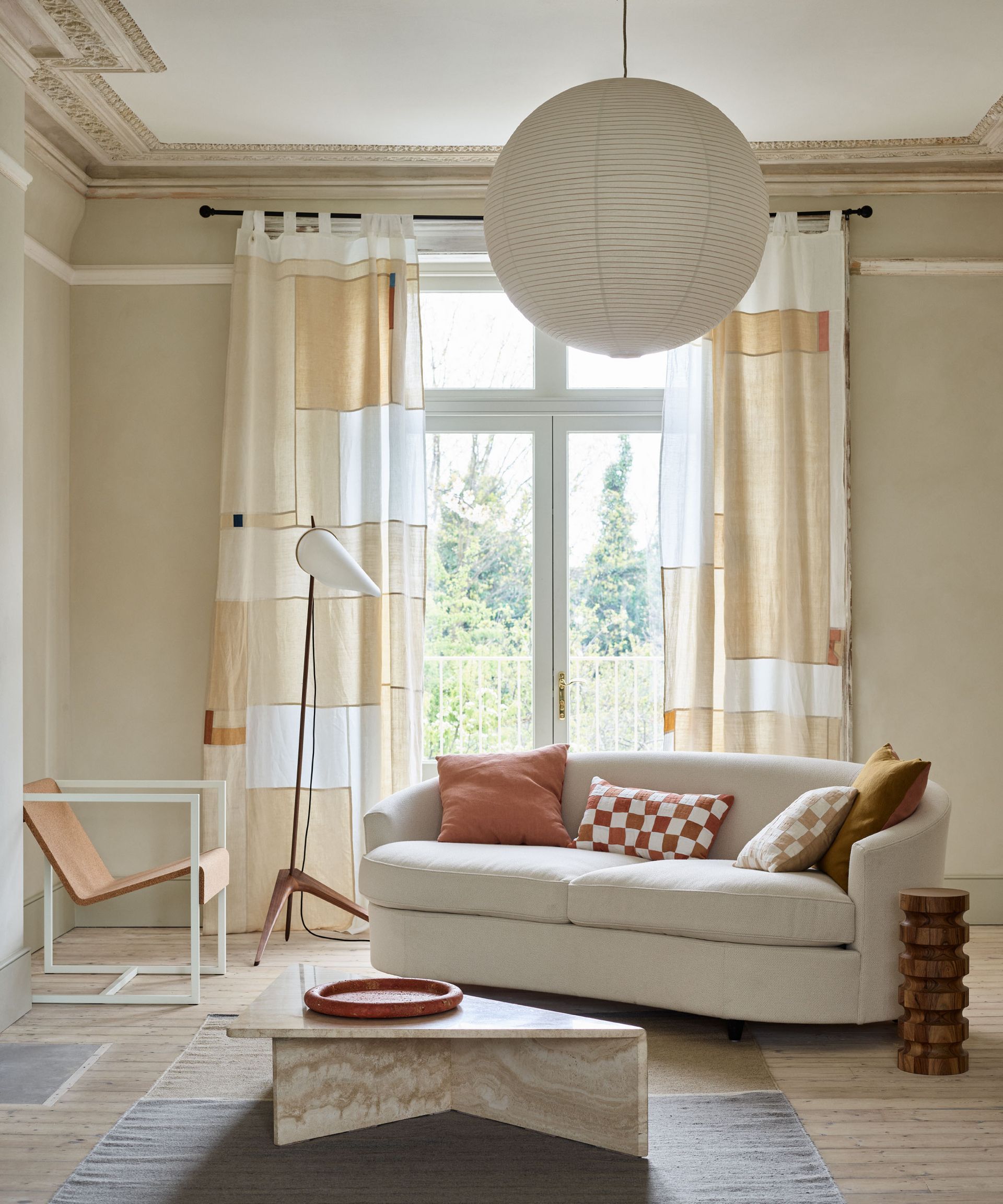 For a curtain design that takes the lead from the wall color but achieves a slight element of contrast, opt for curtains that sit in the same color family as the shade you have used on the walls. 
As shown in this modern living room, a beautiful example of modern curtain ideas, the abstract, geometric patterned curtains work wonderfully with the overall neutral design.
The patterned curtains make for an elegant contrast with the walls, yet the whole space is united through a shared color palette of cream, beige, white and brown.
No, for a stylish element of contrast
Sometimes, contrast is all.
1. Embrace a contrasting accent color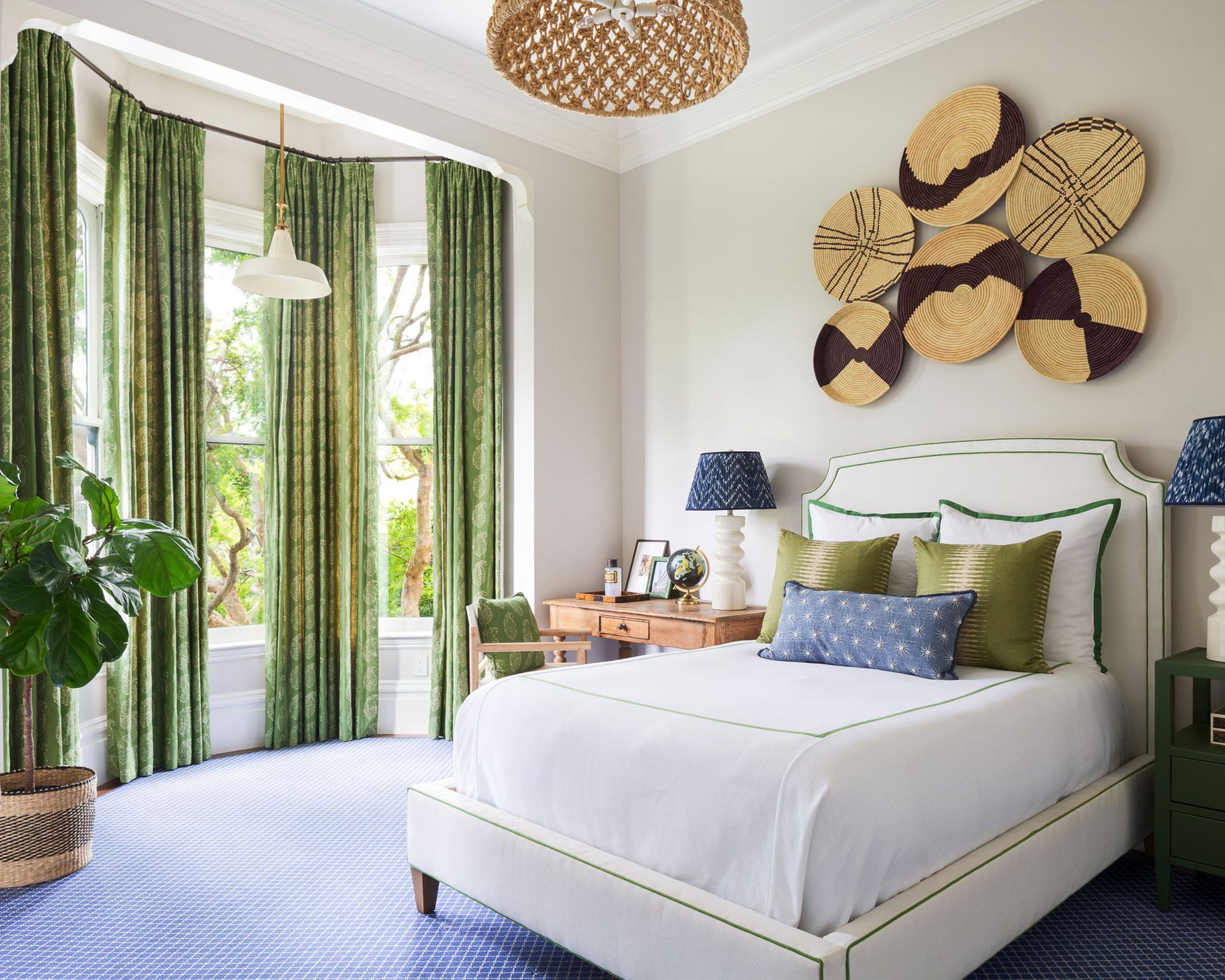 'You do not have to match your curtain fabric exactly to your wall color. Adding contrasting colors can bring out a good balance in the overall décor. However, be sure that there is a sense of cohesion so that each element stands out but still complements the others in terms of style and the overall look,' says Kate Diaz, interiors expert at Swanky Den (opens in new tab).
Artem Kropovinsky also shares, 'contrasting curtains with your wall color can make your room appear more dynamic and lively, and it can also draw attention to your windows, helping to highlight the natural light in the room.'
Choosing a contrasting color for your curtains can help to create an eye-catching focal point and sense of emphasis in a room. As shown in this main bedroom, designed by San Francisco-based interior designer, Margaret Ash (opens in new tab), the green curtains make a beautiful feature of the tall bay window, whilst establishing a striking contrast with the blue carpet and white bed. The use of blue and green accents through the plant, lampshades and decorative cushions then work in unison to tie the whole scheme together.
2. Opt for patterned curtains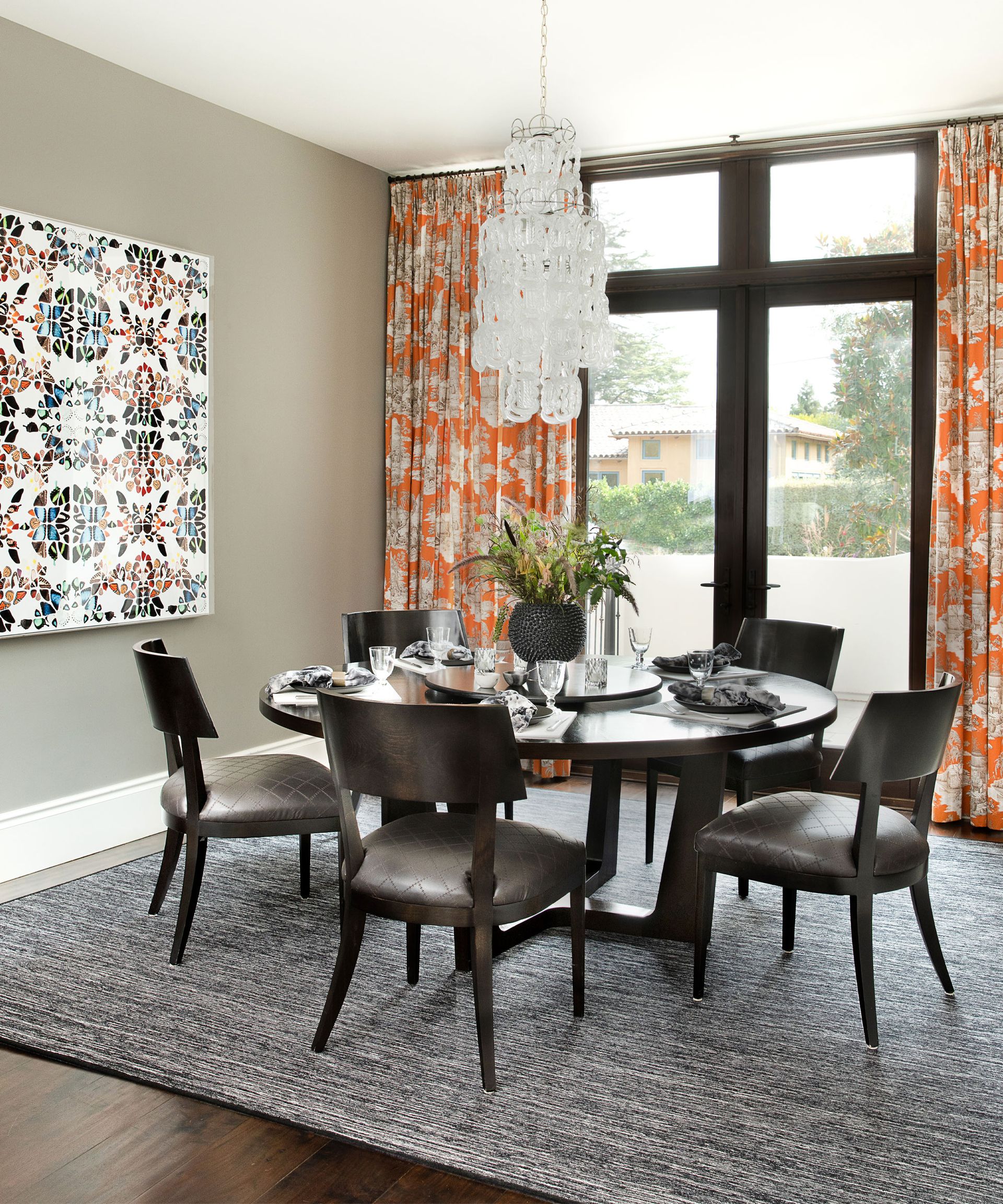 Chicago-based interior designer, Sarah Montgomery (opens in new tab), says, 'if you want to focus on the pieces in the room or the outside view, you might do a fabric close to the wall color, in order for the drapery to blend in. If you need a strong design element, like in a dining room where there is not a lot of other fabric, you can use a contrasting color or pattern instead.'
In this dining room, designed by California-based interior designer, Susie Novak (opens in new tab), the bright orange, patterned dining room curtains, establish a beautiful, colorful design feature in the space. The rich orange shade elegantly contrasts with the gray-painted wall, with the abstract pattern complementing the style of the artwork to inject an artistic playfulness into the space.
Fellow Californian interior designer Jen Dallas (opens in new tab) also advises, 'if you choose for your drapery to match your wall color, it will create a united, monochromatic look, and then your furniture and accessories will pop. If you opt for a pattern for your drapery, it can influence the style direction of the room(s).'
Sarah Montgomery is a Chicago based interior designer, who specializes in working in historic homes in Chicago and beyond. Montgomery prides herself on designing spaces that pay respect to a home's history, whilst still celebrating beautiful styles of the present.
Jen Dallas is a California based interior designer, whose studio has its very own line of textiles tiles, rugs and lighting.
Consider the mood and style of the room
Matching curtains and walls does have consequences. Here's what to consider.
Complement your furniture and accessories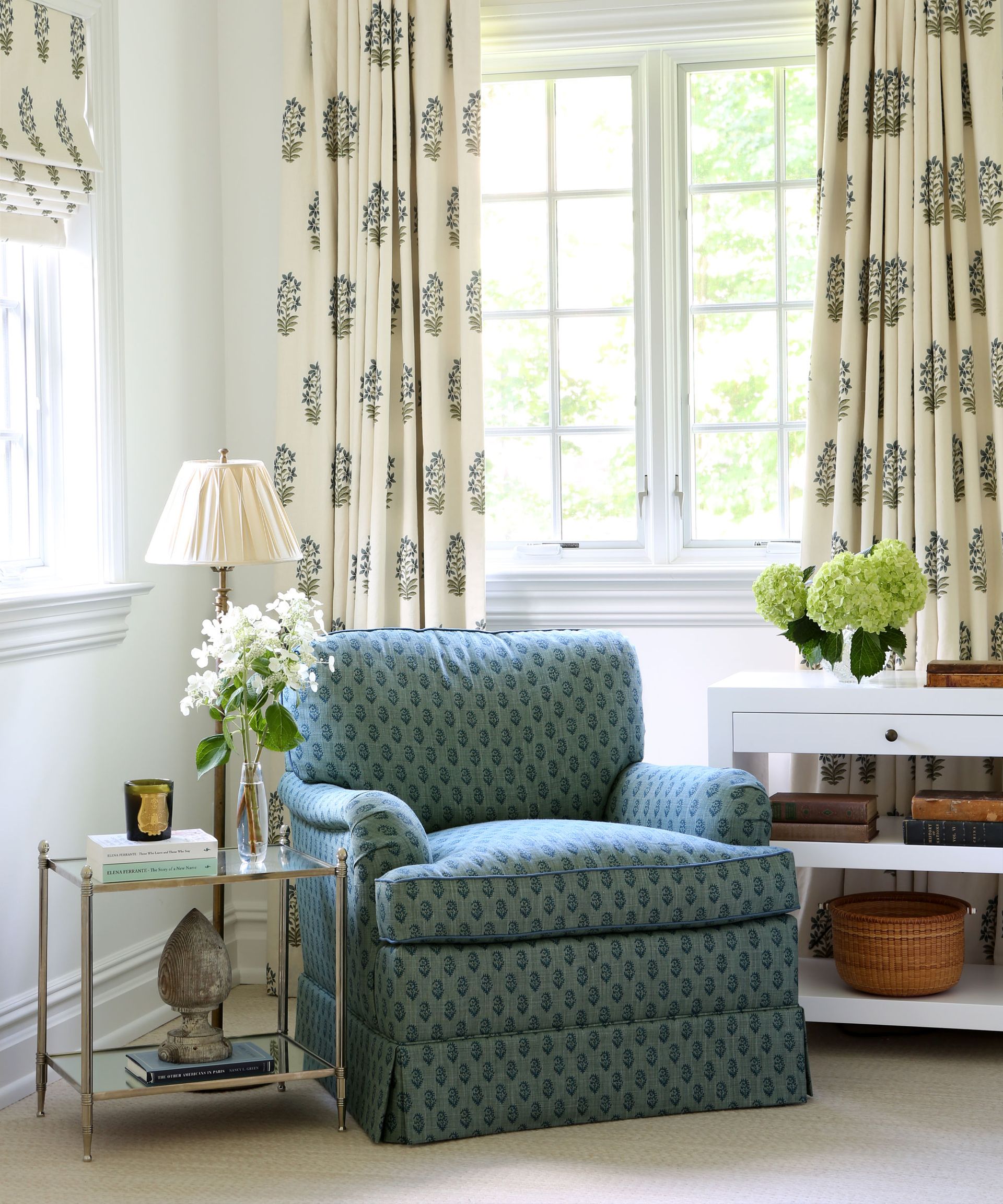 When choosing the right curtain color for your space, as well as taking into consideration your chosen wall color, you will also need to think about other features in the room, such as furniture and accessories.
All design elements present in a space need to work together in perfect harmony, and your curtains should always fit in with the room's overall color scheme.
From curtains and furniture upholstery that share the same or a similar pattern, beautifully shown in this cozy corner, part of a design by Elizabeth Cooper (opens in new tab), to choosing colors that complement your sofa ideas or a piece of art, stepping back and thinking of the bigger picture is key.
Consider your material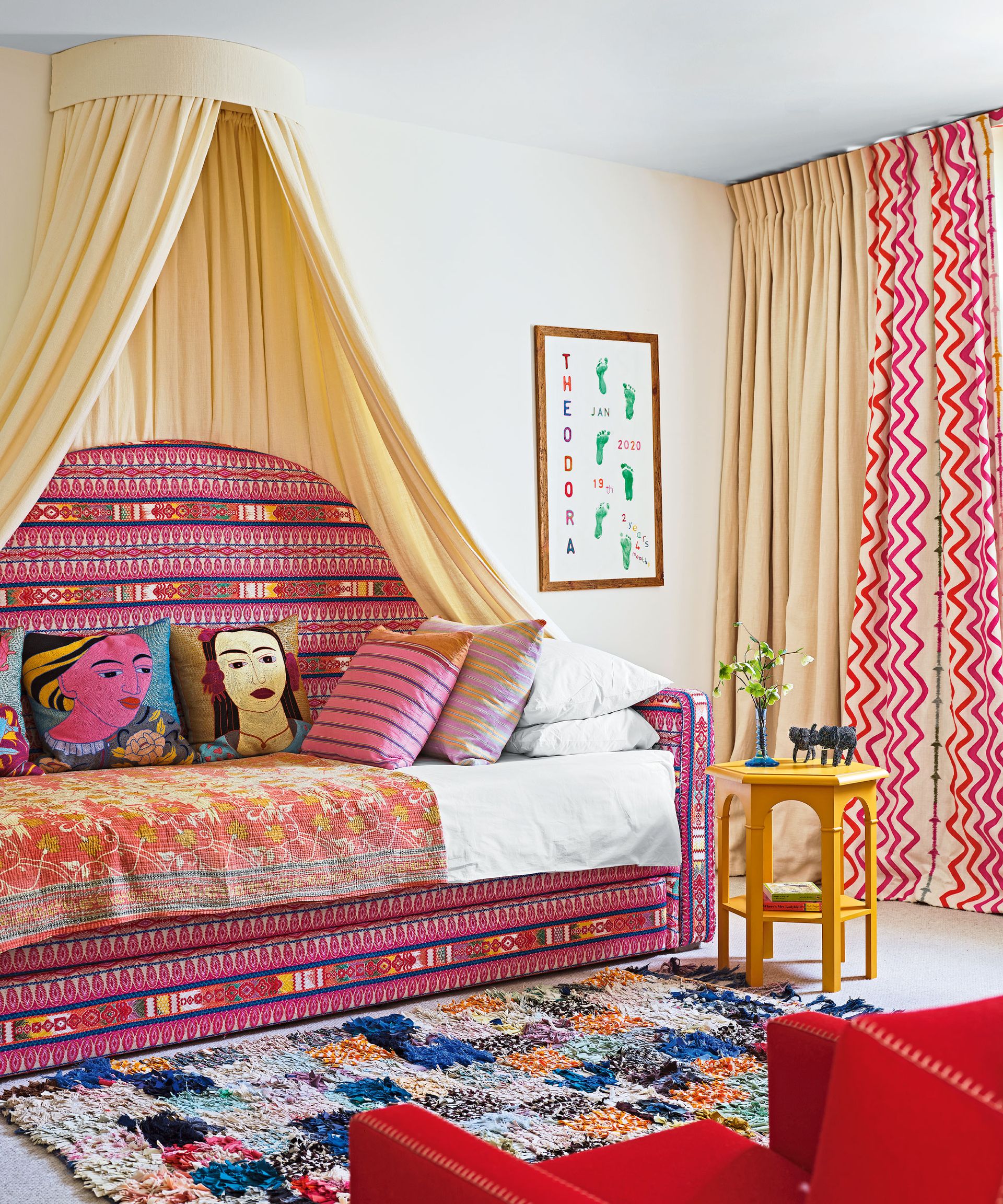 'To add depth into a space, consider pairing different textures or shades together, like combining sheer materials with thicker fabrics or both light and dark tones within one space. This will create an interesting accent feature while staying balanced enough not to overwhelm any single element within your décor,' says Kate Diaz.
Using more than one material for your curtains can not only establish a cozy, layered effect, it can allow you to get the best of both worlds by matching and contrasting with your wall color. 
In this colorful kid's room (opens in new tab), the cream and pink patterned curtains are not only a great example of coordinating with your furniture and accessories, but simultaneously, they create an elegant contrast and sense of cohesion with the light cream wall color 
FAQs
How do you choose the right curtain color?
Interior designer, Artem Kropovinsky says the best way to choose the right curtain color is to:
Experiment with different fabrics and textures.
Consider the mood and style of your room.
Think about the amount of natural light in your room – do you want it to be bright, airy, warm, or cool? Choose colors that enhance or contrast with that quality.
Use a color wheel to find complementary or analogous colors that work well together.
Should curtains be lighter or darker than walls?
When considering, should curtains be lighter or darker than walls, very much like we have explored in this piece, it completely depends on your overall design scheme and whether you want your curtains to coordinate or contrast with your chosen wall color.
Dark curtains can help to create a more cozy and cocooning effect, whereas lighter curtains can establish a spacious and more airy feel.
---
Whether you choose to match your wall color or use your curtains to create a dramatic focal point and design statement in a space, our designers are in agreement that curtains do not necessarily have to coordinate your wall color, as long as they complement the overall style and use of color in the room, you will have achieved a harmonious and successful design.