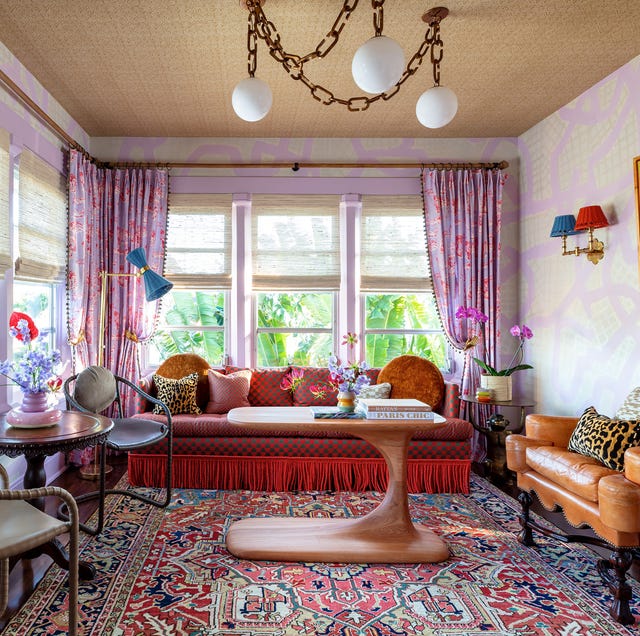 Nickolas Sargent (Sargent Photography)
While we tend to eschew design trends in favor of more timeless and personal furnishings, it's still fun to hear what designers think will be trending in 2023 and beyond. Over the last few years, most of us have spent more time at home and it's changed the way we view our spaces, both aesthetically and functionally. For example, white kitchens and neutral spaces had their moment, but designers are predicting that people want to have fun with their interiors and create a more personalized space now that they're spending more time at home (after all, who wants to look at blank walls and beige furniture when they could have interesting wallpaper and a colorful couch?). From bold paint to textured walls to layered textiles, now is the time to create a space that makes you smile. Here, the biggest interior design trends for 2023, according to designers.
Advertisement – Continue Reading Below
1
Pine Wood and Other Natural Materials
Potter and interior designer Jonathan Adler said during a recent Caesarstone presentation, "Trends are an interesting concept. We live in an 'anything goes' era and I'm here for it…I think pine wood is having a moment, and that's unexpected." He added that incorporating natural materials—such as other woods, stone and plants—into interiors will also be a huge trend for 2023
Design by Suzanne Tucker
2
Wallpapered Powder Rooms
Though wallpaper in powder rooms is certainly not a new or groundbreaking trend, Lauren Robbins, founder and lead designer for Lauren Robbins Interiors, says that it's only going to get bigger and bolder next year. "Powder rooms specifically are a great place to execute pattern play and colors that you may be cautious to put in larger spaces in your home," she says. "We like to call our powder rooms the jewel box of a home, as you can experiment with layered colors, texture and unique decorative accessories that add an element of surprise when you open the doors of the room."
Design by Sarah Vaile Design
3
Personality-Driven Design
New York City-based designer David Frazier says that many of his clients are shifting away from neutral, Pinterest-perfect rooms and opting instead for cozier spaces that feature personal collections, layered textiles, unique art, and a mix of old and new furnishings. He says, "We have seen so much minimalism over the last few years; our clients are now craving warmth, depth, and character in their personal spaces." Now this is one trend we can get behind!
Design by Miles Redd
Lindye Galloway, founder and chief creative officer at Lindye Galloway Design Studio and Shop, says, "In 2022, plaster and lime wash started to make their way into design again—and I think 2023 is going to be the year it is infused deep into the design of everyone's homes."
While you could certainly opt for textured lime wash walls, even adding a plaster hood in your kitchen (one of the biggest kitchen trends for 2023) can create a major visual impact in your space.
Several designers think wellness rooms could replace home gyms in 2023—and they're about to be a lot more chic. Instead of hiding a Peloton in the corner of your home office, clients are asking for a "more thoughtful focus on wellness at home," according to Sherrell Neal, founder and principal designer at Sherrell Design Studio.
Joshua Smith, founder and principal designer at Joshua Smith Inc., agrees. He says that since many of us are spending more time at home, we want our space to feel like an escape. "When it comes to space planning, clients are requesting intentional spaces for activities like meditation, yoga, exercise, and last but not least, home spas—hello, Gwyneth Paltrow!," Smith says.
Design by Project AZ
Many of our designers agree that 2023 seems like the year for sustainable design. Smith says, "Consumers are becoming more mindful of choosing environmentally friendly options, and rightly so, as the conversation and importance of sustainable design will begin to take center stage. People are increasingly asking 'where is this made,' 'how is this made,' etc."
Susan Hayward, founder of Susan Hayward Interiors, notes that many folks will start ditching inexpensive (and cheaply made) furniture in favor of antiques or other investment pieces that won't end up in a landfill after a few years. She says, "People are going to begin investing more in quality products that will stand the test of time. Rather than buying something cheap to get the look at the moment, people will be more selective about what they put in their home in order to have it for years to come."
Design by Caroline Gidiere
7
Architectural-Inspired Interiors
Architecture will continue making its way to interiors in 2023. Eddie Maestri, principal architect, creative director and owner at Maestri Studio, says, "Along with the art deco-inspired spaces we've been seeing, we'll start to see nods to other distinctive styles that are graphic and bold like Brutalism and Bauhaus."
Love Art Deco-inspired furnishings? We've rounded up our favorite pieces that provide a gentler, more livable return to glamor.
Design by Melanie Turner
Many designers are being tasked with creating beautiful, but still livable spaces—especially for families who have small children, pets, or busy lifestyles. Brad Ramsey, principal designer and founder of Brad Ramsey Interiors, says, "Everyone wants indestructible fabrics!"
Thankfully, 2023 will be kinder to those of us who are prone to spilling red wine on the couch. Ramsey says, "There are now so many options that mimic the look of natural linen, velvet and textural fabrics, but they are outdoor-rated, stain-resistant, high-performance materials. Couple that with stain resistant, washable rugs, and we can now design homes that do not sacrifice function for aesthetic purposes." Amen to that!
Design by Amanda Nisbet
9
The Return of Dining Rooms
Open floor plans may have been all the rage the last few years, but Ramsey predicts that dedicated dining rooms are making a comeback in 2023. He says that while you don't need to carve out a formal dining room with a 12-seat table, you should have an intimate place to gather together.
"We went for years blowing out all of the walls and creating large open spaces and now we crave cozy spaces that encourage connection," he says. "Open concept living is still en vogue, but even within open spaces we are discovering creative ways to create more intimate niches, nooks and cozy corners."
Design by Fisher Weisman
If you remember this material trending in 1980's interior design, we have some news: It's about to be back! Geddes Ulinskas, principal and founder of Geddes Ulinskas Architects, says, "Suffering from overuse in '80s style, honey onyx fell out of favor with designers. We see the stone coming back strongly with striking, graphic veining. It will continue to be seen as a classic material for design."We love the idea of bringing in this material through decorative accessories, or going all out with a tile backsplash in your kitchen or bathroom.
Design by Ken Fulk
11
"Soft Modern" Kitchens
Bob Bakes and Paul Kropp, co-founders of Bakes & Kropp, say that they've seen a growing demand for modern kitchen design, but feel that there's "a gap for tempered design that offsets the cold, impersonal feeling that deters homeowners from taking the plunge."
To combat this, they've refined what they dub the 'soft modern' kitchen design. "In our 'soft modern' kitchen designs, contrast is key," they say. "We might choose to use a very high-gloss finish for the cabinetry and offset it with a matte wood finish for open shelving or accent panels."
It's time to play around with mood lighting! Creative Director and Co-founder of House of Leon, Jordan Neman, says, "We believe lighting will take center stage in a certain way [in the next year or so]. As people design and build their dream homes they'll come to learn the importance of ambient lighting and the role it plays in giving a space a feeling. We believe lighting will become more sculptural with mixed materials incorporated into the pieces."
Design by Noz Nozawa
Advertisement – Continue Reading Below