On the penthouse floor of 53 West 53—a Jean Nouvel–designed high-rise that's just steps from the Museum of Modern Art—the dizzying 1,050-foot sky-high view isn't the only spectacle that's worth a double take. Working amid these sprawling 22-foot ceilings, New York–based ELLE DECOR A-List designer Joe Nahem, of Fox-Nahem Associates, created a world within a world leveraging the talents of dozens of artisans. From museum-worthy wall murals to Christian Siriano–worthy closets, this skyward space gives a whole new meaning to high design. Whether you live 100 floors up or remain flat-footed at ground level, here are 13 inventive ways to add instant elegance to your home.
Transform Your Walls with Murals

A touch of the artist's hand needn't be found in the obvious places. Take, for instance, this woven Élitis wallcovering, a showstopping treatment that invokes a larger-than-life, built-in artwork moment in the penthouse foyer. Set against a sophisticated Salvador Dali–esque plaster console and mirror (yes, those are built-in lamps) by Reynold Rodriguez, Nahem shows us how the basic rules of white space can be implemented beyond the use of a predictable white wall. The result is added dimension, if not an almost edenlike entry moment. And if you're intrepid enough to go for more dimension, consider a full-wall art installation like Peter Lane's art installation just below.
Up Your Glam Factor with Lucite Accents

Maybe you've got the big-commitment pieces in, but your space is in need of a little something more. We suggest a lightweight option that is as striking as it is understated: Lucite. Furniture made in this transparent material (acrylic is a good cost-effective alternative) is sure to complement your existing color scheme while adding a playful touch of glamour. Here, Nahem sprinkled Lucite throughout the living room space, including this playful orblike side table by Lorin Marsh that refreshingly counteracts the weighty presence of the surrounding furniture by Vladimir Kagan for Holly Hunt. This contemporary accent is sure to hit the right note, clearly.
Consider Seemingly Unlikely Juxtapositions
If fear of making the wrong design choice has kept you from stepping out of your design comfort zone, take a cue from Nahem's offbeat compositions and consider taking a few leaps. Nahem, who is known for having a bit of fun in reinterpreting the design rulebook, isn't afraid to merge design styles, color schemes, patterns, and textures. Here, a sculptural table base (by Patrick Naggar for Ralph Pucci) and ethereal chandelier (by John Koga for Ralph Pucci) complement a clean, dark tabletop. All against a moonscapelike art installation by Hoon Kim and accentuated by tabletop pottery by Humble Matter. Proof that old-world can meet new-world in a delicious dining display.
Implement the 60-30-10 Rule
It's classic decor 101: The 60-30-10 principle states that 60 percent of the room should be a dominant color, 30 percent should be the secondary color, and the remaining 10 percent should be an accent color. Here, Nahem's bedroom design is proof that this tried-and-true color method is the foundation for ultimate gravitas within a space: 60 percent of the room is in this muted gray (we're swooning over this Phillip Jeffries wallcovering), 30 percent is in this sultry sienna-hued headboard from DDC, and 10 percent shows up in a pop of metallic gold in this Maison Gerard sconce. Stick to the classics, and you can never go wrong.
Use Hierarchy to Control the Delivery of the Look
In many ways, the designer has full control over the path that the eye of the beholder will take in a room. When design elements are arranged in the right order, the delivery of the experience creates a clear visual hierarchy that can be a visually appealing journey. Such is the case for Nahem's arrangement of these totems, created by woodworker Casey McCafferty. The outline of the arrangement creates mini moments, drawing the eye from the tallest totem to another the middle totem to the shortest one. Try different combinations of hierarchy (with varying color, pattern, and height) in your own home with candlesticks, coffee-table-book arrangements, and lighting compositions.
Create at Least One Ultra-Cozy Corner
Whoever said comfort and style can't coexist never met Tuleste Factory's Brandi Howe, whose snug anemone chair (which is priced at $25,000) is something you could get lost in for days. It was inspired by the carpet anemone, which Howe discovered after moving to Miami Beach. "The first thing I thought when I saw it was, this should be a chair, and now here we are," Howe laughs. In a very modern space like this penthouse bedroom, a cozy piece like this can be key to creating livability and comfort—not to mention pure, unfettered joy. "When I first decided that this carpet anemone needed to be a chair, the first vision was myself lying in this creature and the free form of the body hugging me as the plush tentacles tickled me," she muses, adding that the prototype phase of this piece required multiple rounds of testing and follow-up adjustments to make sure it was "solace to the body in every which position." Fun, no?
Bring in Wood for an Organic Presence
Texture variation ensures that a room possesses a certain tension. You can achieve this by implementing organic elements like a statement Ian Felton bench (as seen in the dining room) or this chimerical wooden console, which woodworker Caleb Woodard defines as "exploratory." "There is a basic human connection with all natural materials, whether wood, stone, or clay," Woodard explains. "The unique characteristic of wood is that it once had life; it can be seen in every grain and growth ring." Nahem's eye for these varying degrees of colors and texture is played out here, with contrasting variations of wooden textures seen in the flooring and furniture.
Let the Art Speak for Itself
A word to the aspiring ornamentalist: When the art is this statement-worthy, it needs no introduction. Elyse Graham's funky colorful breakfast table in the kitchen of this apartment lends itself well to an exalted dining moment that flexes those harlequin-happy design muscles. In your own space, don't be afraid to scale up with a piece of furniture that is loud. Everybody needs a little no-holds-barred corner of jocular inhibition.
Create Perfectly Equal Visual Weight
Symmetry is intuitively satisfying. It's a practice that dates back to the ancient Greek palaces, and its rules are still just as relevant today—and there's no better space within which to pull together a balanced arrangement than in a bedroom. Here, Nahem created a dreamy vignette with two custom Savoir beds, velvet-lined linens by Yves Delorme, and nightstands by Chapter & Verse. Whether you're placing a nightstand on each side of one bed or have two smaller beds to work with, mirroring each side is an easy way to create relaxing harmony. Hot tip: Add a few decor items to one side for a dash of asymmetry that will guard against a look that's overly regimented or predictable.


Bring in Texture for Depth and Dimension
Think outside of the wallcovering box, as Chapter & Verse's design team so aptly do. "Texture is a wonderful thing that changes in appearance and mood throughout the day in a space," says designer Joseph Cleghorn. "Its ability to transform when trapping light and shadow when exposed to different light qualities or its ability to conceal or reveal its surface makes it more interesting to us as designers." The right amount of texture also helps excite and amplify the value of other more pristine surfaces in the room by showing the eye this counter or juxtaposition, he adds. This creviced wall was created through an intense process of paper folding that they call "weaving," and then freezing with layers of fiber-reinforced resin that are abraded at various stages to give the material a soft hand in its final form. So go ahead, keep those recyclables, and get experimental.
Incorporate Artwork into Your Electronics
It's the ever-present conundrum: We love our digital devices but how to tastefully conceal them? This moving art installation, Jacco Olivier's animated art, adds just the right touch of cultural flair. "There are so many big black screens hanging around, it's almost a shame they are not used more to display art," says Olivier, who was approached by Nahem to propose works for this project. "I think it works perfectly in this space, high up in the sky," Olivier added. His process involves painting, then photographing, then turning that into an animation. For your own screen-turned-Monet moment, opt for something that encapsulates the spirit of your local scenery or personal life.
Use Statement Furniture Pieces to Break Up a Room
Implementing a variety of furniture shapes within a room, and strategically breaking them up, creates different zones in the space. The custom Ottra tête-à-tête in the lounge, for instance, doubles as a room divider and a zone connector. Joined by furnishings from Atra and an artwork by Zhang Huan from Pace Gallery, and voilà, you have two different living and entertaining zones, without blocking sight lines—or the party.
Make Your Closet a Glam Room

There's nothing more aspirational than a closet turned glam room—especially when your clothing and accessories are by Christian Siriano. Our favorite trick here? The undershelf LED lighting and luxe chandelier make every item of clothing spotlight-worthy. So whether you're shopping at Zara or Chanel, give each curated heel, bag, and dress an illuminating visual impact, no matter how small your sartorial footprint is. This custom closet in the primary bedroom is by Scavolini, the chandelier is by Saint-Louis, the bench is by Alfonso Marina, and the vintage rug is from Mansour.
Styled by Bebe Howorth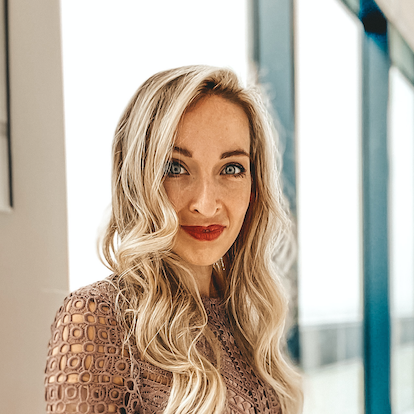 Assistant Digital Editor
Rachel Silva, the Assistant Digital Editor at ELLE DECOR, covers design, architecture, trends, and anything to do with haute couture. She has previously written for Time, The Wall Street Journal, and Citywire.